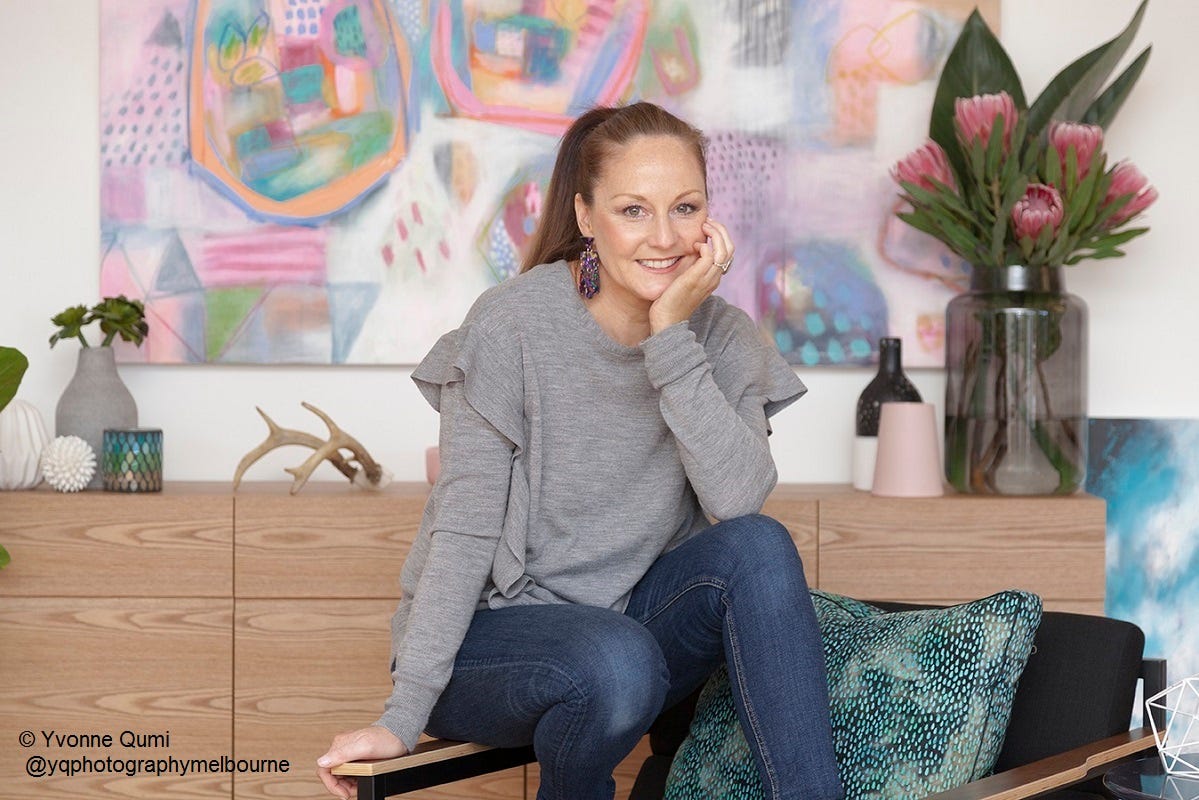 We catch up with interiors expert Sherren Comensoli, who joins The Block Shop as our very first Design Consultant.
How did you come to start offering this service?
I started off in interiors, and styling, but I'm also an artist and I do commissions for people. That always seemed to evolve into helping clients also design a room or two, or even their whole house. There are so many property stylists out there that are helping people sell their places, but my passion is to help people wanting to stay in their homes. I look at it like I'm improving their homes so much, it's almost like they're going to sell it - but they get to stay!
That's a great way to think about it...
Exactly. The idea was born because so many people would say to me, 'Why didn't I have my house looking as good as it did on auction day all the time?'' And I'd be like - 'Well, why didn't you?' So that's what I like to get people to try and achieve...
If someone was to get you to help them, how would you go about it?
There are so many Block followers that want that look in their home, but don't know how to pull it together. This is what I can help people with, by providing some clarity. Some people love what they see on The Block, but have no clue how to implement that in their home - that's one kind of client. The others are people that do have a bit of an idea, but there are so many beautiful things out there, they're confused about what they actually want to do.
That's our problem…
Yes! You're that 'Analysis By Paralysis' client! They just need someone to come in and make some quick decisions and help them with some direction.
What is the first thing you do?
Basically, I get a feel for what you want to achieve, then go away and create mood boards, which are quite detailed. Clients send me a photo of their room, with a few dimensions, and I fit that room in a 'mood board' for them. Then I follow up with a phone call, and we have a half an hour chat, and I give them the debrief…
So you're using products from The Block Shop?
That's right. Because it is the 'One Stop Shop.' As a designer, I've got trade accounts with various people. But, to be honest, doing a job for The Block Shop is so easy, because there are so many amazing products to pull together. And I don't see that as a compromise either. All my stockists that I normally use, like Norsu, and Beacon - I always use Beacon because they have such affordable, good products - are all Block Shop suppliers. So I'm very happy with the selection of suppliers we're working with.
Which rooms do you consult on?
I always say, 'Let's start with the room that annoys you the most.' Or maybe it's 'Which one will give you the most bang for your buck?' Some people want to start with their bedrooms, or a more intimate space. Basically, we just break it down like that, room by room. And then I send them a mood board with all the products suggested, put together.
That's great...
They can see how good it looks together. It's not about trying to think about how it will all look together - they are actually seeing it. Beyond that, they also get a shopping list, with links to each product, and a discount…
I guess the best part is, you don't have to be in a major city to meet with an interior designer…
That's right. It's about me doing it remotely. You don't have to spend hours talking about things with interior designers, and then have them coming back with ridiculous swatches of fabric that costs an arm and a leg. It's about pulling a space together economically.
If you would like more info about how to book a session with Sherren please email info@theblockshop.com.au
Here are some of Sherren's beautiful original pieces of artwork that are also displayed at Crate Expectations in Melbourne:
Did you like this blog? Subscribe to our newsletter to be the first to receive news from The Block! Subscribe now to receive $20 off your next order.