We take a look at the Block contestant's level 3 master ensuite reveals


MITCH AND MARK'S ENSUITE & KITCHENETTE REVEAL
SCORE: 29/30 - winners!

It was always going to be a risk turning their top storey into an entertainer's space designed around an as-yet-non-existent pool. But Mitch and Mark knew they wanted to go in this direction from Week One and never once wavered from their original plans. Their sweeping vision paid off once more this week, netting them a win!
"Our vision for this room started way back when we saw the plans. We thought, 'Top floor terrace pool house,' Mitch says. "So we thought if you're going to have a pool house, you need to be able to prepare food up there, and you need to have a powder room, and also a shower."




And that's exactly what they delivered this week, including a stunningly simple kitchen complete with brushed steel gantry, grey benchtop and light, bright cabinetry with brass details. This was delivered alongside a powder room and gorgeous bathroom, which came complete with shower and yellow feature tile detail. A white decorative mirror and pops of colour, courtesy of the yellow and cyan towels they chose, rounded out the look beautifully
The judges fell in love instantly, swooning over that stunning Graffico feature wall, placed in the lift well from first to the third floor.
"Wow," said Neale, upon stepping foot in the stylishly designed space. "Now I KNOW we're in Palm Springs," he said, recognising the print they had used referenced the famous Parker Hotel in the famed American spa town.




All three judges also loved the fact Mitch and Mark had created the ultimate entertainer's space on their third floor, including a functional kitchen space, servicing the outside terrace area - helllooooo party pad!
"Look at this, we have a full kitchen - not just a wine fridge!" Shaynna said of the boys' decision to include a full-size fridge as well as fully serviceable oven and dishwasher. She also loved the pop-up plug for the DJ and thought it they'd achieved a real "Hollywood pool-side Cabana" vibe - music to Mitch and Mark's ears.
"It's vibrant and fun and completely successful," said Darren.
And we agree. Well done, guys!





JESSE AND MEL MASTER ENSUITE REVEAL
SCORE: 28.5/30 - equal second place

Jesse and Mel went all-out this week to produce a luxurious and opulent master ensuite - and boy did they deliver. The couple chose to dress their room in gorgeous floor and wall marble, opting for a huge mirror above the vanity and oversized shower screen for added dramatic effect. They chose dark cabinetry with chrome fixtures and fittings, which played against the lightness of the walls and tiles beautifully. The inclusion of an enormous double shower and huge freestanding bath gave their room a luxury hotel vibe, and the first thing that struck judge Shaynna Blaze was the feeling of space. "It gives it a gorgeous, luxurious, opulent feel," she said.




Darren agreed, saying their decision to give the room generous proportions, at the expense of an additional powder room, was a good one. The inclusion of an art print above the toilet, plus deluxe towels in black and olive green, also added to that "boutique hotel" feeling - and the judges loved it. Neale particularly liked the use of chrome fixtures and fittings, something we haven't seen at The Block much in recent times. "They've done the impossible and actually turned me back on to chrome," he said.




And all three loved the inclusion of frosted glass around the toilet, adding to the sense of luxurious opulence. "It's a really nice way to treat a toilet, and make it feel like a separate powder room space," Darren said.
We agree - we love everything about this bathroom. Well done, guys.





DEB AND ANDY MASTER ENSUITE REVEAL
SCORE: 28.5/30 - equal second place

Deb and Andy produced yet another gorgeous, elegant bathroom, with their trademark coastal luxe vibe. The room, which featured white and cream tiles, a custom-made timber vanity, brass tapware and THAT amazing water feature into the free-standing bath, was a hit with all three judges, who loved the way the room, which also featured quirky features like a decorative Persian-style rug and timber stool in the shower, came together.
The inclusion of two timber wall-mounted shaving mirrors and the large fern added a sense of softness to the room, which was the lightest and brightest of all the bathrooms delivered this week.




It was also functional, with a custom-made timber cabinet and two rain showers, hung from the ceiling, utilising ceiling height to create a lush, "day-spa" feel.
"Fresh" was the word Darren used to describe the happy, bright space - he loved that unique Alexa-connected ceiling faucet, as did Neale and Shaynna, who described it as "awesome."




Shaynna also loved the use of light in the space, especially the inclusion of a light source behind the bath. "It's just got this beautiful glow behind it," she said.
Darren agreed: "It's very ambient isn't it?" he said. "It feels really crisp and really clean."
Neale liked the inclusion of the decorative rug, saying he felt like he was in a Turkish Hamman.
"The level of detail in this room is amazing," Darren said. "It just feels really custom-built, and really bespoke."
We agree - when do we get to try out your gorgeous day spa, guys?





TESS AND LUKE's MASTER ENSUITE REVEAL
SCORE: 27.5/30 - fourth place

Tess and Luke took out a win for their last stunning bathroom. But a blunder which saw one of their windows remain unfrosted saw them walk away unvictorious, despite the fact they presented a near-perfect bathroom.
In the space, Tess and Luke featured a gorgeous black terrazzo tile, two dark grey sinks that complemented gorgeous navy blue cabinetry, a large free-standing bath, double shower, and a textured white subway tile on the main wall. A dark Venetian plaster wall pulled everything together beautifully, working back against the black free-standing stool, placed adjacent to the bath.
"Wow," Neale said upon stepping inside. "A beautiful tile choice in the shower."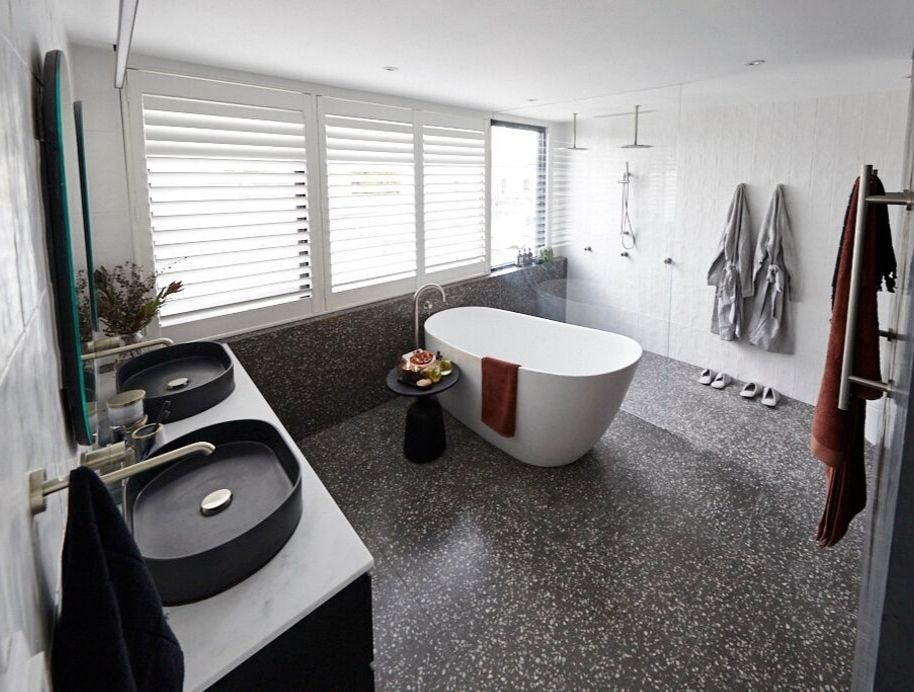 Shaynna loved the proportion of the room and the choice of tile with the terrazzo, saying, "Tess and Luke really know how to do bathrooms, don't they?" She also loved the angle of the bath, designed to maximise natural light flooding through those stunning plantation shutters.
Darren agreed: "This is a really great bathroom," he added.




While Darren and Neale weren't such big fans of their dark feature wall, Shaynna disagreed, saying she loved their "dark, dramatic pillar" and the way it played back with the dark sinks and dark, brushed gunmetal tapware. She also loved their styling and the inclusion of rust-coloured towels. "It's perfect," she said.
And we agree - well done, you two!





MATT AND EL'ISE MASTER ENSUITE REVEAL
SCORE: 26/30 - fifth place

Matt and El'ise had a tumultuous week, but in the end produced a gorgeous space, incorporating an extra powder room to their reveal plans for added 'Wow factor.'
In their main ensuite space, they opted for a monochrome look, incorporating shades of cream via their trademark Venetian plaster. They used two large, circular shaving cabinets for dramatic effect, teaming them with double sinks and large black vanity and black fixtures and fitting. A large bath stood pride of place in the middle of the room, beside that enormous double shower finished with black trim, and sporting deluxe matte black tapware.
The judges instantly fell in love with their stunning textured wall.




"It feels incredible," Shaynna said. Darren was even more effusive, adding, "I don't think I've ever loved a wall finish as much as I've loved that. It feels really rustic and tactile, but so super modern."
Darren loved the contemporary finish and the way it played against the black tapware and black joinery. He also loved the inclusion of those two wall sconces set beside each mirror to provide extra lighting.




The judges also loved the way the veining of the plastered walls played with the marble-look of the grey floor tile, and Shaynna was a particular fan of the styling, particularly the placement of the Quartz tray on the vanity top.
She also really liked the styling in the separate powder room, which was dressed with that Venetian plaster, and featured a lovely photo print, framed to be reflected back in the mirror above the vanity.
We loved it all too - well done, guys!

Shop our Block couples rooms HERE

For more The Block 2019 stories, check out these links below:

The Block Shop Pop Up is open on Fitzroy Street, St Kilda!

Biana & Carla are back on the Block

Deb + Andy + Josh & Jenna's All-Star Winning Guest Bedroom

What's your design style quiz?

Palm Springs Luxe

Deb share's her style

Inside Darren Palmer's Million Dolar Room
Did you like this blog? Subscribe to our newsletter to be the first to receive news from The Block!
Subscribe now
to receive $20 off your next order