These artists and retailers were all just quietly doing their thing, trying to get the message out - until The Block came calling. Here's how a little renovation show has changed everything for our Block Shop super sellers.
MIIMI & JIINDA

Miimi & Jiinda is an Australian art business, founded by Aboriginal mother and daughter, Lauren Jarrett and Melissa Greenwood. Their art is a symbolic portrayal of their interpretation of Dreaming stories, and inspiration from nature. They paint with acrylics and in pastels, influenced by the feminine matriarchal line.

Andy and Deb's living room artwork had all three judges rejoicing!

Miimi and Jiinda were memorably featured in Deb and Andy's living room in 2019 - "they contacted us through Instagram and asked for a commissioned painting. Andy is Biripi, and was in search of some Aboriginal art - we are Gumbayngirr, just a couple of hours from the Biripi Nation! We were beyond excited and honoured to create this piece for Deb and Andy, and for it to be seen on Channel 9 for the rest of Australia to see! We hope that this encourages more First Nations art to be seen on The Block, showcasing our rich and beautiful culture. It's truly an amazing feeling for our artwork/culture to be chosen, recognised and appreciated, Melissa tells The Block Shop."

Shop Miimi & Jiinda HERE


WHITE MOOSE
White Moose create whimsical and unusual home decorator items and prints. Stocking everything from tiny gold rhinos to stunning, contemporary landscape prints, they've been able to get their products out to people who may not have known they existed. "We had been big fans of The Block Shop during each season, and always dreamed of getting product on the show," said Colin Hutson, Founder of White Moose. "We feel as though it's lifted our profile and we can't wait to continue to grow with The Block Shop. "Going to the media launch of this season was an incredible highlight, and to meet with the couples who used our products was a career and life highlight! One thing off the bucket list for sure! Seeing something you designed in a Block house is a huge deal!"


White Moose's cute koala planter featured in Harry and Tash 2020 Block home.
Shop White Moose HERE


DG DESIGNS
DG Designs was created for those that inspire with the core of the range being digital prints. After featuring in Mitch and Mark's guestroom in 2019 Dominique had her art feature again on The Block in 2020. "I thought I'd had my big moment! Now, I know that will be nothing compared to this year! Sarah and George's house are officially a DG Gallery and decked out head to toe in my work. It's unbelievable. With Sarah and George, I was able to offer advice and assist in the process of choice and styling. To me, this is super important as my business is a personal brand, and reflection of me - so I want to make sure it is displayed in the best light possible. I'm excited to share with the world my work, and inspire them to deck their walls with their own heroes!"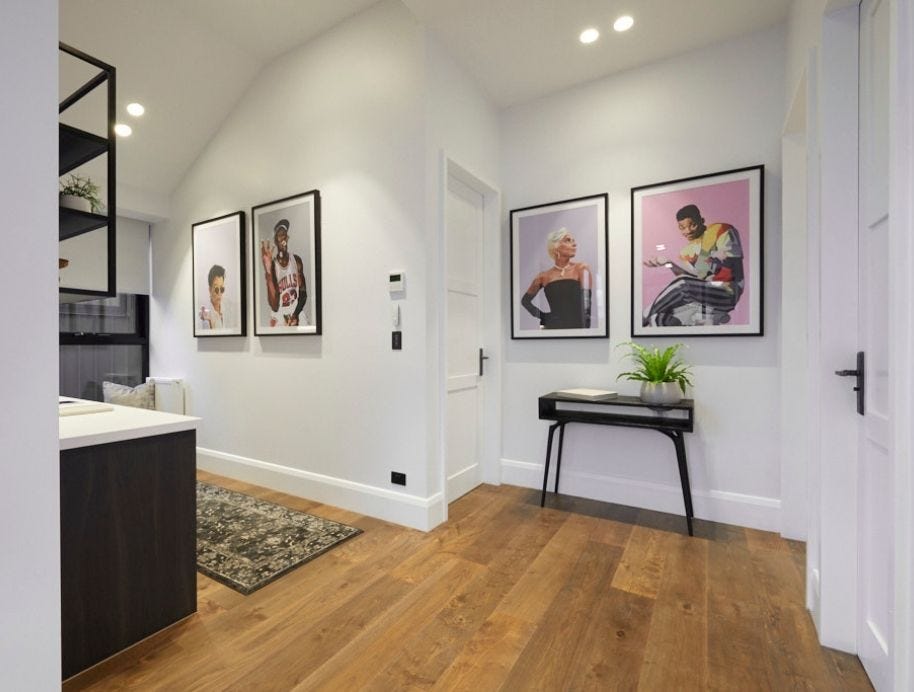 One of the first things the Block judges noticed in Sarah and George's room was the artwork "talk about Zoom-worthy backgrounds, how about these artworks, awesome!" Darren Palmer said.

Shop DG prints HERE


STEVE CROSS
Steve Cross is a Melbourne-based street artist, tattooist and artist. His artwork featured prominently in Ronnie and Georgia's house, with one canvas hanging in their lounge room, one in the bedroom, and a stunning mural commissioned for their outside studio wall. "The Block has been a great opportunity to get my artwork out to the public," Steve says. "Having Ronnie and Georgia use two of my prints - and then commission me to paint a bespoke aerosol mural for them in their backyard - was such an honour" said Steve. "I loved the process of working hand-in-hand with them to create two pieces that fitted perfectly with what they wanted to achieve in their spaces. Then to have Shaynna speak so highly of them - that was such an honour. "I especially love finding out all the different places in Australia my prints have ended up, via The Block Shop. A big hello to the lady who bought one of my prints to hang in her home in Alice Springs!"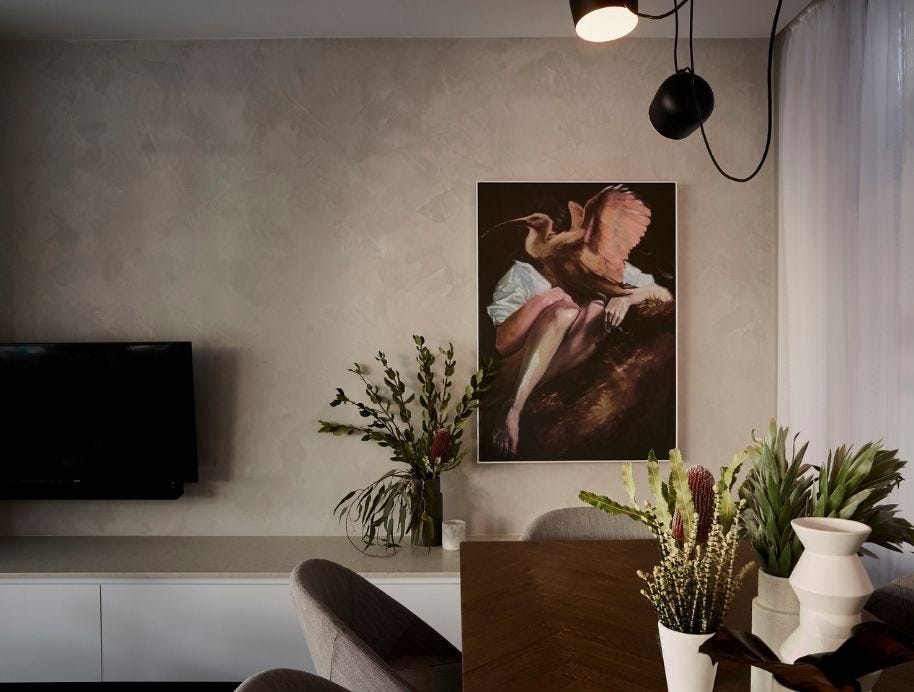 Steve's art 'The Catcher' as seen in Ronnie and Georgia's Block home wowed the judges.

Shop Steve Cross HERE

PRINT DÉCOR
Print Decor began selling their work through The Block Shop after Alisa and Lysandra purchased art to use in their Sky High apartment. "One Saturday morning I was in my gallery in Glenferrie Rd, Malvern, with my wife Lynne preparing for a hopefully busy day," says gallery owner, Bernie. "I heard someone say, 'We are from The Block and we have some contestants who want to purchase some art. Do you mind if we film this?' "Next thing I know there's a mic on my lapel and the beautiful Alisa and Lysandra from The Block Sky High are cruising around our gallery checking our rare, limited-edition framed art prints by well known Australian artist, Adam Cullen. "The soon-to-be-winners of The Block Sky High featured Adam Cullen's artwork in their apartment and his work went viral! We became happy suppliers of The Block Shop and over the years we have increased our range of art and framed prints and started to add a selection of mirrors, including a contemporary round-framed mirror which has literally been rolling out the door Australia-wide."
Print Decor's 'Modern Black Circular Mirror 'as seen in Bianca and Carla's Gatwick Block bathroom.

Shop Print Decor HERE


TANIA BLANCHARD
Artist Tania Blanchard balances family life on the Gold Coast with creating bold and beautiful pieces - loaded with colour and texture - that are high in demand. "I feel so blessed that my work has been so popular," Tania tells The Block Shop. "It's just been amazing," said Tania. Tania had been selling through The Block Shop for a few months when Ronnie and Georgia chose to feature one of her beautiful abstract pieces in their Studio.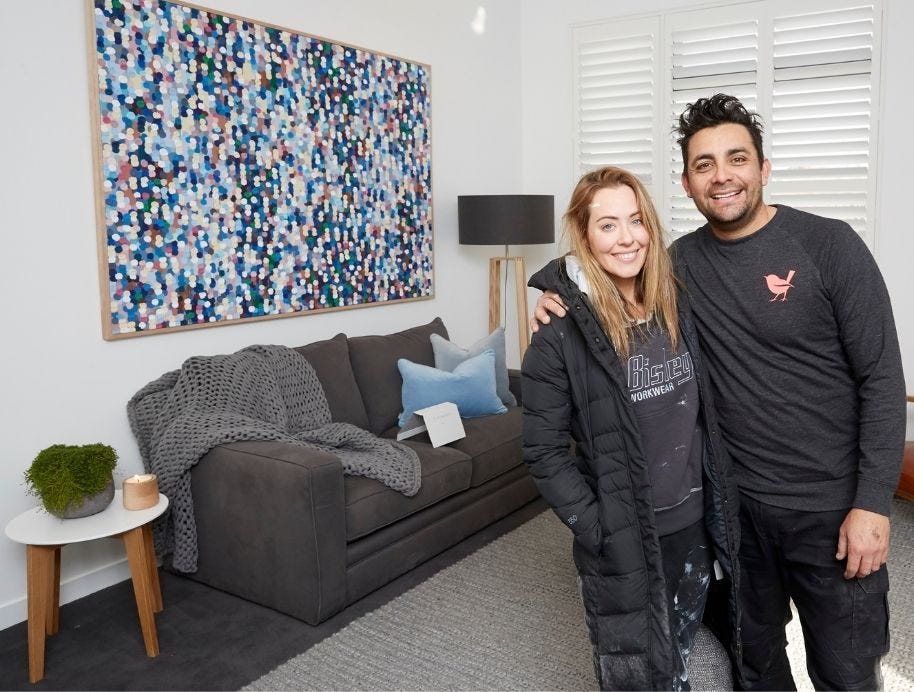 'Confetti Rain' as seen in Ronnie & Georgia's Block studio.

"It's been incredible," Tania says. "My print range has sold well and I'm sure that's because of the exposure of being on The Block and selling via The Block Shop. It was such a ridiculously crazy ride and such a great opportunity for an artist. Within a day I got an extra 2000 followers on Instagram. Georgia was so lovely to chat to and told me they styled the whole room based around my art. I was thrilled when it won best room. I had such great positive feedback from so many people but it was also a big lesson, that what works for one doesn't for everyone. Art is subjective and can be polarising but that's what I love about art and the effect it can have on the viewer. I did get some comments on social media that were a bit rough. It wasn't too bad, but I had a few people say, "What is it? It's only dots. I could do that myself. I just rose above it and taught my kids a lesson—that you can't please everyone, you have to do what you love and follow your heart."
Shop Tania's art HERE

ROOFUS AUSTRALIA
Roofus Australia produce a stunning range of iconic Australiana prints, featuring bold, pop-art style renditions of local flora and fauna. Their prints were used extensively in Sarah and Jason's hallway in 2017, providing an instant talking-point upon entry - something the judges all loved.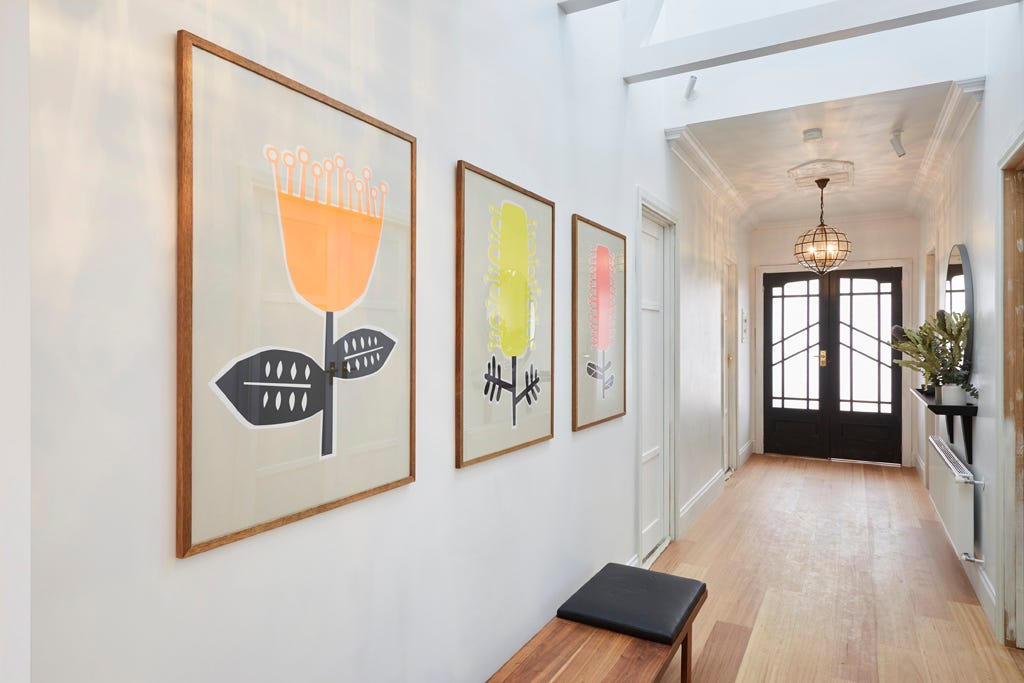 Sarah and Jason's incredible hallway featuring 'Roofus' art in 2017.
"It's all true. The Block HAS changed our lives!" says Cate Broadbent, the designer behind the brand. She works on the business from her home in Melbourne, along with her husband John. "The Block Shop approached us a little while after we launched to be part of the store, and there was the early thought that we might be on the show with our product - which came to pass maybe six or nine months later. "It's been life-changing, being on the show. Literally!" Cate says.
Checkout Roofus Australia HERE
LAUREN DANGER ART
I've been a long time fan of The Block and I'm absolutely fascinated with the whole process. The sheer size of the task of renovating buildings to a high standard in such a small amount of time has me in awe! I had been a supplier to The Block Shop for just over a year, when the 2018 Gatwick series was wrapping up filming. I was also 33 weeks pregnant and was trying my hardest to establish a good starting point to pick up from when I came out of the baby bubble! When the 2019 Oslo series began, I knew exactly where to focus my attention - to get some of my original artworks in The Block Pop Up Shop in St. Kilda. I was thrilled that the wonderful team in the Pop Up Shop, Harrie and Sarah, were happy to have me on board. It just so happens that my 'Up In The Clouds' series caught the eye of one of the couples, Tess and Luke.



Lauren's artworks 'Up in The Clouds' feature in Tess and Luke's stunning Oslo kitchen.
I was over the moon, I'd have to admit! The whole ride so far has been a great experience. There are some pretty amazing and high-profile artists listed on The Block Shop - I'm so humbled to be part of the pack. To be featured on The Block itself is something that I feel so fortunate to say - even as I write this, I don't think I've really realised just how profound that is! The show only rolls around once a year, the odds of being picked are small!

Check our Lauren's art HERE