We take a close look at the contestant's upstairs living reveals...


Sarah and George's upstairs reveal
Score: 28 ½ - WINNERS!!!
Western Sydney's Sarah and George have worked so hard to get a room reveal win and they couldn't hide their relief when Scotty announced the win at The Block HQ.
The upstairs combination of their hallway, work from home space, powder room, and a gorgeous kids' room was a hit with Darren, Shaynna and Neale.
The inspiration this week for Sarah and George was all about family.
"Our aim for upstairs in the house was it to be a sanctuary living space for a child or a teenager," Sarah says
"We thought it was also very important to put a study in the house upstairs because there are lots of schools around this area in Brighton and teenagers who will be needing to study."
One of the first things the judges noticed was the artwork that included portraits of Lady Gaga, Michael Jordan, Kris Jenner and Will Smith that the couple bought from The Block Shop.
"Talk about Zoom-worthy backgrounds," Darren said.
"How about these artworks, awesome!"
George said the artwork, and the choice of portraits, reflected their personality.
"It's a little piece of Sarah and George upstairs for the buyer," he said.
Shaynna thought even more so now that Sarah and George should convert their study downstairs in the guest bedroom into a walk-in wardrobe.
The judges also were impressed with the powder room upstairs, a real asset to the house especially when guests are over.
Darren loved the tiles in the powder room.
"Moody and sultry and quite glamorous," is how he described the powder room.
Moving on to the kid's room, and all three judges were impressed with Sarah's styling.
"When you're going to do a kid's room, you've got to go all the way," Shaynna said.
The children's tepee Sarah purchased from The Block Shop was especially a hit.
So Sarah and George took out the much-needed $10,000 from Ford but more importantly, a boost for their morale going into Week 9, HELL WEEK.
Take a close look and shop Sarah and George's winning upstairs rooms HERE

Harry and Tash upstairs reveal
Score: 28 - Second place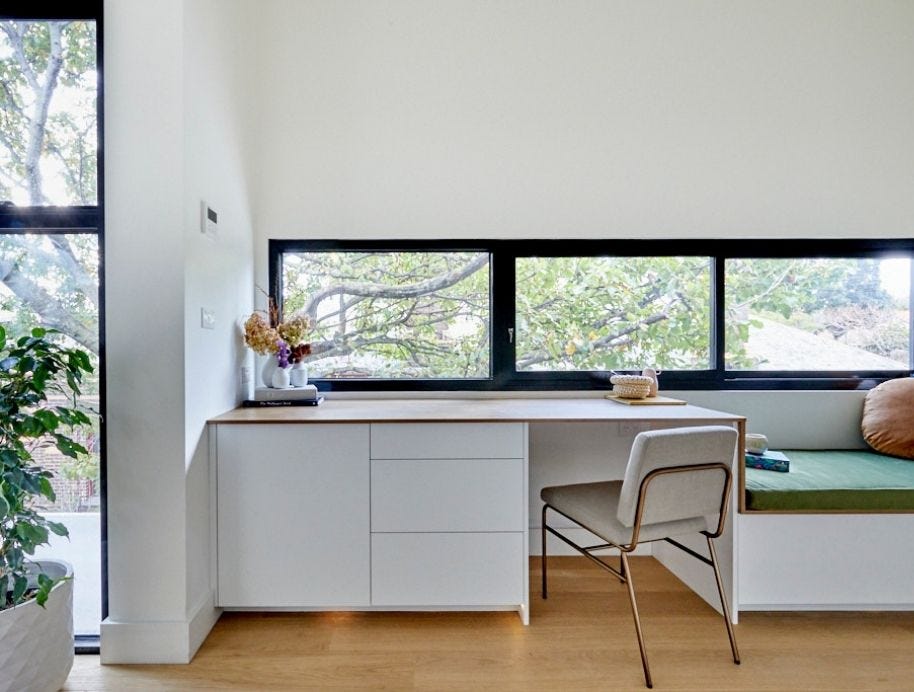 Despite missing out on the win by half a point this week Harry and Tash were very happy to see their neighbours and best friends on The Block, Sarah and George, finally take the win.
The Victorian father and daughter once again delivered a very popular space with the judges.
Harry and Tash have a beautiful oak tree in their yard of their 1920s themed house and it's the first thing the judges noticed when walking upstairs.
The work from home space, or a study, was perfectly positioned.
With Covid-19 a reality now for all Australians, Darren, Shaynna and Neale thought the way Harry and Tash delivered this space upstairs was very clever.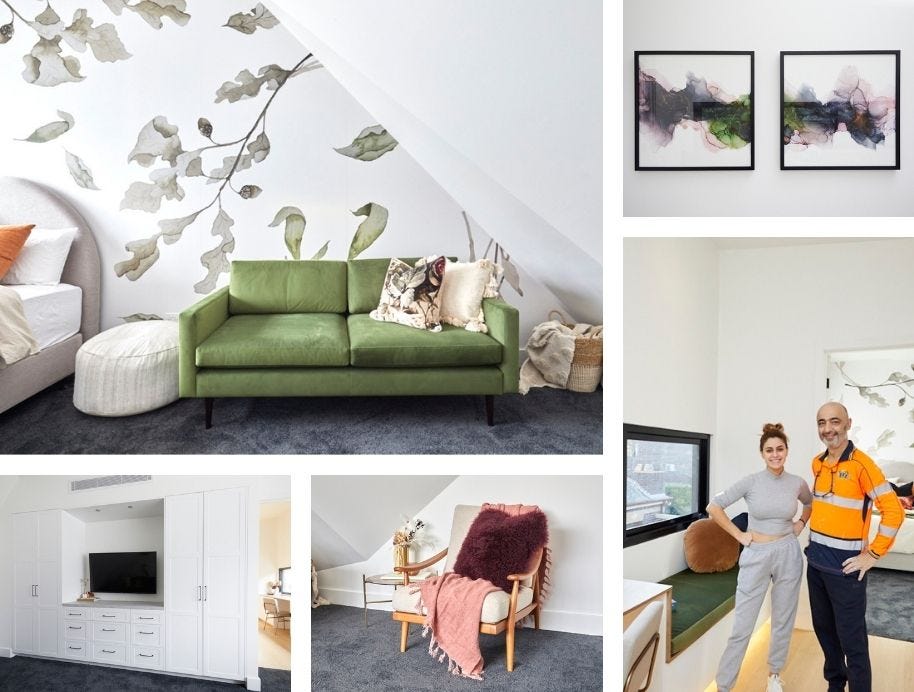 The fact the space faced the beautiful oak tree was a masterstroke.
"You have taken the outside and brought it inside and it has real impact," Darren said.
Shaynna loved the oak laminate from Kinsman on the desk and thought the view from the upstairs work from home area or study would be distracting as it was so nice.
The day bed next to the study was also a hit.
In their upstairs bedroom and rumpus room, Harry and Tash had a unique architectural space that had to work with, unlike any couple on The Block.
However, they managed to make it work, superbly.
"Architecturally, it's a beautiful space," Darren said.
The judges loved the fact the space was very flexible, it could be a teenage retreat, or an au pair's space, or work as an Airbnb space.
The wallpaper by Grafico, a mural of a tree, was also a hit.
"Architecturally it was a hard to design room because we weren't quite sure what to do with it," Harry explained.
"But I'm very happy with what we have come up with.
"I think the decision to use the wallpaper also works because it accentuates the space."
The judges all think Harry and Tash are peaking at the right time.
But with Hell Week just about to start, that could all change very quickly.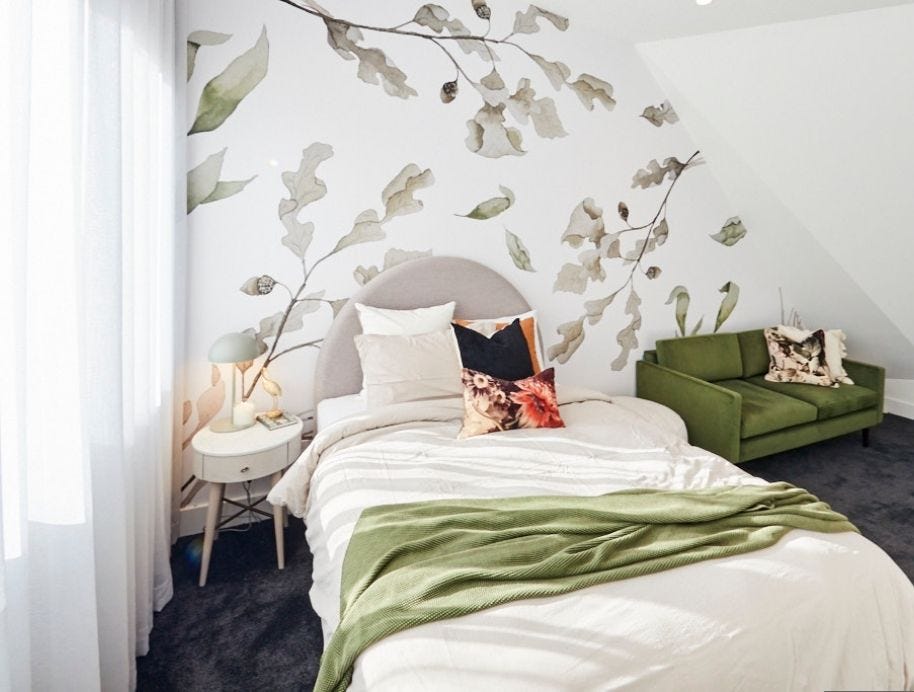 Take a close look and shop Harry and Tash's upstairs rooms HERE


Daniel and Jade upstairs reveal
Score: 27 1/2 - Third place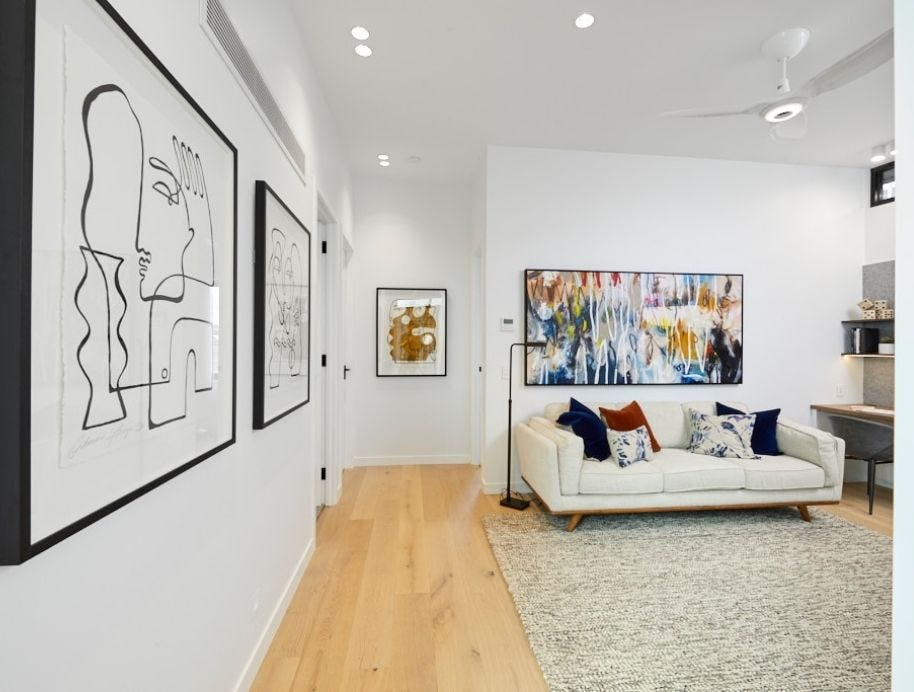 Consistency.
That has been a real theme for South Australia's Daniel and Jade throughout their whole experience on The Block and that was no different this week.
Upstairs they had a secret weapon they think to set them apart from all the other contestants, a storage space much like an attic up the top of the stairs.
They always wanted to utilise the space by building an attic, but found out late this was the week they had to do it.
"It was a massive week for us," Jade said.
"We only found out late on Tuesday night that if we were going to do our attic space, we had to do it this week."
Added with a large study and rumpus room, plus another bedroom, it was a huge week for the farmers.
"This is probably the week where I've felt physically drained on The Block," Daniel said.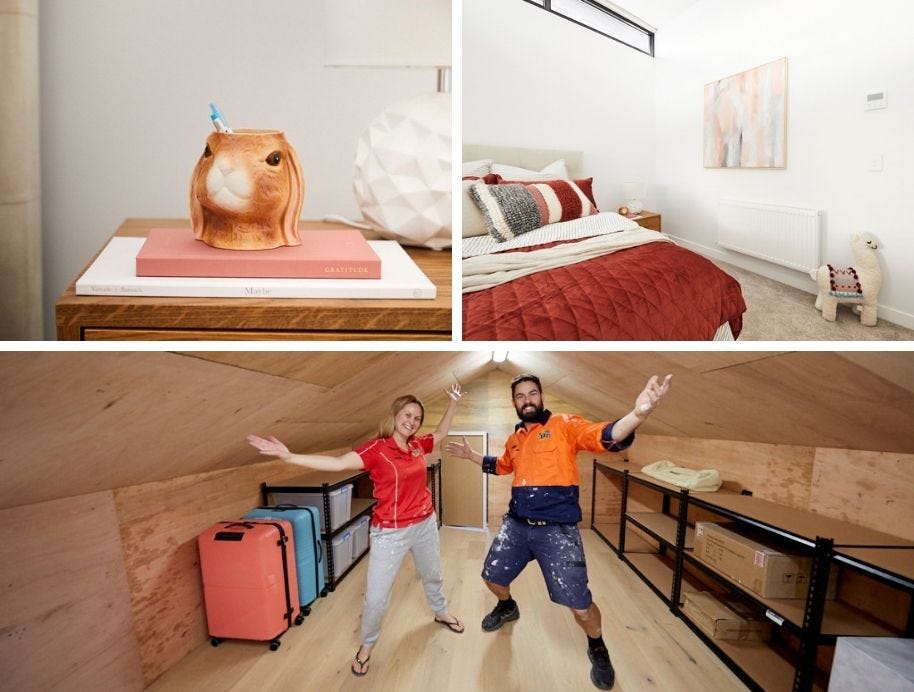 Walking up the temporary stairs the judges were immediately impressed with the details on the roofline.
Neale thought it was a very good use of space upstairs by the couple.
"This is a very thoughtful design," he said.
"It's a kid's rumpus room or a generous and well-proportioned room to run a business from in this brave new world."
This week art was a very important part of the rumpus room for Jade, and she loved her Shane Bowden print she got from Art Lovers Australia.
"It's very exciting to have such an artist of Shane's calibre in the room," she said.
The couch she got from Freedom wasn't the right choice for Shaynna.
She felt it was a bit stiff for a kid's area, it could have been more softer and inviting.
It was a long week for Daniel and Jade, and Neale did one notice one small thing – the books Jade were still in their plastic.
Daniel and Jade are the only couple to have three bedrooms upstairs, and the judges believe this will be important come auction time to set them apart from the other contestants.
Shaynna loved the finishing on the Kinsman wardrobes and the champagne handles in particular.
Lastly, the judges found the secret attic that Daniel and Jade worked so hard on, and they LOVED IT.
It could be an attic, a kid's playroom, or simply a storage room. But will it be Daniel and Jade's secret weapon when it comes to auction day?
Let's wait and see.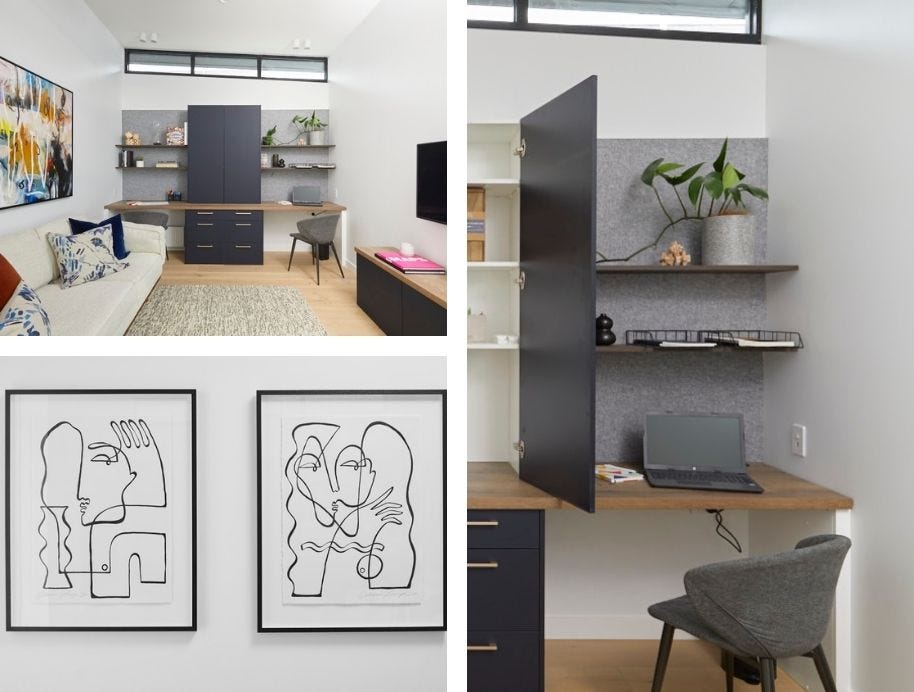 Take a close look and shop Daniel and Jade's upstairs rooms HERE



Luke and Jasmin upstairs reveal
Score: 26 - Fourth place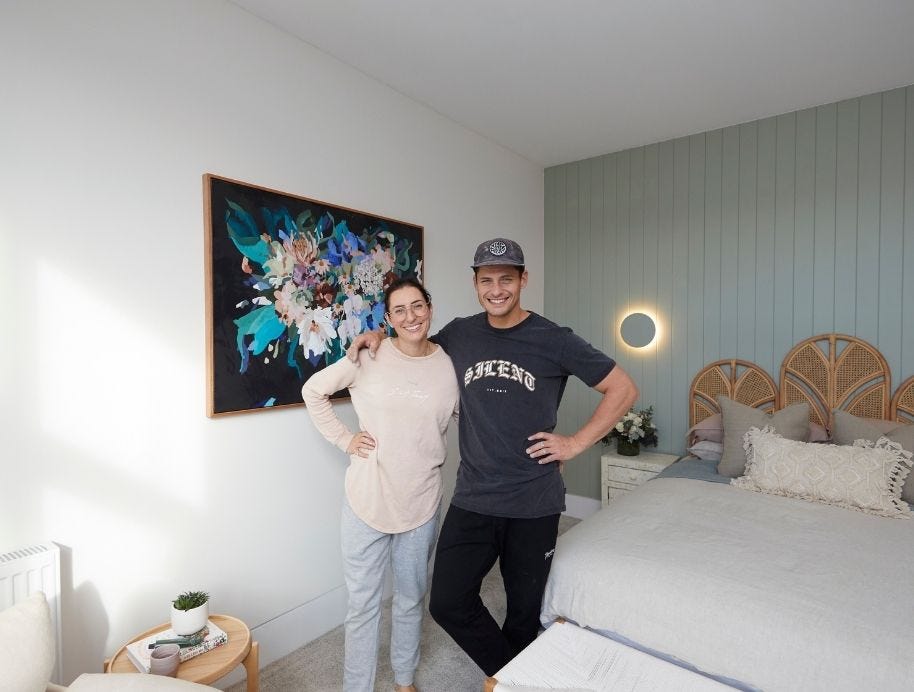 Our married couple from Perth had a really tough week upstairs on The Block, after an issue with a squeaky floor that went pear-shaped.
Luke had to rip up the floor upstairs in his living room on the Saturday before room reveal, so it's lucky they delivered any rooms at all.
"We found out there was no glue on the sheet, and my heart just sank," Luke said
As well as the living room that could also be a rumpus room and a work from home space, Luke and Jasmin delivered another bedroom upstairs.
"After everything this week what happened, Jasmin and I were really happy with what we delivered," Luke said.
"We think both rooms continue on with the look and theme we have tried to build throughout the whole house.
"The couch and the huge TV are just perfect, it's a wonderful room to relax in after a big day."
The couch included beautiful cushions.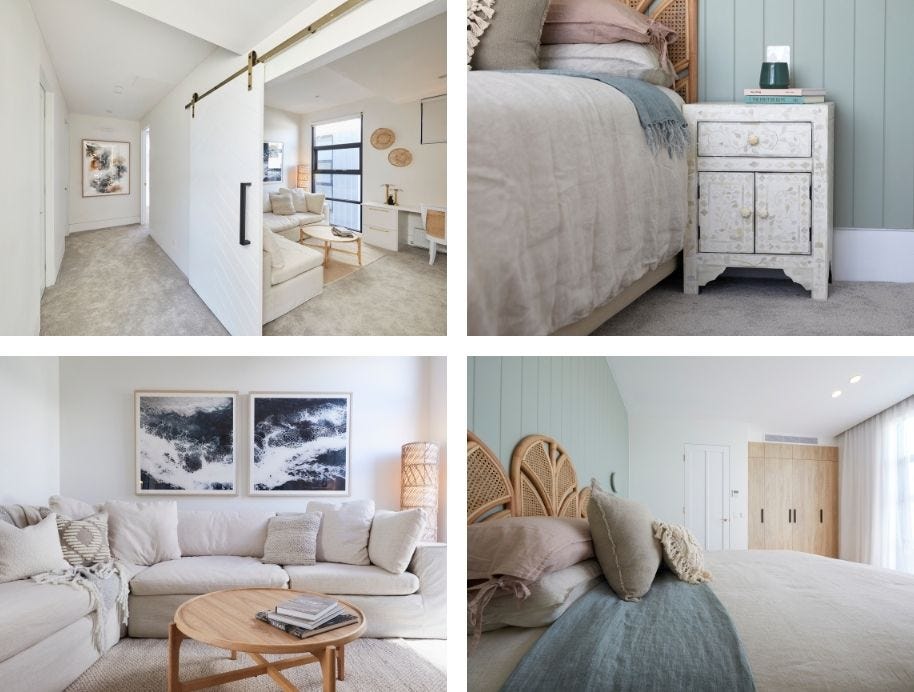 Immediately Darren loved the scale of Luke and Jasmin's house upstairs.
"You really get a sense of the benefit of this house being so wide and so big in scale," he said.
"This is a very generous hallway."
Shaynna thought Jasmin's styling and the fact she filed all the shelves with products including books was totally on point.
"They are filled with things that are the same sort of tone, coral, tan, earthy and beachy feel," she says.
Shaynna also loved the armchair.
The judges all felt however that they should have had plantation shutters in the room and Luke and Jasmin agree.
As far as the bedroom was concerned, they immediately loved the VJ panelling – which has become a feature of House No.4
"I love that colour, I love it, it's so fresh," Neale said.
Darren loved the lights and the bed head from was also a hit.
The only real negative across the board for Luke and Jasmin this week was that their finishings weren't up to scratch, and after the week they had, they acknowledged it.
Despite all their issues, Luke was pleased with the feedback.
"It wasn't too bad, I thought we were going to get slammed," he said.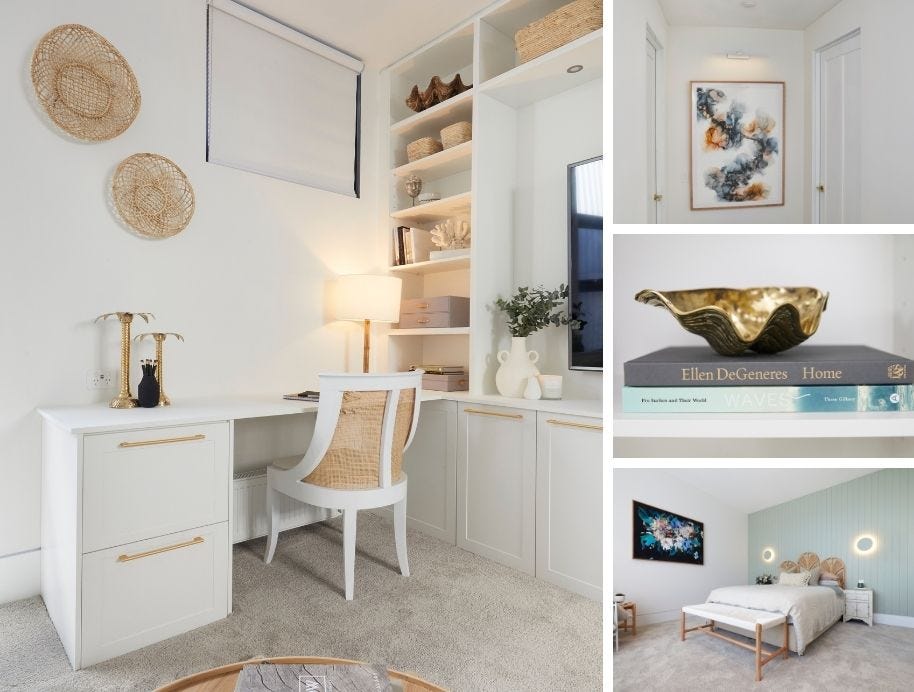 Take a close look and shop Luke and Jasmin's upstairs rooms HERE


Jimmy and Tam upstairs reveal
Score: 25 ½ - Fifth place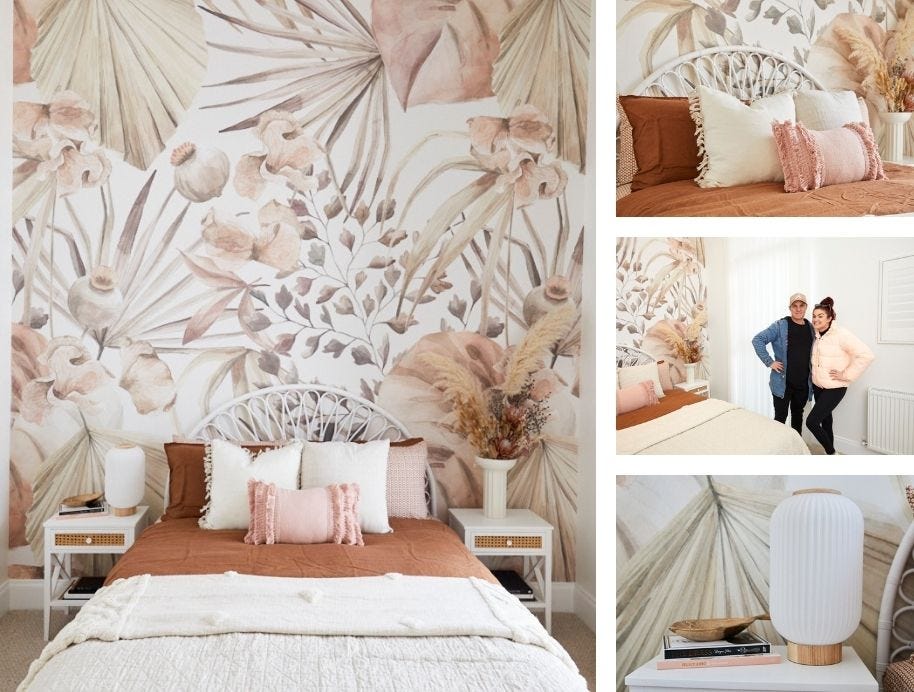 Last week Jimmy and Tam got hammered for not having a dining table in House No.5, this week it was the lack of home office space that was a concern for the judges.
The married couple from Brisbane delivered a media room and a bedroom upstairs this week.
Neale believes that Jimmy and Tam must have a home office in their studio at the back of the house.
"While I like the space very much, I'm wondering if it is an oversite?" he said of the lack of home office space.
Darren's big issue with the media room was that the TV was too high.
"It's the right height for the wall, but not the right height for a couch this close to the TV," he said.
This is a mistake that the judges see all too often on The Block.
Shaynna felt considering all the money Jimmy and Tam had, the media room was a bit of a letdown.
Neale also loved the lamp.
The bedroom, however, had better feedback, although predictably Neale wasn't a fan of the dried flowers.
"He is allowed to have his opinion, it's just wrong," Tam said, with a smile.
The cushions on the bed were beautiful.
Neale however a fan of the colour palette, including the wallpaper.
"Brown is not an easy colour to work with," he said.
"I think Jimmy and Tam have made brown look beautiful and they have made it sing."
So after winning nearly everything in the first few weeks Jimmy and Tam have had a couple of last places.
However, don't count the determined pair out just yet.
"We have a clear vision of what we want to do and we will continue with that," Jimmy said.
"We are looking forward to the whole house coming together."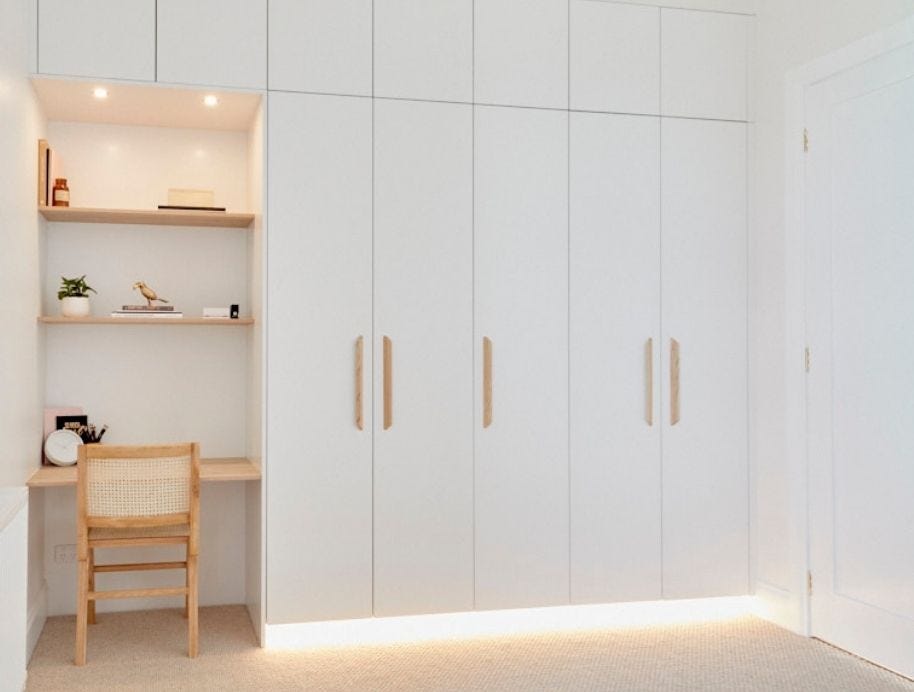 Take a close look and shop Jimmy and Tam's upstairs rooms HERE

Recap all the other Block room reveals HERE



Subscribe to our newsletter to be the first to receive news from The Block! Subscribe now to receive $20 off your next order.