Keep an eye out, these kitchen trends will be EVERYWHERE this year.


It's the centre of your home and arguably the most important room in your house. So if you're planning a kitchen reno this year, you're going to want to make sure you get it just right. Read on for the biggest kitchen trends for 2022.

Neale Whitaker was blown away by Ronnie and Georgia's 2021 Block kitchen, calling it "impeccable" in style and "the new classic!".

12 of the best kitchen trends:

1. Curved kitchen island benches
Daniel and Jade were ahead of the curve with their stunning island bench on The Block 2020, nailing this on-trend look and taking out first place for their efforts. Expect to see a lot more curved island benches popping up in the years to come as more people embrace this organic trend. Curved benches lend a much-needed softness to angular kitchen spaces and look especially good when paired with timber slats or panels.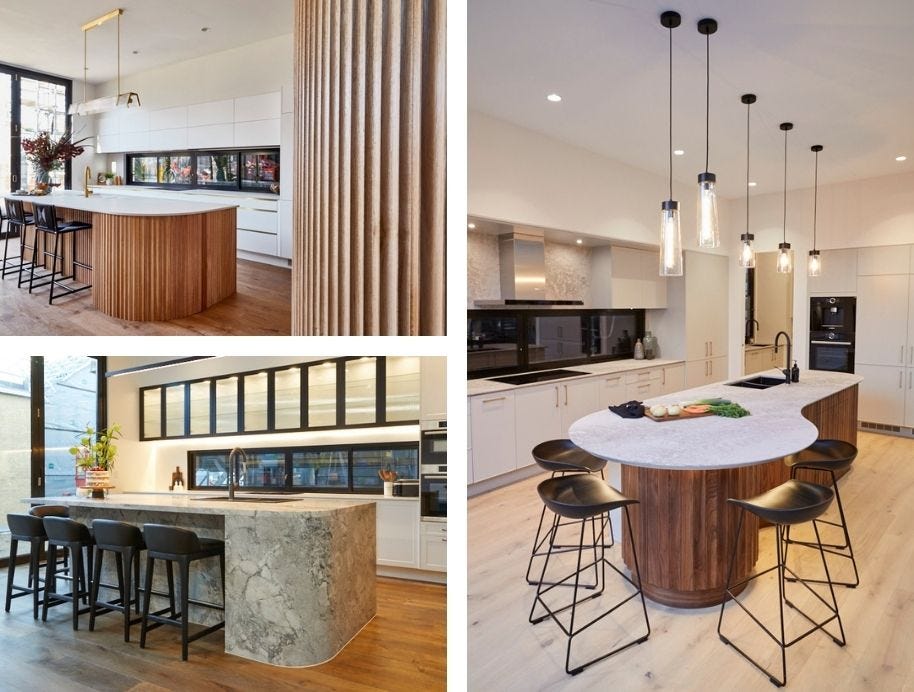 Shaynna Blaze tells Insider Style "organic shapes are a reflection of our nature and help us in feeling comfortable and not structured and I think a move toward that like we're seeing now has a lot to do with what the world is going through in the past couple of years."


2. Eucalyptus green kitchen cabinetry
Colour-popping kitchen cabinetry is a big trend. Jimmy and Tam first showed us a colourful mint kitchen on the Block in 2020 but one shade, in particular, is having its moment in the sun in 2021/2022 – eucalyptus green. Ex-Block 2014 contestant Simon Vos and his partner Ash recently embarked on a stunning reno of their mid-century beach house in Coffs Harbour. They used a gorgeous shade of green for their cabinetry, chosen to reflect the colours of the Great Dividing Range outside their kitchen window. "Don't be afraid of colour, but don't go overboard!" Simon recently said on Instagram. "We recommend sticking with a palette from nature – the best source of inspiration!"

Jimmy and Tam opted for mint green kitchen cabinetry to add a colourful touch to their 2020 Block kitchen.

3. Marble
This has been a big trend over the years on The Block, but most of the time it's been relegated to bathrooms and the occasional fancy dining table. Expect to see a lot more of it popping up in kitchens this year as people embrace the use of this luxurious building material to make an ultra-luxe statement. Marble looks particularly spectacular when used in a single piece on the base or top of an island bench, or across the wall as a splashback. But a word of warning – it doesn't come cheap, so budget accordingly.

Mitch and Mark's gorgeous kitchen with those incredible Danish stools.


4. Multi-purpose butler's pantries
There's been fierce debate raging for some time about just how essential butler's pantries really are. Some of our Block judges love them, some think you're better off using that extra space for other purposes. But if you do have room to include one, you may like to consider making yours a truly multi-functional space. Think about adding a study nook or laundry area – the Pandemic saw many of us working from home and to have that extra space to hide away from the family is a godsend. Don't have a job? Might we suggest telling everyone you're in there "doing the laundry" – voila! You've just bought yourself another 5 minutes peace!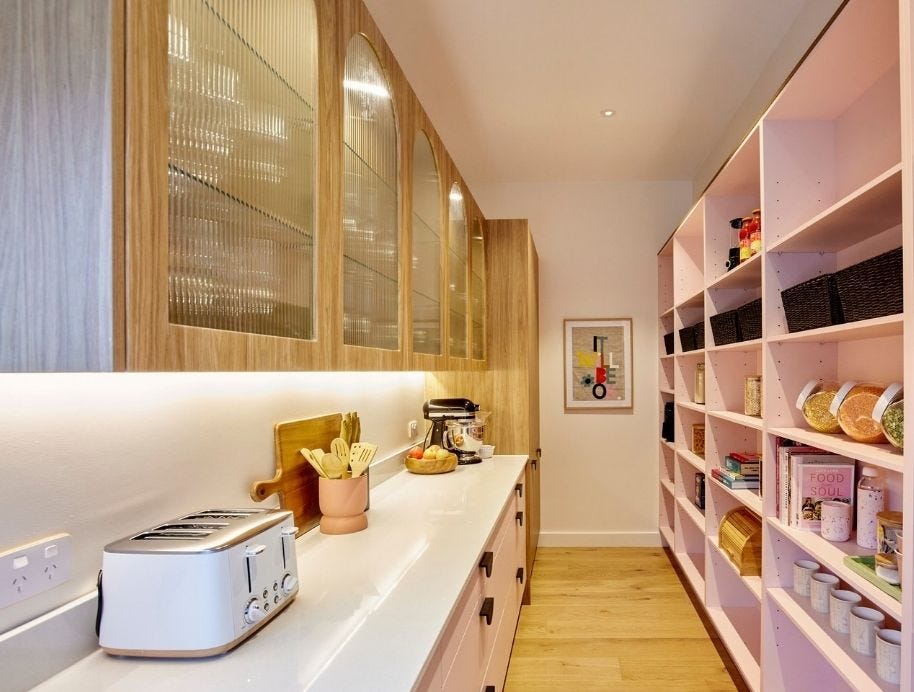 Tanya and Vito's pink butler's pantry as seen in The Block 2021.

"The butler's pantry is a real luxury," says Neale from his gorgeous South Coast home and we couldn't agree more! (Photographer: John Paul Urizar)


5. Broken plan living
You've heard of Open Plan – now get ready to hear a lot more about 'Broken Plan'. This refers to the current interiors trend of breaking up a space into different zones, using a display shelf, screen or divider to section off the room. This gives you an opportunity to retain a spacious feel, while creating cosy 'social' zones within that area. This was a particularly popular trend in years gone by, with many mid-century homes using timber dividers to section areas of the home. Consider this if you're working with houses built in the 50s-70s.

Alisa and Lysandra designed a stunning kitchen and dining area with a bar and display area in between at their stunning Albert Park property. (Photography: Lisa Cohen)


6. High tech kitchen taps
If you're one of those people who love to include all the bells and whistles, you'll want to consider adding a high tech tap to your planned kitchen reno. These can be configured to provide instant hot water or sparkling water, and you can pick them up in a variety of finishes. An absolute game changer.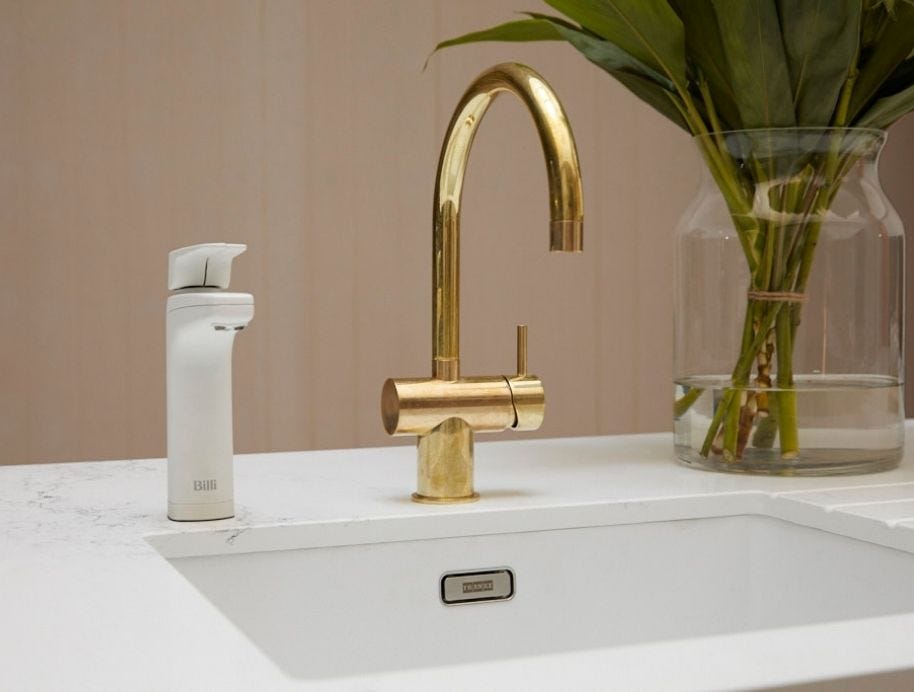 This Billi tap seen in Andy and Deb's Block kitchen delivers instant boiling, chilled filtered water and even the option for sparkling filtered water.


7. Pull-out kitchen pantries
If space is at a premium consider designing a pull-out pantry. These are great space-savers and make finding what you need an absolute breeze. If you're including one remember to plan them out properly before you start – you'll want to make sure you account for different sized foods like cereals and cans. Once you've built your dream pantry, why not channel your inner Home Edit and get busy organising everything with customised labels and storage containers. You get a special kind of satisfaction from a well-organised pantry!

A pull out kitchen pantry is a great space saver and it makes finding what you need an absolute breeze!


8. Downdraft extractors
These remain a popular choice for high-end kitchens and as technology develops, they are getting a whole lot more affordable. Downdraft extractors are particularly good if you're planning on placing your stovetop on an island bench – you won't have to break up your view out to an open-plan living area with a bulky overhead extractor bulkhead. These look particularly sensational in very minimal kitchens.

If placing your stove top on an island bench avoid the bully overhead extractor as Kerrie and Spence did in their knock out 10/10 Block kitchen.


9. Streamlined design
Which brings us to our next trend – streamlined kitchens. Whereas a couple of years ago overhead gantries were all the rage – as was displaying all your kitchen utensils, cups and cutlery – many people these days are opting for super minimal clean-lined kitchens. This means finding clever ways to integrate appliances like ovens, microwaves and coffee machines in cupboards for a more minimal, uniform look.

Harry and Tash choose to make a feature out of their coffee machine however many these days are opting for super minimal clean-lined kitchens.


10. Wood finishes
Wood grain finishes on cabinets and benchtops continues to be a big trend in 2022 and looks particularly good when paired with concrete benches or dark coloured tapware, sinks and appliances. Using timber in your kitchen is a great way to bring softness to the space, and to potentially tie it into furniture you've used elsewhere if you're working with an open-plan layout.
Josh and Luke's stylish black and white kitchen with the feature timber benchtop by Christian Cole.
Using timber in your kitchen is a great way to bring softness to the space as seen in Luke and Jasmin's Block kitchen.


11. Gold and brass kitchen finishes
These were big a few years ago – especially in bathrooms – and continue to be a major trend in kitchen hardware this year. Think gold sinks, brass tapware and metallic handles. A word of warning though – while this trend is hot right now, it's likely to date quite quickly, so keep this in mind, especially if you're renovating to live, rather than as a house flip or investment.

This gold handle suits many styles of kitchens from Shaker, Hamptons to industrial. As seen in Deb and Andy's knock out winning Block kitchen.


12. Geometric '80s' kitchens
This trend is pretty cutting edge, and definitely not for everyone. 80-inspired kitchens, complete with square or geometric tile patterns, the use of big, bold colours like red and white (especially in tapware) is a big trend for 2022. If you're working with a slightly older, brown-brick 80s home and you like the idea of sticking with its origins, this could work extremely well at your place. And chances are you'll be ahead of the curve!

Deb used a neutral geometric tile in her 'California Casual' Mid North Coast home. (Photography: James Cause)

We all know that the kitchen is the hub of the home, well we can help you create one you can be proud of. You'll love our range of kitchen stools, kitchen builds, appliances and accessories online. Not to forget kitchens sell homes!


For more kitchen renovation tips click here


Take a look at The 2021 Block Kitchens HERE!