About to embark on a bathroom reno? We've got your back. We've compiled a list of our favourite trends and must-have bathroom inclusions for 2022. Take your pick!

Mitch and Mark pulled out all the stops in their Block main bathroom, delivering a stunning, modern, spacious bathroom with a feature tile that dreams are made of!


16 of the best modern bathroom trends


1. Rain showers

Who doesn't love a rain shower? Literally, NO ONE on The Block - all our contestants include wide-headed rain showers in their bathrooms. If you've got money to burn, why not opt for a fixture that has dual attachments, allowing you the option of using the larger overhead 'rain' option, or a more focused, directional spray via the secondary nozzle?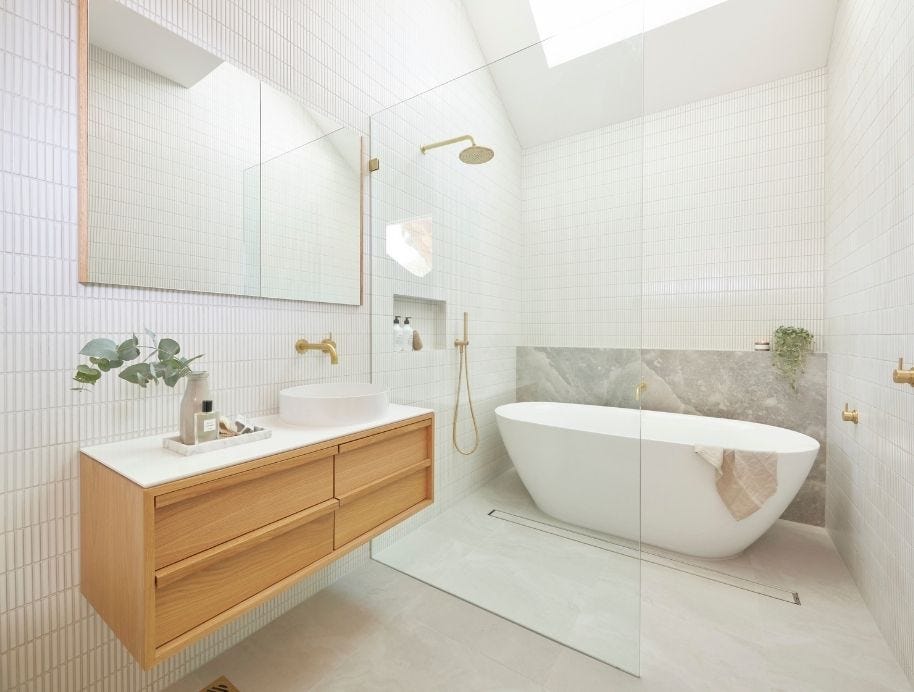 Ronnie and Georgia are experts at having the right inclusions in a room, shop their bathroom here.

2. Coloured tapware

Let's face it, bathrooms can often be fairly spartan spaces. But they don't have to be! Inject a little colour and fun into your bathroom via coloured tapware, a big trend for 2022. Brass and Black are still as popular as ever on The Block, when you are on a good thing stick to it.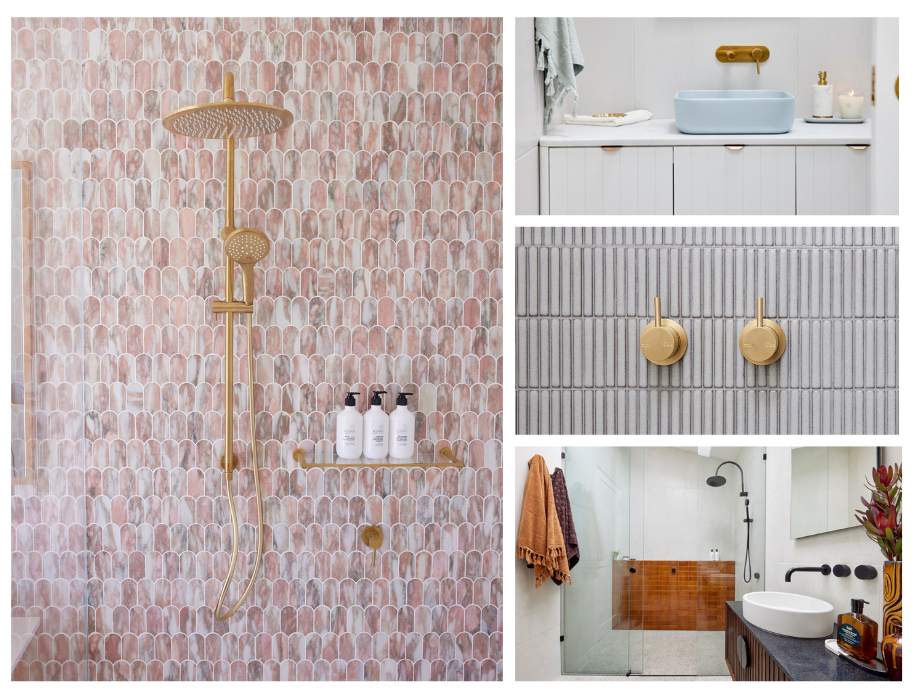 Coloured tapware on The Block 2021, the big question....would you choose Black or Brass??
3. Bathroom Skylights

Skylights are a fantastic way to introduce light, and give the illusion of space, to your bathroom. They're also great if privacy is an issue and windows aren't able to be easily installed. We have seen the 2021 Block contestants use them in their bathrooms to fantastic effect. The overhead skylights provide great natural illumination to their stunning tile choices and adding light creates a real sense of space in the smaller rooms.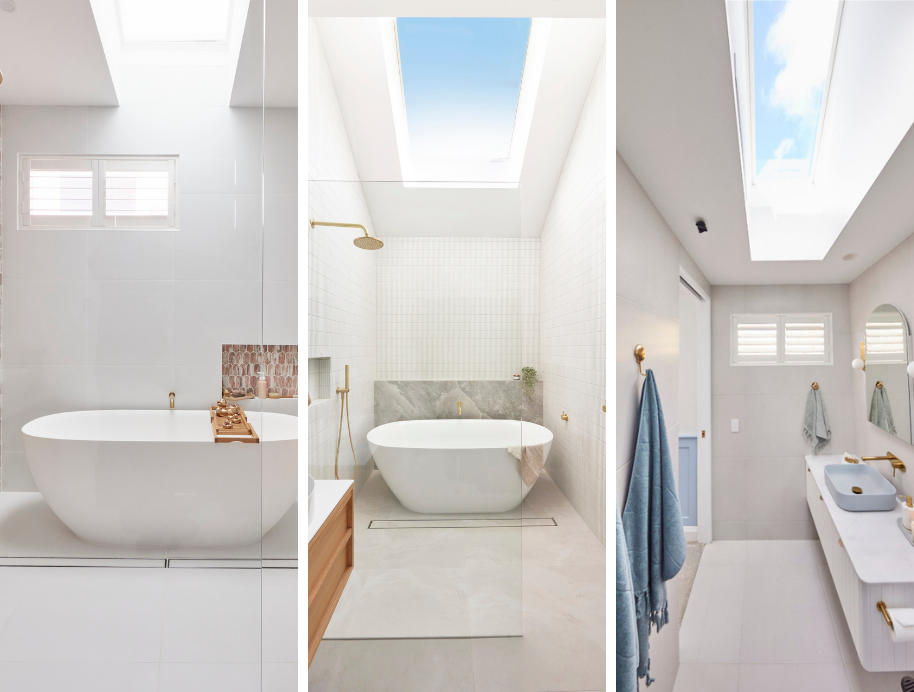 Let there be light! These Block bathrooms know how to make an impact with skylights.

4. Curves in all the right spaces

As we see an increase in "Coastal Luxe and Mediterranean" styles curves are set to be a trend that makes a statement in 2022. Curved walls, curved mirrors, curved tiles, curved shower screens ... they add a softness to any bathroom space that will set your bathroom apart from others.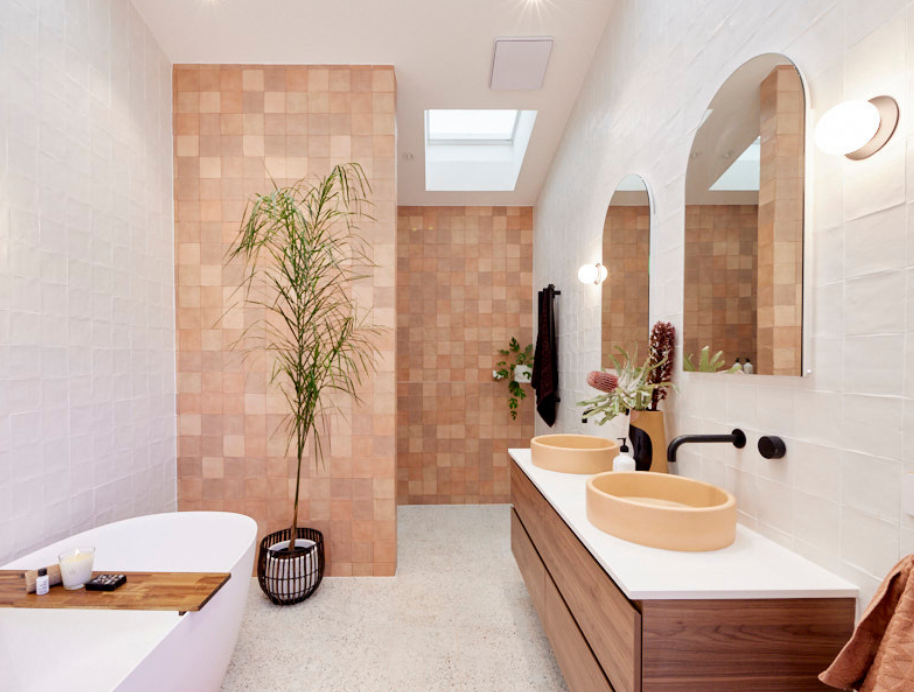 Tanya and Vito's bathroom is mediterranean perfection, so warm and inviting with beautiful arch mirrors, complimenting the amazing tile selection, timber and round peach sinks.
5. Coloured concrete sinks

Remember your Nan's old pink, tiled bathroom? Yeah - it rocked. And, good news - coloured bath fixtures and fittings in blushes, pastels and pinks are making a big comeback. While coloured baths can be quite expensive (they're a big designer trend overseas), you can still recreate the look in other ways.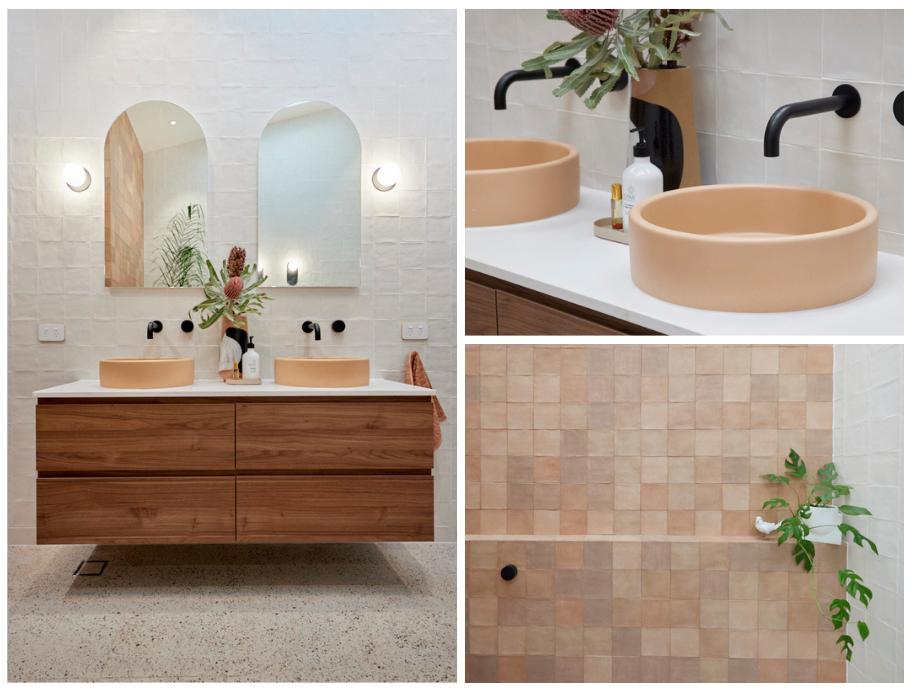 Tanya and Vito absolutely perfected the blush in their bathroom on The Block. Shop the look here.



6. Unfinished wood

If you're looking to introduce a more 'organic' feel to your bathroom, unfinished wood can be a great way to bring warmth to an otherwise plain, tiled space. Think timber vanities, stools, bath caddies. We particularly love wooden stools next to baths - they're practical and add interest to the room.
We were treated to some stunning timber vanities in The Block 2021, check out the latest vanity trends here.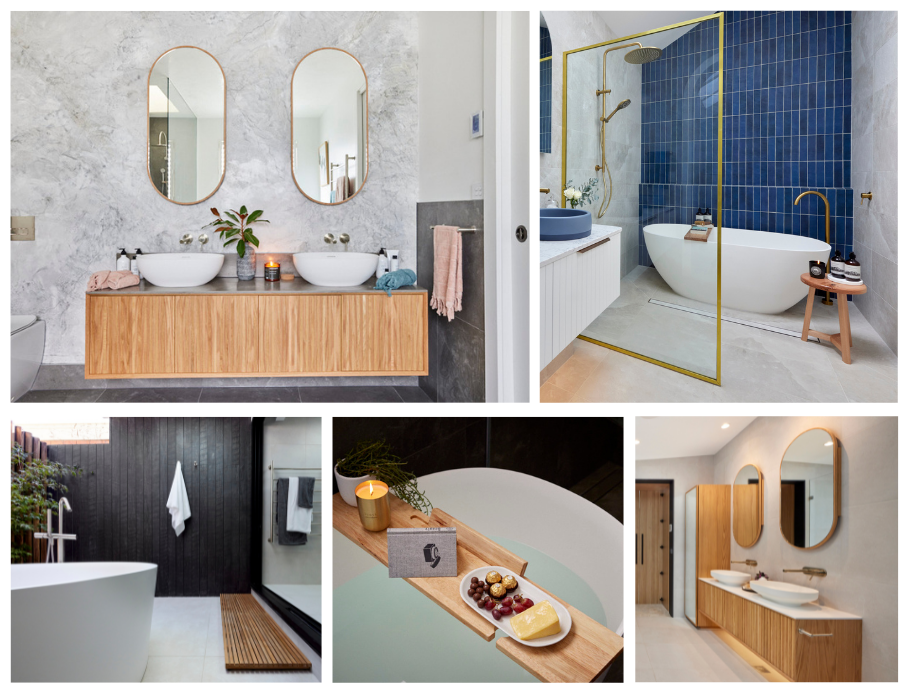 Timber finishes add so much warmth to bathrooms, this trend is set to continue into 2022.
7. Statement Walls

Gone are the days of having the same tile throughout a bathroom. In 2022 we will see the statement tile trend continue to grow. Mixing combinations of tile colours, shapes, and textures will create absolute bathroom magic, just look at the bathrooms delivered in The Block for your inspiration.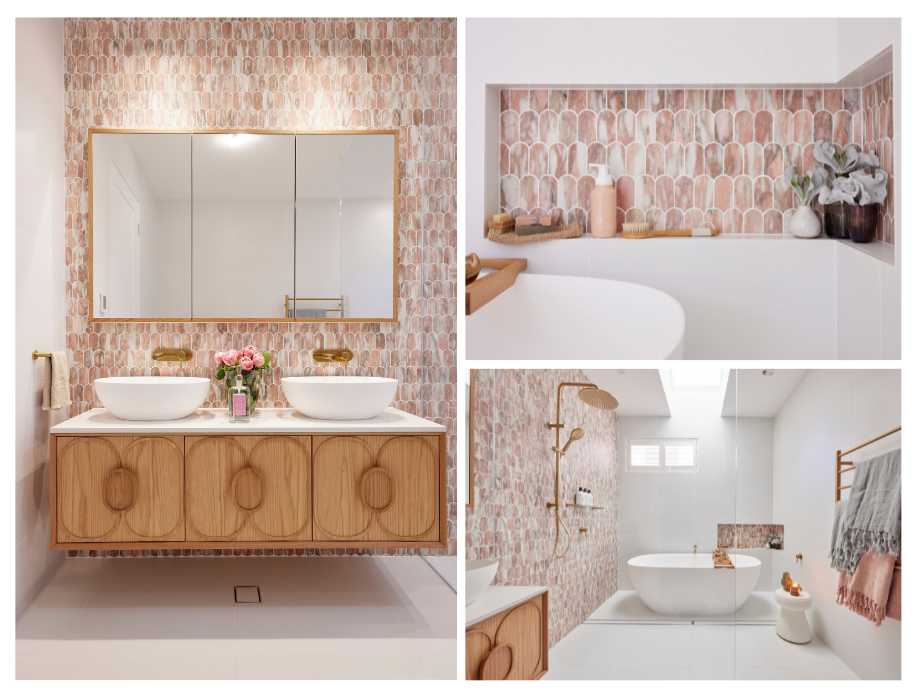 Winners are grinners at The Block, Mitch and Mark served up an absolute master class in statement wall tile choice.


8. Lovely Lights

There was a time where backlit mirrors were the latest and greatest lighting trend for bathrooms, and whilst we still like them, the trend has definitely shifted to lovely lights. Think feature lights that create much needed light at the basin and mirrors, either beautiful understated wall sconces or celiing feature lights are the trends we will be seeing more of this year.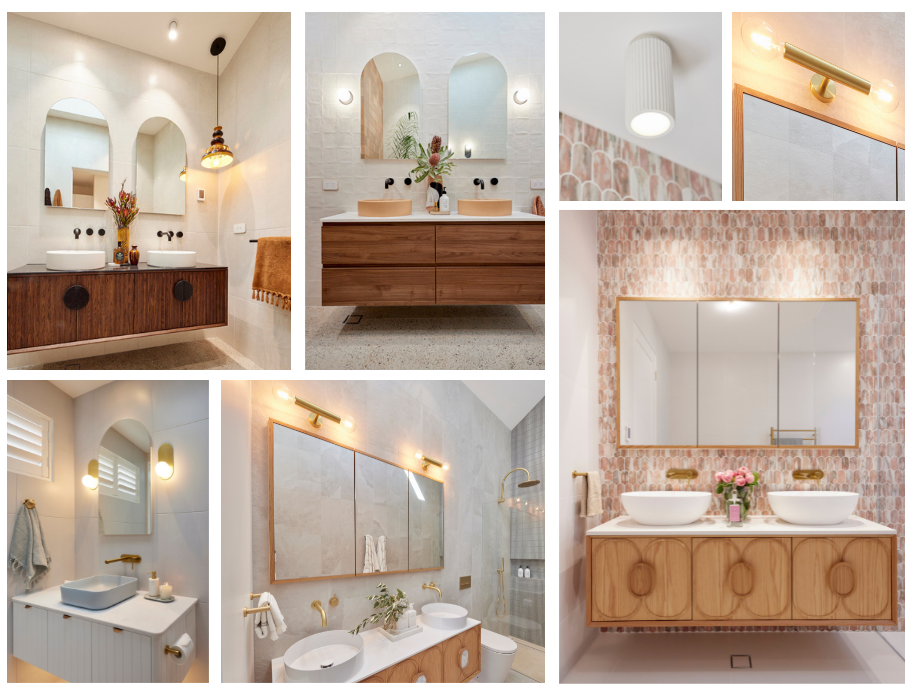 Spoilt for choice with on trend bathroom lighting, shop The Block lighting here .
9. Bringing the outdoors in

If you fancy recreating a bit of a 'day spa' vibe in your bathroom, look no further than what Josh and Luke created on The Block. If you have the appropriate space to create an indoor / outddor bathroom, it is the ultimate in luxury. Combining a bath with the outdoors, especially alongside beautiful timbers and greenery, its a yes from us!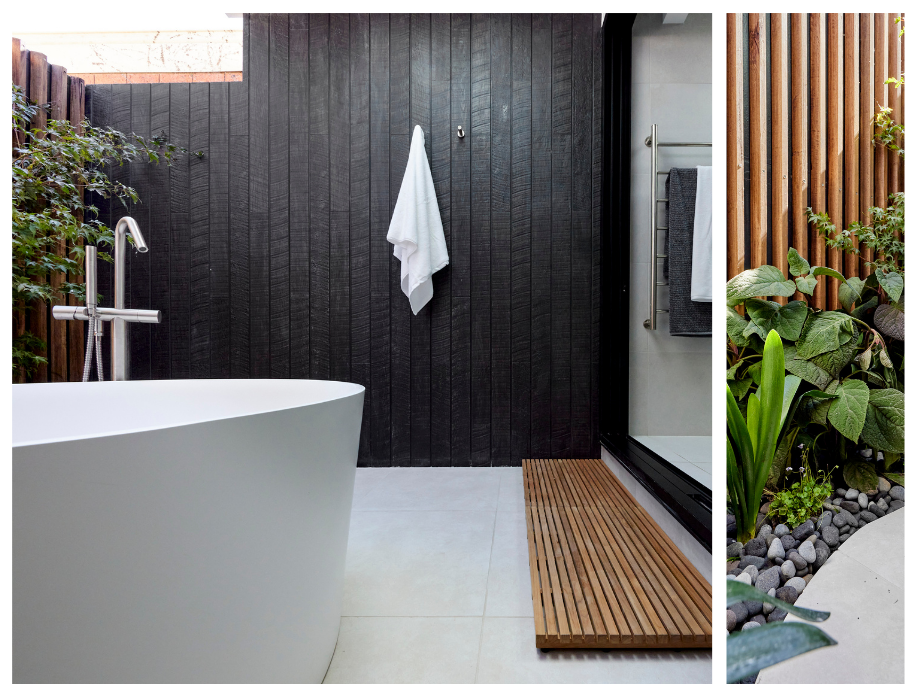 Day spa vibes from Josh and Luke with this luxe, outdoor bath. It might not be always practical... but it doesn't mean we cant dream right?
10. Bathroom blues

2022 is set to see an increase in beautiful blue and green colour schemes. Think ocean blues and aquamarine greens for bathrooms. These colours draw a connection to the great outdoors, be it our beautiful coastlines or enchanting rainforests, helping to create a calming and zen space in your bathroom. A splash of colour can create something that sets a bathroom apart from everybody else's and we certainly welcome the Bathroom Blues in 2022.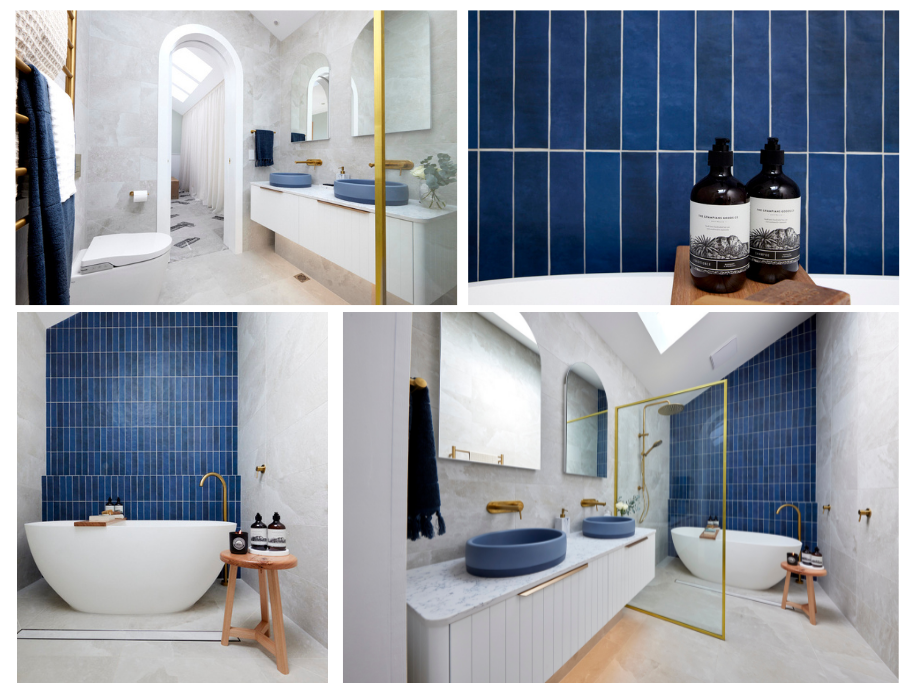 Kirsty and Jesse certainly covered off multiple trends in their Block Bathrooms.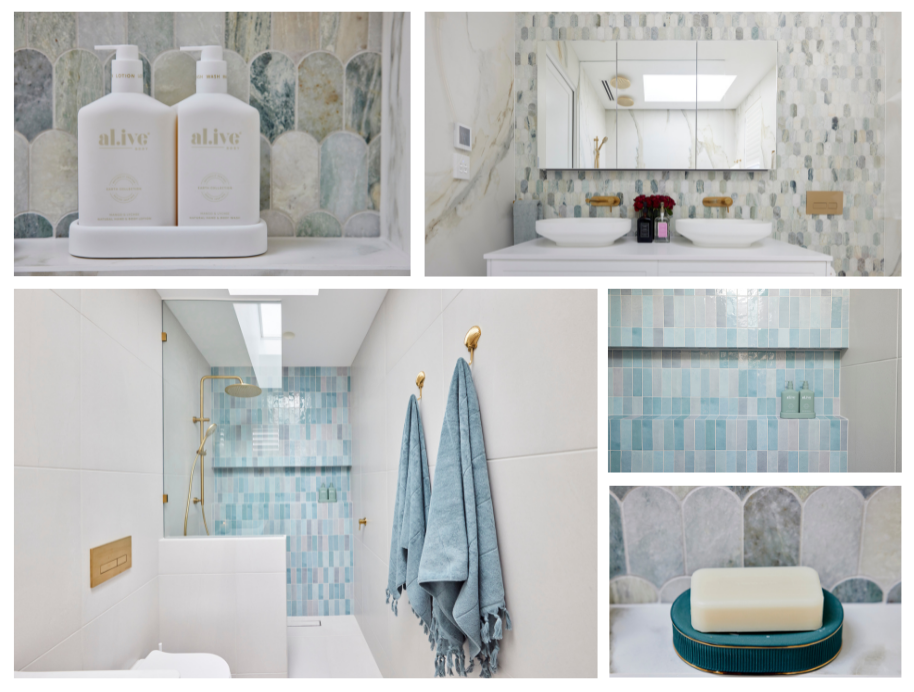 Find plenty of blue bathroom inspiration from The Block, couples Kirsty and Jesse and Mitch and Mark were obviously onto the blues trend.
11. Organiser baskets

Yeah, yeah Shaynna, we know - face-level storage in bathrooms is important. But what if you just don't have the room? If space is of the essence, a good way to store your bathroom knick-nacks is via organiser baskets. Whether it's your cosmetics or extra toilet rolls, well-placed organisers can be both functional AND fun.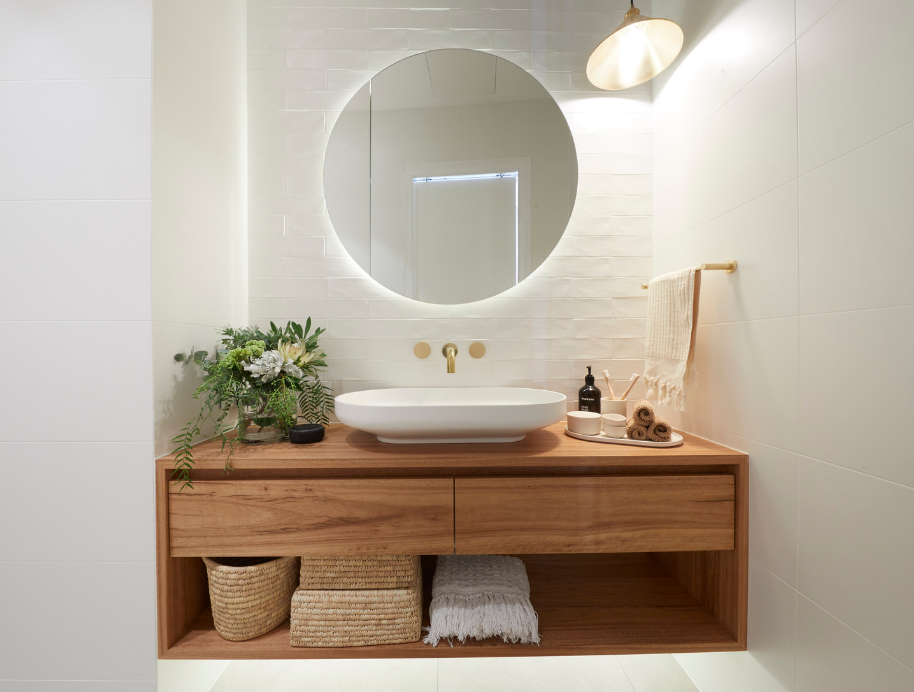 The Block Shop has a large range of storage baskets perfect for you to Kon Mari your bathroom.



12. Bath caddies
It feels like these are everywhere right now. Which begs the question - where have bath caddies been up until now? We seriously don't know how we operated before there was a handy storage shelf for our wine, books, phone, ipad, loofer, soap, razors...you get the drift.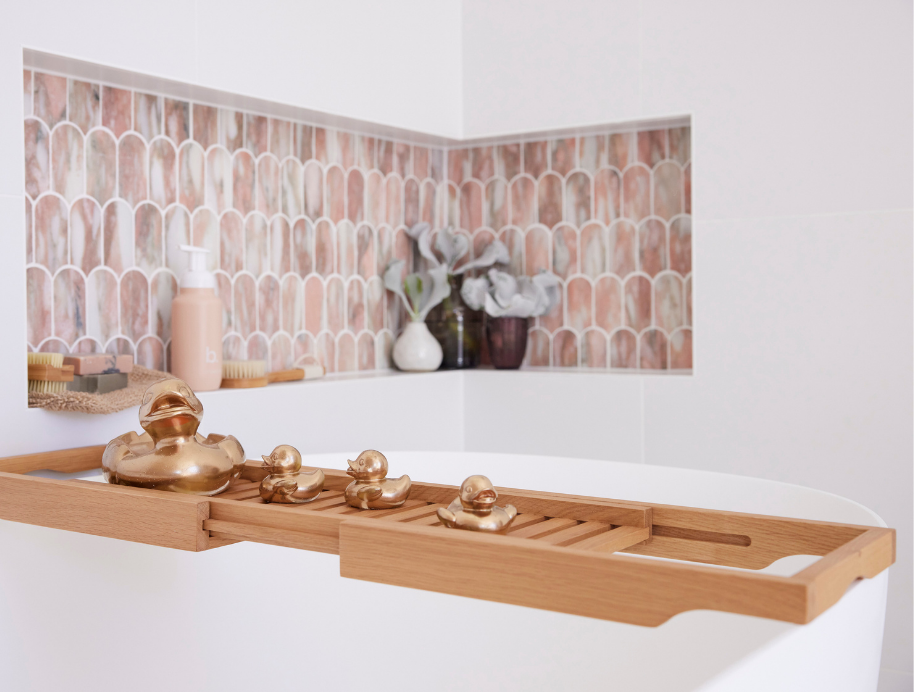 Did somebody say, bathroom styling perfection.... courtesy of The Block's Mitch and Mark. Shop our range of bath caddies HERE


13. Bathroom Greenery

Vanities can be jazzed up no end with the inclusion of a statement plant - we love fresh flowers on the vanity at The Block, but for a more everyday look try adding an indoor plant. Clump them together in bowls or whimsical planters for a fun inclusion to your bathroom.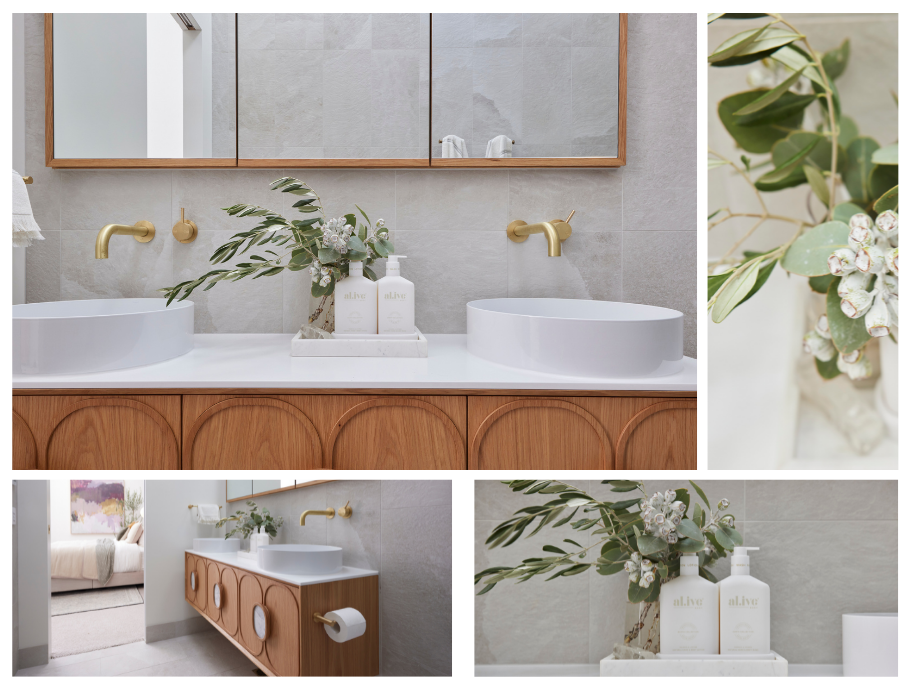 Georgia or shall we call her the styling Queen! We love the use of natives in the bathroom for longevity over fresh flowers... I see The Block Tree Change 2022 styling.....


14. White but not ALL white
I know what you're thinking.... this trend seems high maintenance, but hear us out. White is practical, timeless and asthetically pleasing but in order to add warmth and texture it needs other elements, so by all means a white bathroom is a trend, when mixed with other elements, and it will definitely last the test of time...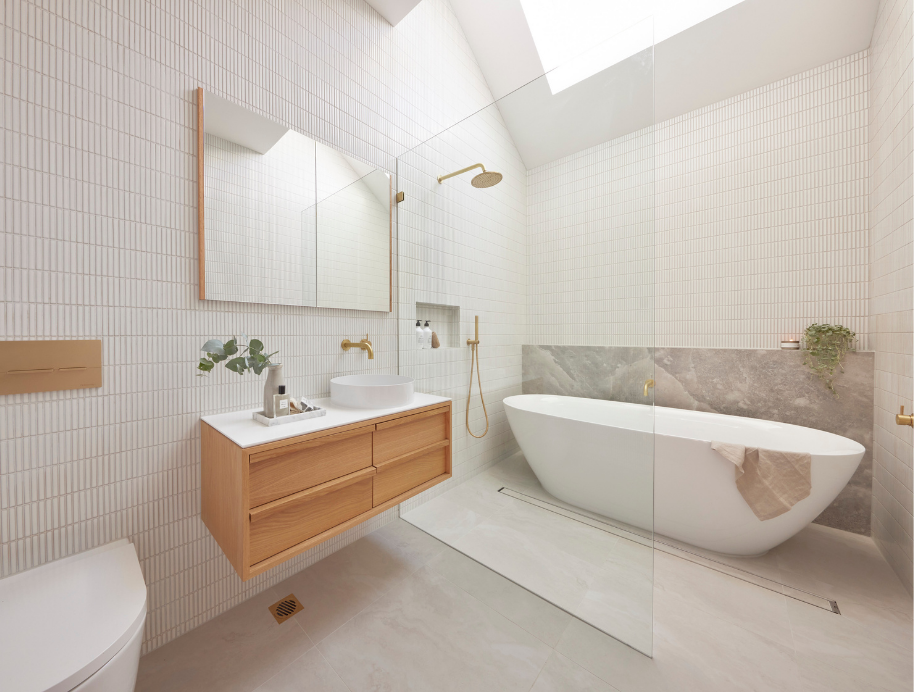 Ronnie and Georgia have showed us the perfect "White" bathroom. Stunning tile choice, tick, timber and brass elements to add warmth tick....


15. Walk in showers
Walk in showers are great for so many reasons, we love them as they open up the bathroom and can make small spaces appear larger, not to mention easier to clean with less edges and tracks for dirt and grime to appear over the years. This trend gets a very enthusiastic yes from us if it eleviates the need for scrubbing!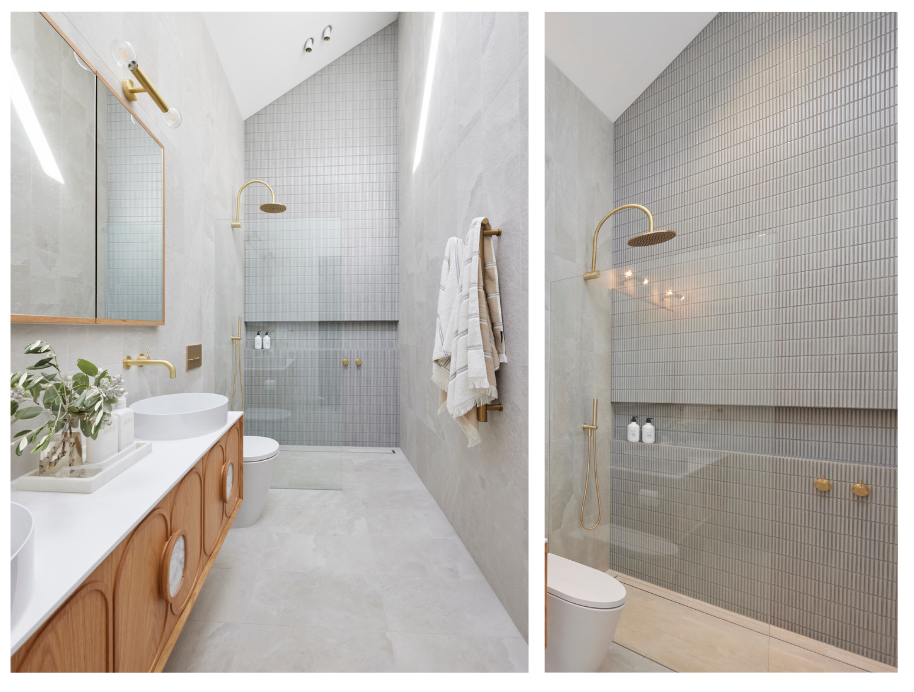 The walk in shower is much easier to clean and has the benefit of making a small room appear more spacious.
Take a look at the 2021 Block bathroom reveals HERE

Your bathroom is your sanctuary and we can help you freshen up your space with our range of bathroom furniture and accessories. You'll love our range of bath towels, basins, tapware, vanities and soaps.

Renovating a smaller bathroom? 12 of the best small bathroom and ensuite idea's HERE