About to embark on a bathroom reno? We've got your back. We've compiled a list of our favourite trends and must-have bathroom inclusions for 2021. Take your pick!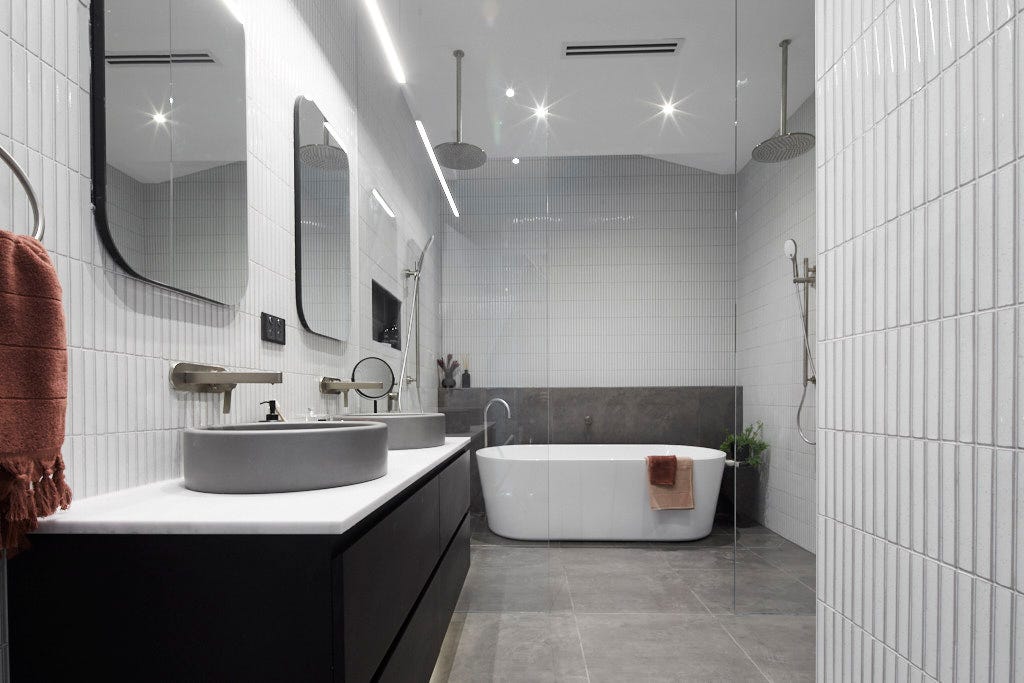 Tess and Luke pulled out all the stops in their Block main bathroom, delivering a stunning, modern, spacious bathroom with a speckled mosaic feature tile that had SERIOUS wow factor.


16 of the best modern bathroom trends


1. Rain showers

Who doesn't love a rain shower? Literally, NO ONE on The Block - all our contestants include wide-headed rain showers in their bathrooms. If you've got money to burn, why not opt for a fixture that has dual attachments, allowing you the option of using the larger overhead 'rain' option, or a more focused, directional spray via the secondary nozzle?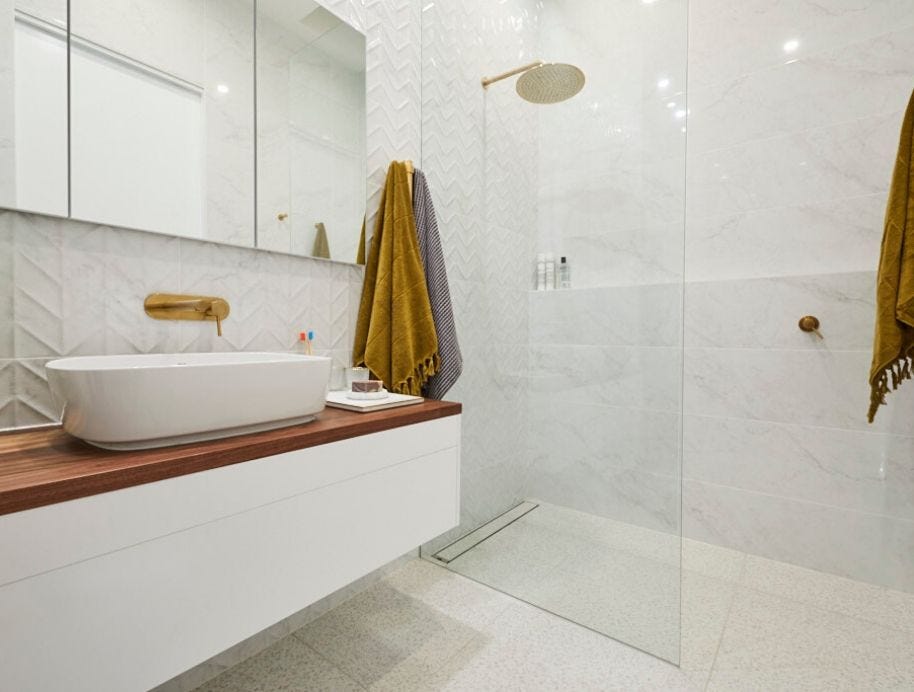 Mitch and Mark bring the glamour with their gold wide Shower Head.


2. Coloured tapware

Let's face it, bathrooms can often be fairly spartan spaces. But they don't have to be! Inject a little colour and fun into your bathroom via coloured tapware, a big trend for 2021. Monochromatic bathrooms featuring matte black tapware are still a big trend, but if you're feeling bold, you could opt for something different, like a powder-coated white option, or use brass or gunmetal grey.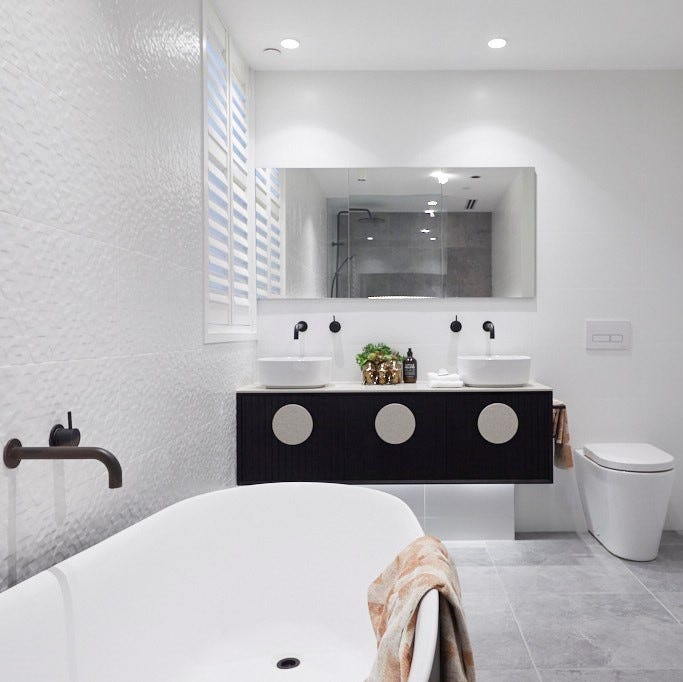 The Block 2018 Challenge Apartment's monochrome main bathroom received the judges praise, with Shaynna declaring "this bathroom is amazing!"


3. Bathroom Skylights

Skylights are a fantastic way to introduce light, and give the illusion of space, to your bathroom. They're also great if privacy is an issue and windows aren't able to be easily installed. We have seen many 2020 Block contestants use in their bathrooms to fantastic effect. The overhead skylights provided great natural illumination to their stunning feature tiles.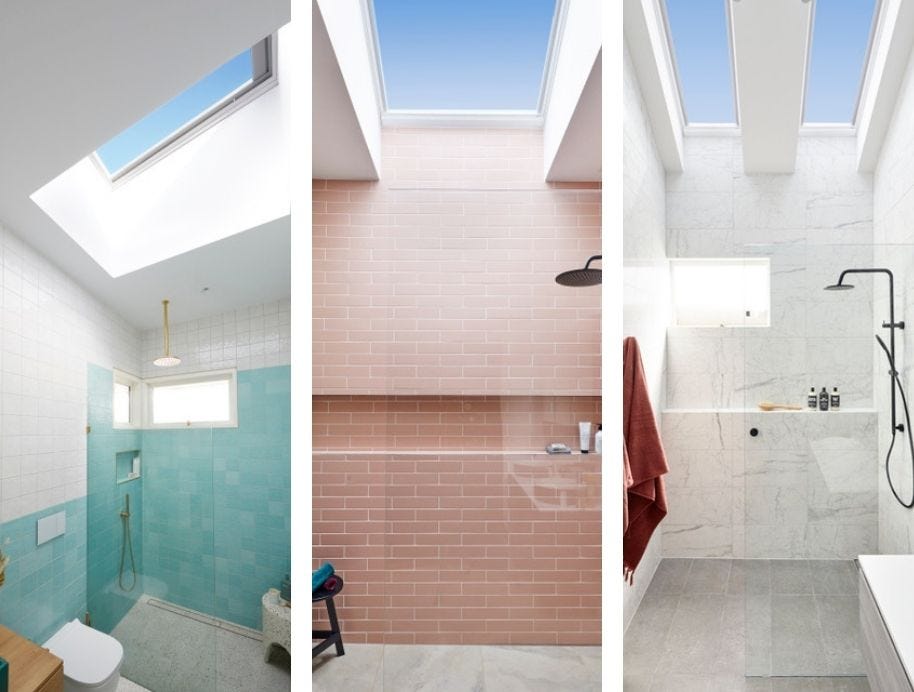 The Block 2020 guest ensuites featured some amazing skylights provided great natural illumination to the stunning feature tiles.


4. Orchids

These beautiful plants can be notoriously tricky to grow. But by placing them in bathrooms, near light sources like skylights or windows, they'll very likely thrive. If you treat your orchid right - we find wanton neglect often works - this little stayer of the plant world will just keep flowering and flowering. Trust us - the less you do, the more they love you!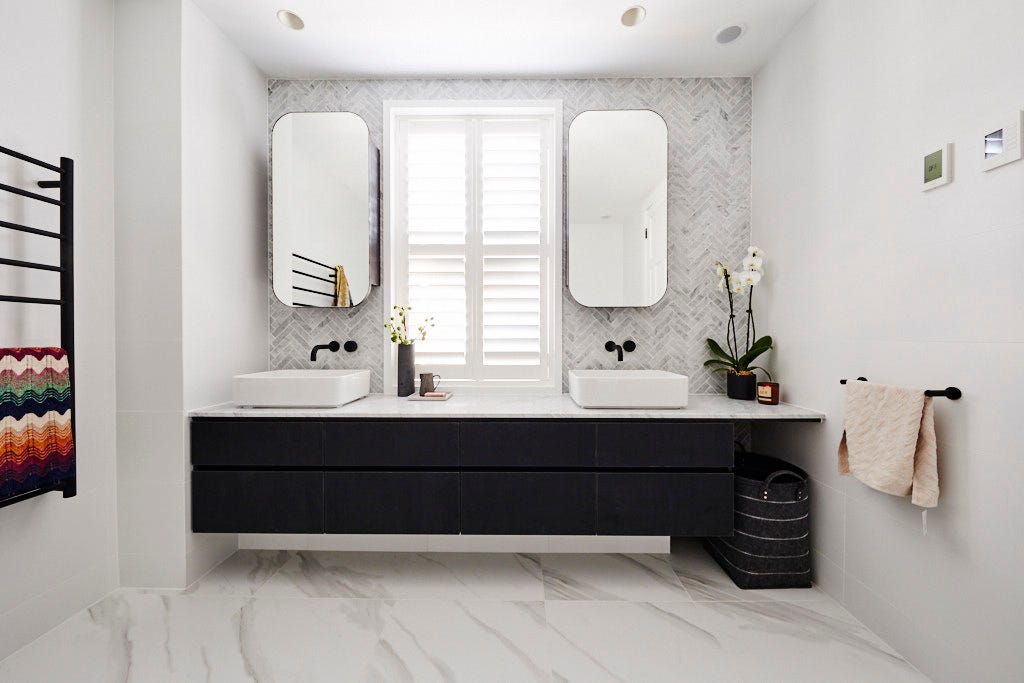 Kerrie and Spence used a butterfly orchid in their perfectly styled master ensuite in 2018.


5. Coloured concrete sinks

Remember your Nan's old pink, tiled bathroom? Yeah - it rocked. And, good news - coloured bath fixtures and fittings in blushes, pastels and pinks are making a big comeback. While coloured baths can be quite expensive (they're a big designer trend overseas), you can still recreate the look in other ways. Ronnie and Georgia opted to use this stunning Nood Co pink concrete sink in their guest ensuite - and we're still in love with it.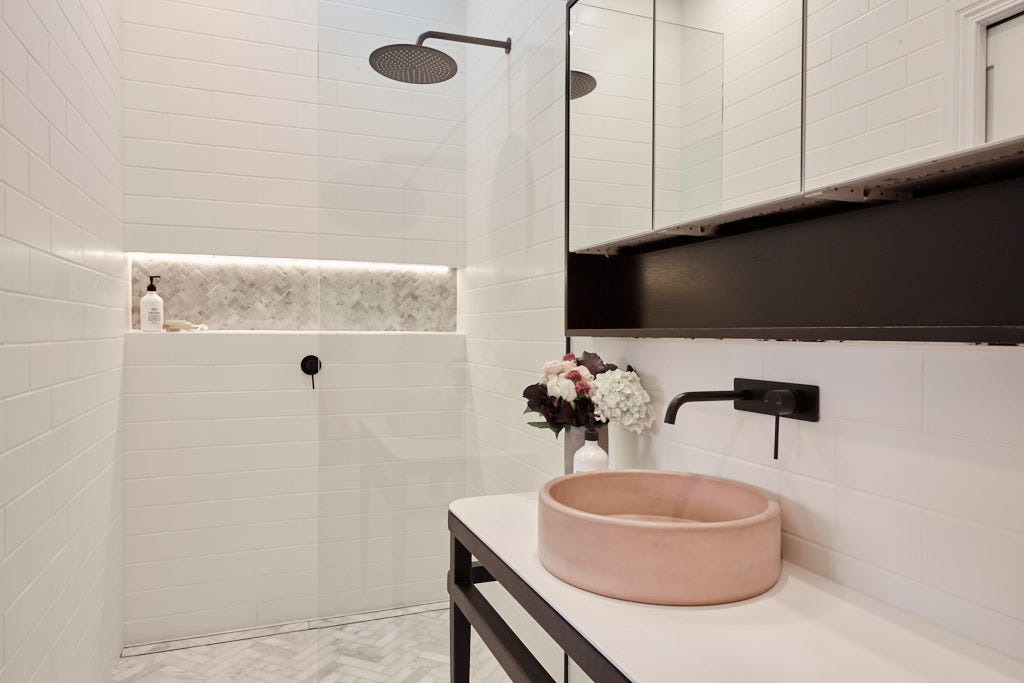 Ronnie and Georgia opted to use this stunning Nood Co pink concrete sink in their guest ensuite - and we're still in love with it.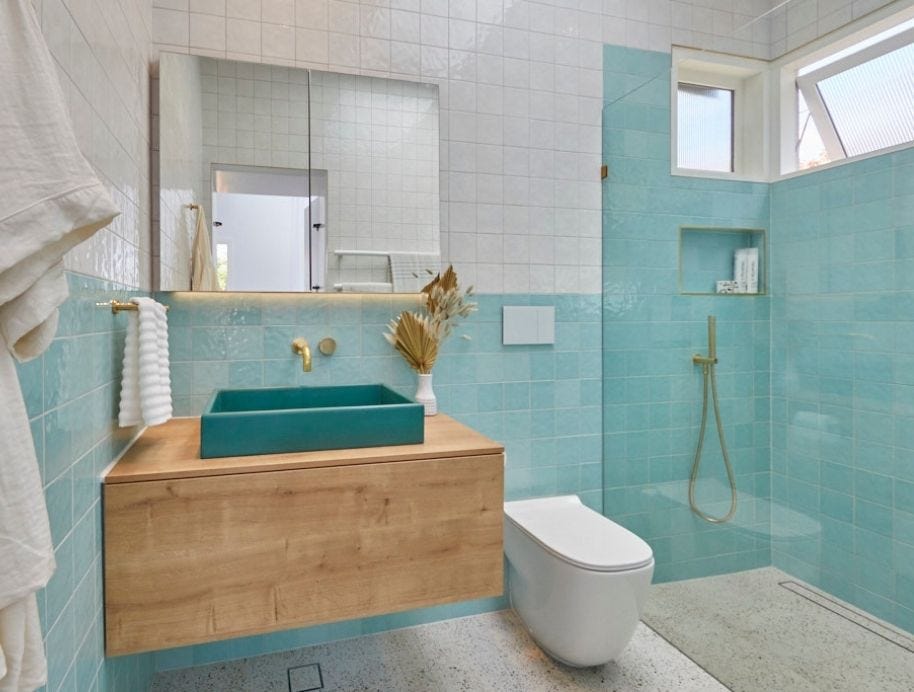 This teal concrete sink used by Tam and Jimmy in their winning bathroom is an absolute stunner. "I can't remember walking into a bathroom that hasn't put such a smile on my face, and God knows that is not easy to do, but this bathroom has done it," Neale Whitaker said.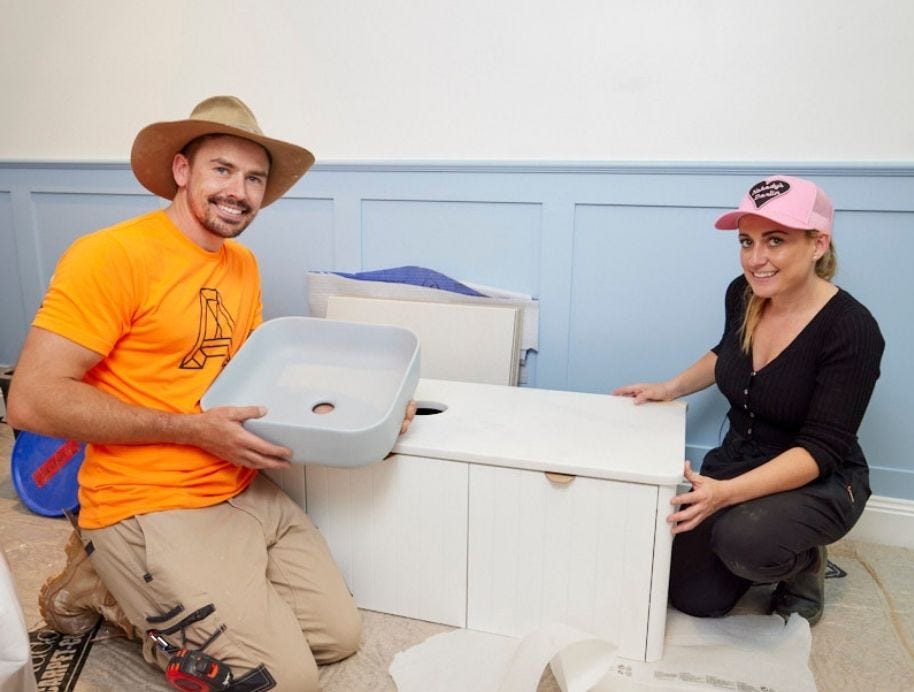 Looks like Kirsty and Jesse are keeping up with the coloured sink trend on The Block in 2021 with a pale blue sink!


6. Unfinished wood

If you're looking to introduce a more 'organic' feel to your bathroom, unfinished wood can be a great way to bring warmth to an otherwise plain, tiled space. We particularly love wooden stools next to baths - they're practical and add interest to the room.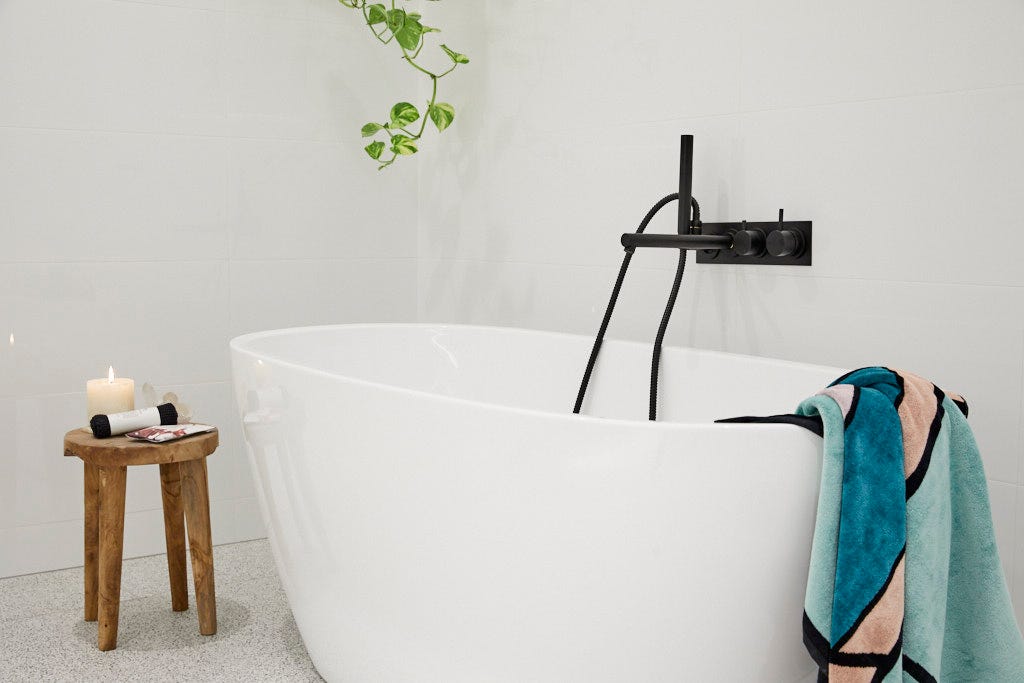 Courtney and Hans winning main bathroom on the Block 2018 featured a raw finished stool which was both practical and added interest to the room.


7. Dark Statement Walls

Dark walls continue to be a big trend in bathrooms for 2021. And while Sara and Hayden took this to the extreme in 2018, you don't need to go quite as overboard - using black tiles around your mirror and vanity can be just enough to break up the space, and provide a dramatic focal point.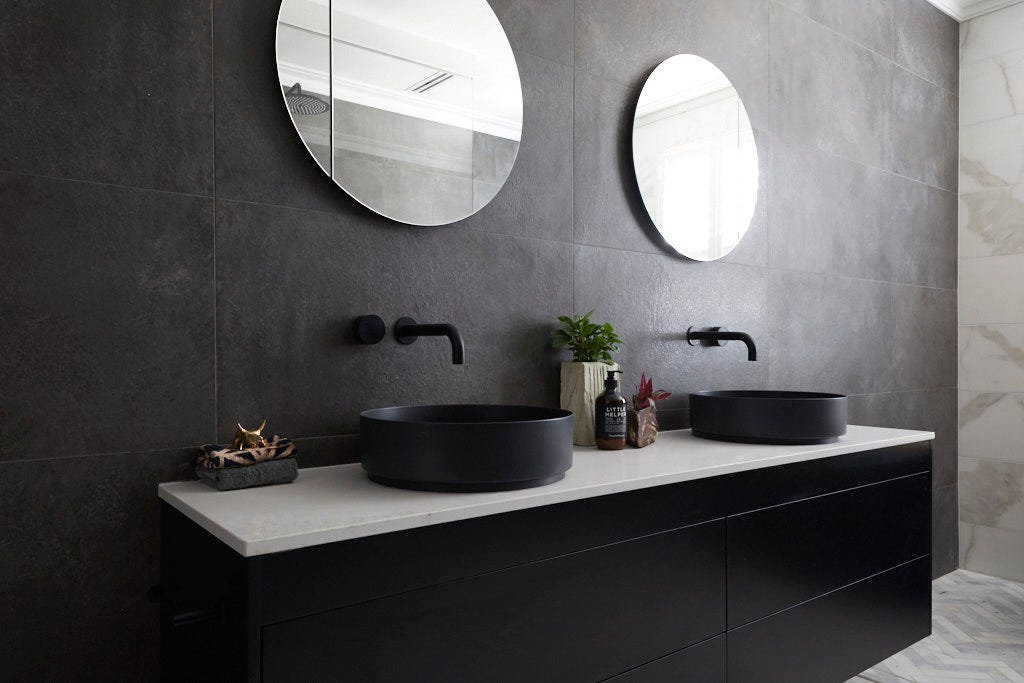 Using black tiles around your mirror and vanity can be just enough to break up the space, and provide a dramatic focal point.


8. Backlit mirrors

Which brings us to our next inclusion - backlit mirrors. These were everywhere in 2020 and we are seeing them again in 2021, continuing to be a big trend for this year. Oval shapes look particularly good when lit from behind, but oblongs and rectangles can also look sensational - especially when they're mounted on a darker-coloured statement wall.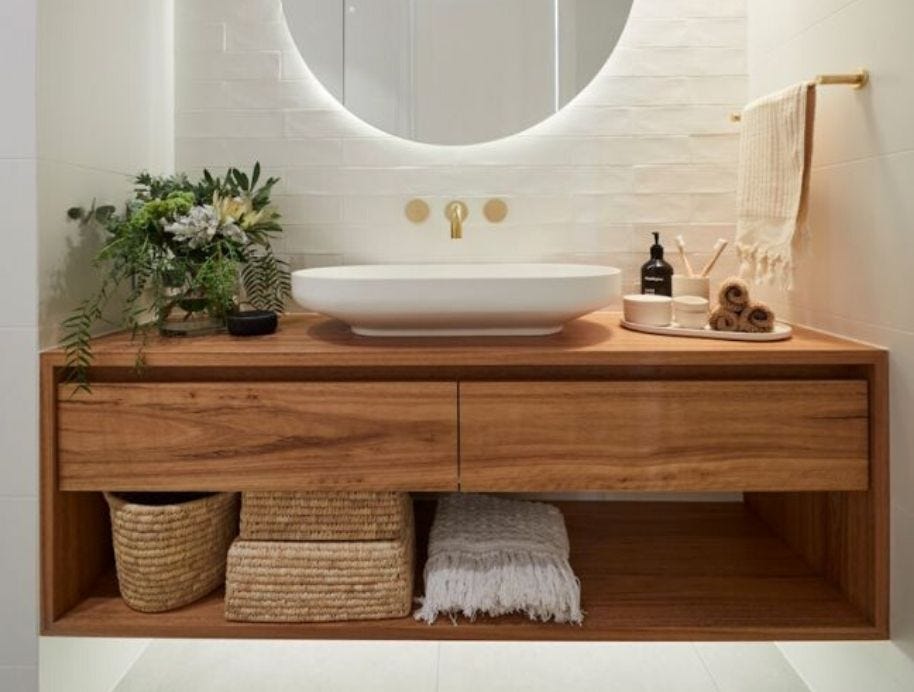 Deb and Andy featured a backlit mirror in their main bathroom on the Block 2019. P.S these HowsThatHouse vanities are AMAZING!



9. Stone and wood-planked floors

If you fancy recreating a bit of a 'Scandi day spa' vibe in your bathroom, then including wood planked floors is a good way to do this. They look particularly good when paired with pebbles, and indoor/outdoor plants like palms and ferns, giving your space a gorgeous 'oasis' feel. Outdoor bathrooms can utilise this trend particularly well, but if you're using it indoors, make sure your space is well ventilated.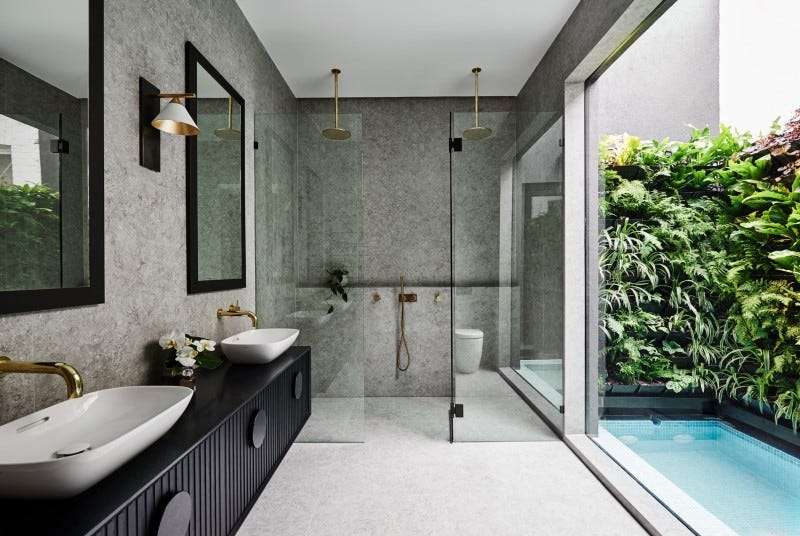 Alisa and Lysandra created an incredible oasis in the ensuite bathroom of their Albert Park property (Photography: Lisa Cohen)


10. Bathroom art

Who says artwork should be relegated to the rest of your bathroom? Big statement pieces, like framed photographic prints, can look sensational in the bathroom. Another great way to introduce colour to your bathroom is to opt for a wallpaper print - the British are particular fans of this interiors trend. Bianca and Carla did this to fantastic effect in their Gatwick Challenge apartment bathroom - and we fell instantly in love.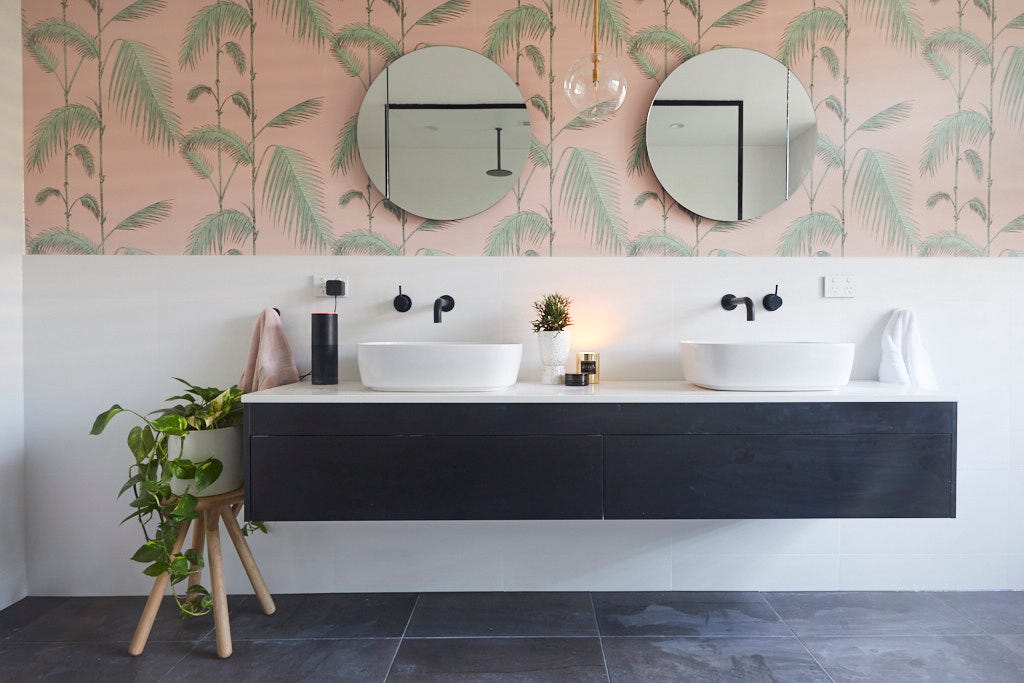 We all adore this gorgeous 'Palm Leaves' wallpaper that Bianca and Carla utilised to introduce colour to their challenge apartment bathroom.


11. Organiser baskets

Yeah, yeah Shaynna, we know - face-level storage in bathrooms is important. But what if you just don't have the room? If space is of the essence, a good way to store your bathroom knick-backs is via organiser baskets. Whether it's your cosmetics or extra toilet rolls, well-placed organisers can be both functional AND fun.



The Block Shop has a large range of storage baskets perfect for you to Kon Mari your bathroom.



12. Bath caddies
It feels like these are everywhere right now. Which begs the question - where have bath caddies been up until now? We seriously don't know how we operated before there was a handy storage shelf for our wine, books, phone, ipad, loofer, soap, razors...you get the drift.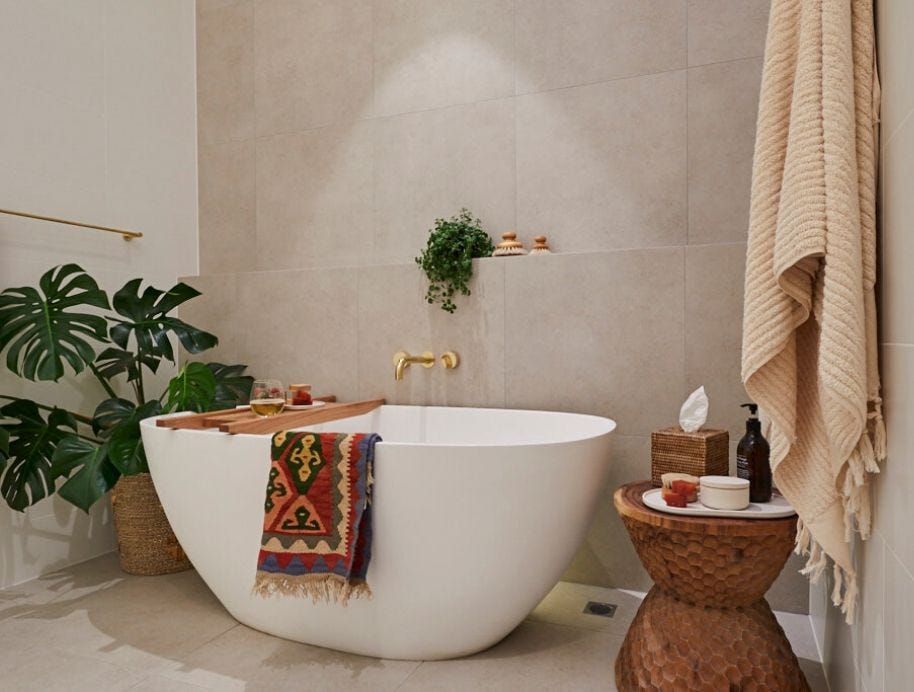 We seriously don't know how we operated without bath caddies! We're obsessed! This one was used in Andy and Deb's bathroom on The Block 2019. Shop our range of bath caddies HERE


13. A bowl of succulents

Vanities can be jazzed up no end with the inclusion of a statement plant - and they don't come much easier to maintain than a succulent. Clump them together in bowls or whimsical planters for a fun inclusion to your bathroom, like this one used in Sara and Hayden's bathroom. Perhaps just veer away from cactus' though - eek!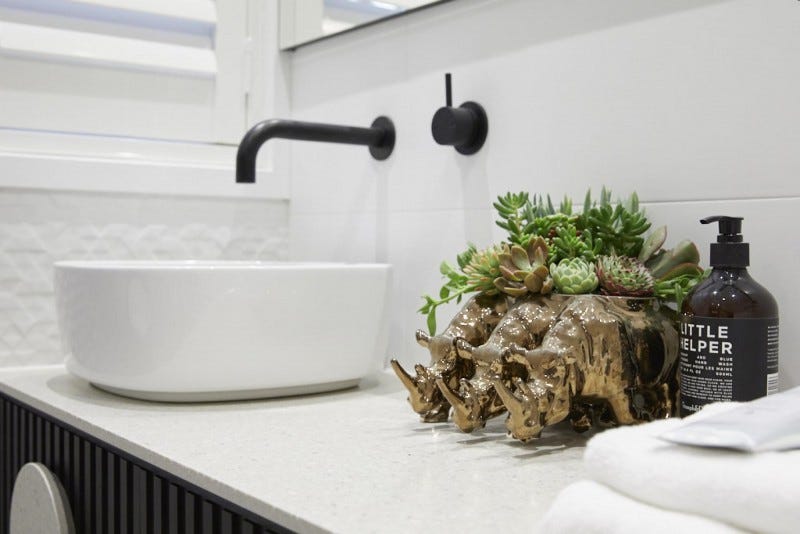 We love a bit of greenery! They don't come much easier to maintain than a succulent. Shop our range online HERE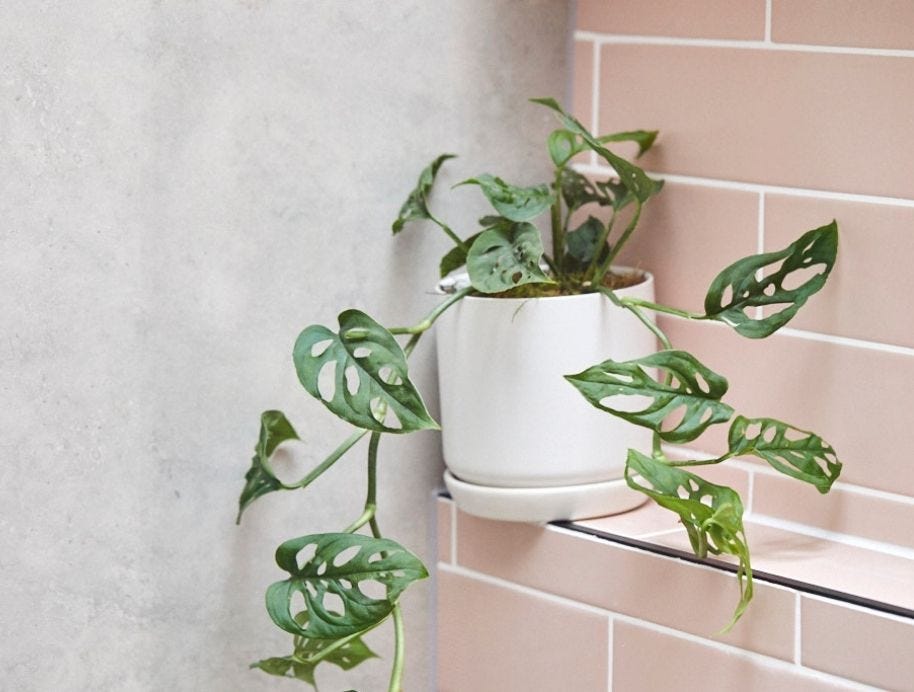 Sarah and George used a stunning plant to style their 2020 Block Guest Ensuite! Did you know you can buy real plants online?


14. White-on-white-on-white

If you're getting a bit sick of seeing that ubiquitous blue-stone grey tile everywhere, why not veer away from the current trend of darker bathrooms, and go back to traditional white. We're talking white tiles, white walls - and white tapware! You can add a point of difference by introducing different textured tiles, or add a pop of colour with your towels and bath mat.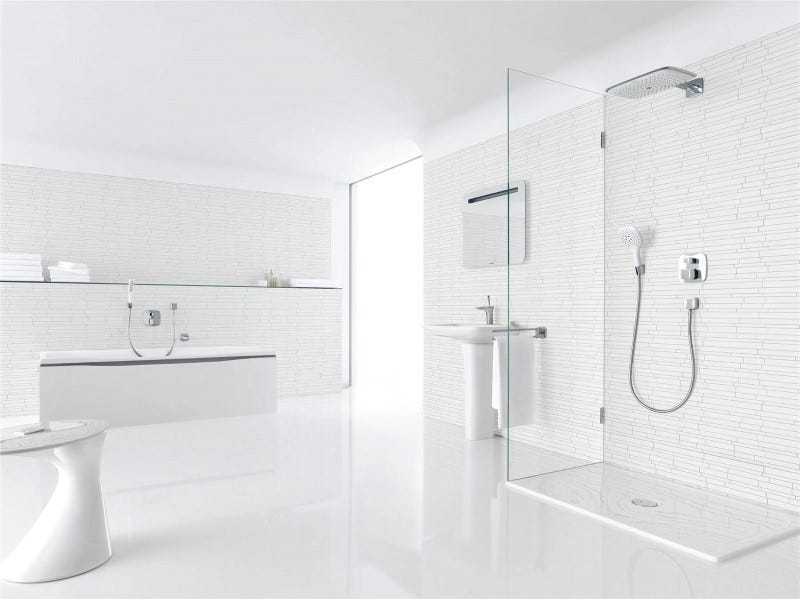 Nearly a total white out...image via Nickolas Kola at Above All Bathrooms.


15. Exposed plumbing

This has been around for a while now, but plumbing on display continues to be a big bathroom trend for 2021. This is particularly great for renovators working with small spaces with no room for under-vanity storage. Or those on a budget - simply make your plumbing beneath your sink a design feature! If you're feeling particularly creative, copper piping also makes great towel rails and hooks.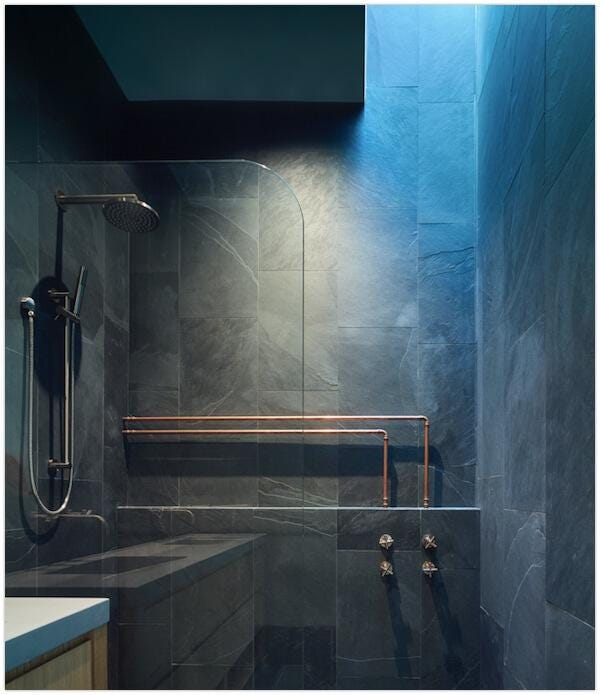 Russett House by Graya Construction showcasing Meir Tiger Bronze mixing perfectly with the copper pipes (Picture: Scott Burrows Photography)


16. Shower benches

Who doesn't love a good sit down in the shower? We love it so much, we've created a word for it - a 'bower'! Perfect for when you're just WAAAY too hungover to remain upright while bathing. For all other occasions, inbuilt shower benches and steps are great if you want to shave your legs, or store lotions and potions.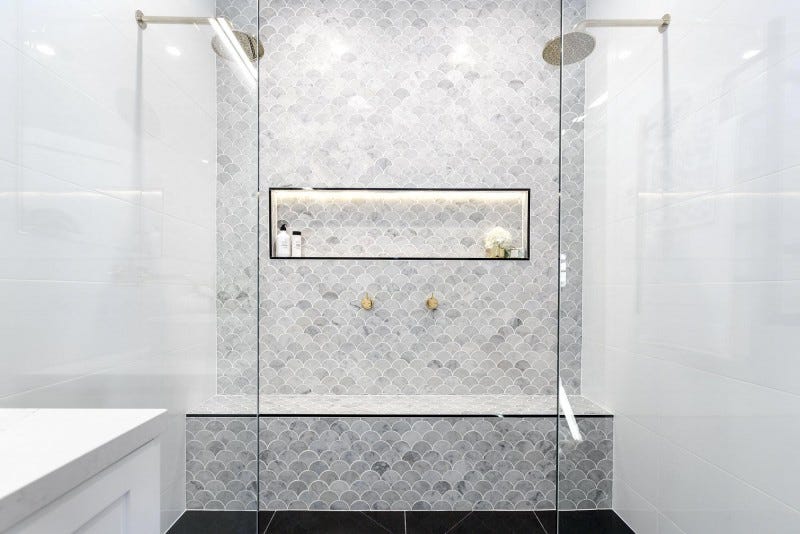 Julia and Sasha delivered a stunning bathroom on The Block in 2016 incorporating a 'bower'.





Take a look at the 2021 Block bathroom reveals HERE

Your bathroom is your sanctuary and we can help you freshen up your space with our range of bathroom furniture and accessories. You'll love our range of bath towels, basins, tapware, vanities and soaps.

Renovating a smaller bathroom? 12 of the best small bathroom and ensuite idea's HERE