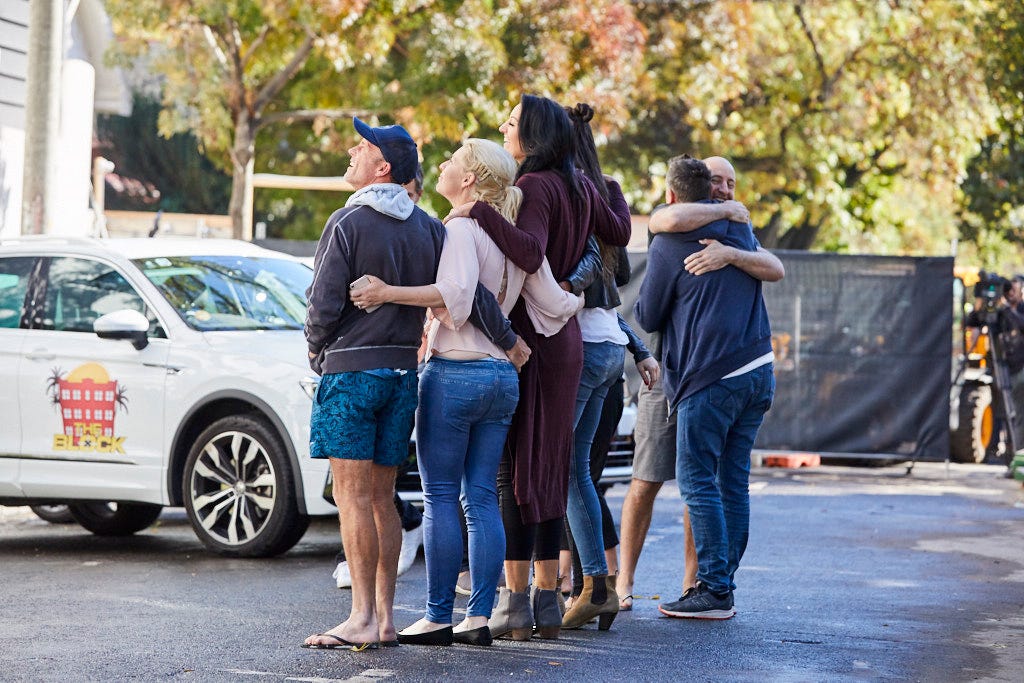 Kerrie and Spence
"All the bells and whistles"
Kerrie and Spence's apartment has all the bells and whistles. Not only has it been finished with meticulous precision, it's also choc-a-block full of added inclusions, including those amazing appliances, which the couple won in their safe as part of their very first challenge. This super luxurious apartment looks set to appeal to a wide array of buyers, but we think a downsizing empty nester might be right at home in its sophisticated surrounds.
Courtney and Hans
"Fresh, contemporary luxe"
Courtney and Hans have the apartment with the biggest floorplan, and they've maximised the 'luxe' in every square metre of it. Their enormous living/dining/outdoor space is sure to appeal to a buyer who loves to entertain, and who has a penchant for upscale, modern, young and fun design. And what's not to love about all those quirky little decorator touches? This is an extremely well-executed space - it's hard to believe it was delivered by our Reno Rookies!
Sara and Hayden
"Sophisticated Decor design"
Sara and Hayden always had a young, professional couple in mind when designing their apartment, the only one on The Block that has actively incorporated deco design touches to each delivered space. The stand-out in this gorgeous apartment is that enormous master suite, which looks out onto the meticulously-planned outdoor area, complete with that formed concrete teppanyaki grill. A well-thought-out, high-end apartment that will appeal to an array of buyers.
Norm and Jess
"Opulent, liveable luxury"
Norm and Jess go into the Auction with the added advantage of being Domain cover stars - their apartment coming in at First Place courtesy of Alice Stoltz, who loved the sophisticated, Scandi style, light, bright apartment. The stand-out area in this super-sized apartment is definitely that divine living/dining space - complete with oversized hanging fireplace - and that first-place-getting terrace. This will appeal to a penthouse buyer who loves to entertain and is buying into St Kilda for that 'lifestyle' factor.
Bianca and Carla
"Sophisticated, upscale luxe with a killer view"
The girls have one major advantage going into the competition - that amazing view! Not only have they managed to present a meticulously presented, upscale, designer space, but they've orientated in such a way that that amazing Northerly aspect, complete with views of the city, is THE focal point of their entire apartment. From the start, the girls' have said they're aiming for you a young, professional buyer - and they've certainly delivered a space that will entice that very demographic. In with a real chance.