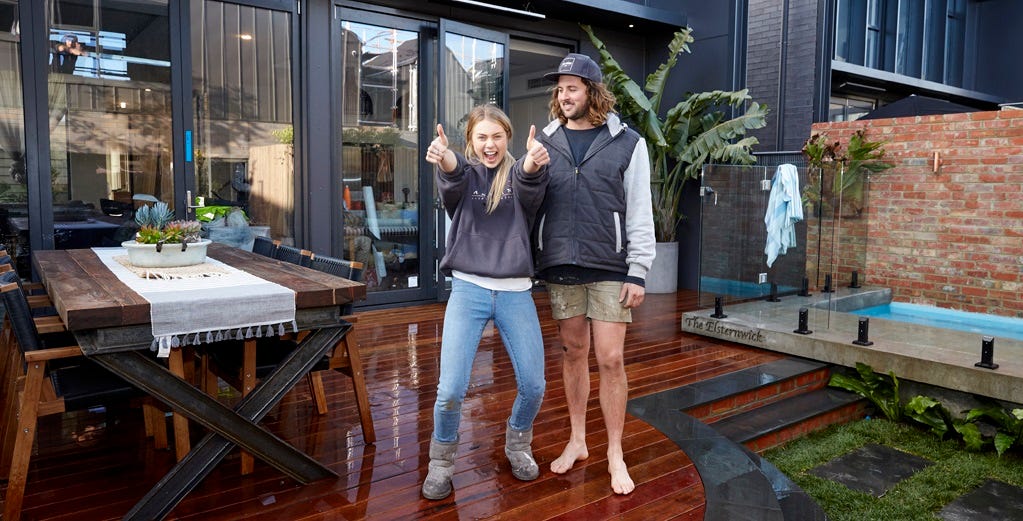 JOSH & ELYSE SCORED: 29.5/30
The inground pool, the custom-made concrete bench, the upholstered custom seating area, the grass - there wasn't a single part of Josh and Elyse's sumptuous outdoor space that didn't leave the judges breathless with excitement.
"This whole space just feels luxurious, expensive, high-end and sophisticated," Darren Palmer said, upon stepping inside. "This is a very valuable property. The buyers in this market are looking for everything that we are looking at right now."
Needless to say, his praise was music to their ears.
"This backyard was built for a family. It's spacious, it's grand. Lots of sitting areas - and there's not a lot of maintenance," Elyse says.
"It's simple, but there are a lot of little features that are really special," Josh adds.
These little additions weren't lost on Shaynna, who appreciated just how much thought went into the yard - all finished in an astonishing seven days!
"This is phenomenal," she said. "How do you do an inground pool in a week?"
Shaynna also thought the waterfall features were a great touch, saying they "added to the serenity." And she loved the way the yard was so functional, serving the buyer as an additional entertaining space.
Neale agreed.
"It's got the three things you need - a fantastic pool, a fantastic barbie, and somewhere to enjoy dinner," he said.
"It's the perfect family garden," Shaynna agreed. "This space makes up for the lack of a second living area."
Darren particularly loved the contrast of the concrete against the brick wall, and dark colorbond colours.
He also adored the use of the concrete bench, an extension from their custom made seating area inside in their living space. He thought the whole backyard was "genius."
"I love the soft curves of the deck, and the overhang of the concrete around the pool," he said. "It's incredibly sophisticated, yet so simple too."
ELSEWHERE ON THE BLOCK
STICKS AND WOMBAT SCORED: 29/30
All three judges were impressed with Sticks and Wombat's beautifully presented, relaxed outdoor space. Especially Neale, who couldn't believe how much the boys have evolved in their style.
"There is so much visual interest as your eye takes in all these details," he said. "It's been done with so much love and it's beautifully thought-out. This backyard is a perfect example of just how far Sticks and Wombat have come in this competition."
High praise indeed.
And while they loved all the little details like the domed fire pit, timber and white steel table, sitting area with white and blue-striped cushions and firewood storage, it was the addition of the container pool that had them all spellbound.
"It works beautifully," Darren said, pointing out that the placement added to a sense of space in the yard.
Neale agreed.
"This is what all the previous three gardens wanted to be," he said. "You have got the beautiful lawn, the cubby house, and ample room on this deck for a dining table."
JASON AND SARAH SCORED: 27/30
Just a week before, it was looking like slim-pickings for cash-strapped Jason and Sarah in terms of their outdoor decoration. But thanks to an unexpected windfall, courtesy of Ronnie and Georgia and their failed pool installation, they ended up with cash to spare - and boy did they shop.
Filling their gorgeous, tranquil space - the only one presented this week without a pool - was a stunning outdoor kitchen, iron fire pit, simple, yet stylish, dining area, a green egg BBQ, and plenty of grassed space.
"What I love are all the very different zones," Shaynna said. "And buyers will love how low maintenance it all is."
All three judges loved the sense of tranquility and privacy - and the sense of space. They were also huge fans of their well-planned outdoor dining area.
"This is beautiful - I have never seen anything like it," said Darren of their space-age, over-hanging heater. "This feels like everything Australians want in a backyard."
RONNIE AND GEORGIA SCORED: 25.5/30
It had been a week filled with drama for the couple from Perth. But as soon as the judges stepped inside Ronnie and Georgia's divine resort-style backyard they were blown away - especially by the inclusion of their stunning circular pool.
"This is an amazing addition to the home. And a remarkable effort to have gotten it in here," said Neale.
Shaynna was similarly impressed, saying, "Wow...It really feels like it's cocooned by these palms."
This was surely music to Ronnie and Georgia's ears - especially as they had spent so much money and effort craning "Ten Tonne Tessie" into place.
Accompanying their luxurious statement pool was a gorgeous grassed area, in-built seating around a sumptuous gas fire, tiled feature wall, and a beautiful piece of aerosol art by Melbourne artist, Steve Cross, the man also responsible for the artwork hanging in their master and living spaces.
"Neale thinks there will be a lot of people who come to the open for inspection and say they want the house with the big, round pool," Scotty said.
HANNAH AND CLINT SCORED: 22/30
Another couple strapped for cash this week were Hannah and Clint. But again, thanks to Ronnie and Georgia and the ongoing saga of their pool installation, they ended up with an extra $7500 - which went part-ways to the installation of a top-of-the-range spa, complete with speakers and disco lights.
This was positioned in their decked outdoor entertaining space, which also featured a BBQ, outdoor kitchen - complete with yet another bar fridge for Clint - a long timber table with iron chairs, and overhanging umbrella for shade.
"I can't pick one element - I love the overall feeling you get from wherever you stand in that yard," Hannah says.
Below, the couple also added a sunken fire pit, grassed area with large circular pavers, and their cute little pink "Finn and Pop's cubby."
"I love this fire pit," said Darren, who was also a big fan of their breezeway landscaped area.
"It's appropriate for the house, and they got a lot for a little amount of money."
Did you like this blog? Subscribe to our newsletter to be the first to receive news from The Block! Subscribe now to receive $20 off your next order.