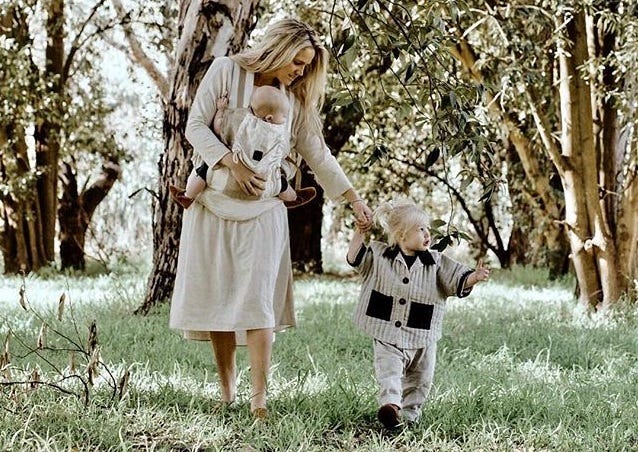 We catch up 'Vines of the Wild' founder - and one time Block contestant, Sophie Vine, to find out what her and hubbie Dale are up to now, and how she went about setting up her super-successful small business..
It's so nice to chat - it's been forever. How are you guys these days?
We're really good. I am just doing the 'mum' thing, and being at home, and not doing much - but doing lots at the same time…
We know that feeling. How old are your two little ones now?
Van will be three at Christmas, and Shep (Shepherd) has just turned one - that was a quick year. Me and Dale and babies - yeah, not our favourite things. But once Shep got to one, we were like - yay! He's so cute, and now he's in a good sleep pattern, and we just love it.
Tell us about your business, Vines of The Wild? It's going great-guns, right? How did it all start?
Gosh - where to begin? We hadn't bought a house before we went on the show (Sophie and Dale first competed on The Block back in 2012, before Dale took on another series with good friend Brad). When we did decide to buy, we decided we'd come back to Geelong. I got a job with Typo, for Cotton On Group, and then Dale went back on the show with Brad in that time. After that, Van came along, and it was that whole cliche - everything changed…
Ha - totally!
All our priorities changed, the things that we wanted out of life changed too. For me, the priority was to stay at home. But I still felt like I wanted to contribute, creatively and also for our household. And that is where the business came about.
Was this when Van was little?
Yes. I was looking for different bits and pieces, whether it was for the nursery, or for Van to play with. And I couldn't find everything that fitted my values - natural, local, original, really calming and earthy.
So you decided to start creating your own line of kid's clothes, toys and homewares?
I started reaching out to heaps of creators in Australia that I loved. I either had some of their pieces already, or I admired them from afar. We got chatting about doing some exclusive stuff, just for my shop - and that's how it started.
So, logistically, how does that collaboration work?
I design everything, and they make it - because they are experts in their field. I got a cohesive collection together, and now we all just work together. We're mostly all other mothers….
How lovely. Is your stuff made locally?
Only this year I have branched out of Australia. I did want to stay local, but we just couldn't find the skill set I needed for some things here - and the quantity. I was doing small runs, but it started to get to a stage where I needed bigger quantities, so we couldn't do it all. Now I go to all sorts of places - Japan, California, England - to source different things, but it's still all ethical, and I use raw materials.
How do you even begin to tackle growing a business - with two tiny bubs? You'd have to be organised, right?
You've hit the nail on the head - a lot of organisation. And a lot of trial and error. It was great that I already had a social media following because I could instantly feel what was going to work in the shop, and what wasn't. I was able to get a really quick gauge, because you can see straight away what people are liking. But it was definitely difficult. I am a very organised person with time, but with the kids - that was my biggest battle. Not anything else. Not the ideas, and not the design process. I love it all, and how long it takes. That doesn't bother me, but there are just not enough hours in the day!
Ain't that the truth! So when do you actually find time to work?
Look, at the moment, and even in the beginning, it was mostly nights. It was probably a good six to eight months of planning before the shop opened. Van had been a great napper in the day, so I got about three hours to do stuff (if I wasn't cleaning, or doing domestic duties). So that was really good. But when Shep came along - there was zero time.
Nap times not syncing?
Yeah, the nap times weren't colliding often enough. I couldn't rely on it, and he was so unpredictable. But they are starting to get on the same page as Shep is getting a bit older. But then Van will probably drop his nap soon…
Do you have help?
I don't. But Dale is pretty flexible, and does a very varied amount of work - it's all so different, but it does mean that every now and then he can swap days and things with me. It's hard not being consistent. I quite like knowing, 'Right, Thursday is my day.' But it comes when I can grab it. On weekends, one of the days we always make a 'family day', all four of us, and the other day might just be a 'dad day.' But in a few years, they'll both be in school...
That will make a big difference…
It's bitter sweet - they are not at home with you anymore, but you get your life back.
You had a background in design. But you were also a teacher. It's like your worlds are colliding...
Yes, which I really love. I've been able to combine what I love - kids, design, and natural, earthy loveliness.
So, basically, you found your passion and turned it into a business…
Yeah. Which I absolutely, completely owe one hundred per cent to The Block. I don't forget that that is where it all started for me. I think you take opportunities when they come to you, and you make them what you can. You work hard, and you just keep persisting until you find the balance you want. I still can't work out the work/life balance, but I definitely love the track I am on.
Did you like this blog? Subscribe to our newsletter to be the first to receive news from The Block! Subscribe now to receive $20 off your next order.