If there's one thing The Block contestants learn fast, it's to make the most of their outdoor spaces.

From spacious front and back gardens to cosy courtyards, entertaining areas and more, opening up the living space past the traditional indoor rooms can make a world of difference to a home.

Harry and Tash shopped at SoilWorx to complete their gorgeous front garden which included the showstopper water feature!

So, what is SoilWorx?
SoilWorx is a one-stop-shop for all your garden, landscaping and outdoor living supplies, offering everything from bulk garden products like soils, rocks and mulches to hard landscaping items such as retaining walls and edging. Stocking varying styles of outdoor furniture, SoilWorx also has a range of styling items with function and appeal such as firepits and letterboxes. Real lawn, artificial grass the list is somewhat endless! SoilWorx has the tools you need to get the job done including wheelbarrows, shovels and general garden tools. To top it off, they offer you the advice you may need to get the job done. SoilWorx service experienced tradies as well as the novice gardener. Stuck on design? They also offer landscape design services. So yes! Soilworx pride themselves on being the one-stop-shop - plus with the ability to deliver to your door.
But where to start? The Block's outdoor supplier SoilWorx, "if you know what you want, we can get it to you and if you are unsure, we can we can help work it through with you!"

Luke and Jasmin styled their backyard with stunning outdoor pots from SoliWorx.

Do you have everything you need to make an outdoor living area?
Absolutely! Our creative team can help you transform your existing area into something of your dreams or if you have a blank space, we can help you transform the area with a landscape design service creating a beautiful outdoor addition to your home that is practical and functional. We have an extensive range of products including water features, fire pits, pots, outdoor art and furniture. The list is endless. Everything from the basics through to those bespoke and beautiful styling features that make a big point of difference to your home.
What if someone doesn't know exactly what they want other than making better use of their space?
Our team has a creative and horticulture background who are passionate about gardening and the outdoors making them very experienced in understanding exactly what can be done in a space. All you need to bring is what you want to achieve, what kind of area you have and they can help you from start to finish. We also offer a service where a landscape designer will come out and review your space and help you design what you want to achieve. Another great idea is to come out to our huge showroom in Deer Park, have a walk around and look at our range of products. Seeing the range is guaranteed to spark ideas.

Water features create tranquillity and ambience in your garden - we just love the Anduze as used by Block contestants Harry and Tash.

Is the climate and condition of the space important?
Absolutely. The team will discuss what type of area is being worked on to ensure the right advice is provided. We may ask you where the sun rises and sets, colours you have around you such as the colour of your house or fences. All this will help us get a visual and allow us to better select products to suit your existing colour palette and give you accurate advice.
What if you can't get to the showroom?
We have an online shop with the majority of our products listed. It is easy for you to purchase online. We also have an online community with blogs and other tips for customers to use as a reference when doing independent research. Our team also help customers via email and over the phone.
Do you deliver?
Yes, we offer an exceptional delivery service. We offer a 4 hour on demand delivery service for stocked products. It's a pretty amazing delivery service that is tracked live through a GPS - it's like an Uber of soil and gardening supplies. Products that are not held in stock will be delivered at our suppliers' discretion and we would confirm their delivery times.

Lucky for our Melbourne Blockheads SoilWorx has a 4-hour delivery service for in-stock items.

That's pretty important if you're running to a tight schedule like The Block contestants.
Yes. We've loved working with The Block contestants because they're pressed for time and we've got the infrastructure to support them in that situation. We make sure the deliveries are on time and in accordance with the customers' requirements. We have an extensive range of vehicles that can access residential areas where there might be limited space.
What did the Blockheads buy?
There were a lot of bulk items such as soil, sand and pebbles. Everything from water features, edging, pots, furniture and decorative décor was purchased.
These are the kinds of things you find by browsing either in the showroom or online, aren't they?
Yes, some people do a lot of homework and go into this knowing exactly what they want but others need inspiration and by looking around that's where that inspiration comes. We want to help our customers get inspiration by providing a few ideas for you to look at. We are always happy to chat with you, tell you what's possible, talk about your space and we'll look at what's possible within the space. Our aim is to help our customers garden dreams come to life!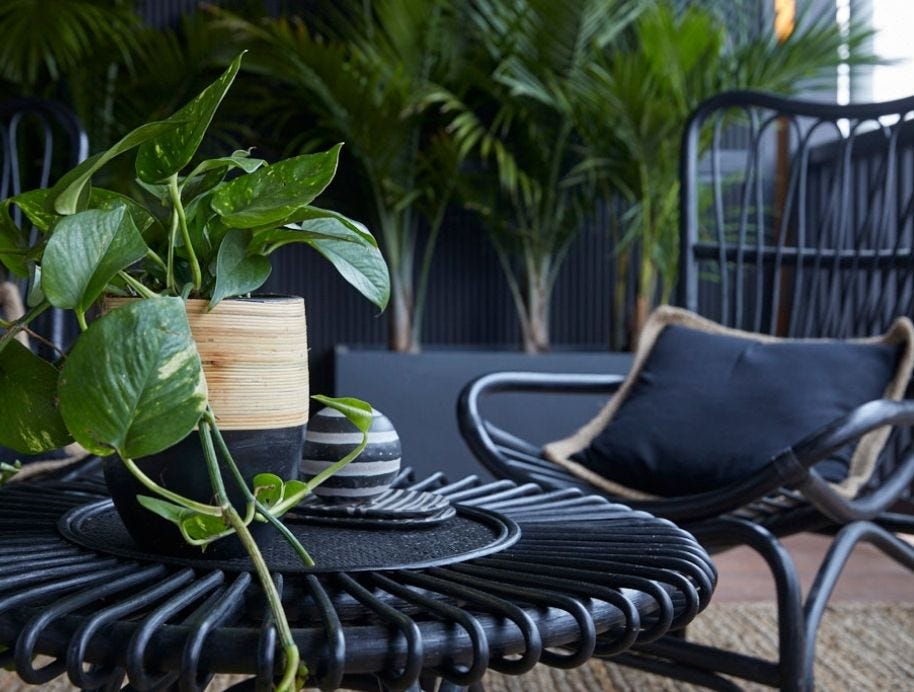 Deb and Andy included a very on-trend rattan table and eye-catching black and white styling items from Soilworx on their Block verandah space.

Now more than ever that's important isn't it because we're all spending a lot more time at home.
Absolutely! With the unusual year of lockdowns, we found people craved more connection with family and friends in the comfort of their own homes. We appreciate more than ever how important it is to have a home you can really enjoy and love. Home is where your heart is and right now more than ever it's a place where you have to be able to be comfortable and enjoy the house for what it is.
We've noticed since we re-opened after lockdown more people have been coming to us trying to get their outdoor areas looking amazing because they want to have space where they can get people together. Outdoor areas really can be the most important space in a family home and it's been absolutely amazing having everybody come back excited that they can now start building and working on the projects they've been imagining

Shop SoilWorx HERE