Shaynna Blaze reflects on finding her personal style in an extract from her latest book, Design With Colour and Style, which is available here: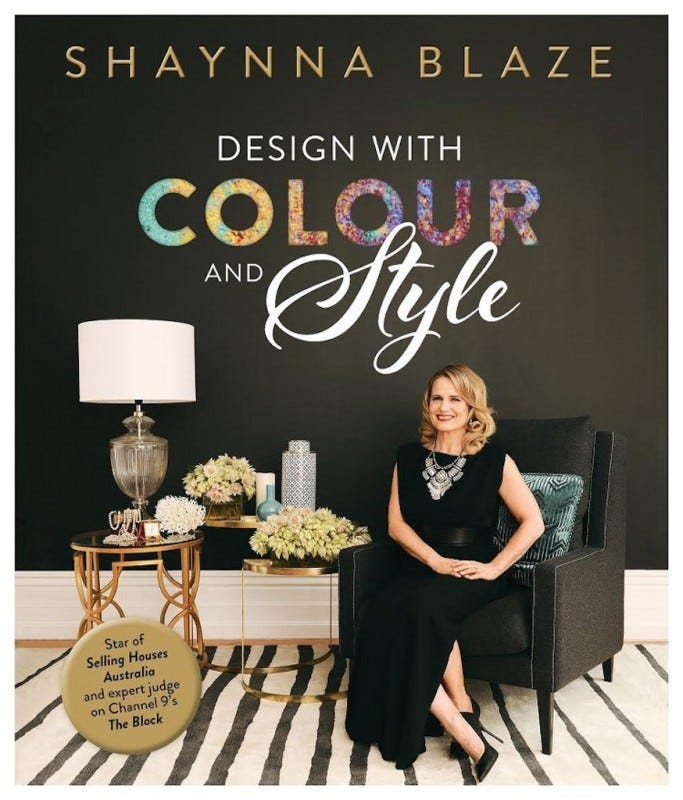 Creating your own personal style can be a life of progression. Note I said life and not lifetime? If you think that getting to the point of having your own personal style will take a whole lifetime, you will immediately look at this as too much hard work and take the easy road, latching onto someone else's life by copying another style. Your progression in life gives you a moving, flowing account of your individual and personal style. See your design style as a log and depiction of your ever-changing evolution through life.
There is a big difference between copying a period or era's style and copying someone's personal style. A copied personal style in a home lacks real soul, as it never truly captures the essence of the person who lives there. A personal style evolves; it grows and it tells the stories of a life lived, whereas taking the lead from an era's style is tapping into history and finding a beautiful platform to add your personal touches to.
I grew up in a visual clutter of opposing materials and patterns, the whole house full of warm tones of brown, amber, orange and yellow. There was lots of love and laughter but I felt an overwhelming oppressiveness from the heaviness in the house. It is only as I reflect on my personal style and my emotional attraction to certain colours and classic features that I know, without a doubt, that the house and I were fighting each other.
I used to think it was a case of just hating the look of the home I grew up in and therefore wanting everything to be the opposite, but there is another element to this. The colour palette was not in my happy colours, which are turquoise, teal, black and white. I was in a personal battle with the style and colour in the home I grew up with. It's not hard to see that what attracts me to Art Deco and Victorian is not only the structure and order but a certain romance and escapism in the interiors. It's what I craved growing up.
So how does it work now, in my home with my own little family? Do the colours they live with equate to their happy colours? I'm happy to say my husband's favourite colours are blue and green, which means he is happy on the cool scale. My daughter has a romance with cottage and old-style homes, and my son is such a 'go with the flow' kind of guy that no matter how much power I give him to make decisions for his bedroom, he is happy as long as he has a roof over his head, a bed to snuggle in and food in the fridge.
Sometimes it's just that simple! (But he does like the feel of a good suit, so a certain structure does creep in every now and again.)
For more expert styling tips, check out our exclusive interview with Shaynna Blaze.
DESIGN WITH COLOUR AND STYLE by Shaynna Blaze
Interior design expert Shaynna Blaze is passionate about helping people uncover their own personal interior style. In this book, she explores the intriguing, enticing elements of colour and style and explains how you can use them to transform your home. Using beautiful photographs and practical examples, Shaynna shows how colour affects a space and the mood of those living in it. She reveals how contemporary and historic design styles have developed, and ways they can be interpreted to suit your taste, with hands-on tips for putting your ideas into practice. With her warm, down-to-earth approach, Shaynna offers guidance and inspiration to help you discover your own individual style and colour palette, so you can design your dream interior.