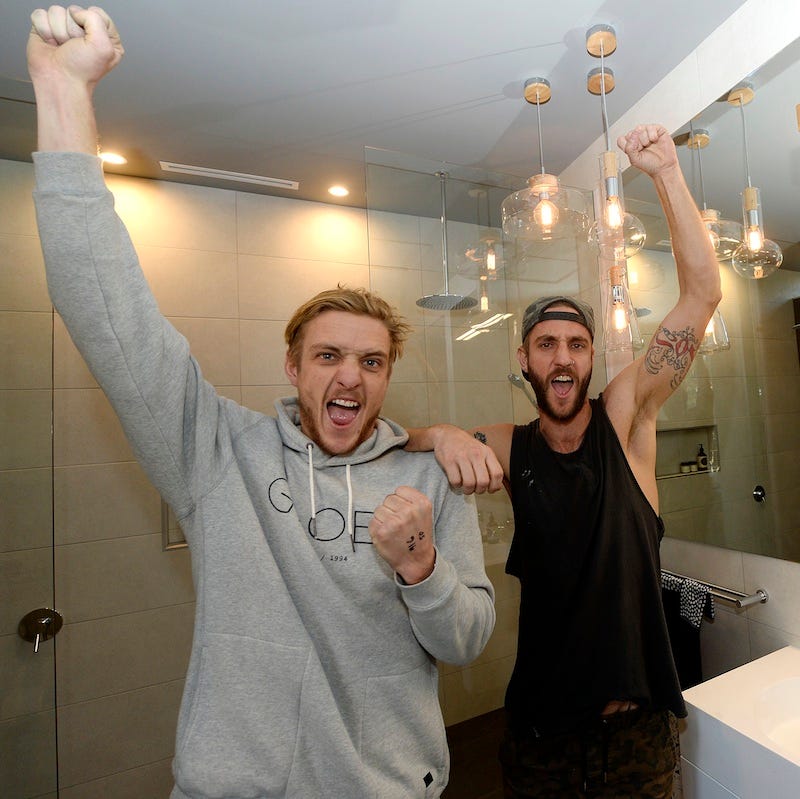 The boys have done it again! This week, Simon and Shannon won their third Room Reveal, wowing the judges with their impressive Block: Glasshouse ensuite.
"We are absolutely over-the-moon with the win," Shannon tells us.
It was a spectacular result, but the brothers risked a lot to pull it off.
"We put every cent that we had left into that ensuite, it was a must-win for us," Shannon admits. "We were running low on money. We've focused more on the structural build, so a lot of our money has gone into labour. Our labour costs have been the highest on the whole Block.
"We ran out of money and we said to each other, 'Look, I don't wanna put in a half-arsed ensuite and a half-arsed terrace, so let's put in a brilliant ensuite and hope for the win. If we put a simple terrace in, the buyer can finish it themselves, but let's go all out with the ensuite.'"
It was a big bet, and it paid off, with Simon and Shannon scoring a near-perfect 29.5 out of 30. It was as if they saved the best for last, and it was a long time coming.
"We had planned it from Day One," Shannon reveals. "We didn't put the bath in the bathroom. We ordered it in the second week, and since then, we've been telling people, 'We're going to win the ensuite. I'm sorry guys, we're just gonna claim it.' And then we pulled it off. We're lucky we won or we would've looked like idiots."
Well, they won, and they looked like Block pros doing it. Shaynna praised the room for its "high-end hotel suite" vibe, and Neale loved its quality and simplicity. Darren applauded the boys for choosing affordable pendants, available now on The Block Shop, and saving money for the hero piece: that bath.
"The bath is amazing – a friend of ours made it in his garage, and I had to order it five or six weeks before the ensuites," Shannon says. "It's a one-off, never been done on The Block before, and it's the most amazing bathtub I've ever seen in my life. It's the biggest feature there is."
Shaynna got it right when she said potential buyers were going to step into the room not knowing they wanted a timber bathtub, and leave wanting to bid through the roof because they had to have one.
While it may have been custom-built for The Block, we're giving you the chance to have a stunning timber bath built for your own bathroom. Click here to get started.
The boys might be riding high at the moment, but with three Room Reveal wins under their belt, being judged each week isn't getting any easier.
"It's hard because you don't get a clean slate. You get a space and time constraints, and you don't get to do what you want," Shannon says.
"If I had three or four weeks for each room, I'd be able to order the furniture I want, I'd be able to take my time to design it and make it exactly how I want it, but you're so pushed for time, you have to accept you can't do all the incredible things you think of that might take weeks to pull off.
"It's hard to pare back, but we've done a really good job. We've pared back and we've let the design speak for itself, and I feel it's really paid off.
It certainly has. If Simon and Shannon have impressed you this season, you can browse their selections on The Block Shop now.