We catch up with Scott Cam, who's gearing up for another turbulent series of Reno Rumble, to talk about the pleasures and stresses of home renovation.
With over 30 years of building experience under his tool belt, Scotty knows his way around a reno project, and he has one piece of advice for everybody looking to start a renovation: know your stuff.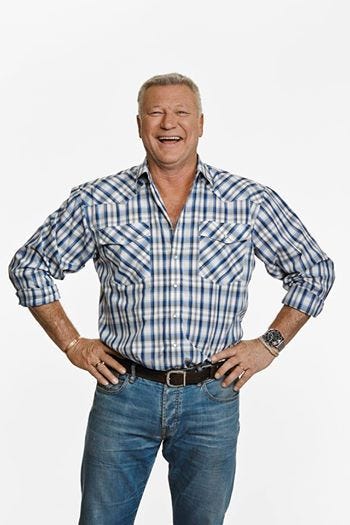 "Know your plan, know your budget, and know your limitations," he tells The Block Shop.
"Work out exactly what you're doing, what you want to achieve. Have all your trades and quotes in place, so you can get your budget in place. That's important. Make sure you've got the coin. And if you're going to do your own work, know your limitations – what you can and what you can't."
That means, when it comes to the finer details of carpentry and plastering, and certainly electrical work, rely on an expert.
To the annoyance of our Block and Reno Rumble contestants, Scotty's developed a knack for calling, "Tools down!" over the years. Knowing when to stop is an important part of renovating, even when you're not on TV.
"Limit the variations to your plans. Variations cause a renovation to go over budget," Scotty says.
"I've been in the building game 30 years and I know that variations are what cause people to run out of money. If you stick to what you agree on at the beginning, then there'll be no budget issues because the budget is based on the plans. As soon as you throw a variation in, it's $5,000, and if you do 10 of those on a six-month or eight-month job, you're up to 50, 60, 70 grand extra. Not many people have much room in their budget for it, and that's what kills them."
The biggest reno blunders he's ever seen involve running out of money. The result is a job half-done, or one that isn't complete to the desired standard.
"Be realistic about what things are going to cost and then allow for the stuff ups, and the things that always go wrong," Scotty advises.
Seasoned viewers of The Block know it all too well: things always go wrong. Plan for it.
"There should be a contingency plan in your budget to allow for that sort of thing, about 10 to 20 per cent of the cost of the build."
Even if you're prepared, a bad day on-site can mess with your mood. The thing is, you can't let it impact your build.
"When you have a bad day, you've got to go home, have a couple of beers, wash that day away, and then start the next one fresh," Scotty says with a laugh.
Scotty's about to start his next big project: Reno Rumble returns on March 21, and like last series, it boasts some incredible makeovers under time and budget constraints.
"I'm amazed at what they can achieve in a week, and then they come back on the Monday and do it all again," he says. "You'll meet some talented contestants. Of course, some have shortcomings, but some pull out all the stops. The results are unbelievable."
The new supercharged series of Reno Rumble premieres on Monday March 21 at 7.30pm on the Nine Network.
To go behind the scenes of the new series of Reno Rumble, you can subscribe to our newsletter here.