This mother and father duo from Townsville might have zero renovation experience but it takes a lot to put a scare into them. And they might just surprise everyone.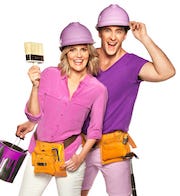 EXPERIENCE LEVEL
They've built a house together from scratch but never renovated. "We didn't really build it, we watched a builder build it," laughs Hannah. But this couple from Queensland aren't afraid of hard work, and they're more than willing to get stuck in and give things a go.
HANNAH 31 EX-HOSTESS & GROUND CREW FOR QANTAS
Like most working mums, Hannah's a great multi-tasker. Mum to Finn, 51⁄2, and Poppy, 31⁄2, she also juggles
a demanding career in aviation, working with the ground crew for Qantas – even though it means rising each morning at 3.30am. As partner to a professional sportsman, Hannah has always been there to support her other half. But don't call her a WAG – she's got too much other stuff going on. Hannah admits she'll miss her little ones terribly while away on The Block.
"I've got mixed feelings about leaving the kids. It's going to be hard to say goodbye to them," she says, "but we're doing this for our family."
CLINT 33 PROPERTY SALES
If you think Clint looks familiar, that's because he is. For over a decade this Queenslander played professional rugby league with the Melbourne Storm, North Queensland Cowboys and Gold Coast Titans. He took more than his fair share of knocks on the field, but he always had the ability to get back up and play on
– a resilience that's seen him successfully forge a career post-football. Although injuries may have dogged him during his playing days, Clint isn't someone who gives up easily.
"He's strong as an ox," says wife Hannah.
TOGETHER
They call themselves the A-Team. They're tight and they fight, but they don't hold a grudge. They've wanted to be on The Block "forever" and this time is the right time – it's their time. Meet Hannah and Clint, a couple from Townsville with the drive and determination to give the others a run for their money.
"We applied last year but it wasn't meant to be. Now it's come back full circle and here we are," says Hannah. "We can't wait to get started."
Through their 11 years together they›ve had some testing times. The first came when Hannah took a job in Dubai and they were forced to spend 12 months apart. Clint was playing in the National Rugby League (NRL) at the time and couldn't go with her. But they got through it, and a few years later they were married, had two kids, and were full-steam into building their dream home.
"We partnered up with one of the good builders in Townsville. We were really hands on with them, like, 'Can we push that wall out, take it out to the eaves?'" says Clint.
"And 'Can we put a niche in the shower?'" adds Hannah. "And they'd go, 'Oh Hannah, you're pushing it now.' But I got my niche."
They know they will face one big challenge on The Block – being away from their two young children. "You just crave their affection. You need their little warm bodies and their hands wrapped around your neck. I think we will miss all of that," Hannah says.
But this is a couple with their eyes firmly on the prize, intending to give The Block their all.
"If we can pull it off, a win of Block magnitude would give our family a great head start," Hannah says.
To Shop Hannah & Clint's style visit their shoppping cart!
Did you like this blog? Subscribe to our newsletter to be the first to receive news from The Block! And subscribe now to receive $20 off your next order.