From their toughest times to their auction joy, Sarah and George's Block journey had one common – and colourful – thread.
Throughout their Block journey, Sydney contestants Sarah and George always kept their eyes open for a rainbow.
It's a moment the couple have always associated with family, with being given a quiet message of positive energy and with pushing on when times are tough, Sarah says.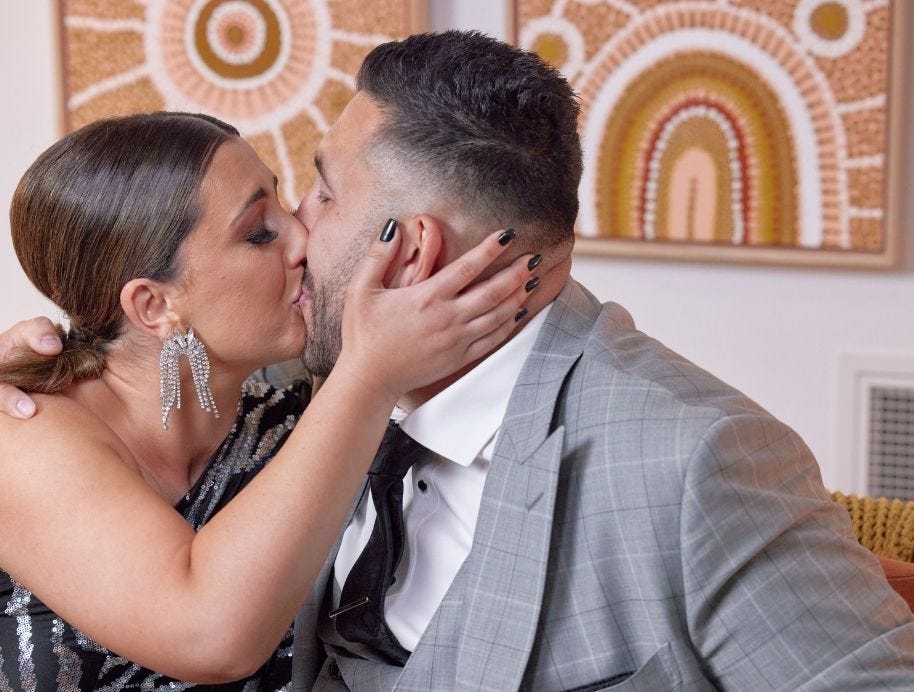 "It started about ten years ago when my Nonna, my grandmother, passed away," she says.
"We were very, very close to her and on the day of her funeral my brother saw a double rainbow in the sky and he sent me a photograph and said: "One for you, and one for me!"
It was as if, Sarah says, there was a message in the sky that even though she was gone, her Nonna would always be there and watching over them.
"Ever since that moment, we've always associated rainbows with my grandmother and whenever I see one it's just a little bit of a sign that she is still around. It's become a bit of a good luck sign for us."
And throughout The Block, those signs kept coming.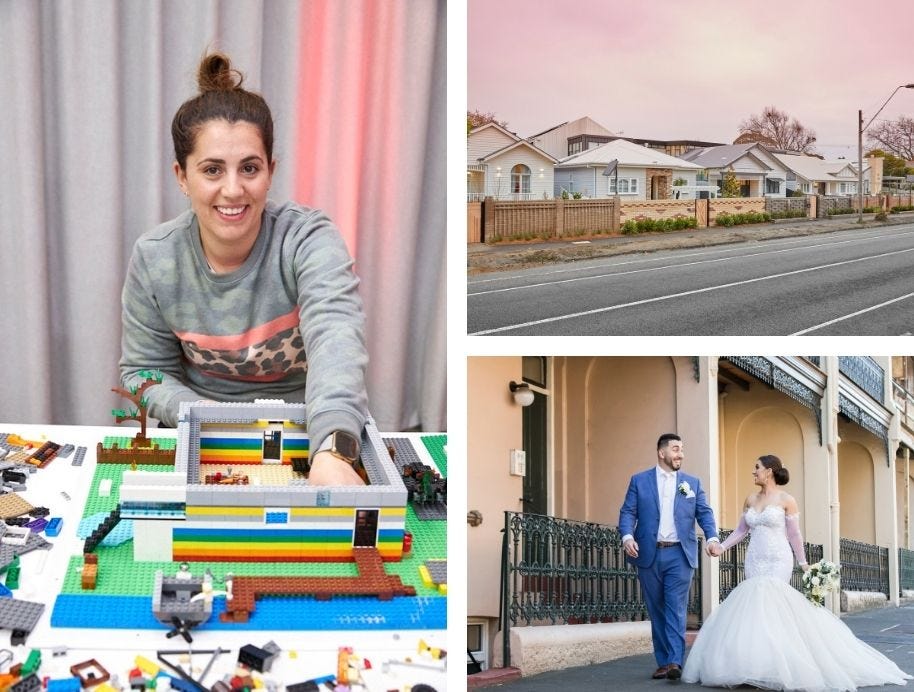 "Throughout the whole Block experience, we were continually seeing rainbows," Sarah says.
"I had a really bad day after a Domain challenge and one of the things I saw on the way home from the car was a rainbow over our house and that was a really reassuring moment that things are ok.
"Another time was having a terrible day and I looked out the window of our studio and there was a rainbow, they were just moments where I knew hey it's all good, we're on the right track, just a sign to say: 'You're OK'."
The pair took their colourful theme to the Lego challenge, incorporating rainbow stripes into their mini dream home build ("I knew it would make Sarah happy," George says) and it popped up again as they made their run to the end of the Block.
When George of landscaper Dave Franklin drove to buy an Olive tree to complete their backyard, they drove straight through a rainbow – and won the week.
"The end of the rainbow was literally in the middle of the road and we drove straight through it," says George.
"There was no pot of gold but it was good luck for us!"
But nothing was as lucky as the rainbow that Sarah and George didn't even notice until the day after The Block 2020 auctions where the pair walked away with $650,002.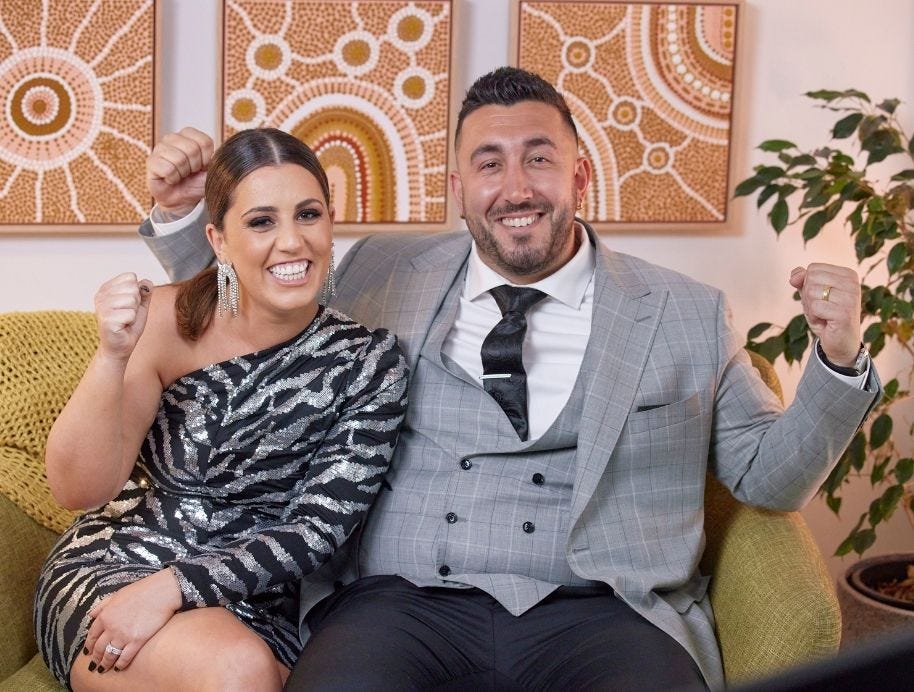 When the contestants all sat down on Scotty Cam's auction couch to watch the bidding, on the wall behind them was a painting by contemporary Indigenous artist Brad Turner named Chalahn Yilgahn, or "Rainbow sisters".
In the painting, Turner says: "The arc of a rainbow appears to create a sky bridge that connects the earth side to spirits who have crossed over".
It was a good omen for all the teams, but a particularly nice way to round out the Block journey for Sarah and George.
"I didn't realise it at the time, but when we're sitting on the couch - my mum took a photograph of the screen – right between George and I is another rainbow!" Sarah says.
"When you watch it back you see it and think wow there's another moment! We were only made aware of the meaning of that artwork the day after the auction, that it represents a connection between the ancestors and the living and I felt that really cements everything I've talked about this whole journey.
"There is literally an angel on our shoulders! It's so surreal but that was the most beautiful thing!"
Shop Brad Turner's art HERE
Follow Sarah and George's Block journey HERE