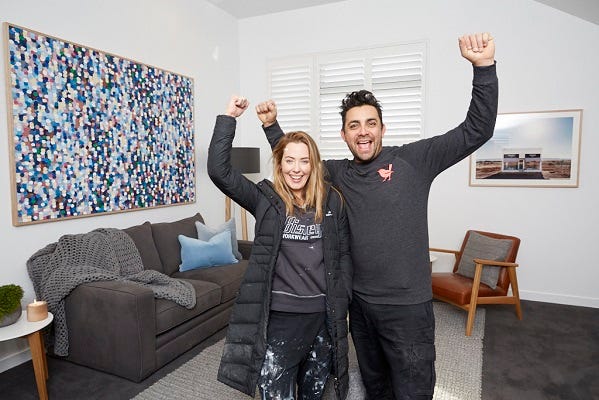 Inside Ronnie and Georgia's stunning home office space which scored 29.5/30
It was a bold decision, to dedicate the entirety of their top floor studio to a single-use office space. But it was one that paid dividends for Ronnie and Georgia, who ended up taking out the win.
Georgia had been hoping from the start that potential buyers would see the benefit of presenting the upstairs space as an office.
"It's a good point of difference - we are the only couple to have one," she explains.
This, in addition to a downstairs play space for kids - complete with ping pong table - and a garage with in-built cabinetry and all the bells and whistles, was enough to persuade the judges.
Upstairs in the office space, the couple chose to present two glass/timber study desks, a sitting area in grey colour palette, and large statement art above a grey couch, two framed photography prints completed the look.
They also decided to lower the room's ceiling height, to give it a more "human" dimension, something that Darren thought worked beautifully.
In fact, all three judges admitted they could see themselves working from the stylish, useable area, "big enough for a company."
"This space has real purpose," Shaynna said. "It's a functional home office, that could be something else if you wanted it to."
Darren agreed, saying he could imagine running an office of "six to eight people" from there.
Through a multi-use cupboard area, the judges walked into the couple's simple, yet incredibly stylish ensuite space. The grey tiles, made to look like pieces of stone, worked beautifully with the white colour palette, impressing all three.
"I love this timber vanity," Shaynna sid. "It provides a very simple solution in a very small bathroom. It's very effective."
Downstairs they continued to be impressed with the large garage space, complete with built-in storage, and games area for kids.
"They didn't have the largest garden area, so this has provided an extra place to play."
All up, the judges were blown away.
"This is very smart," Shaynna said.
ELSEWHERE ON THE BLOCK
JOSH AND ELYSE SCORED 29/30

Once again, The Block's youngest competitors knocked it out of the park, delivering a stunning studio, styled as a master bedroom with sitting area.
The colour palette, all creams, and muted hues, mixed perfectly with the pale rendered concrete nib wall, included to partition off both parts of the room.
In the sitting area, two couches, including one in leather, complimented each other perfectly, giving the area a sense of serenity as well as functionality. But, arguably, it was Elyse's stunning choice of white, boho bedhead that had the biggest 'Wow' factor, with all three judges rapturous in their praise.
"I'm in love with our space. I want to make my home up there," Elyse says.
And the judges were on the same page.
"They know how to balance out all their elements,"Darren said.
Walking through to the wardrobe area, the judges were met with a wall of custom-made wardrobes in black, which flowed beautifully into the couple's stylish monochrome bathroom, complete with black herringbone tiles, and grey concrete vanity top.
"I think it's absolutely stunning," Shaynna said.
And we agree.
STICKS AND WOMBAT SCORED 29/30
As soon as the judges stepped inside Sticks and Wombat's gorgeous studio space, they were blown away by how much light there was - and how far the boys had come.
Thanks to the ingenious inclusion of two rows of custom-made skylights, the area was literally flooded with sunlight - and it was spectacular.
"It's so bright," Shaynna said.
All three loved the panelled ceiling - complete with over-sized timber fan - large L-shaped grey lounge, gorgeously-made bed, and accompanying artwork. They also loved the walk-in robe - complete with doors - and the simple, yet perfectly functional ensuite.
"This is the cream in the coffee," Neale said effusively.
"This has a really beautiful rustic charm," Darren said of the space. "But it doesn't feel stayed, or stuffy - it feels really young and fresh."
Well done, boys!
HANNAH AND CLINT SCORED 27/30
Hannah and Clint ended on a high this week, presenting a simple, yet stylish open-plan studio space, styled as a grand bedroom/sitting area.
"We are going for a mid-century, modern feel. Lots of beautiful wood," Hannah said this week. "I love this room. After tools down, I had a huge overwhelming sense of achievement."
All the judges loved it too, especially Darren, who said it felt like a "nice, big open space."
The timber bed offset other timber details in the room, like the coffee table, side tables, and buffet (which had the TV hanging above), which, in turn, worked beautifully with the oversized white rug, long, white blackout curtains and grey sofa.
Through the walk-in robe, which Neale said "ticked all the boxes", the judges found Hannah and Clint's gorgeous understated bathroom, which featured black hexagonal floor tiles, and a simple, yet textured, rectangular wall tile.
"It's really a nice contrast," said Shaynna. "I actually think these are the best rooms they have produced all season."
JASON AND SARAH SCORED: 26/30
All three judges loved Jason and Sarah's multi-functional studio space, which included a specially built nib wall to separate the room into two distinct spaces.
"I actually really love the nib wall," Sarah explains. "Because it separates the sleeping area from the study area."
Neale was a particular fan, using "icing on the cake" and "cherry on the top" to describe what he saw as the best space the couple had produced this series.
"I would live here. I mean, what an incredible work space, sleeping space - it's multifunctional," he said. "It's absolutely amazing."
Shaynna was impressed again with Jason & Sarah's use of Australian Natives in both their flower choice and artwork.
He also particularly loved Sarah's bedroom styling, and the use of a blue colour palette, with blue linen and a soft blue/grey bedhead, to mirror their other guest bedroom at the front of the house.
It was offset by the use of white and timber highlights, the ply repeated again in the couple's sensational walk-in robe, which led to the ensuite. Although only partially finished, the judges loved the use of tile, which Shaynna pointed out looked like "sandblasted bricks."
"This is the pinnacle for them," Shaynna added.
Did you like this blog? Subscribe to our newsletter to be the first to receive news from The Block! Subscribe now to receive $20 off your next order.