There was a lot riding on this room for Kerrie and Spence, who used their bonus point at Sunday night's judging. Their strategy paid off, with the couple taking out first place for their stylish and sophisticated bathroom, which featured a marble vanity top, herringbone tiles and matte-black finishes. It impressed all three judges - especially Shaynna, who was a big fan of what they had managed to achieve.
"Now that is glamour the right away – love that vanity with those mirrors," she said upon stepping foot in the pristinely finished room.
Neale was also a big fan, saying he loved all the subtle features, including the herringbone tile, going on to add that the bathroom "feels like Kerrie and Spence's main bathroom's grown-up older sister."
Needless to say it was music to the couple's ears. "I'm proud of the room. It's continuity, it's elegance, it's quality," Spence said.
All three judges thought that Kerrie and Spence had struck the perfect balance between showcasing the heritage of the older building, with the newer, modern features. They also loved the masses of storage.
"The judges wanted for all of these apartments to feel modern and contemporary and the harmony you have created with the combination of the herringbone tile with the shutters and the marble on top of the vanity – fits that bill perfectly," Scotty said.
Despite the fact the couple chose to take space from their ensuite in favour of the master, guest judge John McGrath thought it mattered not, noting that the room still felt generous in its proportions. He also thought hey would stand to gain dividends in future weeks when their wardrobe space is revealed.
All up it was a beautifully executed, elegant space, and one that struck the perfect balance. Well done, guys!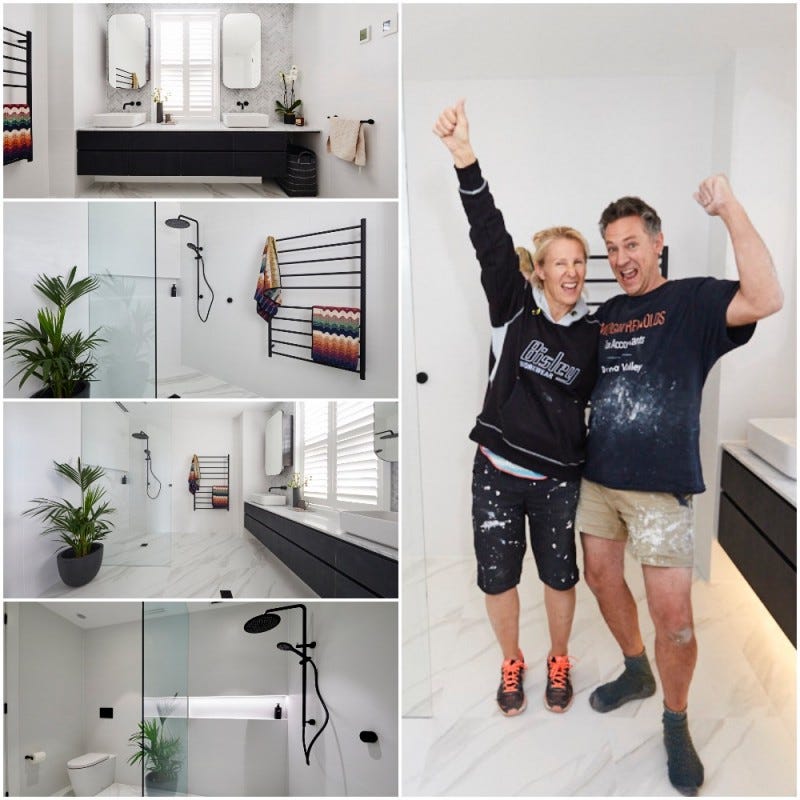 Topping their deluxe main bathroom was always going to be a challenge for Courtney and Hans. "It's tough when you produce such an amazing main bathroom to up it. But the judges always expect more," says Courtney.
And they managed to do that, upping their game to deliver a stunning ensuite, which featured more terrazzo tiles, simple white walls, a free-standing bath dressed with a wooden stool and a gorgeous double vanity.
The judges loved it - especially the room's generous proportions.
"Wow this bathroom is a lot bigger – it feels like a ballroom compared to Kerrie and Spence's," Neale noted.
They also loved the couple's use of matte white bath and sinks, and the fact there was ample storage. They liked the generous shower, but wondered whether there was too much empty wasted space between it and the vanity. John McGrath also questioned whether the terrazzo might polarise some buyers, although Shaynna disagreed.
The couple, who came a respectable third, are pleased with what they managed to achieve. We love it, too!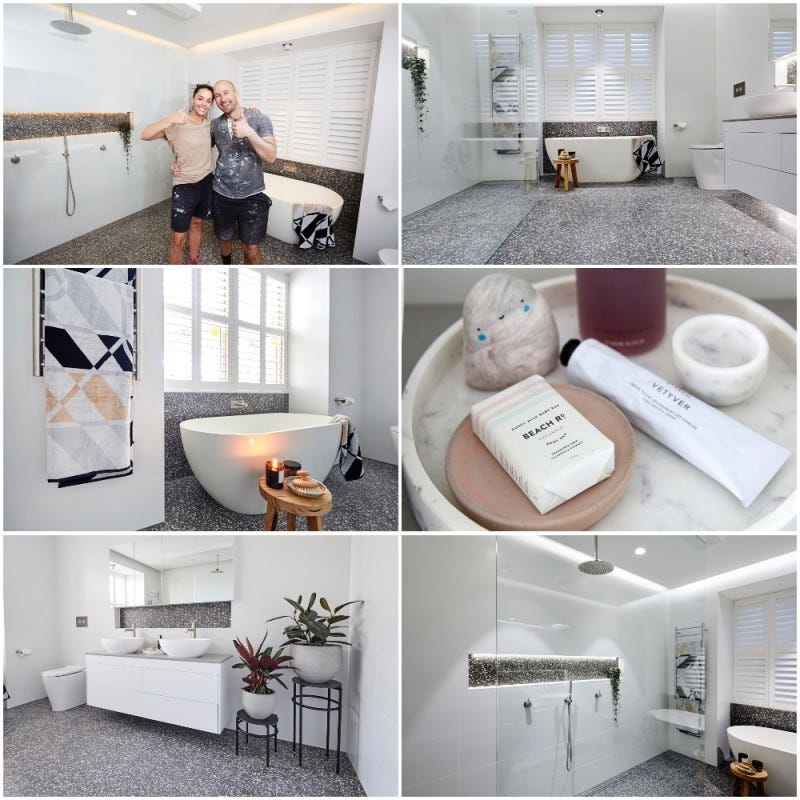 Sara and Hayden put absolutely everything into winning this week's ensuite bathroom - including a whopping $75,000, making it the most expensive bathroom in Block history. But it wasn't enough to win over the judges.
Despite their mixed reactions, there was still a lot to love about the couple's space, which included marbled herringbone tiles on the floor, black fittings and fixtures, a black vanity and that stunning, brass bath.
This last item is what the judges loved best.
"Oh my gosh," Shaynna squealed, upon seeing the 'hero' piece of the couple's room.
This was music to Sara and Hayden's ears - they had not only spent a large chunk of their bathroom budget on importing the bath, they also admitted during the week that it was this piece of furniture that persuaded them to take Apartment Number Three, admitting it played in with the 'heritage' look they were hoping to achieve.
"This is the hero piece of this entire apartment - that's how important this bath is," Sara explained.
Despite the fact it was universally appreciated by all three judges, they thought the couple had missed the mark slightly with the way it played in with the bathroom's other features, and the couple came in last - a devastating result.
But there could be a silver lining - Shaynna has offered to sit down for a one-on-one with the couple this week. Here's hoping she can persuade them to stay on the show.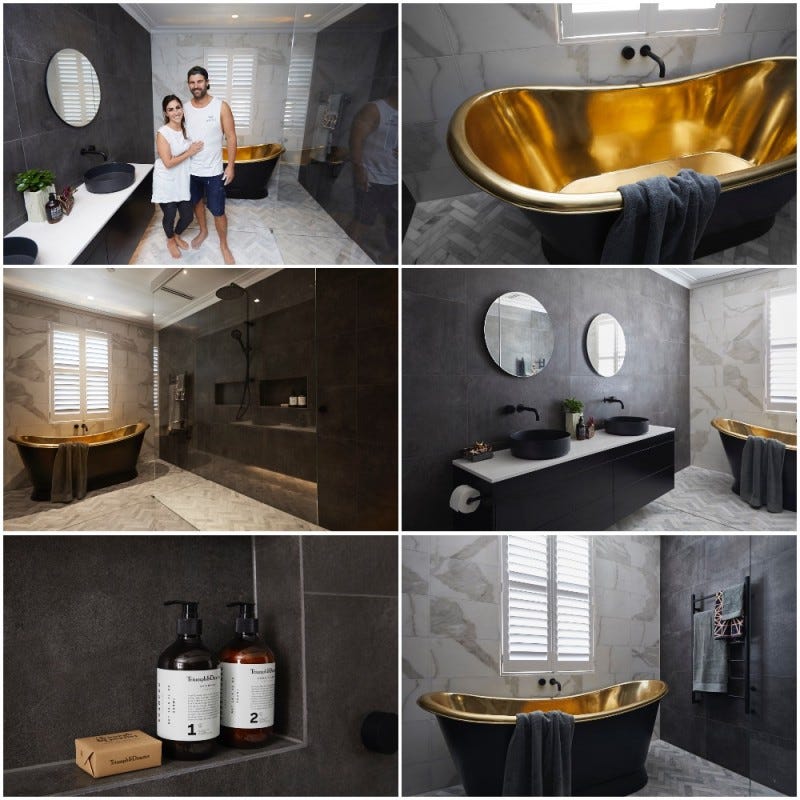 It might be the smallest ensuite on The Block, but Norm and Jess made sure their space had impact, choosing a stunning four-metre piece of marble for a feature wall. They matched this with a marble vanity top and beautiful simple tile choice, producing what Neale thought was "a small bathroom punching above its weight."
He particularly loved the marble, as did Shaynna, who wondered whether they had borrowed the idea after seeing it used in the girls' bathroom a few weeks back.
The couple chose to use brushed chrome tapwear and a matching marble strip, which added interest and a focal point to the vanity area.
But perhaps the biggest compliment of the week came from guest judge John McGrath, who thought Norm and Jess might have just picked themselves a winner by opting for one of the penthouses.
"John believes that you have gotten the bones of the room right this week and that it will have significant buyer appeal," Scotty explained.
Music to their ears! Well done, guys.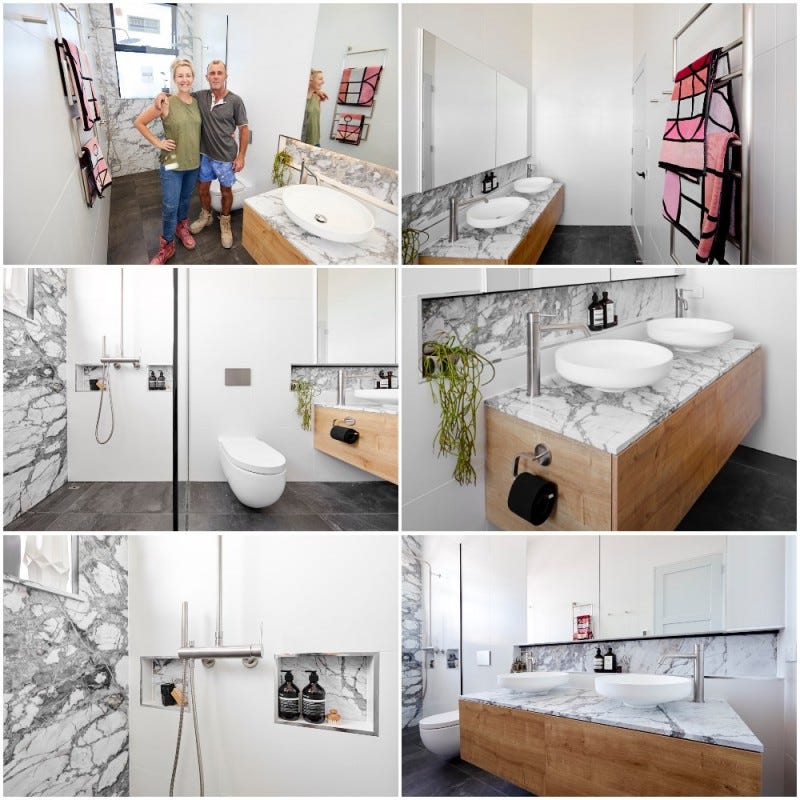 If Kerrie and Spence hadn't used their bonus point this week, the girls up in apartment five would have walked away with a win for their stunningly executed ensuite, which featured another, albeit smaller, marble feature wall, a stunning custom-made vanity, double sinks and a gorgeous marble sink top.
A grey floor tile worked well with the whites on the wall, while the timber vanity gave the room an earthy feel, tying it back to the timber detailed features of their other rooms.
The judges all loved it.
"Shaynna was the first one through the door of your ensuite today and she felt like she had calmed down already as soon as she was inside," Scotty explained.
Shaynna loved the serene feel of the room, and was instantly smitten with that vanity - and the use of all-important face-level storage. John loved it too, saying, "This is an example of simplicity equalling luxury. Everything about it is peaceful and calm.
"Simple and plain but very luxurious towels. Somebody on this team really understands what luxury is."
And you can't get higher praise than that.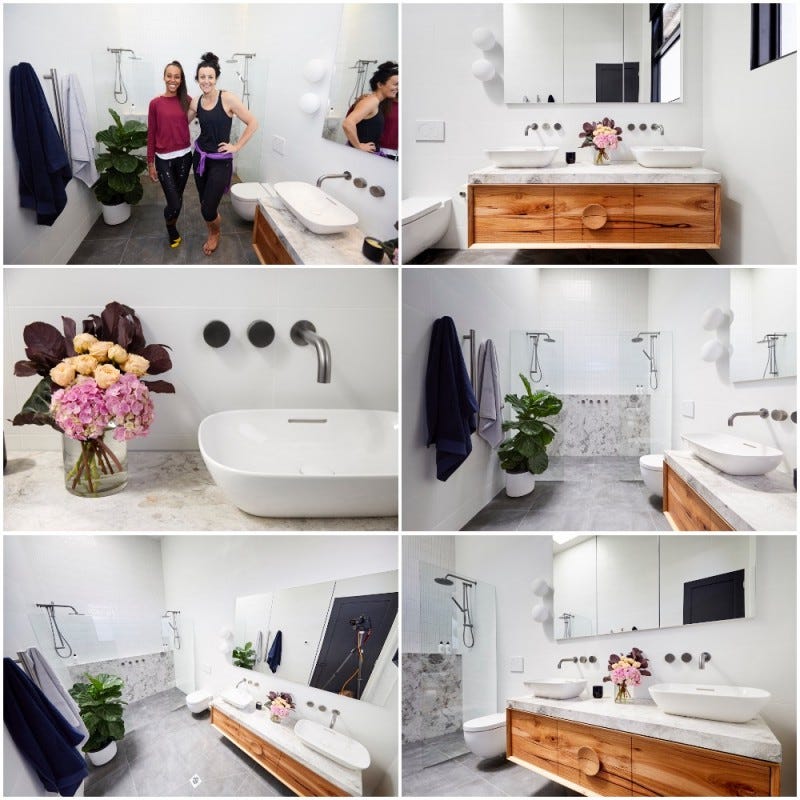 Did you like this blog? Subscribe to our newsletter to be the first to receive news from The Block! Subscribe now to receive $20 off your next order.