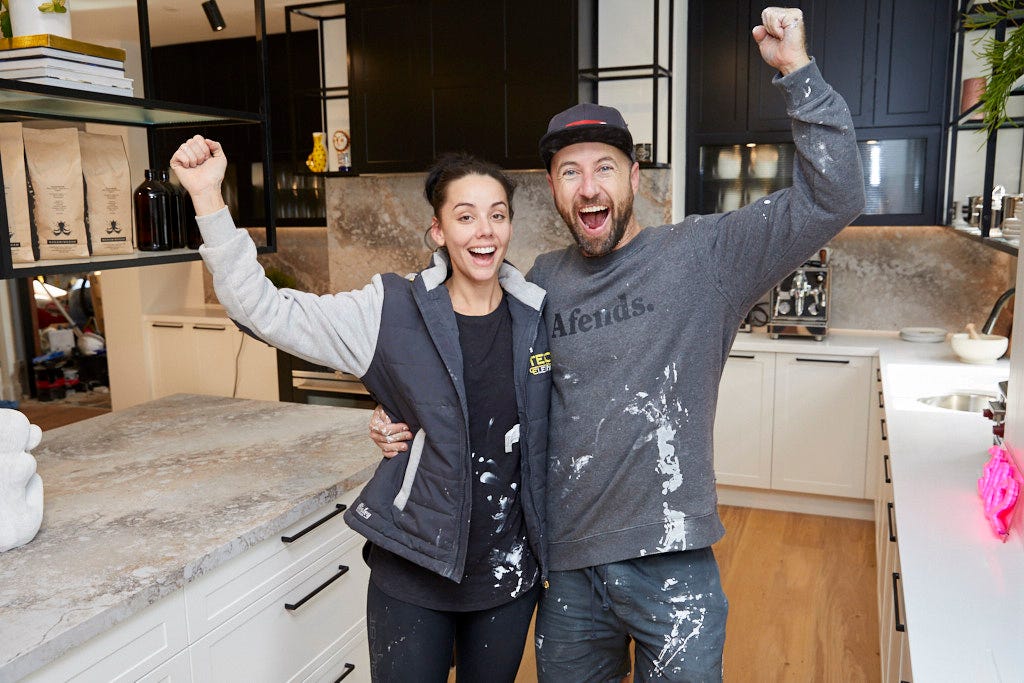 Talk about ending on a high - Hans and Courtney absolutely knocked it out of the park with their exceptionally executed black and white 'St Kilda' kitchen, complete with stainless steel gantries, gorgeous caesarstone benchtops, an integrated voice-command oven, that butler's pantry with enormous Sub Zero fridge, and, to top it off - a '3182' neon St Kilda sign.
"This is amazing," Shaynna said, upon stepping into the space.
And Neale agreed, saying he thought it was "the kitchen of my dreams."
Darren was also lost for words, admitting he loved everything about the stylish, modern take on a commercial kitchen.
"Every lesson they were supposed to learn, they have definitely done here in spades. This is spectacular," he said. "And exactly what they should have done in their apartment."
This last comment was bittersweet for the couple, who, as first time reno rookies, have come such a long way since that first week. All three judges thought they'd more than nailed the brief
"If you need an advertisement for 'luxury St Kilda living', this is it," Neale enthused, before adding that he wished the kitchen was his.
Shaynna particularly loved the stone benches and splashbacks, describing them as 'sensual,' something Darren also thought was applied to the entirety of the space.
All up it was a perfect space - and all three judges found it hard to fault. And that styling Courtney was so worried about? Turned out she had nothing to fear.
"I feel like it's set up in a stylistic way, but it feels like someone lives here," Shaynna said. "I think it's well thought out - they have functional elements that work with the spaces."
We agree - well done guys. You absolutely nailed it and saved the best till last.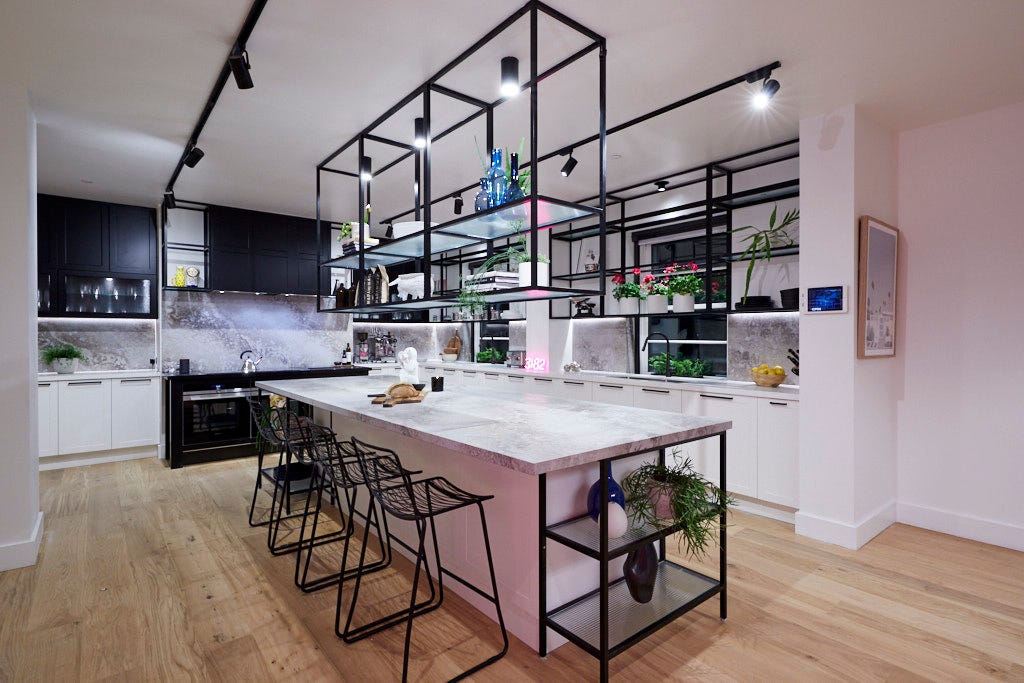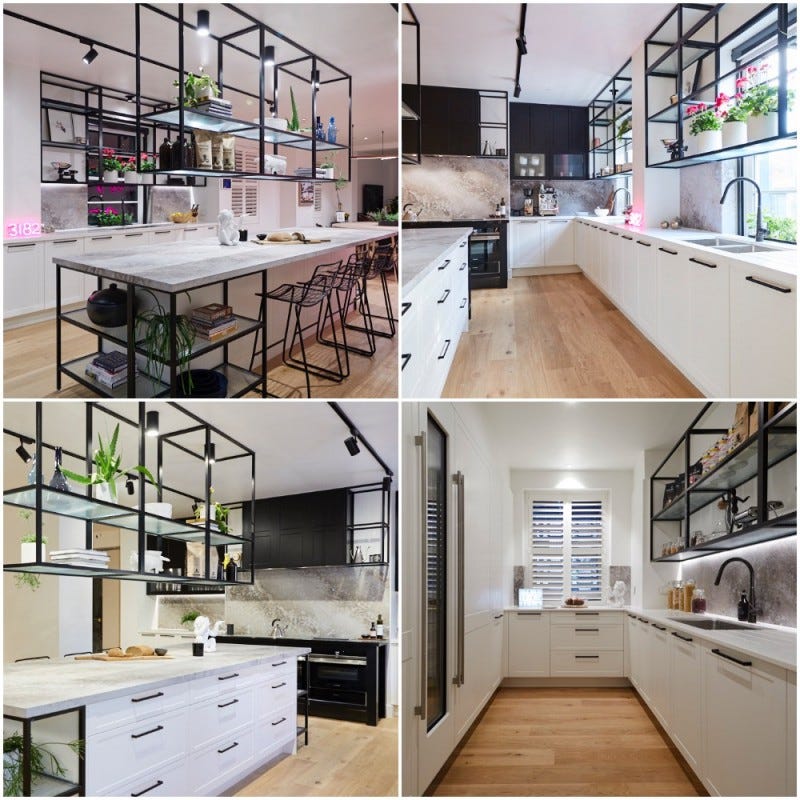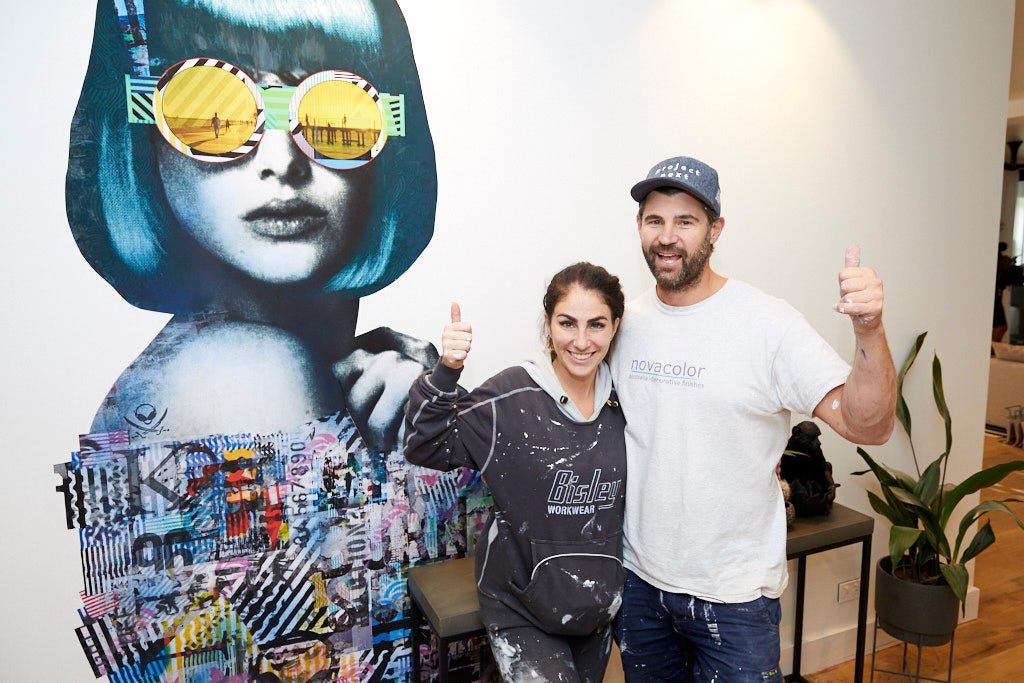 Hat's off to Hayden and Sara, who managed to complete an eye-watering four spaces - in one week! All three judges loved their hall, powder room, laundry and study spaces, which included bright artwork, custom cabinetry, quirky design touches, and plenty of high-end inclusions.
In the hall, they particularly loved the two bold prints, and the large graffiti wall decal.
"How funky is this - it's really cool," Shaynna remarked upon stepping inside their hall, which had also been fitted with designer lighting and a state-of-the-art Powertag energy system.
Neale also loved the decal, saying "It really connects with me. There's something about it that feels strong, engaging and cool."
Although all three weren't massive fans of the way the couple styled their hall table, they were all in love with the couple's beautiful laundry space, which was delivered with white cabinetry, the same caesarstone benches used in the kitchen, and wall-to-wall storage.
Darren, in particular, loved it, noting the prospect of the apartment kept getting better with every space delivered. "This laundry is exceptional," he said.
They also loved their powder room, presented completed with embossed plaster detail behind the toilet. But all three reserved their highest praise for the last space - that amazing study, which boasted custom cabinetry, those sliding, tracked doors, and an evocative photo print, "which feels like a window to the outside world," Darren said.
It was a gargantuan effort to finish all those space, and the judges were duly impressed. Us to - well done guys. You deserve a medal for finishing in time.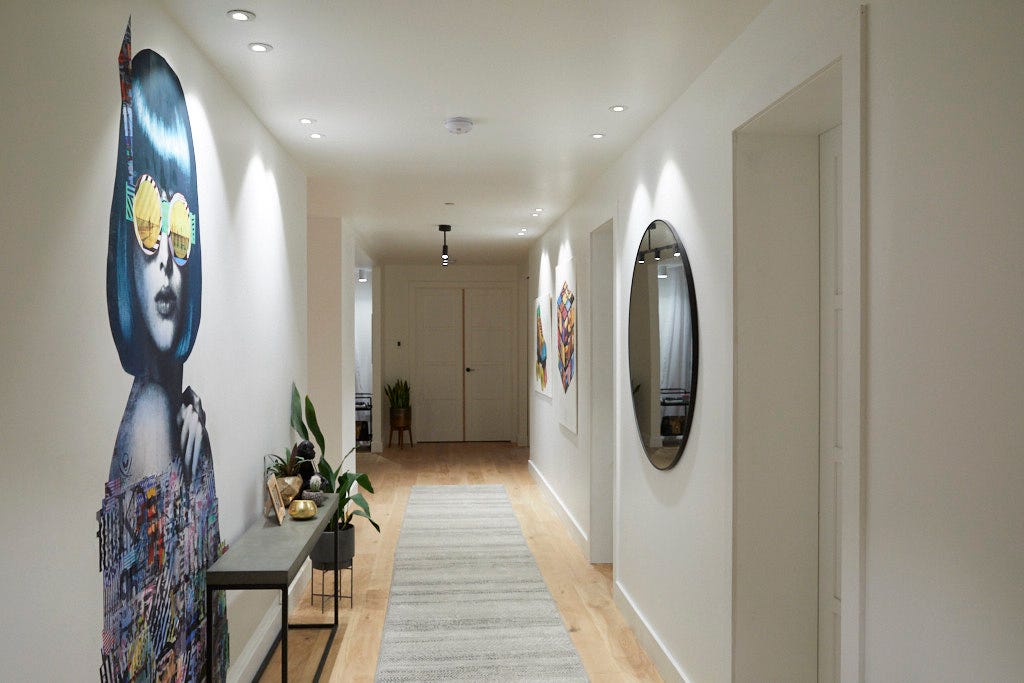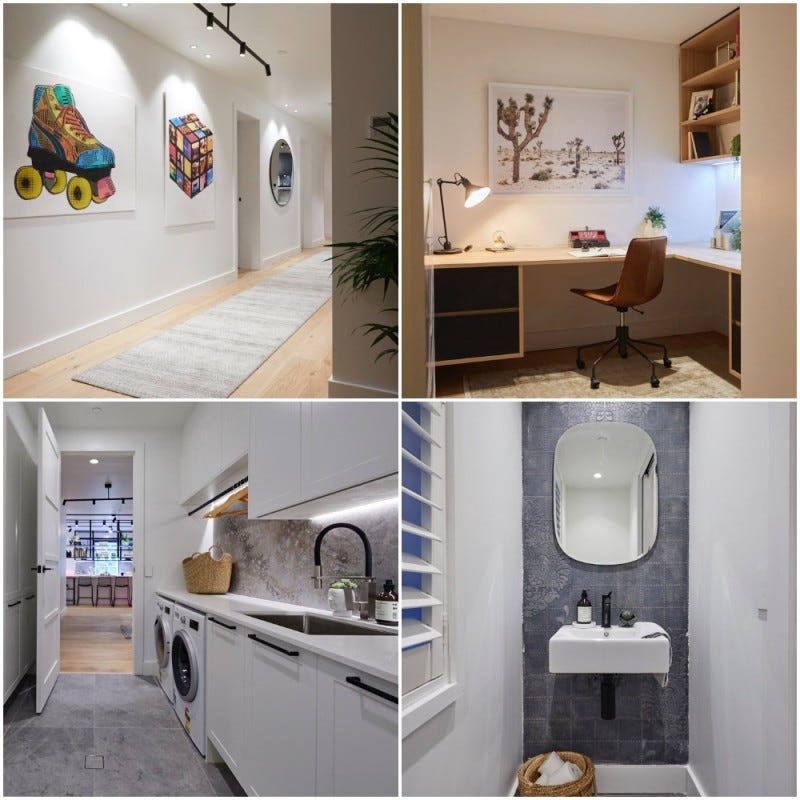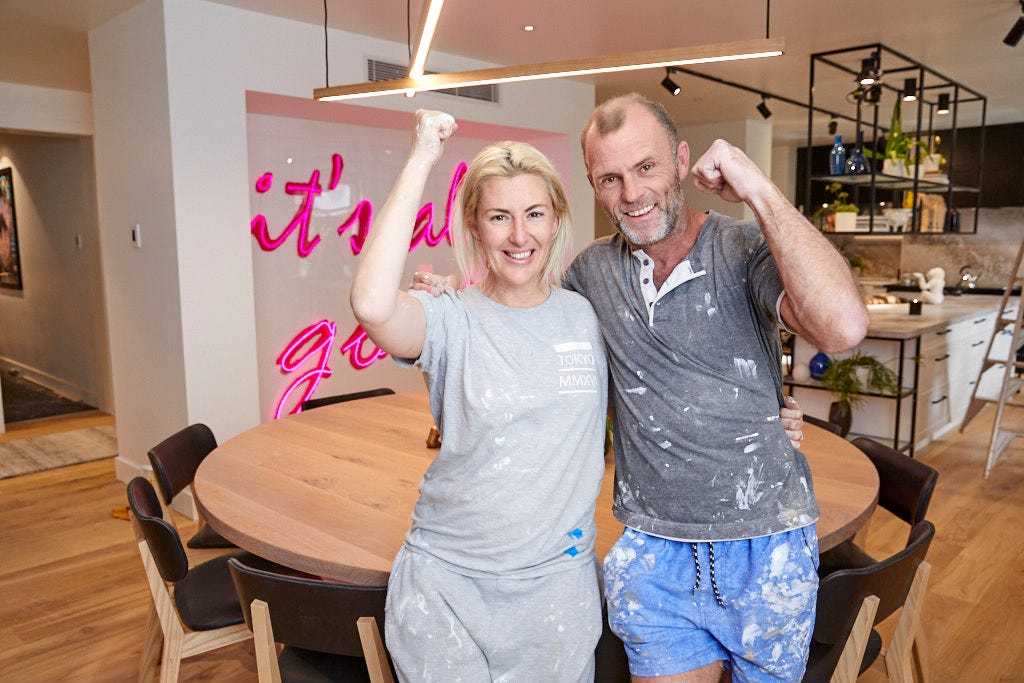 Turns out, it really was 'all good' for our sunny Queenslanders after Sunday's reveal, with the judges loving their bright, bold dining area. They loved the custom Christian Cole round table and leather chairs, they loved the gorgeous pendant light, the quirky trinkets and that gorgeous Palm Springs artwork. But most of all - they loved that enormous neon sign.
"It's corny, but it's all so good," Darren said.
And Shaynna agreed: "I love it," she said.
All of them felt it was appropriate for the apartment, and fitted with that all-important 'St Kilda' design brief.
They thought the table added a sense of sophistication, describing it as "effortlessly beautiful," And Darren also loved the lighting schedule in the room, which utilised that gorgeous 'x' pendant light above the table.
Quirky touches, like the gold hippo, the black and white bone inlay table, and yes, even that print of Shelley Craft (which the judges weren't entirely convinced on), gave the space a sense of fun, endearing it with the judges and making them jealous they, themselves, didn't live there.
"I can just picture the lifestyle you lead in this apartment," said Darren. "You turn on your neon light, you turn on your music, and you entertain."
Overall the judges think you delivered a strong room today, and a very appropriate room for the place you are in," Scotty said.
And we agree - well done guys! Now let's hope we win it in the Monopoly competition. Finger's crossed…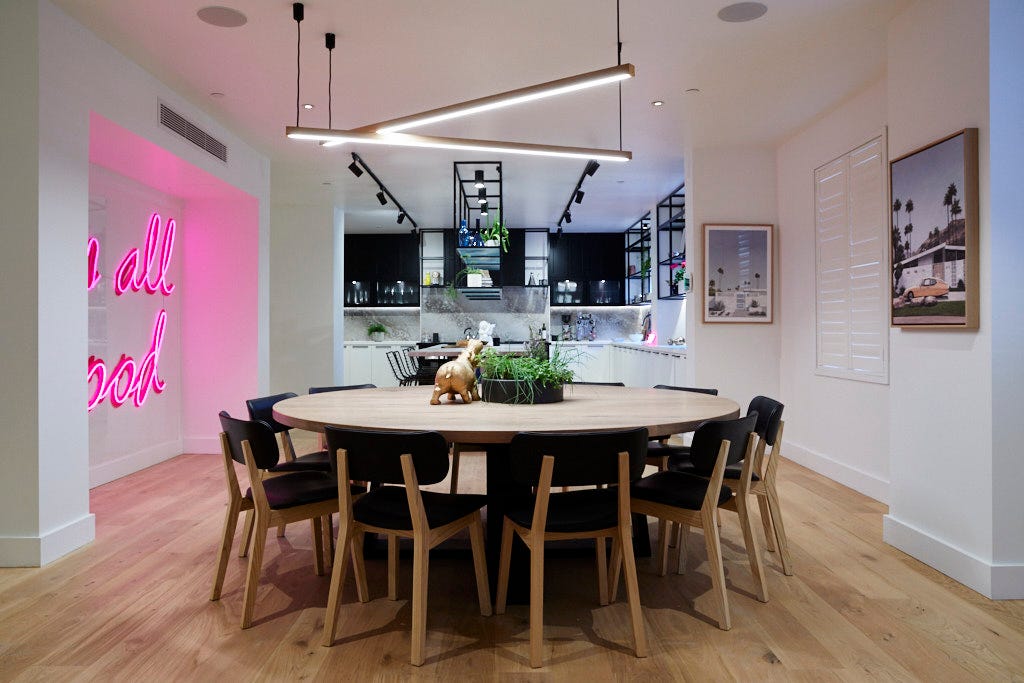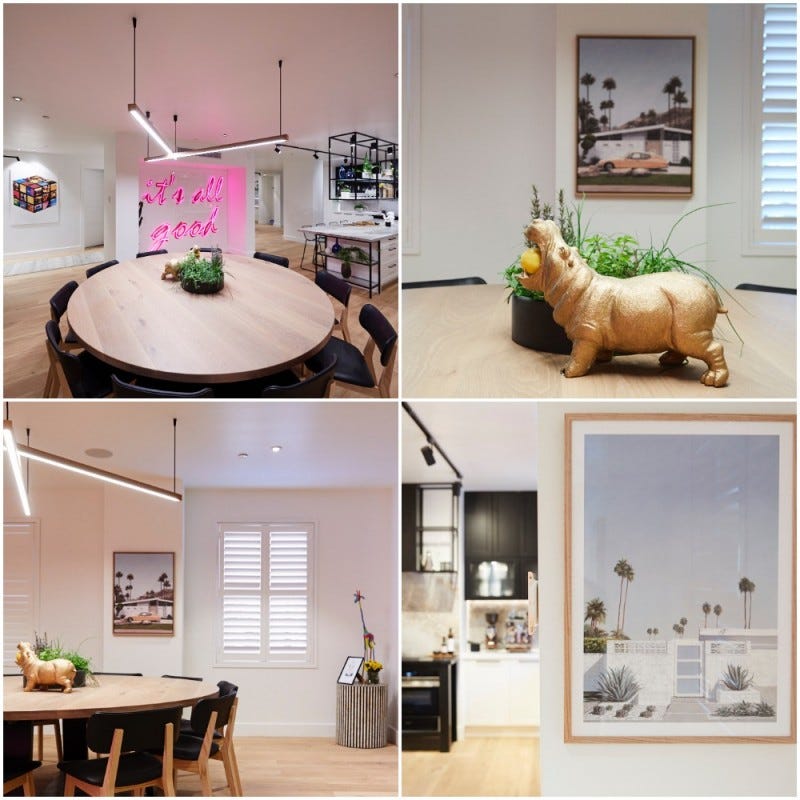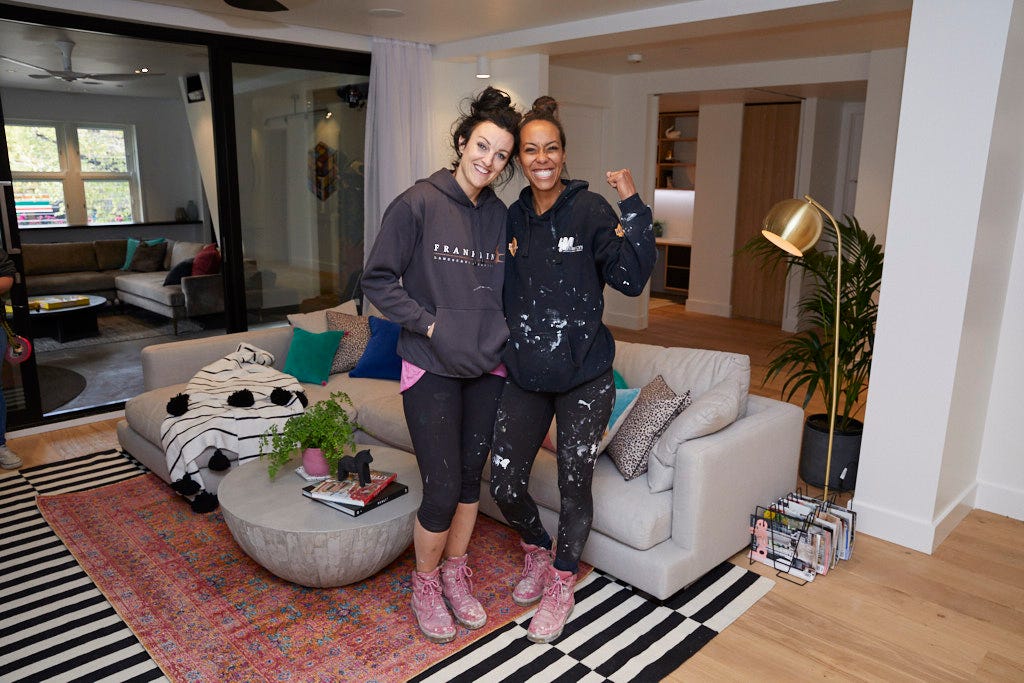 Bianca and Carla went into this week's judging feeling as though their lounge space might not have had all the bells and whistles of some of their competitor's rooms. Travelling hopefully, they could only hope the judges could find things to like about their space, which featured an oversized beige couch with bright cushions, a black and white striped rug, with coloured rug layered over the top, a stunning brass standard lamp, plenty of quirky trinkets, and a white TV cabinet.
"I hope the judges appreciate how much we have stuck to the brief this week. It's very 'St Kilda cafe' and it's very bright and colourful. I hope they appreciate that. Compared with some of the other spaces, ours doesn't have the 'wow factor', but we have certainly made the effort," Bianca said.
Unfortunately, the judges were more than a little underwhelmed, especially Neale, who was immediately distracted by the black and white striped throw, tossed onto the couch.
"It looks like a dead clown," he commented.
"This doesn't feel like it matches the quality of everything we have seen so far from the girls," Shaynna said, and Neale agreed, saying he didn't think they would have done anything like this in their own apartment.
They weren't sold on the placement of that chair, or the quirky little touches like the banana candlestick holders, controversial (and coveted) rhino planter, the horse statue, or that cute pink planter. But there were other things they liked - they liked the trolley with record player, and the lamp, that big overhead fan, the lighting schedule and the technology in the room - but in the end it wasn't quite enough.
We think they were a tad harsh - we'd still love to cuddle up there for a movie night. We love your space, girls. Well done!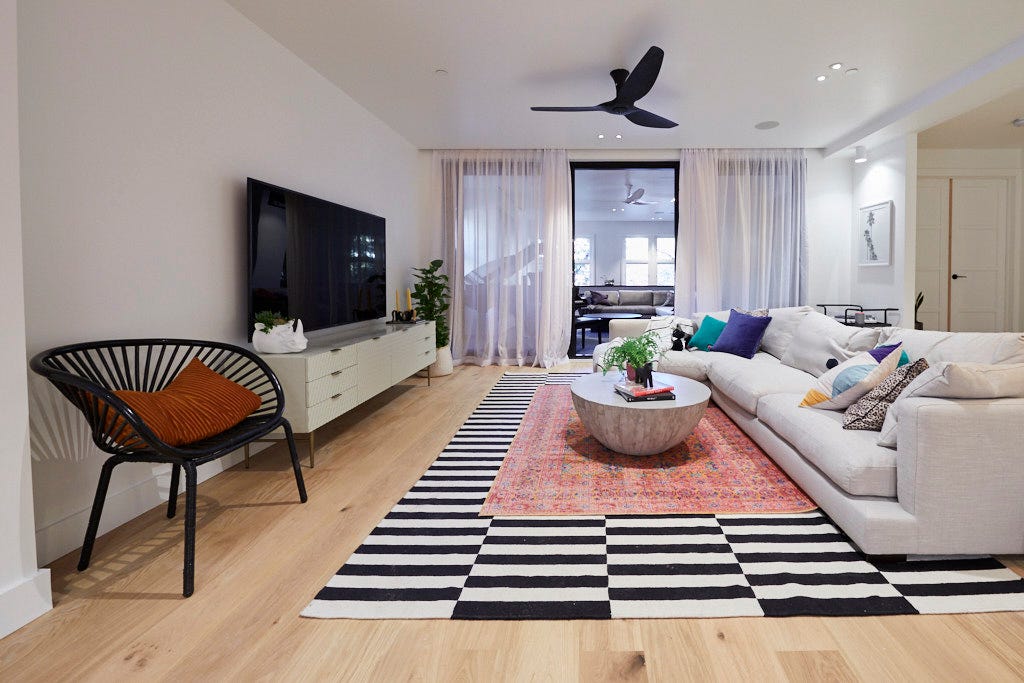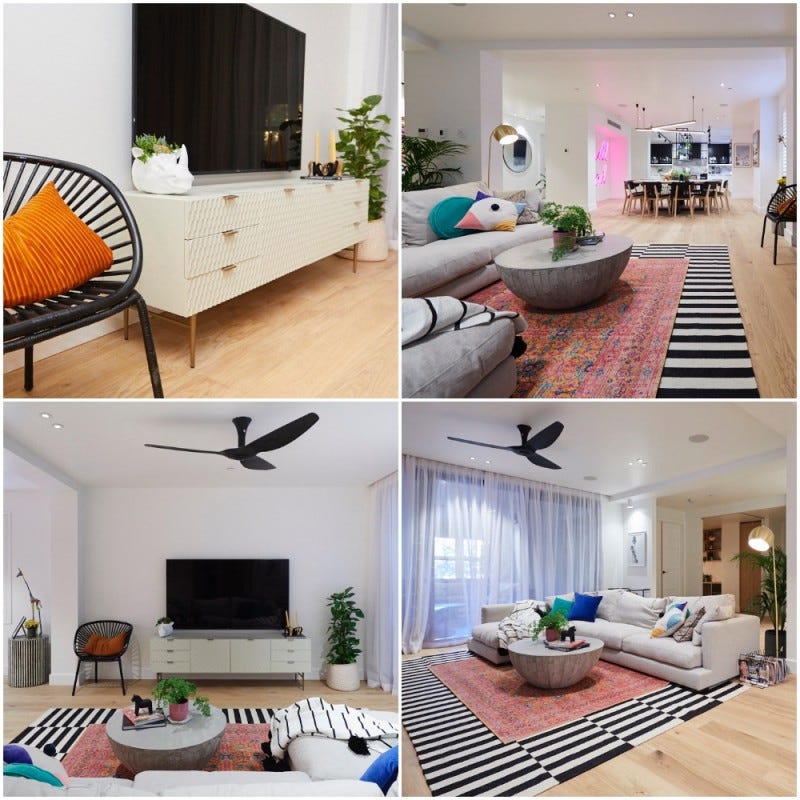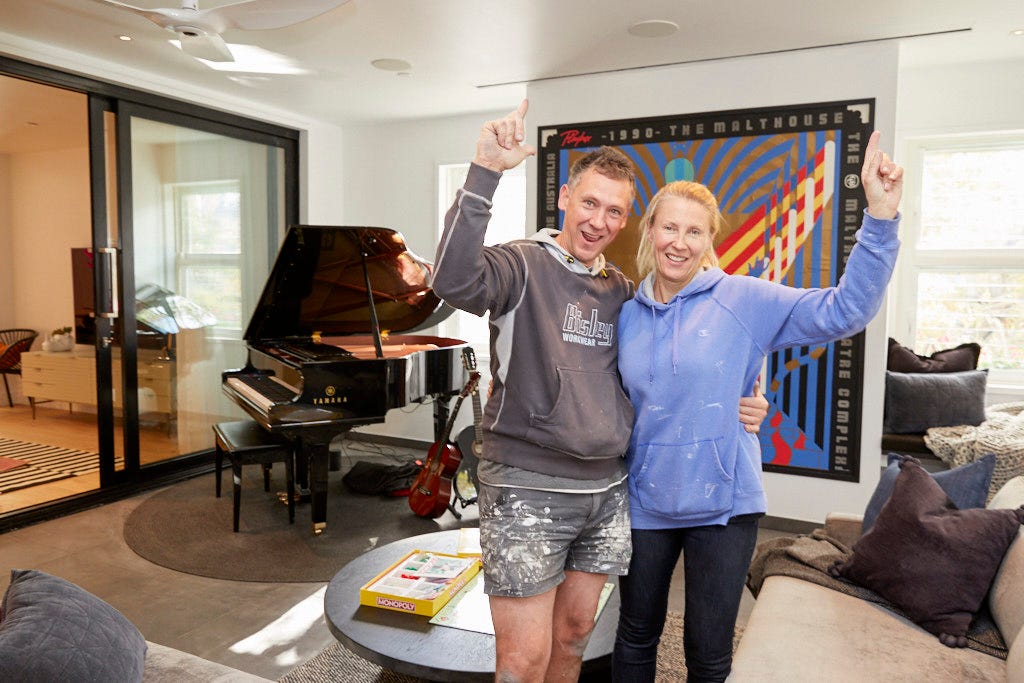 What a way to finish The Block! Kerrie and Spence scored 28.5/30 for their stunning terrace, which was presented complete with a projector screen, seating area with comfortable couch and coffee table, a bar overlooking Fitzroy Street, an enormous custom-made poster - and that incredible Yamaha Smart Piano.
This last addition left all three judges gobsmacked, all of them uttering one word when they entered the space: wow.
"This is the lounge room the apartment needs," Darren said, noting that the girl's area made a lot more sense when entering the terrace beyond.
Neale agreed: "What Bianca and Carla have done could be the rumpus room, because this is the 'grown up' living room," he said. "I would be out here with my friends, close the doors and let the kids watch the movie inside."
Neale was also a particular fan of the lovely artwork, a vintage Malthouse theatre poster. And though wrinkled, they thought it was a genius addition, albeit poorly executed.
They loved the bar across the front windows, and could all imagine themselves sitting there to watch the world go round.
"How good is that? The perfect sunday afternoon or night would be sitting here, looking at the people outside," Shaynna said.
Neale thought it was the perfect room to end their Gatwick judging.
"It's lovely to take a moment and enjoy this, because this is what life at the Gatwick should be all about - enjoying the St Kilda lifestyle," he noted.
But all three saved their best praise for last - for that amazing piano.
"This states high luxury, high expense, and a beautiful lifestyle," Darren said. "And isn't that what you want to buy when you buy property? It's the ultimate."
We agree. We're giddy with excitement just thinking about the possibility of winning this apartment Well done guys - we'll invite you over for a drink when we win!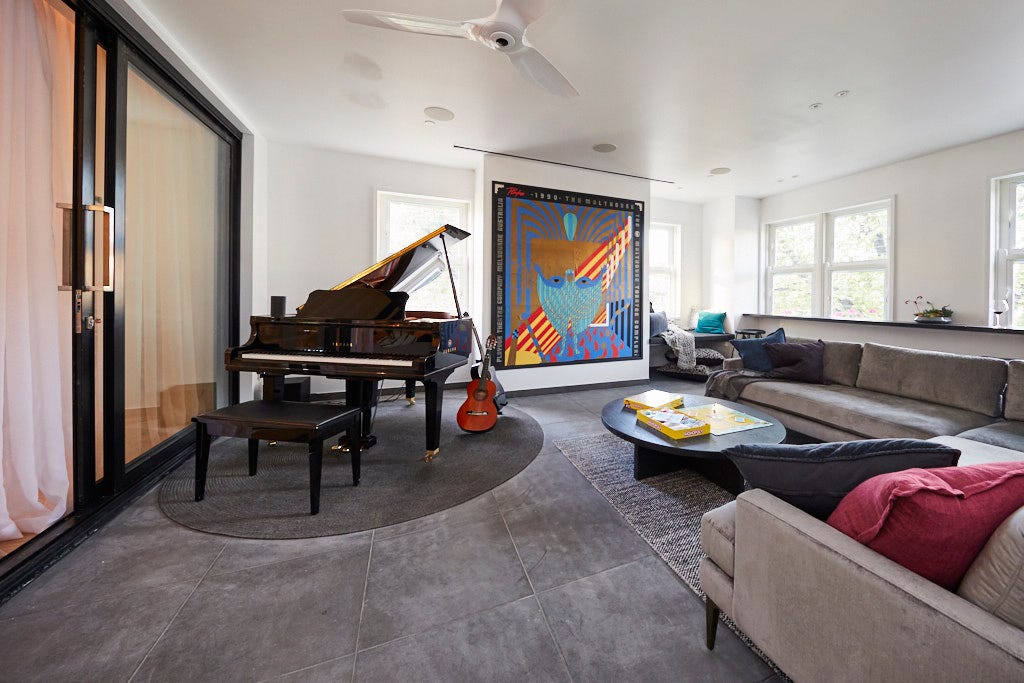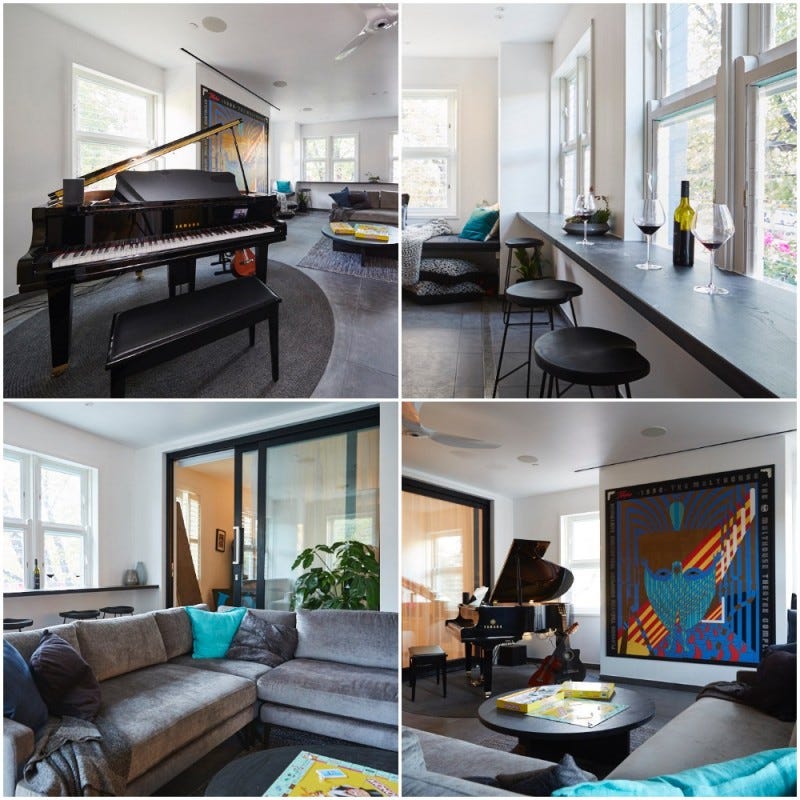 To be in with a shot to WIN this incredible apartment buy your MONOPOLY – The Block Special Edition HERE

Did you like this blog? Subscribe to our newsletter to be the first to receive news from The Block! Subscribe now to receive $20 off your next order.