Kerrie and Spence wowed the judges with their perfect score kitchen, tricked up to the nines with with top-of-the-range Gaggenau appliances, a hidden rangehood, those amazing Sub Zero fridges, and an exceptionally executed Butler's Pantry.
The judges literally couldn't fault it, all three agreeing that the space, complete with service area "big enough for an army of caterers," was pitch perfect.
"If this was my home, I would be pretty damn happy with my kitchen," Darren said, admitting he was instantly smitten with the "monolith" concrete island bench the couple created.
For Neale, it was those bells and whistles in the form of the amazing appliances that had him speechless. "It ticks every single appliance box. They could sell these appliances and buy another house!" he noted.
All three judges also liked the comfortable seating at the end of the bench, designed to be both functional and extremely user-friendly. And Shaynna loved the styling, thrilled to see Kerrie invoke a sense of "lifestyle" in the space.
"Right now I feel at home," she said. "And that makes you feel good about the whole apartment. The way they have styled this is about lifestyle, and I feel they've got that part right."
Hearing Shaynna speak so highly was music to Kerrie's ears.
"That made my night," she admitted. "Just getting some encouragement on that was awesome."
Everyone could agree this was one heck of an entertaining space.
"They have thought about everything," Neale explained. "And for anyone who loves cooking and entertaining - this is paradise."
We agree - just gorgeous, guys. Well done!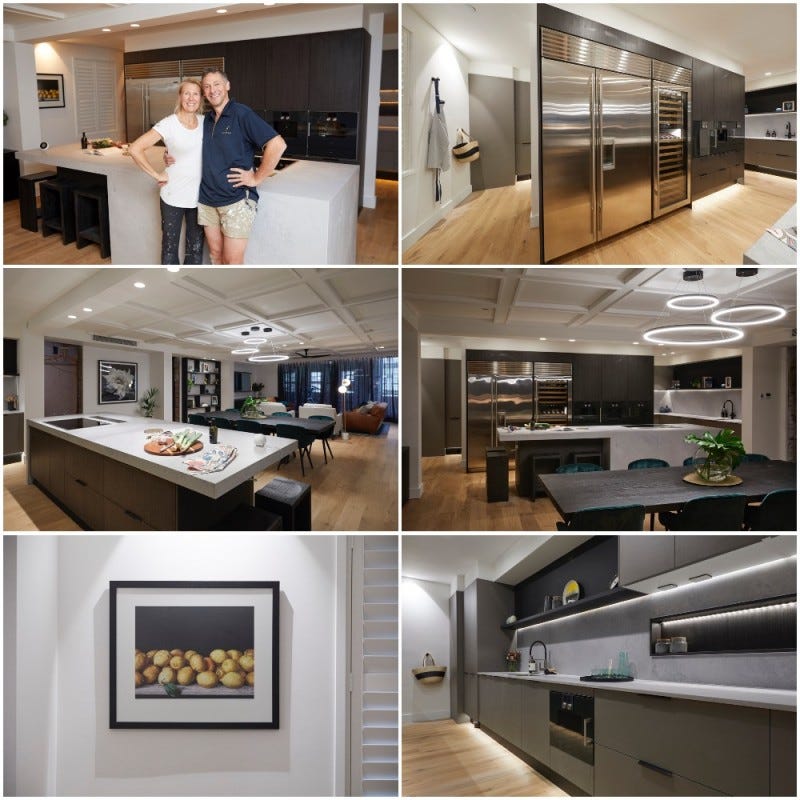 Bianca and Carla impressed with their beautifully designed kitchen, which included floor to ceiling cabinets in dark and light grey, a timber study nook, that gorgeous architectural light feature, matte-finish 'Cloudburst' bench top - and that enormous butler's pantry.
While Shelley wasn't a fan of this last inclusion, calling it "a monumental waste of space", overall, the judges thought their room worked well.
All three judges particularly loved the girls' choice of lighting, especially Darren, who referred to them as "little exclamation points saying, 'I'm fabulous!'"
Shaynna thought both Bianca and Carla have a very firm idea of who their buyer will be, and have stayed bang-on brief through the presentation of their kitchen.
"This is very corporate," she exclaimed. "They have been very consistent from day one, and have nailed their market."
She also loved how simple, yet stylish, the presentation was. And the fact that - yep, you guessed it - the girls had included lots of storage in their ample Butler's Pantry space.
All three loved how the kitchen flowed to the rest of the space, something that made Bianca and Carla particularly happy.
"The best feedback we keep getting is how we are the most consistent apartment across all of our rooms," Bianca said. "At least we're on the right track for the buyers."
We agree - you guys are doing a sensational job. Well done!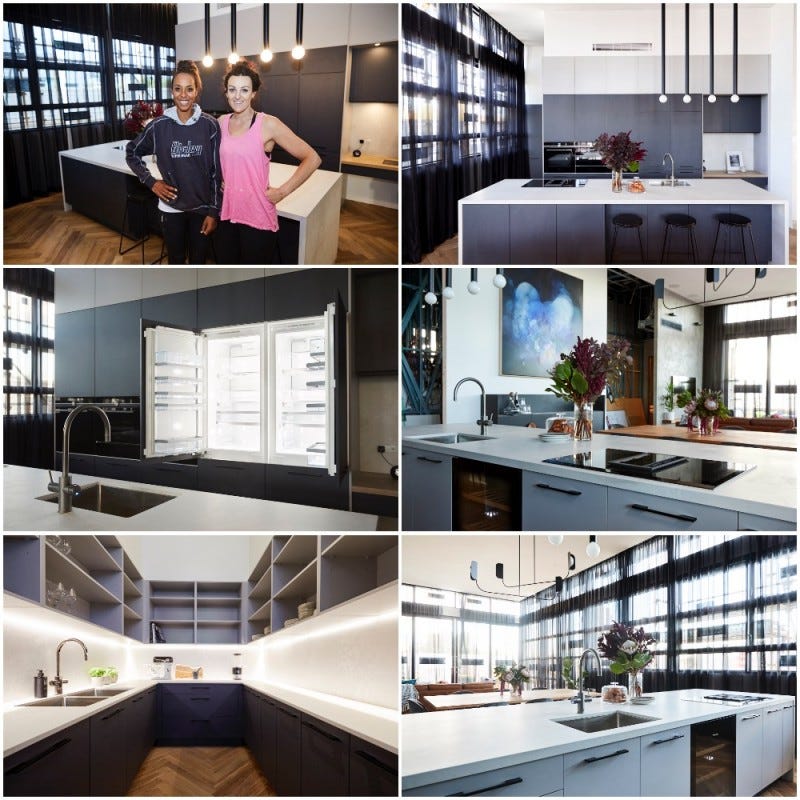 Norm and Jess have once again confounded expectations, producing a simply stunning kitchen, with floor-to-ceiling cabinetry in a stone grey with a shaker profile, beautiful marble bench top, that black square sink, three leather stools, and that enormous Butler's Pantry with another double sink and wooden shelf detail. Their tiled splashback and gorgeous parquetry floor completed the look, which the judges saying it was "one of the most beautiful kitchens ever produced on The Block."
All three judges were immediately smitten when they walked in, with Darren Palmer letting out an effusive, 'Wow.'
"How do you go past this amazing marble bench top?" he asked. "It's so elegant and natural."
Neale agreed, calling it "luxurious" and marvelling at the thickness of the marble.
He also loved the shaker profile of the cabinetry doors."It's so soft. It's not what I expected them to do," he said. "I was expecting something that was a bit more Scandi-orientated. They constantly surprise us."
All three judges liked the layout of the room, and the way it flowed to the living space, commenting that their decision to do two entry-points to the Butler's Pantry was a stroke of genius. "It's a really contemporary approach," Darren pointed out.
Although the couple lost some points for functionality, all the judges agreed this was a space buyers would be prepared to pay a lot of money for.
"This is a kitchen in a great apartment that a lot of people are going to fall in love with," Shaynna said.
And we agree - well done guys.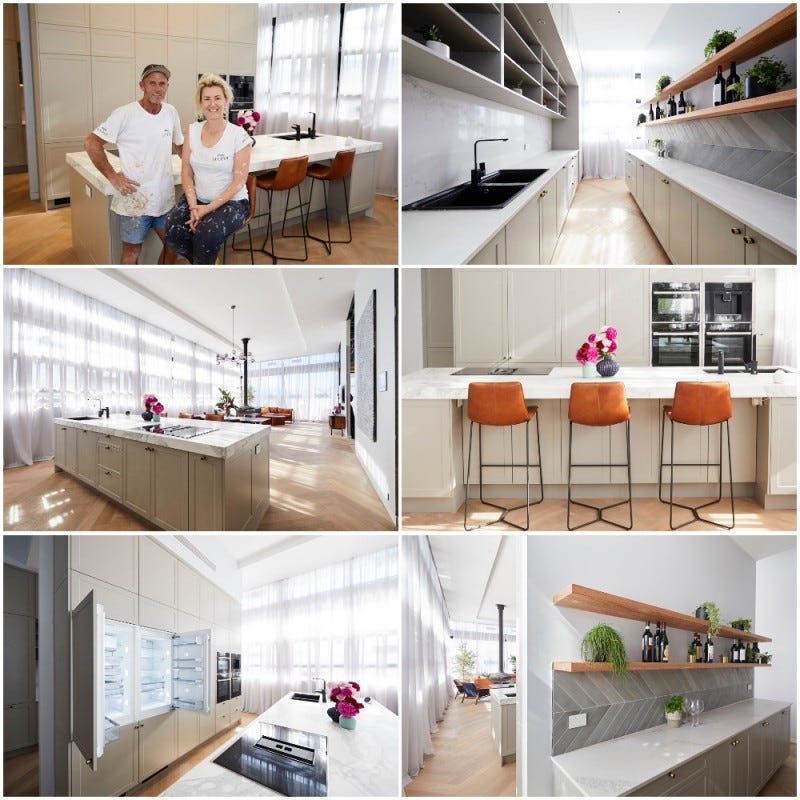 Sara and Hayden spent a long time planning out their kitchen space, re-orientating the island bench to take full advantage of their stunning views, and to link the room with the rest of their living space. It was a risk - but it paid off. The judges loved their stunning black and white kitchen, which featured a beautiful sculptural range hood, large white stone feature wall, black cabinetry, black wire stools, a bench seat - and that ridiculously awesome hidden Butler's Pantry.
"We are the only ones that have used the windows as an asset, rather than an obstacle by positioning our bench the way we did," Sara explained.
"I really like it," Darren said up on entering.
"Now that it has this in place, it kind of makes sense of the whole [living] area," Neale added.
Shaynna loved the idea of the bench seat, with the added storage beneath. "It's really quaint and it's gorgeous, and I love the cushions; that little bit of 'lush' really pops in here and really adds something to this space," she said.
Darren loved the lighting schedule, and said, "You get this great interplay between light and shade. And it's a great way to light something functional." He also loved the mirrored kickboard, which he said made the kitchen "float" in the space.
But, arguably, the thing they all thought was best was the way the kitchen was set up to be the ultimate entertainers' space.
"It has a sense of generosity about it," Neale said. "And from an entertaining perspective, it means business - there's a lot of prep space."
Although they'd not been particularly impressed with other butler's pantry spaces, Shaynna said she liked what she saw through the "door to Narnia" - even if the styling was a bit light on.
Darren agreed: "I think it's really elegant," he said.
And we agree - well done on your timeless and elegant kitchen, guys.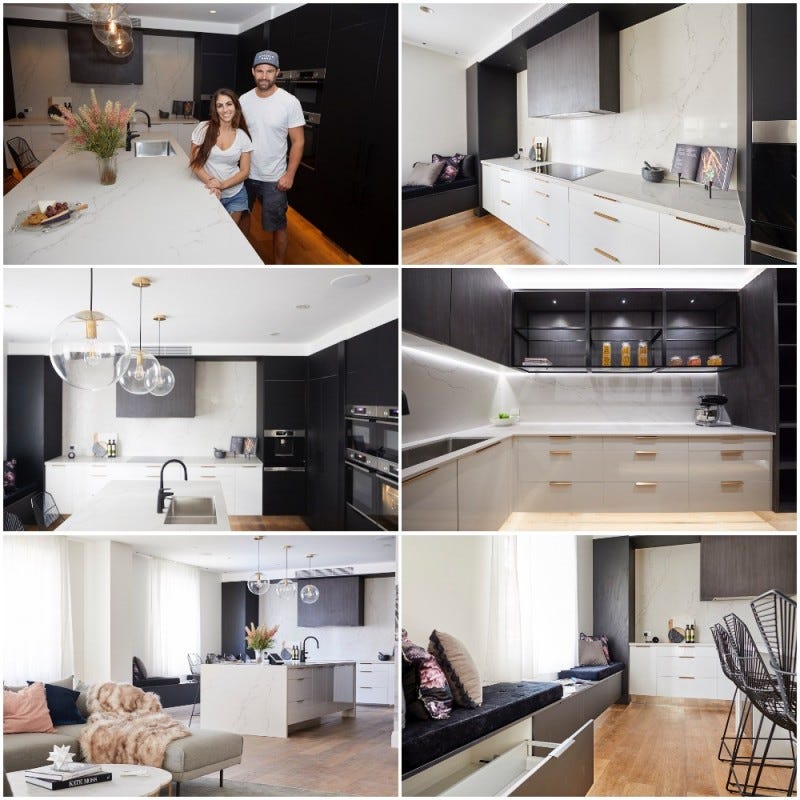 Courtney and Hans took a risk positioning their kitchen "across the hall". They also potentially polarised buyers with their butler's pantry, placed behind a wall which effectively blocked off natural light to the rest of the space. But despite this, the couple from WA produced a stunning space, which featured white stone bench tops and splash backs, gorgeous champagne-coloured metallic cabinetry, matte black floor-to-ceiling cupboards, and an island bench, situated at the centre of the room.
Darren, in particular, was a big fan of the colour palette the couple chose.
"My heart belongs to this finish - I think it's absolutely beautiful," he said of their metallic cabinetry.
All three judges agreed that, from a functional point of view, the kitchen worked extremely well. They liked the way the appliances worked with the rest of the space, with Shaynna saying, "I don't think you can fault it's functionality as a butler's pantry."
Neale agreed, and he also liked the use of lighting for dramatic effect. The styling of the space - complete with those quirky little lamas - was also done well. But Shaynna worried that the orientation of the kitchen, and the choice to section off part of for the Butler's Pantry, was not the best use of the space.
"They'll be up against four other buildings that integrate better and that's their biggest problem - the comparison to the other apartments is really going to be working against them," she said.
We still think you've produced an amazing space - well done guys!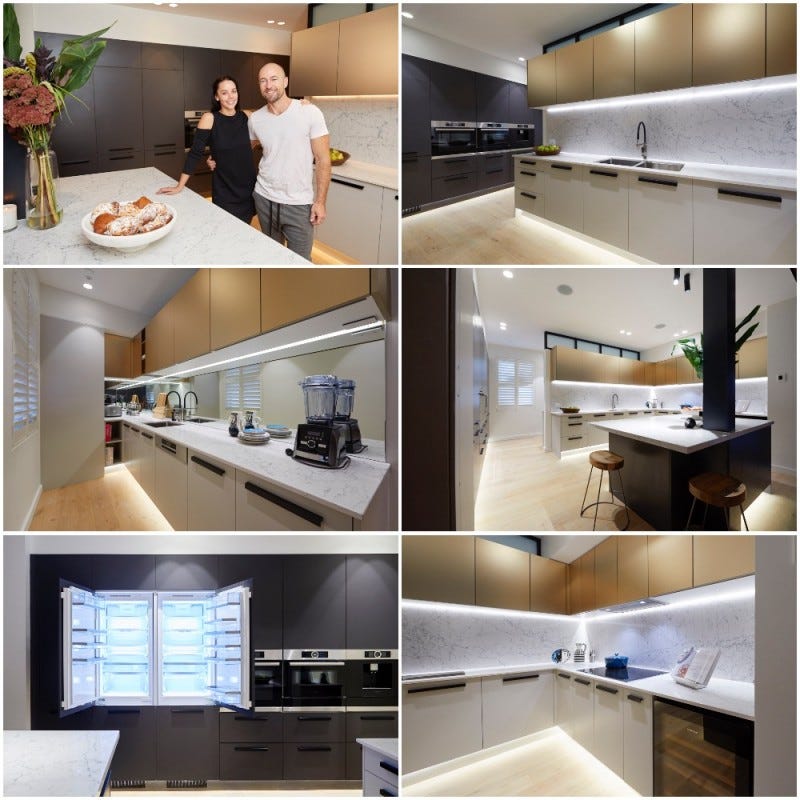 Did you like this blog? Subscribe to our newsletter to be the first to receive news from The Block! Subscribe now to receive $20 off your next order.