Kerrie and Spence are on a roll! And, fresh off the back of their perfect score for last week's kitchen, they've produced a sensational hallway and powder room to take out the win. As soon as the judges entered their grand entrance space, they were blown away, especially with the way the couple had managed to display their artwork.
"There's nothing I love more than a hallway that looks like a gallery," Neale said.
Shaynna agreed: "It feels so grand as soon as you walk in."
All three particularly loved the inbuilt 'furniture' to the right of the door, which featured a large mirror, drawer for keys, and storage nooks for bags.
"This is great functionality - and I just love it," Shaynna said.
All three loved Kerrie and Spence's unusual 2m x 2m bird picture. "I'm loving how grand the artwork is. Like, the scale is just beautiful," Shaynna added. "It's a piece of artwork that makes you go, 'What?'"
Just as effusive, the judges also all adored the couple's powder room, which featured a round circular mirror and sink, dark vanity and that gorgeous marble herringbone tile. This tile also featured in their laundry space, which Darren was instantly smitten with.
"Is this what laundries have become? That they are this glamourous, almost kitchen-like finesse?" he said. "It's just beautiful. The splashback tiles are just spectacular."
Neale agreed: "This is all spot on," he said. "This is Kerrie and Spence's finest hour. I don't think we've seen them as good as this."
We agree - well done guys!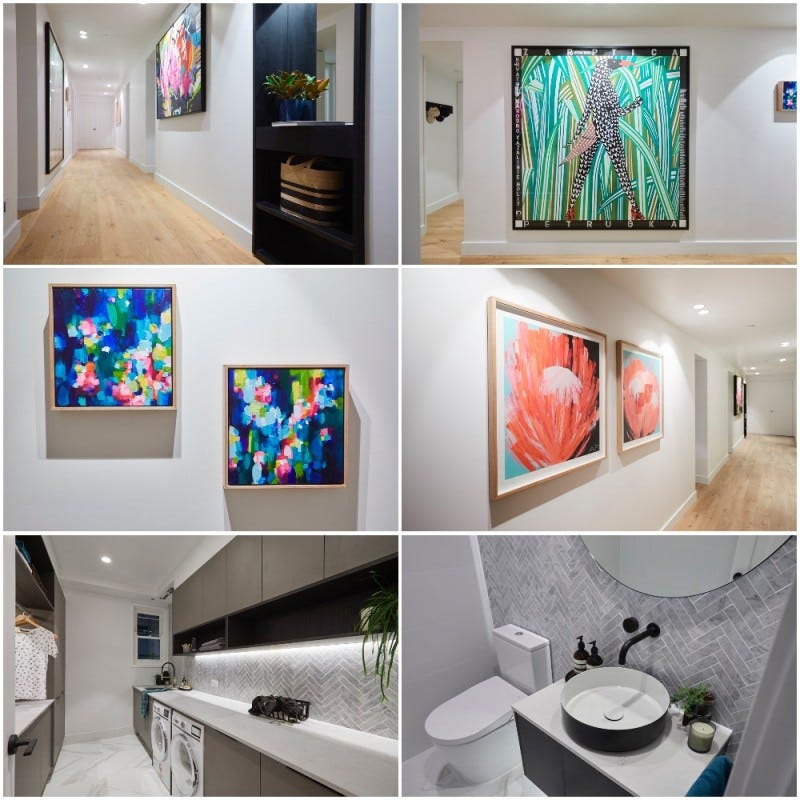 Hans and Courtney went all out with their artwork and artifacts in their hallway this week - and they certainly impressed the judges, who all agreed they had nailed the "quirky, museum" feel of their entrance space.
Neale, in particular was a fan, saying he loved the "glamorous eccentricity", all the artwork, and the way they had peppered the space with interesting artifacts, like the old oar, those cork candles, the dark wooden sculptural piece.
"It's a look we haven't seen on the Block before," he commented. "There's a big picture here that I really like."
Shaynna also thought they had achieved that sought-after "boho/luxe feeling", and was a particular fan of that huge bubblegum artwork.
"How much fun is that?" she said. "You have got a girl blowing chewing gum, which is so pop art!"
Darren wasn't so sure that all the pieces in their hall flowed well together - especially their sideboard - but all agreed that while a "blank canvas," they had managed to deliver an exceptionally simple, white and black laundry and powder room.
They particularly loved the simple, vanity, which Darren pointed out you wouldn't put in a normal bathroom "as it has no storage" but that fitted that space beautifully. Paired with their gorgeous backlit circular mirror, it gave the room a dramatic, glamorous feel - totally in keeping with the rest of their apartment.
Well done, Hans and Courtney. We love your space!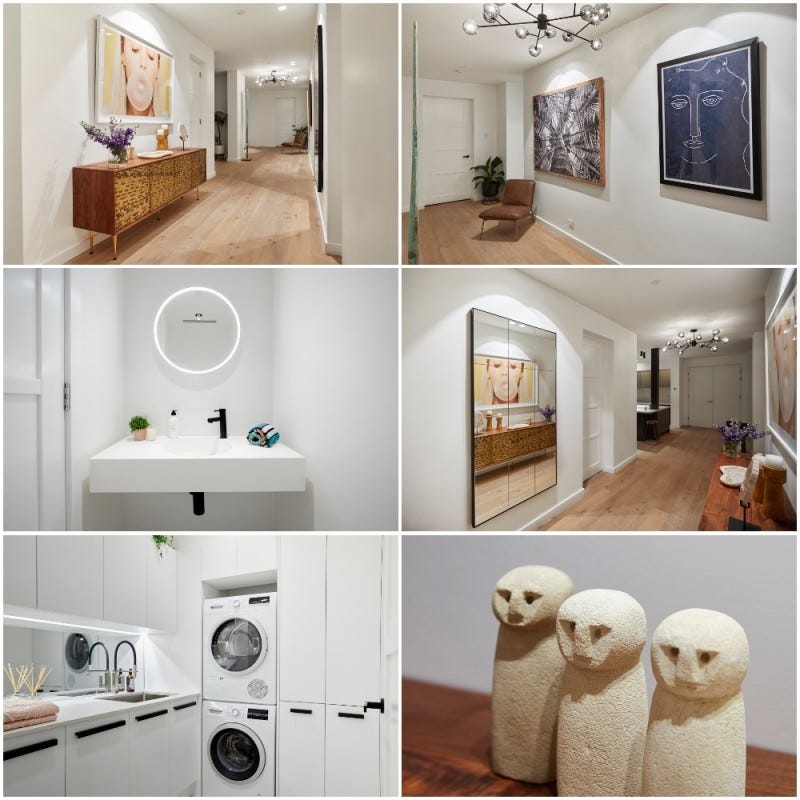 Hayden and Sara had a tough week and were not able to properly finish their hallway, laundry and powder room. But regardless, they still managed to produce three glamorous spaces. For their hallway, the dramatic, warm lighting paired with those two statement backlit pieces of art, impressed the judges, and their laundry and powder room showed great promise.
Darren, in particular, was a fan with the way the couple had lit up their hallway - created a sense of drama as soon as you walk in.
"The lighting is very interesting. I love all these step lights all the way down the hall," he said of their strategically-placed lower lighting scheme. "I think the shape they make on the floor is really beautiful.They're a nice, subtle choice, and I love the light behind the art."
He said the space looked "dramatic and classy" and Shaynna agreed. She said she liked their choice of skirts and architraves "and the dramatic statement you create from the double doors at the hallway to the master bedroom."
While unfinished, they could see the vision the couple were trying to create with their laundry and powder room, which featured two toned cabinetry with brass handles. Neale said, "it could have been the best laundry of the day", but agreed the couple had been let down by their time management.
Bad luck guys - we can see that what you were trying to create was just beautiful. If only you'd had another few hours!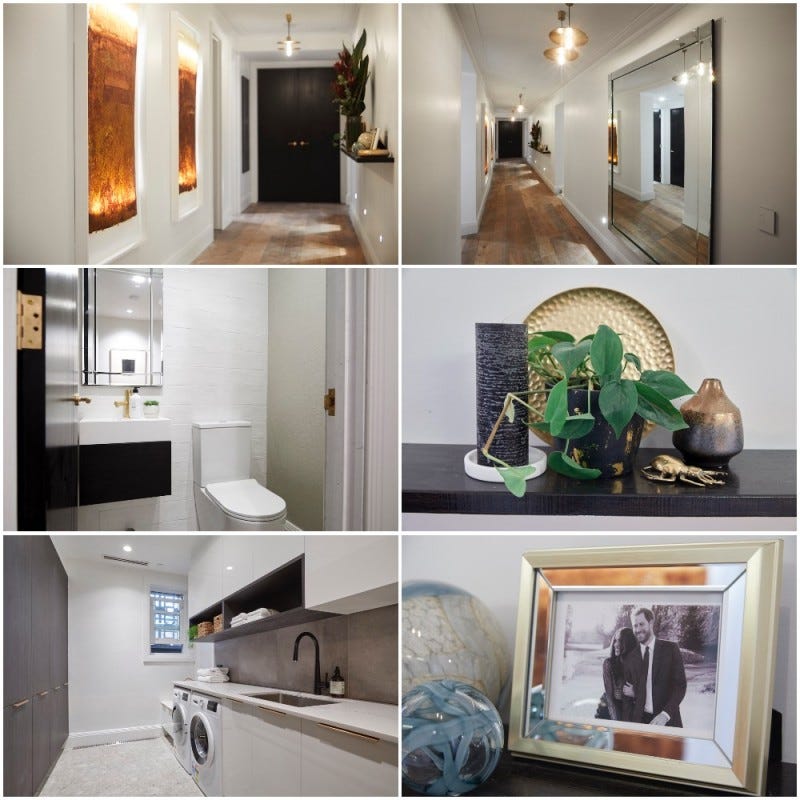 Right from stepping inside Norm and Jess's grand entrance area, all three judges were in love with the space. Darren, in particular, adored the marble shelf, situated to the side of the door, which had a beautiful round mirror above. It was offset with simple styling, that all of them agreed was the ideal way to showcase the "hero" of the marble.
Neale loved the use of offset skylights, as did Shaynna, who said she loved the way light "comes onto the walls and has this shard."
Neale also loved the framed Gatwick newspaper ads, sourced by Jess from a paper dated December 10, 1946. "They're beautifully framed," he noted, with Shaynna saying agreeing, saying she loves how "it brings the history of the building into here."
Neale was also effusive in his praise of those three large, black pendant lights.
"For me the star is definitely the height of the ceilings. It's beautifully accentuated by the choice of pendent," he noted. "I love the way [the light] is repeated three times. It's the perfect choice, because I love the almost Scandinavian functionality."
That same feeling flowed into the couple's laundry and powder room space. The liked their simple laundry, and while not as grand and functional as some others, they appreciated the simple elegance they'd managed to achieve.
Neale, in particular, loved their powder room, which had a marble feature vanity top, and lovely grey tiles.
"As powder rooms go, this is a beautiful one," he noted.
And we agree - well done guys!
A point and a half was all that separated Bianca and Carla from a win. But despite this, the judges all said they loved their hallway and powder room spaces, which they thought were amongst the best rooms the girls had presented.
Shaynna's immediate reaction? "That's sexy," she said, upon looking down their beautiful hallway, complete with long hall runner, monochrome "bathers" artwork, and several large statement paintings and prints.
Neale, in particular, thought the inclusion of the rug gave the space a lovely "homeliness" and made it a very welcoming hallway.
He also loved the lighting plan, as did Shaynna, who admired the use of simple lighting,up in those stunning centrally-positioned Velux skylights.
One thing they all agreed was a standout was the beautiful bespoke sideboard, made by the same carpenters who had made pieces for the rest of their home. "This is the most beautiful cabinetry, and I love that it's consistent throughout the apartment," Shaynna said.
All up, all three thought they had presented a hallway space with lots of character.
"I love this artwork. It's quirky and unusual, but it has a wonderful sense of humour." Neale said, of their zebra print.
All three all loved the laundry space, complete with timber benchtops, sky-high cabinetry, mirrors and those enormously high ceilings, and thought they'd produced a "perfect" powder room, with statement sink, and simple, stylish styling.
Well done girls! We want to move in!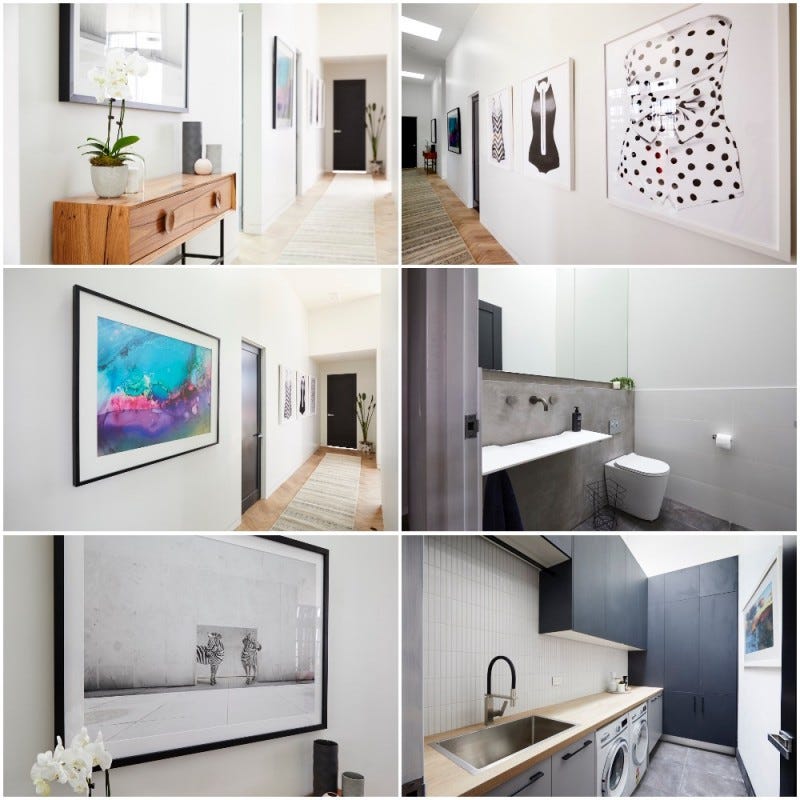 Did you like this blog? Subscribe to our newsletter to be the first to receive news from The Block! Subscribe now to receive $20 off your next order.