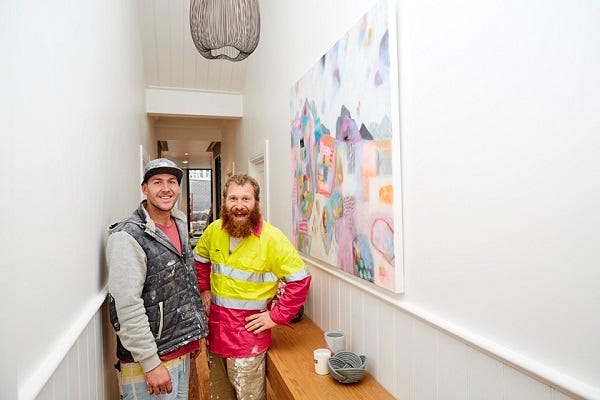 Sticks and Wombat embraced their "inner softies" this week, producing a stunningly elegant, yet pared-back, laundry, hallway and powder room space. And boy, did the judges love it.
All three were effusive in their praise, singing the praises of the boys' exceptional attention to detail. They all thought the panelling on the ceiling and the walls was a masterstroke, claiming, at last, that the boys were on the right track.
"It was the softness that was needed - and it's spot on," Neale said, upon walking inside.
"It feels really appropriate in terms of a heritage building."
Shaynna was similarly blown away, saying, 'Wow, it's all really beautiful' as soon as she walked inside.
Neale had been instrumental last week in encouraging Sticks and Wombat to embrace the Danish design concept of 'Hygge', a word used to describe a space that is warm, inviting, and cozy. He said he was glad they took his feedback onboard.
"These guys never fail to bring a smile to my face," he said.
Sticks and Wombat used simple timber panelling, paired with a white colour palette, soft, beachwood details, and a stunning artwork to create their inviting hallway.
The use of a striking pendant then drew the eyes northwards, to the stunningly executed wood panelling on the ceiling.
A state-of-the-art automated drop down attic door completed the 'wow'.
It all made the space feel bright, light, warm and welcoming, something that was also echoed in the separate WC space, and laundry room.
Central to the laundry were a series of huge, hidden cupboards - a feature that Shaynna was particularly impressed with. She loved the colour palette, and the floor tiles, and thought the whole space was "incredibly functional."
It all added up to a near-perfect score. And now everyone can't wait to see what the boys do next.
"We have hooked onto the 'California bungalow' thing, and we are going to run with that," Wombat says. "I think I might have found my softer side. And Sticks has found his groove."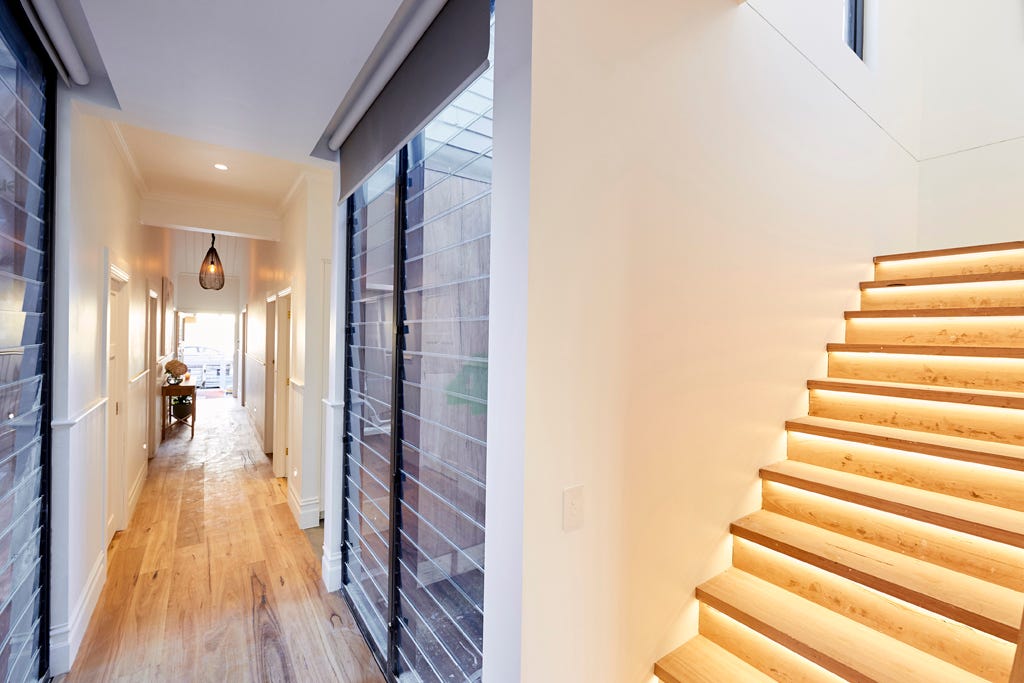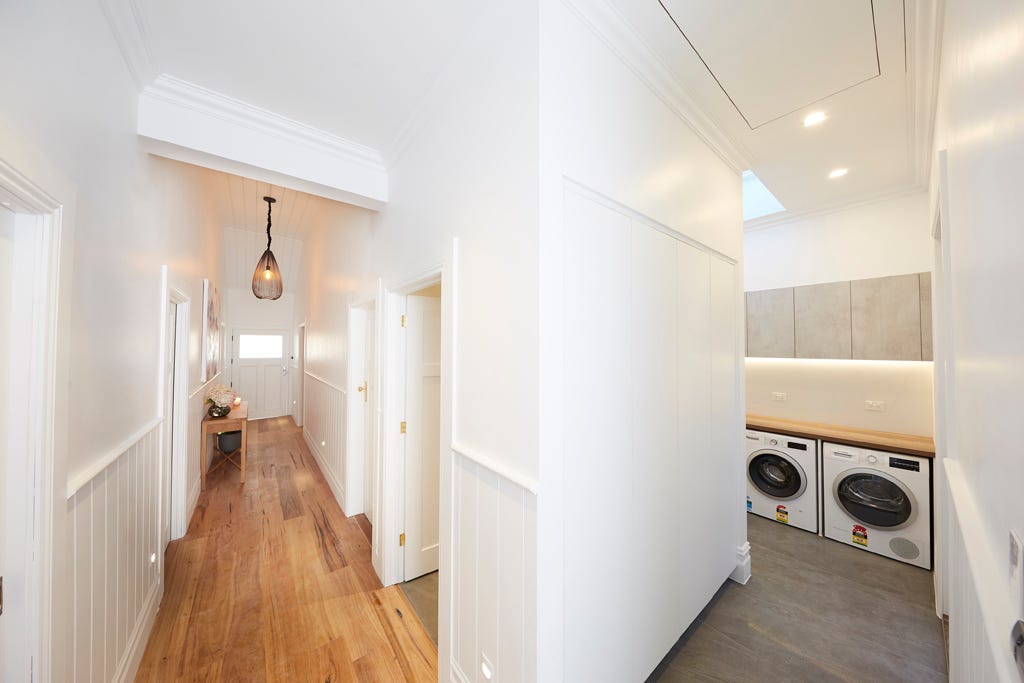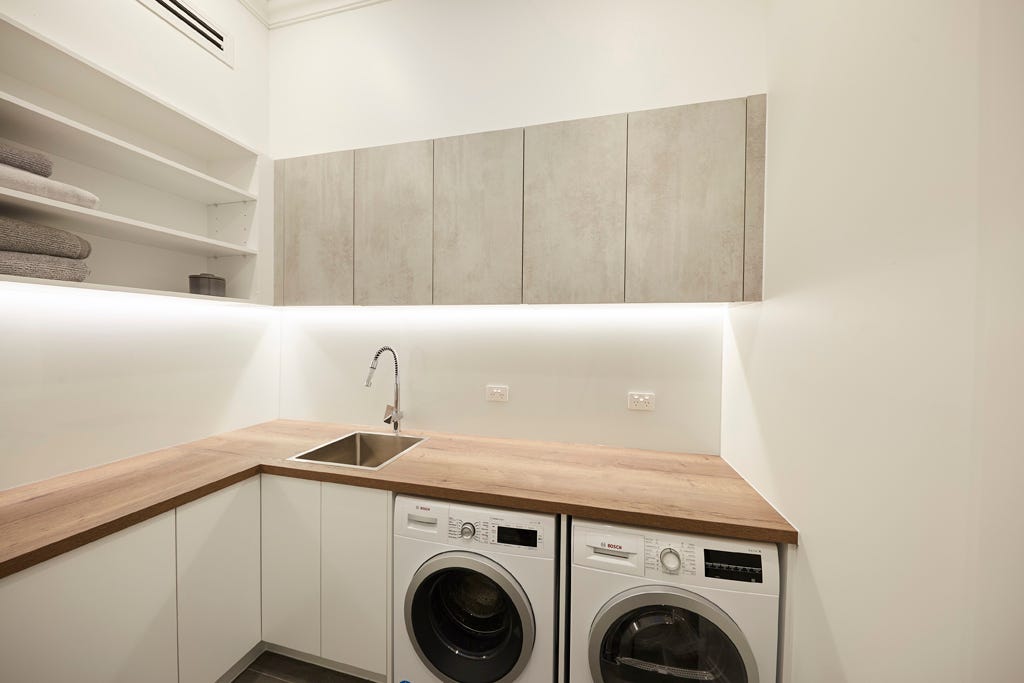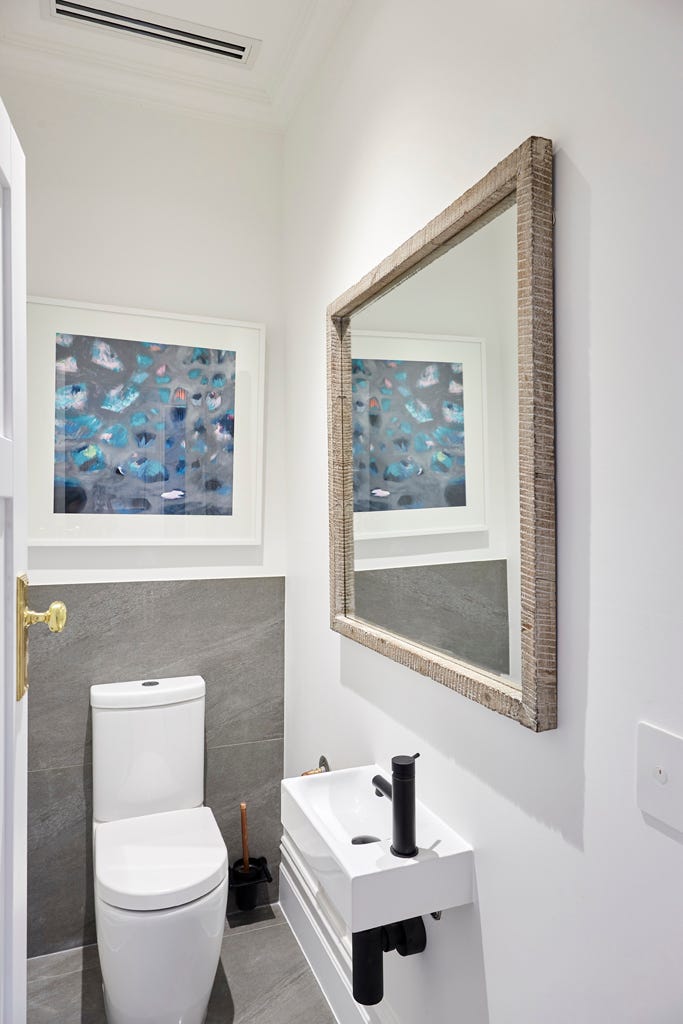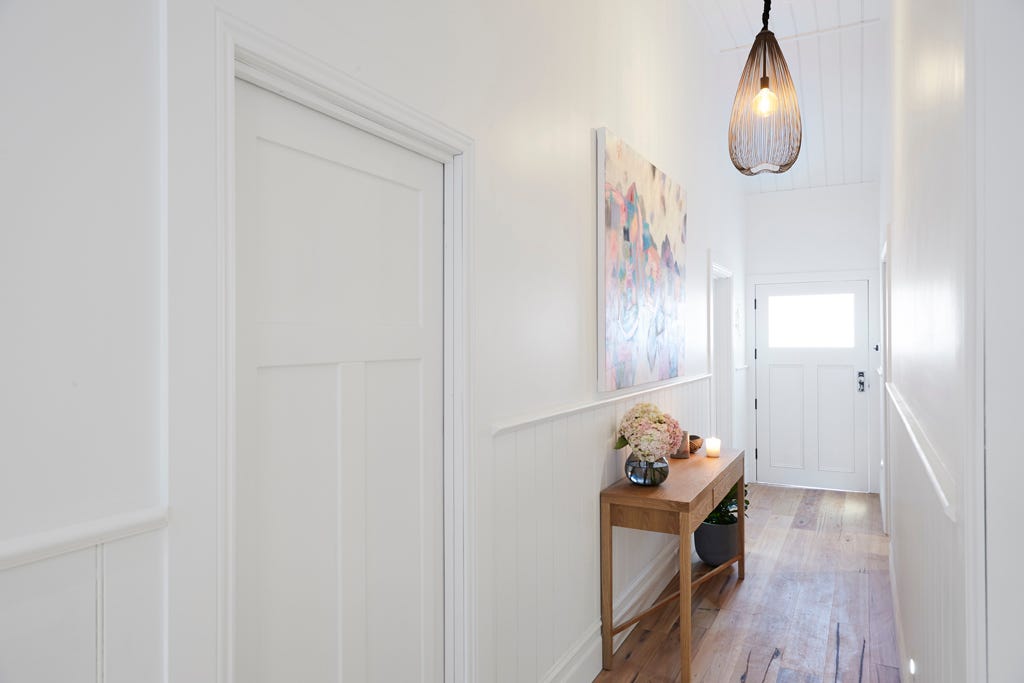 ELSEWHERE ON THE BLOCK
JOSH AND ELYSE SCORED 27/30
The judges were blown away by the stunning, grand hallway space that Josh and Elyse delivered, particularly in awe of their huge, 9 ft ceilings.
"I can't think of a hallway on The Block that has had quite the same impact," Neale said.
The striking space was delivered by including white timber details on the wall, a huge, beaded chandelier, a wooden hallway table, simple patterned hall runner, and a gorgeous, architecturally-designed black steel door.
Shaynna particularly loved this last addition, saying it was going to "enhance the modern part of the house." Neale agreed, pointing out that he "noticed, immediately, the change" from old to new - "no cornicing, and it's modern and sleek," he said.
The laundry, with it's white cabinetry, and wood details, though small, was also a hit with the judges, who particularly liked the inclusion of a specially-designed drying room. And while it didn't have the same level of storage as some of the other homes, they loved the concrete floor tiles, the palette, and the way it worked with the rest of the home.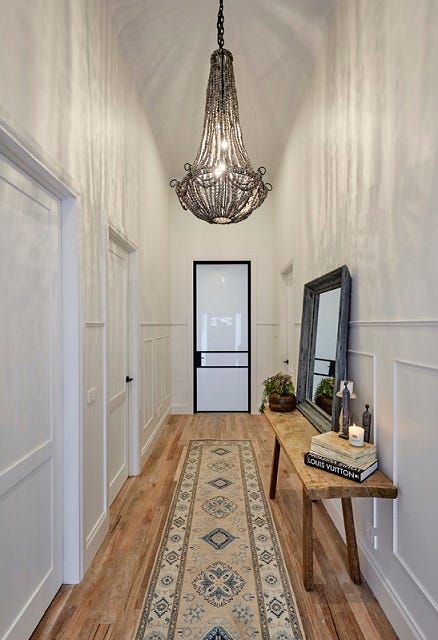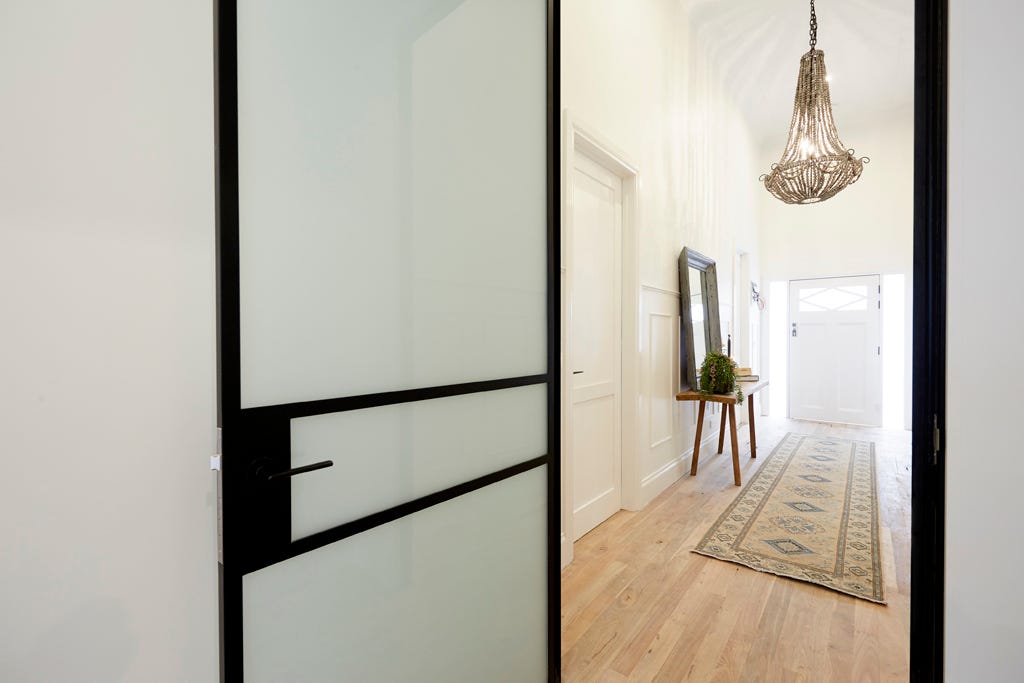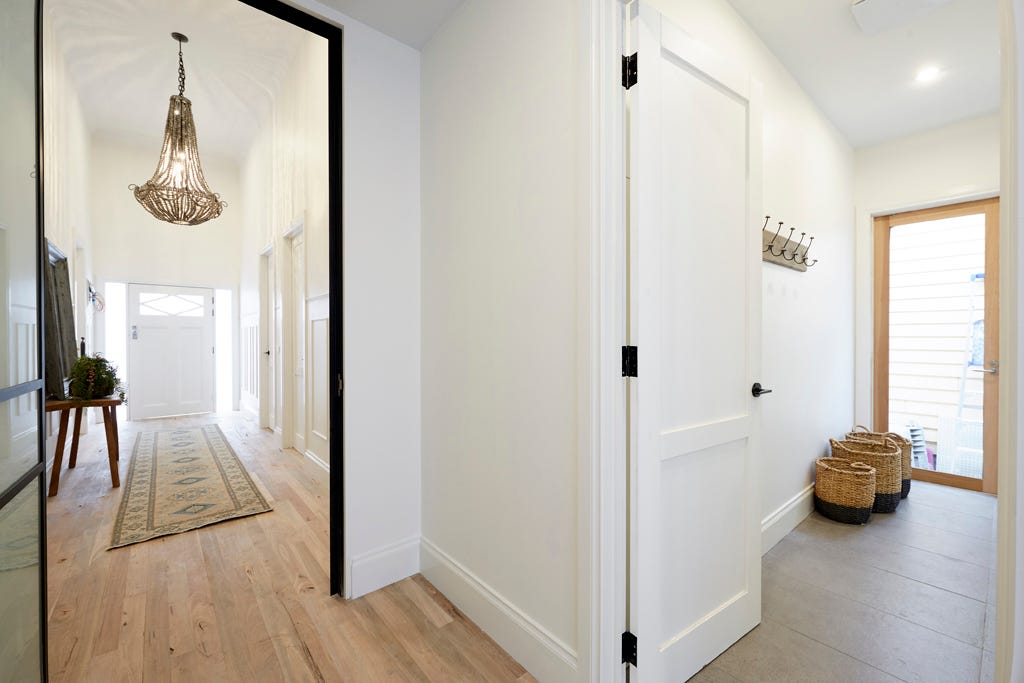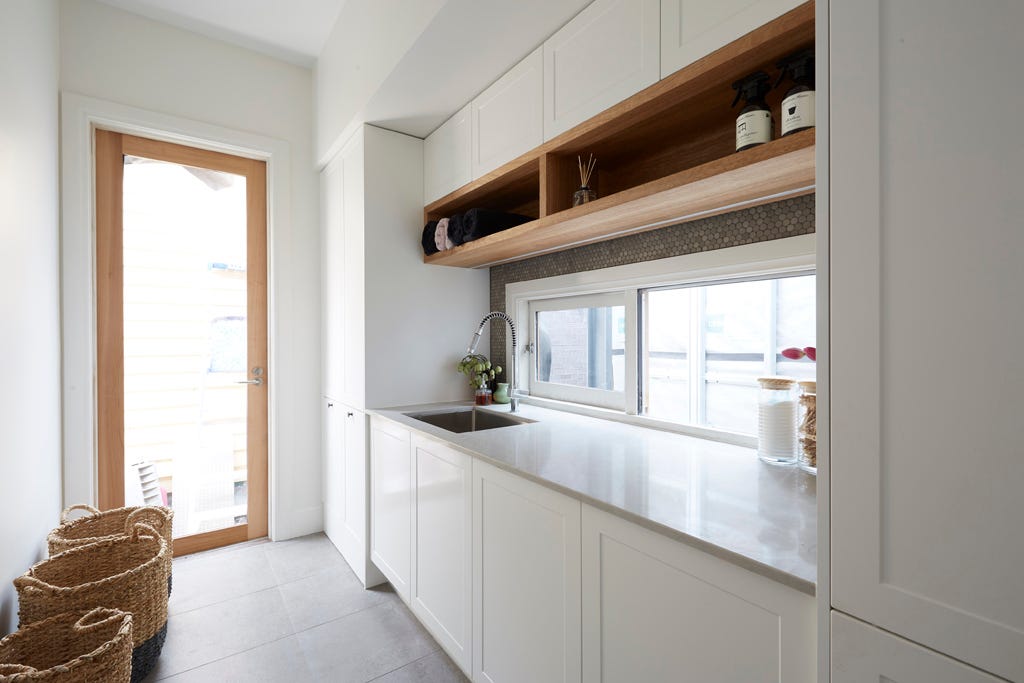 JASON AND SARAH SCORED: 26.5/30
The judges' jaws hit the floor upon entering Jason and Sarah's vast, "majestic" hallway, all three of them spellbound by the grand entrance, complete with cathedral ceiling and Velux skylight feature.
It was exactly the reaction Jason and Sarah were hoping for.
"Those featured skylights - that's the jaw dropping, 'Oh my God, Wow' factor," Jason says. "That's what a buyer is going to see within two or three steps of entering our house."
Shaynna was effusive in her praise right from the moment she stepped through those gorgeous Art Deco double doors.
"It's got this beautiful width and height. And it just feels majestic," she said.
Dressing the space where three gorgeous Roofus Australia screenprints, a lovely round mirror, and a custom hallway table.
Hanging from the ceiling where two glass pendants, which married perfectly with the glass front doors, giving the hallway a sense of 'grand luxe.'
The couple's glamorous laundry and powder room space, continued that theme. Jason and Sarah used black cabinetry, caesarstone and gorgeous mosaic black and white floor tiles to dress the room, with lovely smokey mirrors as feature details, all creating a real sense of luxury.
"It's absolutely beautiful," Neale said. "I don't think I've ever used the word 'sexy' to describe a laundry, but that's what it is."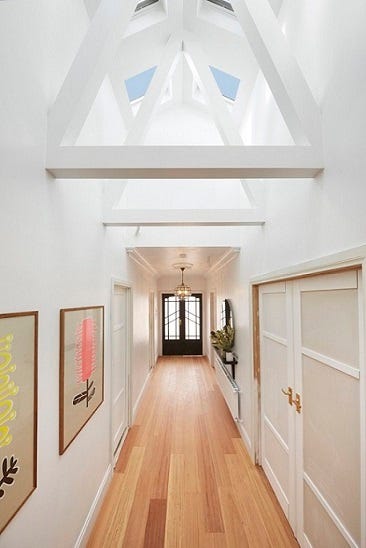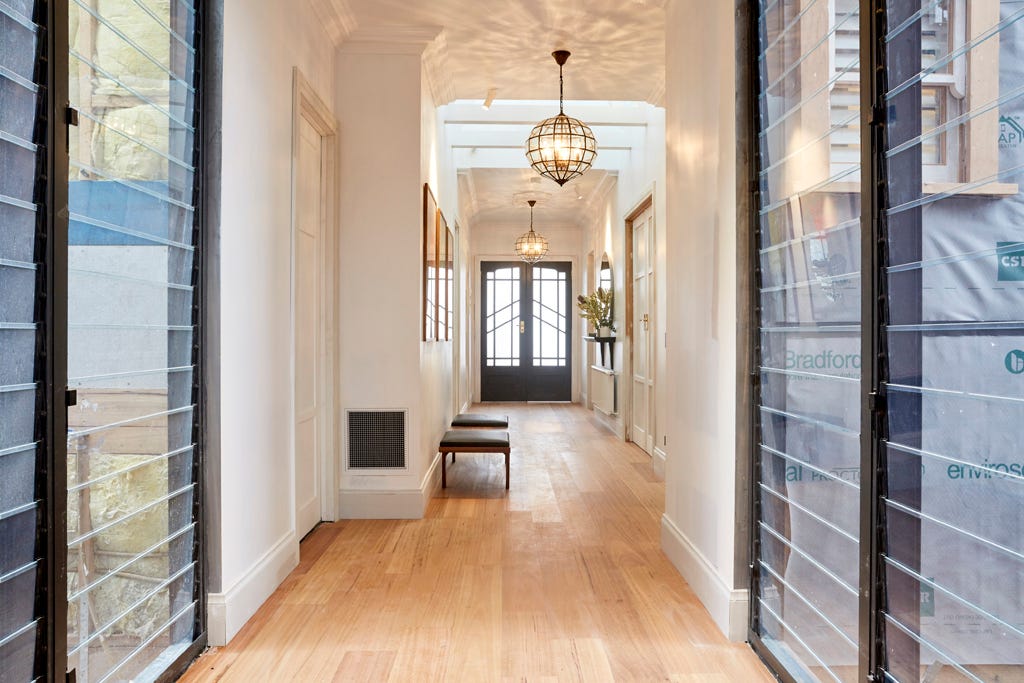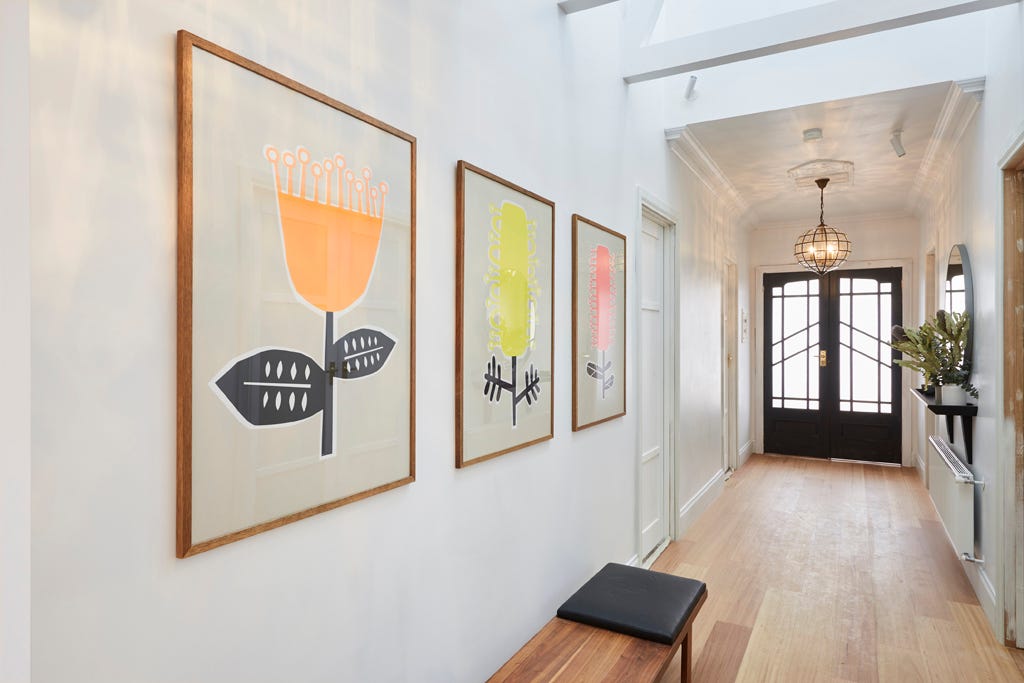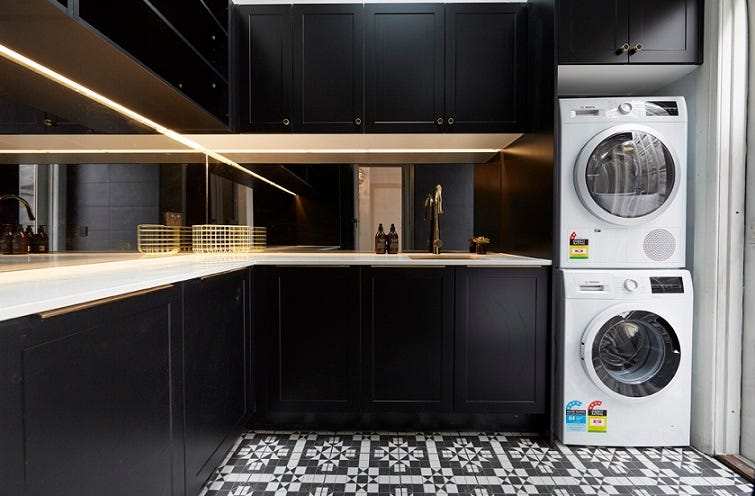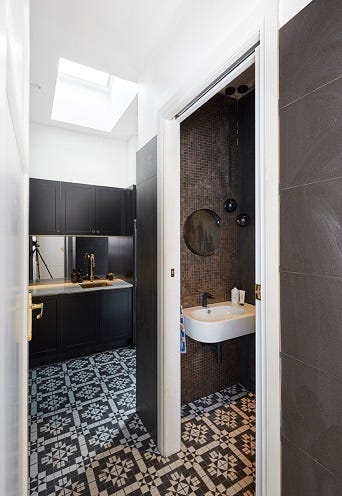 RONNIE AND GEORGIA SCORED: 24.5/30
Ronnie and Georgia's might not have been able to complete their hallway and laundry to their usual exacting standards this week, but they still managed to create two beautiful spaces - plus an additional separate toilet.
The hallway, with it's dark timber floors, taupe-coloured hall runner and stunning, metalic chandelier, had a sense of "drama", and understated elegance; the inclusion of arches clearly delineating the front, heritage part of the home from the modern addition at rear.
"It all makes sense - they have planned it really carefully," Darren said.
All three judges particularly loved the couple's use of artwork by Amica Whincop and Anya Brock, including Anya's stunning, original 'Protea' painting.
They were equally impressed with their ample laundry space, complete with dark cabinetry, black and white floor tiles and white, tiled walls.
But it was the separate toilet which got the biggest tick of approval, with Neale saying it was "good, smart planning," and sure to be a big drawcard for buyers.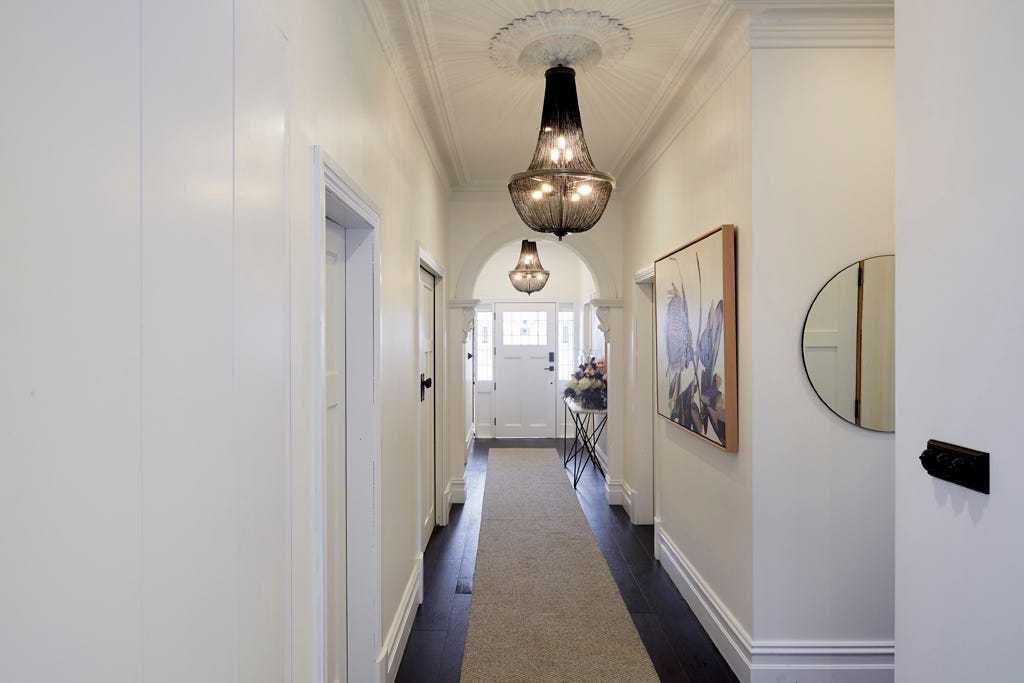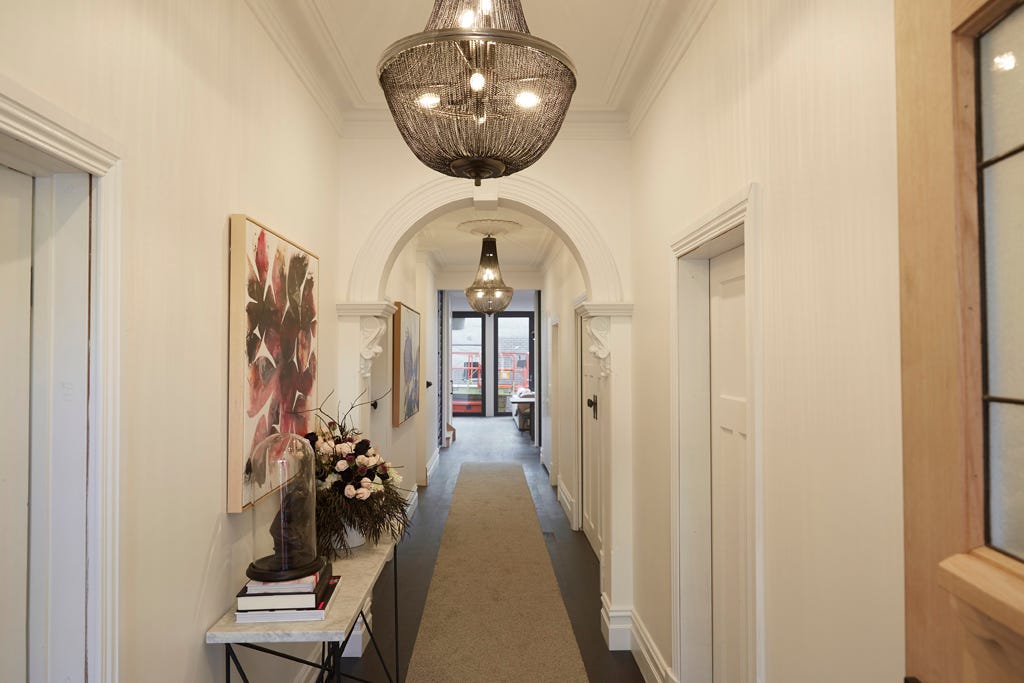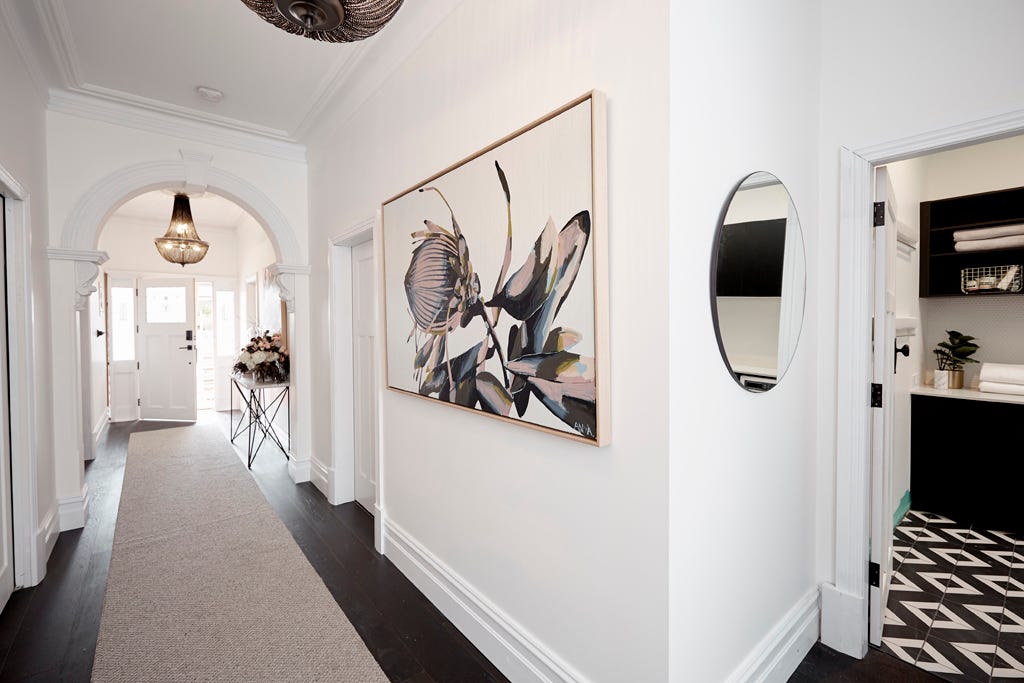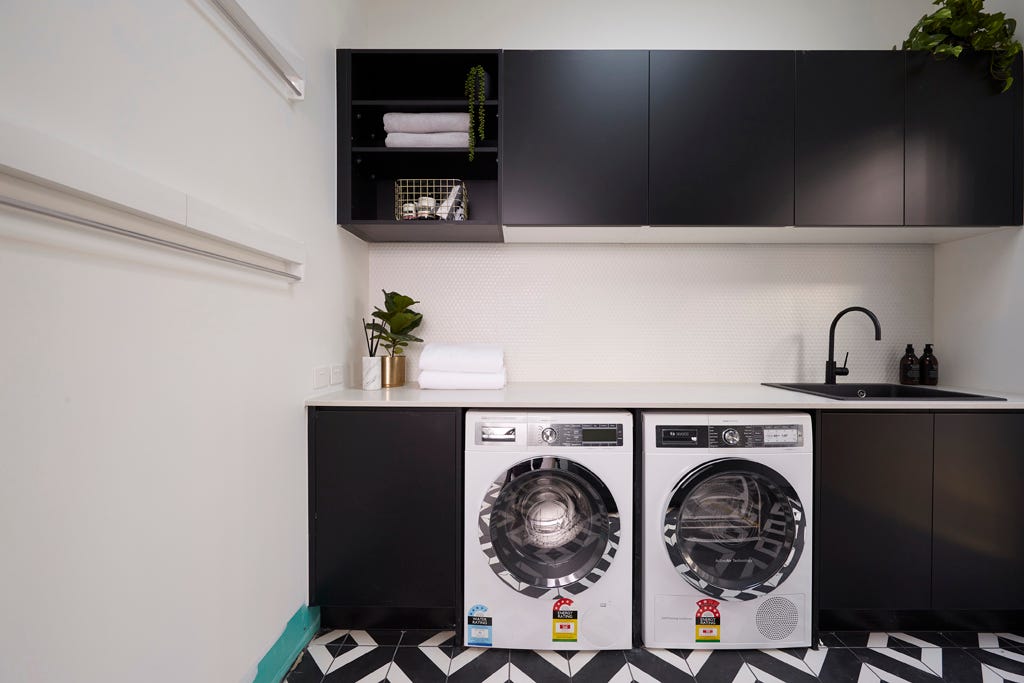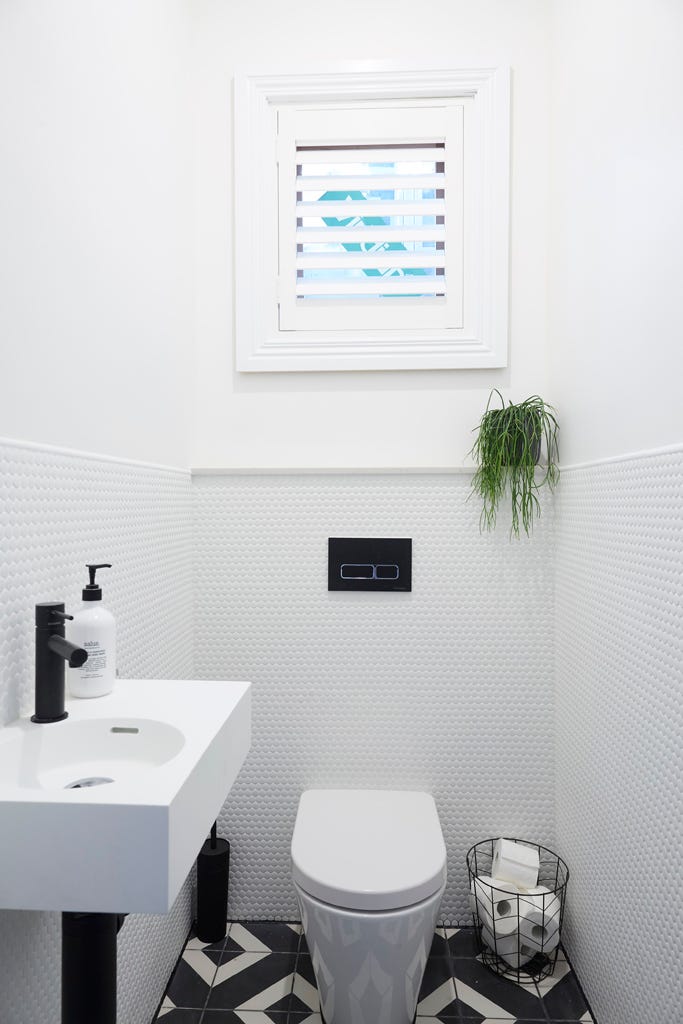 HANNAH AND CLINT SCORED: 22/30
Hannah and Clint produced not one, but two hallway spaces this week, as well as a stunning adjacent laundry and powder room area.
"We created the secondary hallway for added privacy for the second bedrooms. We love it, and hopefully the judges do too," Clint says.
While their space might not have had the wow factor of some of the others, it was beautifully presented, and the judges all loved the couple's choice of artwork. The blue tones worked in beautifully with the dark timber doors, hexagonal mirror and shelf space, and the hanging glass pendant - the same one used in Jason and Sarah's home.
Neale thought the space was elegant and restrained, saying, "It's a much more modest hallway, but I still think it's a beautiful hallway."
Further down the hall, all three judges were impressed with the couple's light, bright laundry. The white wall tiles worked well with the use of floor tiles, which in turn complemented the couple's use of grey cabinetry and ceasarstone.
"It's a really lovely combination," Neale said.
Functionality was good too, with "storage for miles", and custom spaces for hanging, and storing cleaning materials.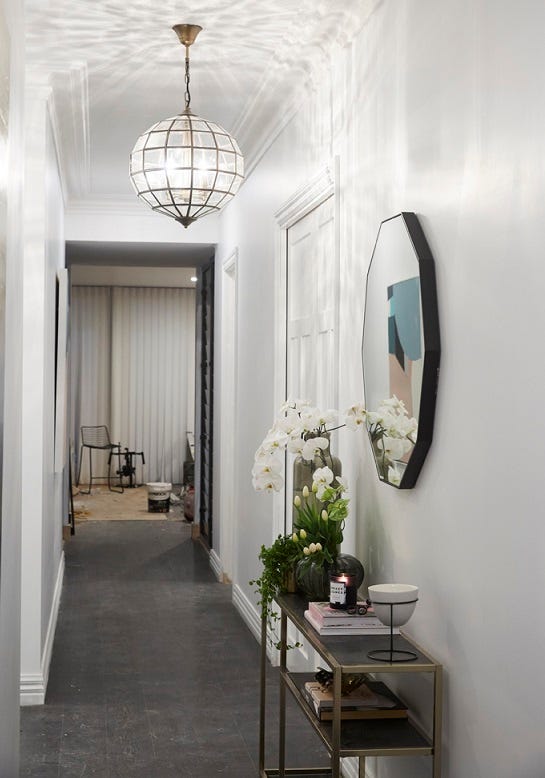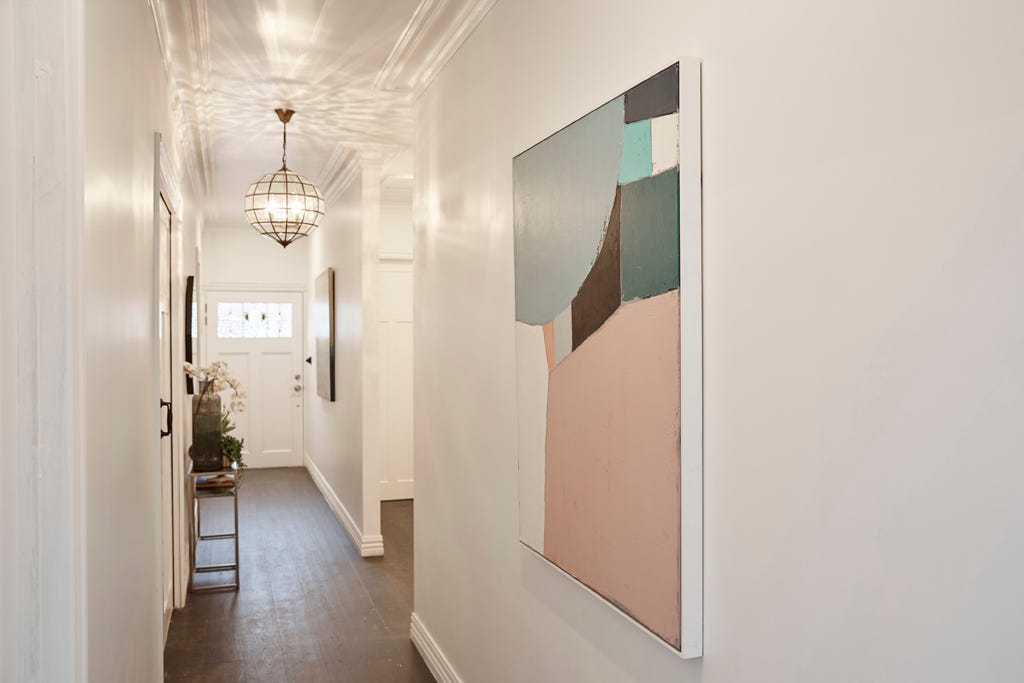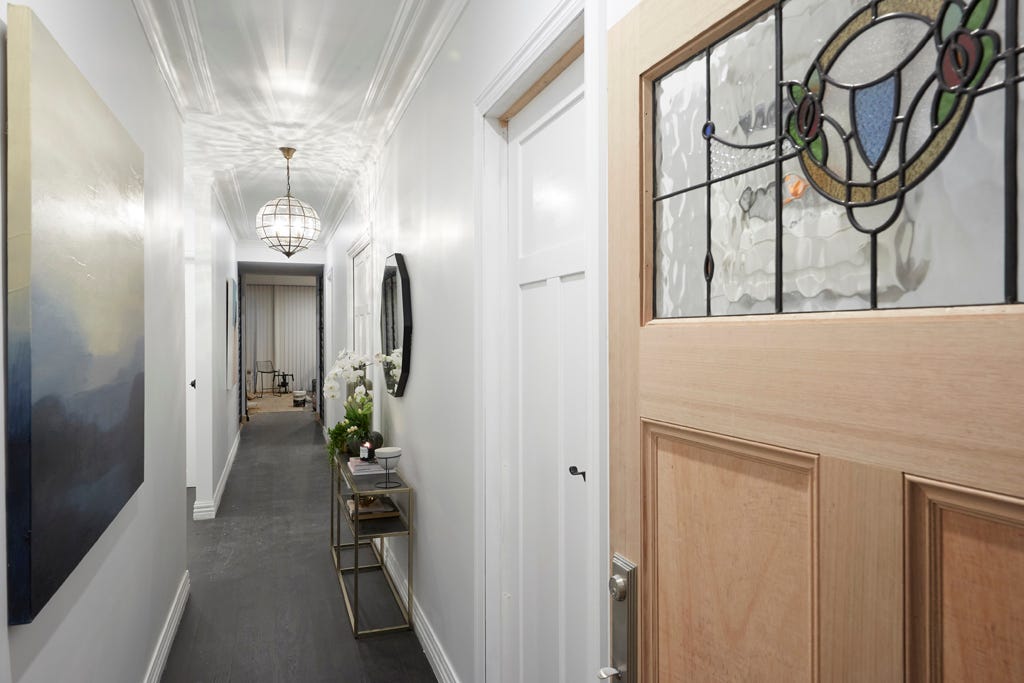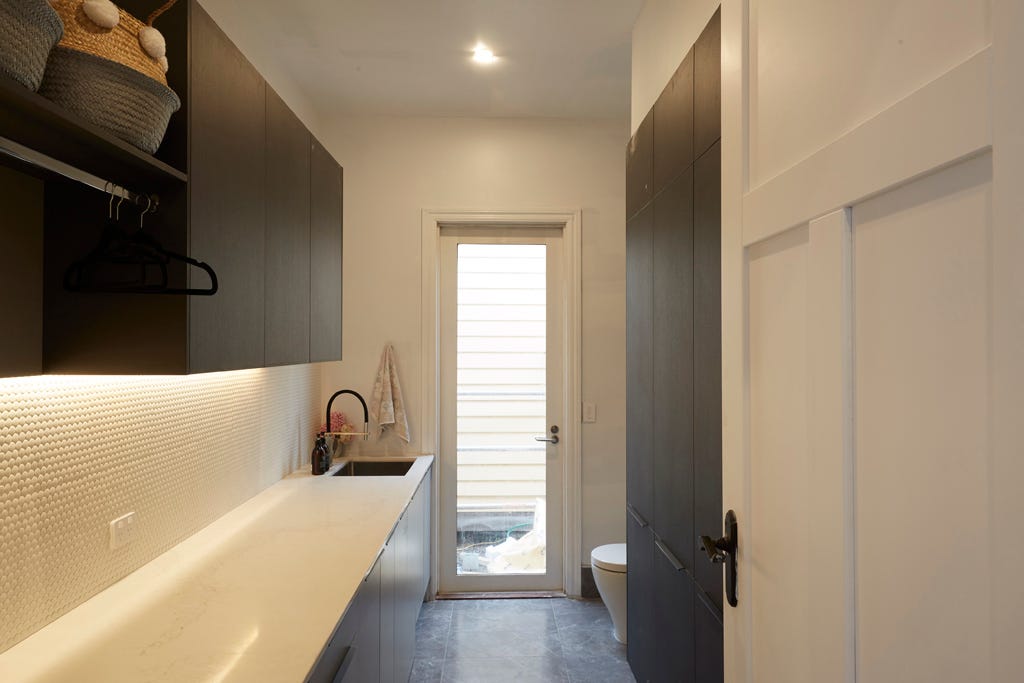 Did you like this blog? Subscribe to our newsletter to be the first to receive news from The Block! Subscribe now to receive $20 off your next order.