We take a look inside the contestants level 2 ensuites


ANDY & DEB ENSUITE REVEAL
SCORE: 28/30 - WINNERS!

Deb wasn't sure the judges would love her simple, elegant guest ensuite - but they did, awarding the couple their first win of the series. In fact, Neale loved their room so much he said he wanted to "pick it up and put it in my home!" And you can't get higher praise than that.
All three judges particularly loved that the couple had finished everything to an extremely high standard and that the design was on-point and simple, yet mature and elegant.
"It's a lovely little bathroom," Neale said on entry. "It's grown up."
Darren particularly loved the texture of the hand-made tiles on the wall, which he said gave the room a lovely tactility.
"I love the simplicity of this matte white," he said. "It makes it feel luxurious and expensive. I'm sure they're not a cheap tile, but they're not super expensive either."
The couple chose to pair their glazed white tiles with a round backlit mirror, simple white vanity, and decorative floor tile in muted taupe and grey. Their luxe hanging bath sheets, the floating vanity, wooden stool and the stunning baskets beneath all made the space look sophisticated, yet inviting and user-friendly.




MITCH AND MARK ENSUITE REVEAL
SCORE: 27.5/30

Mitch and Mark hoped to deliver a beautifully understated yet luxe guest ensuite - and boy did they deliver.
All three judges loved the simple yet stylish space, which featured several different white tiles all working beautifully together in the pared-back space. Little touches like the use of blue patterned towels added the pop of colour the space needed, and it all added up to create a near-perfect guest bathroom.
"I feel like I've stepped into a 1940s film set - Hollywood glamour!" Neale said before Shaynna reminded them that this is also the aesthetic the boys have cleverly achieved in their guest bedroom space as well.
The all-white details were harmonised by the use of gold fixtures and fittings and a stunning marble floor tile, giving the space a sense of opulence we just adore. More please!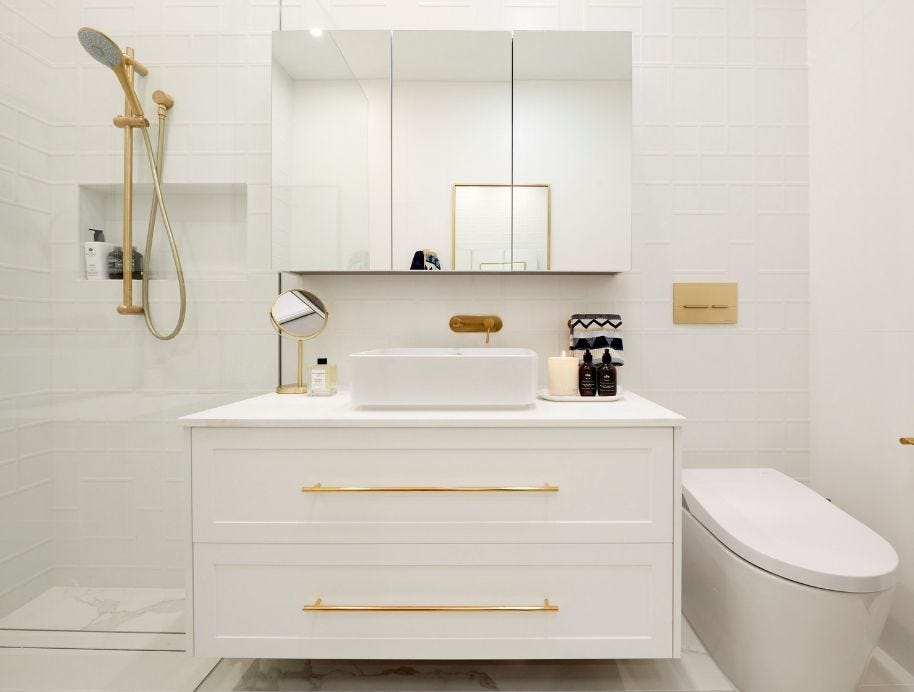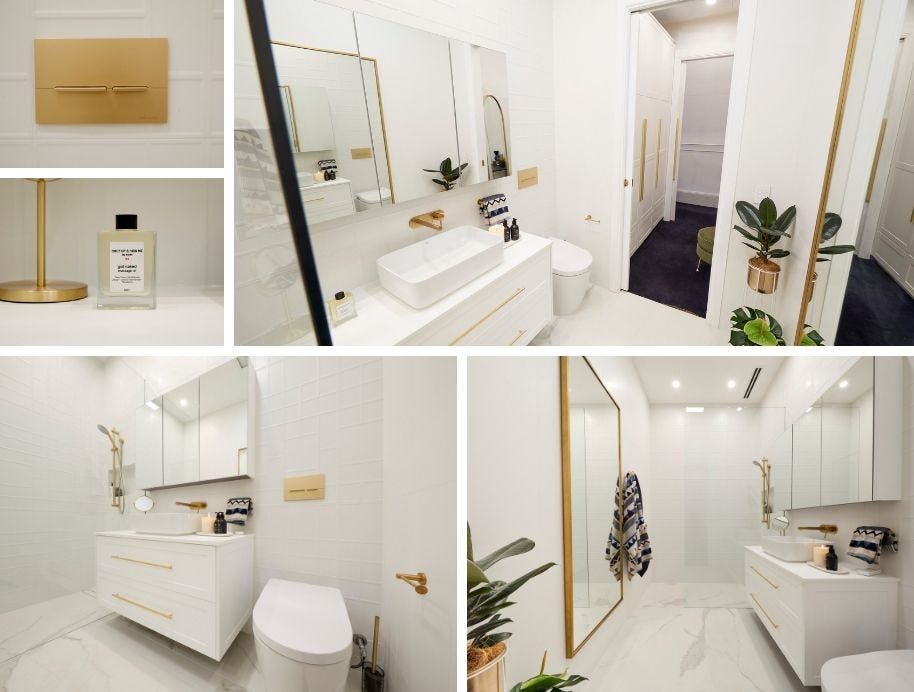 TESS & LUKE ENSUITE REVEAL
SCORE: 20/30

Like their guest bedroom, the couple ran out of time to properly complete their guest ensuite - but only just. Despite failing to properly finish all their tiling, they still managed to present a beautiful, simple, yet stylish ensuite space which worked well with the heritage era of the home.
Darren was a particular fan. "I love it," he said. "I think it's really appropriate, and it works well with the colour scheme we saw next door. I think it feels like the same kind of mood as the bedroom and I really love a feature tile like this against something that is otherwise so white."
Tess and Luke opted for a black and white theme, which worked perfectly with the ornate decorative floor tile Darren loved so much. They used colourful towels a generous vanity with black sinks, which tied back with the black tapware, towel rail and fittings, the white bath and white tiled walls acting as a stunning and simple counterpoint in the space.
"It's so fresh and so clean," Darren said.
And we agree - we are in love with this gorgeous space. Well done guys.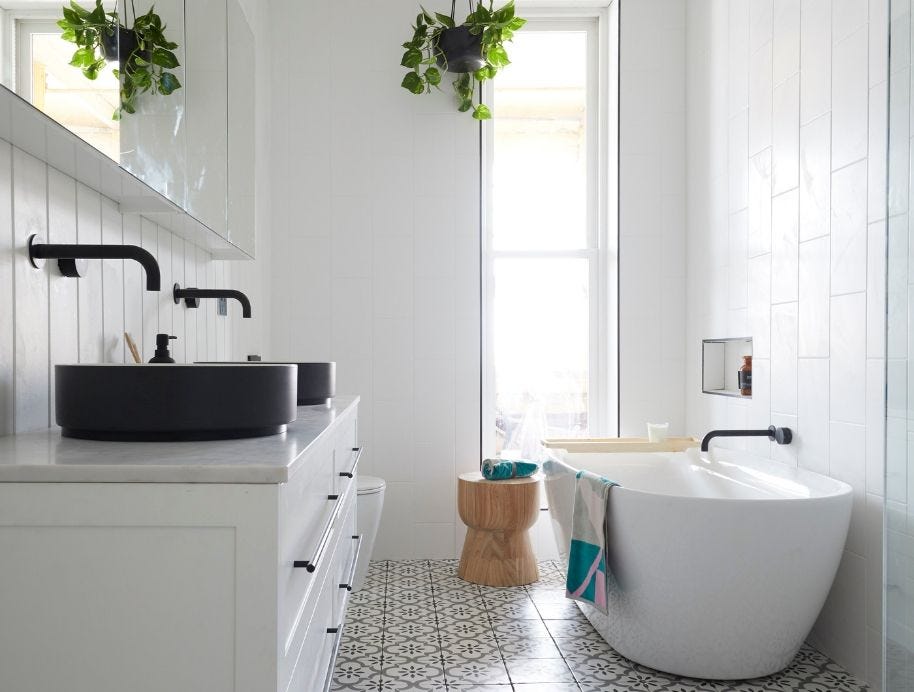 MATT AND EL'ISE ENSUITE REVEAL
SCORE: 22/30

Like their stunning guest bedroom, El'ise and Matt presented a luxurious deco-inspired ensuite, which featured white "vaguely mid-century" wall tiles, a grey floor, black fittings and fixtures and another beautiful pendant light.
Although the space was small, it had everything needed to make it both functional and visually pleasing. The hero of the room was undoubtedly the pedestal basin, which had been positioned central to the room, complete with its own custom-made wooden drawers.
Darren loved it, saying, "It's so interesting. And it's interesting to see it positioned with these beautiful sage hand-made subway tiles."
On first impressions, Shaynna thought the couple had presented a very sweet, little room, which had that all-important Block essential - storage..
"Because it's a guest bedroom it does have a small drawer and face-level storage, which is perfect," she said.
It wasn't quite enough to wow the judges, but we think it's beautiful - well-done guys!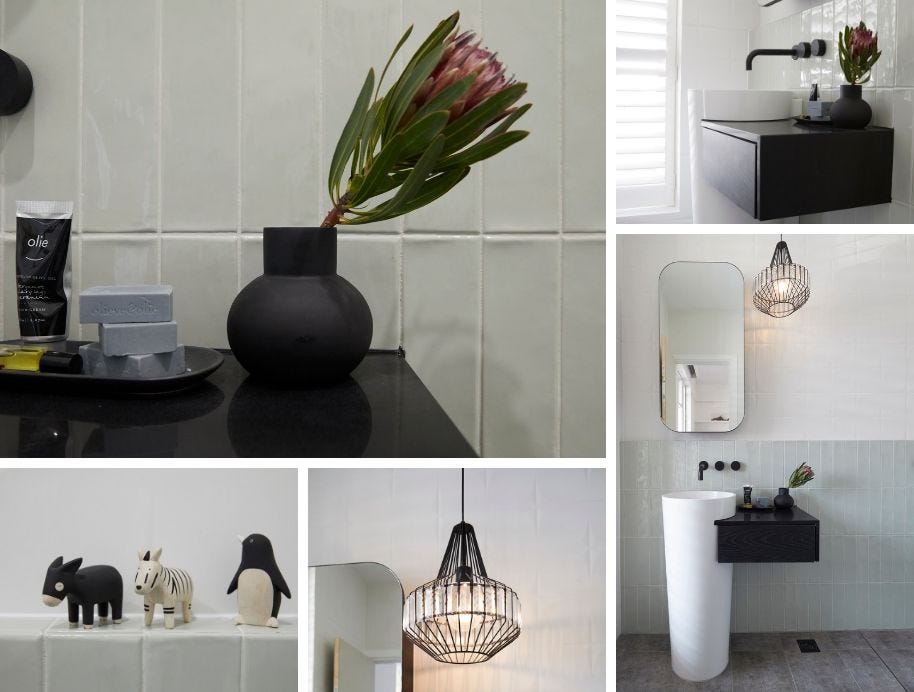 JESSE AND MEL ENSUITE REVEAL
SCORE: 14/30

They absolutely wowed the judges with their near-perfect guest bedroom. But unfortunately due to an unforeseen situation with their floor, Jesse and Mel were unable to complete their ensuite bathroom - and the judges were not impressed.
Had they managed to finish their room, they would have presented a bathroom with a central bath situated beneath a grey-tinged marble feature wall. The couple opted to have other walls tiled in a dark grey, and while the judges weren't fans, we think it made a dramatic impact - and Jesse is convinced it will ultimately appeal to buyers.
The darkness of these walls offset the couples timber and white vanity, and they are hoping buyers are ultimately convinced by the luxe, high-end aesthetic they were trying to achieve.
The jury is still out.


Follow all 2019 Block Room Reveals HERE
Did you like this blog? Subscribe to our newsletter to be the first to receive news from The Block! Subscribe now to receive $20 off your next order