They were one of The Block's most watchable couples, an unstoppable team who took on any challenge and who fought their way through.
Four years later, Perth pair Ronnie and Georgia look back on their time in the series that changed their lives.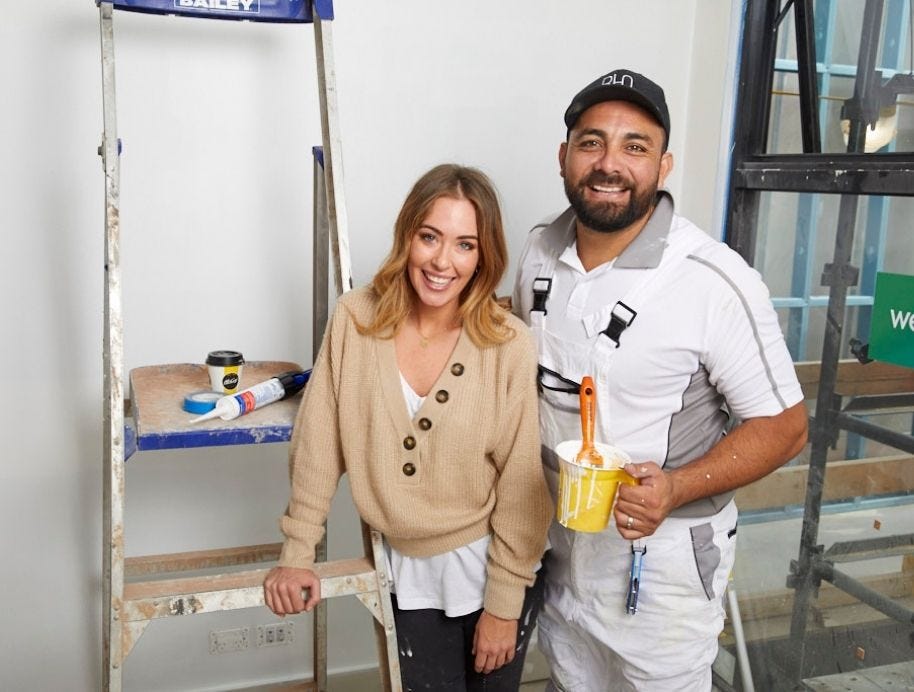 Ronnie and Georgia haven't stopped renovating since we first met them on The Block back in 2017.


So, how did you become part of The Block?
Ronnie: I'm a huge block fan and I always said to Georgia: "We should do this show one day!", but because we were renovating houses for a living, we were either just starting a reno or in the middle of a reno, we never had time. Then one day when applications came up I realised we actually had the time so I asked again… she wasn't sold at first.
Georgia: I always used to hate The Block because it used to irritate me, I would be sitting there yelling at the screen: "Why are you doing this? Don't do that! You should be doing this!"
But you went along with the application anyway, what happened next?
Georgia: We kept going through the audition process, step after step and I wasn't really thinking we'd get in until all of a sudden I was like: "Oh my God… I think we could actually get in!". It's very surreal. It all became very real when we got on the plane, just sitting there and it hit - Oh my God can we actually do this! Ummm… why are we doing this?
Ronnie: It's one thing wanting to go on The Block, but we had small children so the question became: "OK, how do we go on The Block?". We asked Georgia's parents and they were like ok yep, but we still kept thinking there was like 30 or 40,000 people who applied for The Block so what are the chances of getting in anyway. Then we got the call and we were absolutely ecstatic. We were ready for it, we were ready to rock and roll!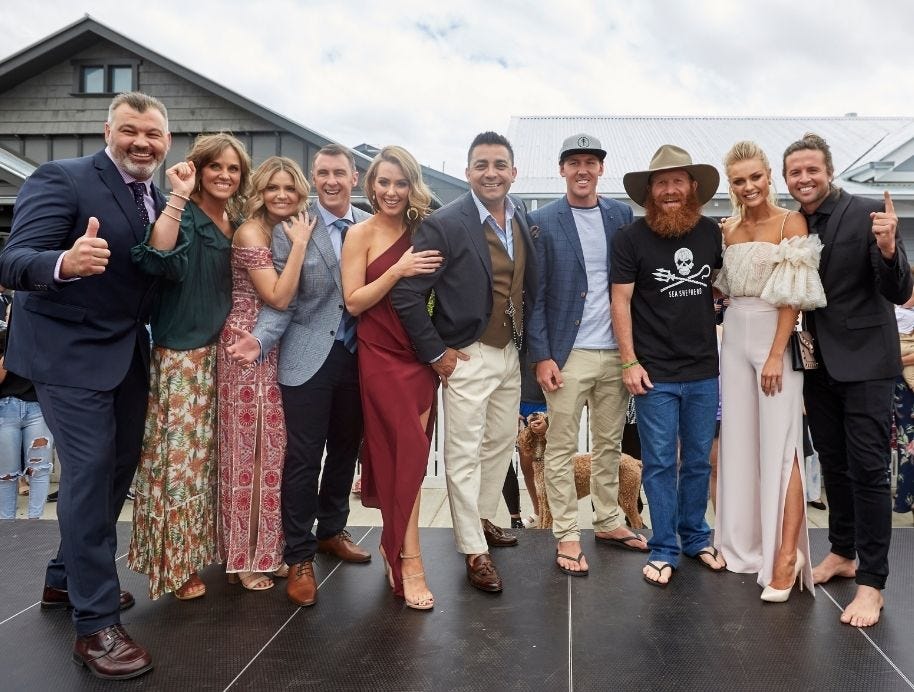 Josh and Elyse took out the Block win in 2017.

So, after all that, what was it actually like on The Block?
Ronnie: What I thought was going to happen would be that I'd have about five or six cameras around us all the time… and there were! And you know what, for me that kind of came naturally!
Georgia: Ronnie!
Ronnie: Seriously though, the number one reason I came on The Block was to see if it was all real. And I am here to say mate, if you don't finish a room you don't finish your room. It is very real.
What was the best part of your experience on the Block?
Georgia: I think for me it was finding out what you can do under extreme pressure.
And what was the worst part?
Ronnie: The worst part? There was no worst part. I loved every single minute of it!



Ronnie and Georgia sold their Block Elsternwick home for $2,781,000 in 2017 making them $161,000 profit. Check out the new colour of the home now!


Are you still friends with others from your season of The Block?
Ronnie. No. None at all. None.
Georgia: Ronnie! That's not exactly true! We're still friendly and we chat about once a year and have the occasional Instagram message here and there, but we are very far away from each other on the other side of Australia.
Who is your favourite past Block couple?
Ronnie: Alisa and Lysandra, the twins from Adelaide because they are HOT!
Georgia: Ronnie!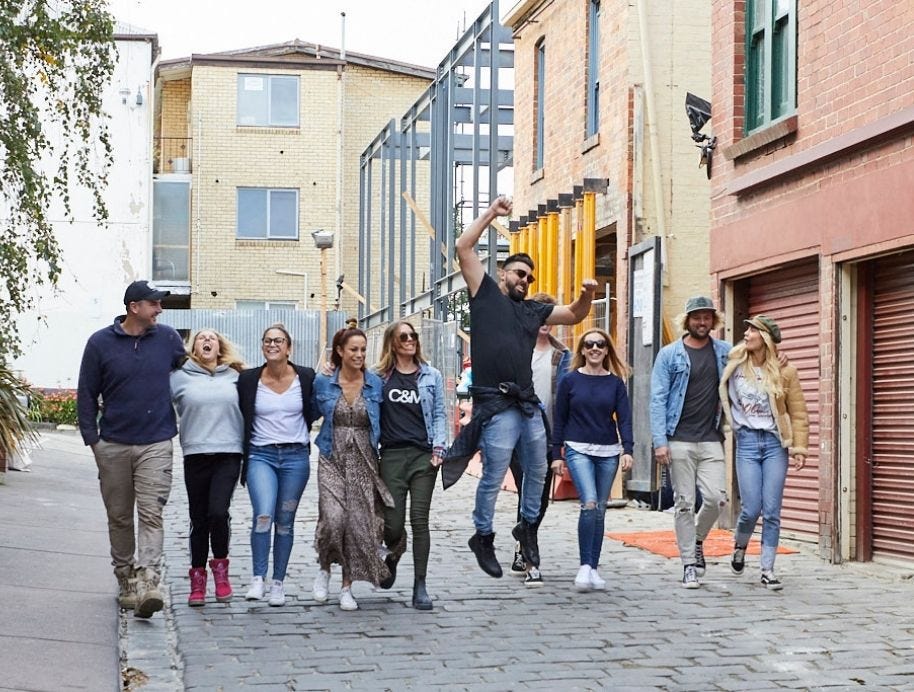 Block All-Stars, Ronnie just a little bit excited to be back on The Block in 2019.


Now you're out the other side, what's a typical day for you like now?
Georgia: Back to normal, mostly. In Perth I can be in the shops and people will stare and they can't place me because we're like four years ago, right? So, we look sort of familiar in that: 'I know you from somewhere but I don't know where I know you from' way. Then you'll get the occasional diehard Block fans who will stop us for a photo, but I think our biggest change since The Block has been work-wise. It's just been a really amazing branding exercise and since the show we've just had the best opportunities to work with the most amazing brands
Did you continue renovating afterwards?
Ronnie: Absolutely yes. Not only did we renovate our own house but we went on to renovate for other people. And we like a challenge, so are we going to continue on renovating.
Georgia: We are right now! We bought 100 year old weatherboard home, she's a beauty but she's still very much a work in progress.
What's the next part of that work in progress?
Georgia: The big extension at the back of our house. It's the kitchen, living, dining area and I really want to make it over in a contemporary barn house style!
Barn house… what now?
Ronnie: That means the actual structure looks like a barn house, but with modern exteriors like Colorbond exteriors, it's very cool, look it up!
What's your favourite house decorating trends at the moment aside from barnyard contemporary?
Georgia: Barn house! Well, I love a contemporary classic aesthetic, working of classic styles but bringing them into the modern era.
So, what's your favourite room in your house?
Ronnie: My favourite room in the house is certainly my shed! It's the only place in the house that actually has insulation to protect all my loved ones… my tools!
Georgia: What you have to understand is our whole house needs renovating inside so my favourite room in the house is our front yard.

Ronnie and Georgia are currently renovating their home in Perth a 100 year old weatherboard house. Before and after's courtesy Instagram: @ronnieandgeorgia


What's the most decadent thing you've got in your home at the moment?
Ronnie: Not sure how decadent it is, but the coolest thing by far is a table that's about 150 years old. It was Australiana furniture built from the wood off the ships when they first came to Australia and is the coolest piece of furniture in our house easily!
Georgia: Decadent? I'd say it's a basketball court in the backyard, but we're a basketballing family so it was totally worth doing!
And what's the daggiest thing in your home, something you want to get rid of but you just can't bring yourself to?
Georgia: Practically everything inside our house. No, I take that back, but definitely the two bathrooms in our house at the moment! They're 1990s bathrooms in desperate need of renovation. I would like to get rid of both of those immediately!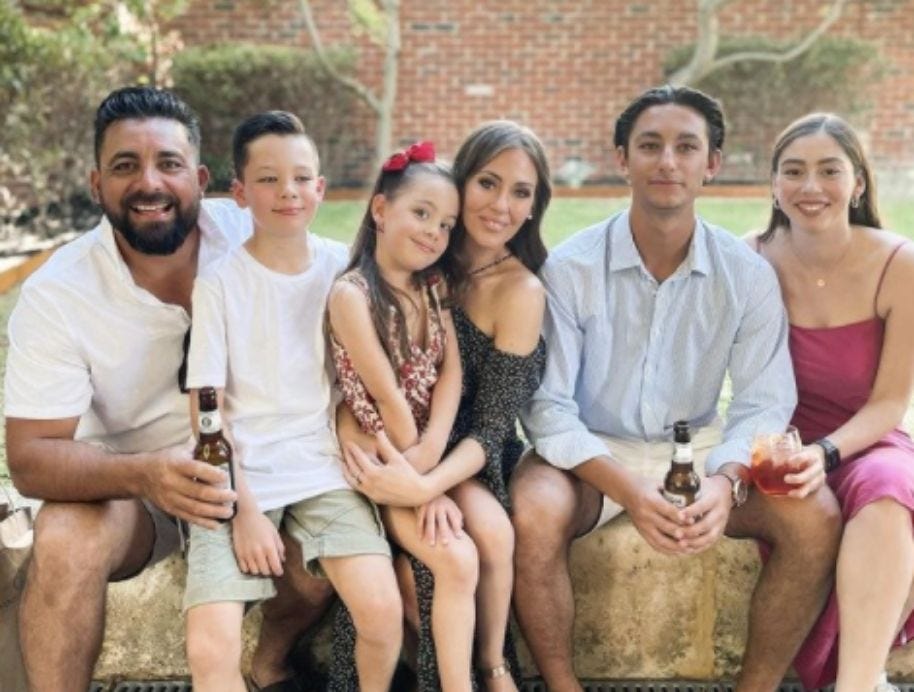 Gorgeous family photo from Christmas celebrations in 2020. (Picture Instagram: @ronnieandgeorgia)


Now that you have time again, what's your favourite holiday destination?
Ronnie: Europe, 100%! Ibiza, here I come!
Georgia: New Zealand is on my list, I've never been and it looks beautiful.
Who would be the hardest person to buy a gift for?
Ronnie: My wife, because she has everything
What would you buy yourself from The Block Shop?
Georgia: A piece from an Australian artist!
What's the favourite piece of artwork you own?
Georgia: Well, my mum is an artist and she is amazing so my favourite piece is a beautiful still life that she has done. It's some pears on a beautiful antique chair which I know sounds weird but it's amazing!
And finally, you came back as All Stars to The Block Oslo, but would you do a full Block build again?
Ronnie: I would 100% do it again in a heartbeat
Georgia: Ummm… I would take time to consider that question.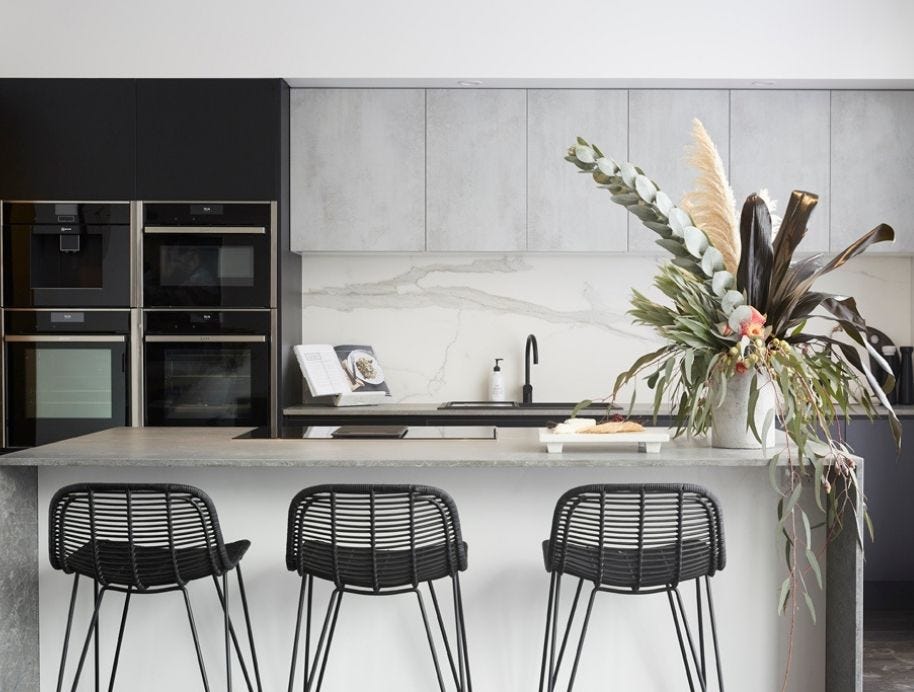 Swooning over this stunning and still very much on-trend marble kitchen created by Ronnie and Georgia in 2017.