Auction Day is almost here. We sit down with our couples to discuss the impending sale of their properties, and they share their advice for prospective Blockheads in our final exclusive Block Shop retrospective.
The Block is a rigorous experience. Between them, our Blockheads have walked close to 13 million steps. Others will follow in their footsteps, and they have a few words of warning for them…
"It's gonna be bloody hard," Shay says. "Harder than you ever thought it would be. And even if you're ready for hard work, times it by a hundred because that's how hard it's gonna be."
Flashback: Browse selections from Dean and Shay's apartment now.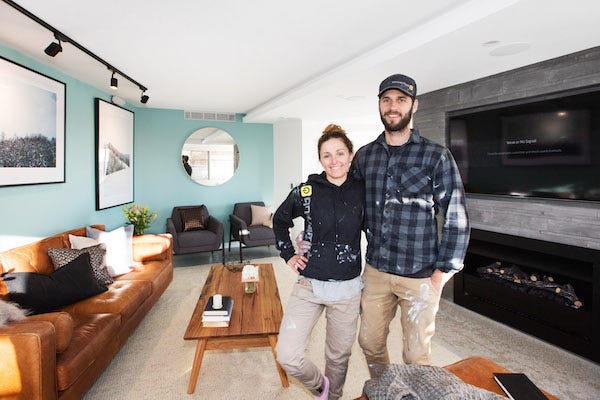 To survive The Block, you need to be strong and you need to be determined, according to Vonni.
"If you tend to give up on projects, this is probably not for you," she says. "If you're someone who is willing to learn new things, and take advice, and not think that you know it all, then I think you can do this."
Caro thinks the key to success is keeping realistic.
"Kingi is very good at that," she tells us. "When he says we have 18 hours of painting ahead of us, we actually have 18 hours of painting ahead of us. You've gotta be realistic and willing to work your bum off."
Flashback: Browse your favourite items from Caro and Kingi's apartment now.
Whitney suggests prospective Blockheads go in with a plan, and Ebony recommends they apply with someone they trust (like a brother).
"And most importantly, have fun with it," Ebony adds. "We've got Auction Day coming up, and it just feels like it's gone so quick. Have fun with it because before you know it, the ride will be over. Make the most out of it!"
The Auction is right around the corner, and the couples are starting to feel it.
"I'm very nervous. Excited, but nervous," Whitney says. "This could potentially change my life and shape my future."
Flashback: Browse Whitney and Andy's best selections of the season.
"This is what we've been working towards since Day One," Ebony adds.
"Waiting is the worst," Kingi says. "I wish the Auction could just hurry up and get here."
"I feel sick," Caro adds.
"We run through every scenario in our head…"
"But at the end of the day," Caro chimes in, "we went into this for the experience, and hopefully, we'll get a little bit of money too. We'd be happy with that."
As we near the end of the competition, the couples reflect on their Block journey, and how it compares to what they expected when they first stepped onto the site.
Vonni was most surprised by how much she was expected to do.
"It's all you. You do the build. And there really is only one week to complete a room," she says. "There are no tricks, and if you don't believe you can do that, then don't sign up."
Flashback: Revisit Suzi and Vonni's unique style on their Block Shop page.
"You apply for the show and totally forget it's a TV show," Whitney adds. "When we applied, we just did it for the experience. But then we had the cameras around twenty-four seven. It's not very normal."
Caro didn't expect to do so well.
"I remember getting on the plane flying down to Melbourne, and we were sh---ing ourselves," she admits with a laugh. "We'd never done it before, we didn't want to be that couple, that hopeless couple. We've ended up shocking all our friends with how well we did."
Ebony and Shay leave The Block proud of the friendships they formed.
"I mean, I thought we'd get along with everyone and that sort of thing," Shay explains, "but we've made these lifelong friendships. We've got something in common and we're like a little family. I don't think I expected us to be this close-knit at the end, but I'm really glad that we are."
"We all get on so well," Ebony adds. "We always have a laugh and a good time. That's something that I'm really proud of. It's made the experience even better."
Flashback: Look over Ebony and Luke's cherished selections from their apartment.
"The Block experience was incredible," Vonni reflects. "It was the hardest thing I've ever done in my life, and the fact that all of us have gone through it and come out the other end is quite incredible."
The Block Auction airs Wednesday November 25 at 7:30pm on the Nine Network.