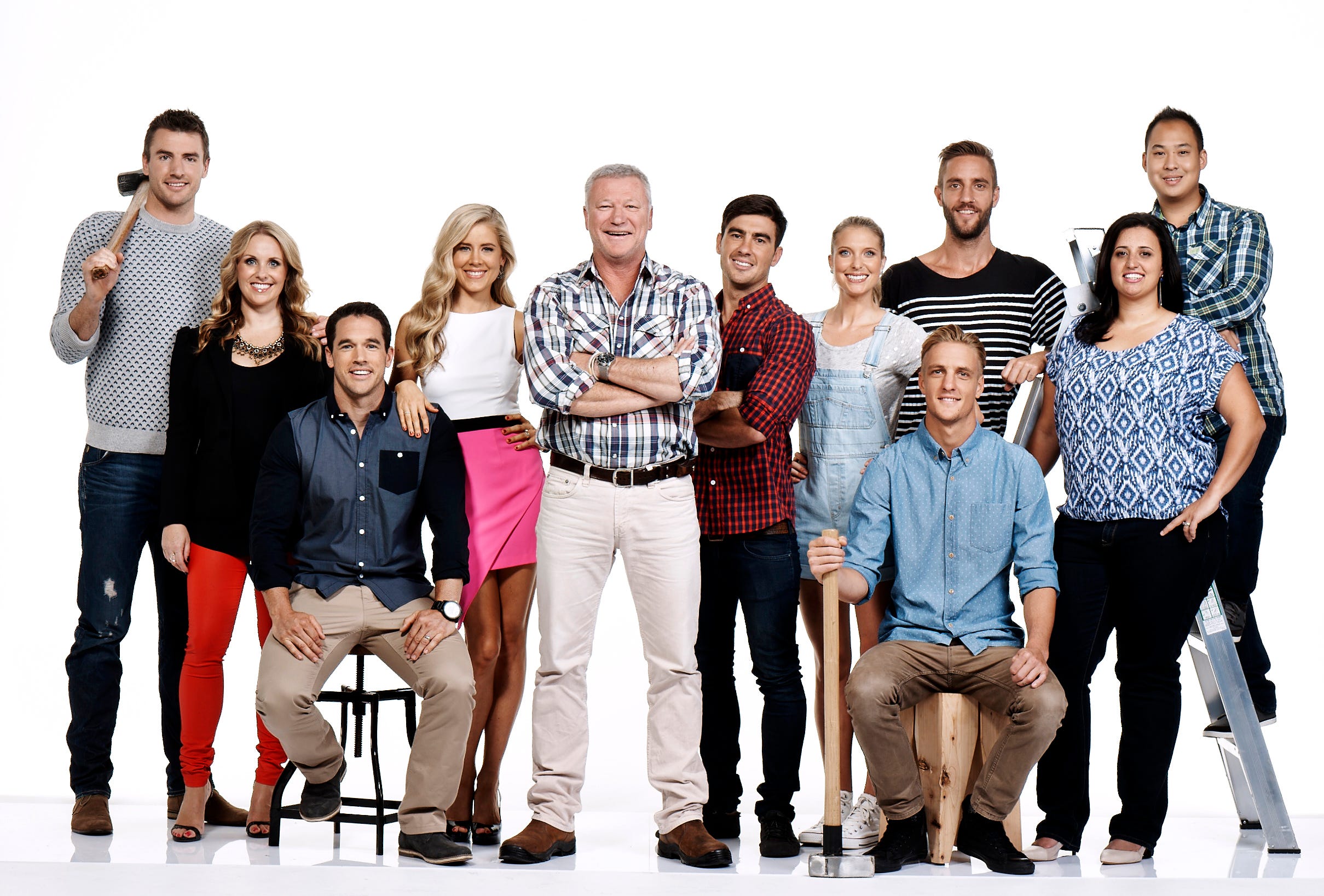 With Auction Day fast approaching, we sit down with our Block: Glasshouse couples to talk about going under the hammer in an exclusive three-part series.
Each week, our Blockheads gave their all to renovate a particular space. You'd think they'd have trouble picking a favourite, but that's not the case.
For Carlene and Michael, it's their living area.
"It has a nice feel, it's warm and luxurious and somewhere you wanna stay for a long time," Carlene tells us.
They're so taken by it, they want to emulate it in their own home.
"We've actually decided we want to do that custom-made cabinetry at home, because it's just so good for storage and it looks amazing," she says.
It's a difficult question for Max and Karstan, who love the way their apartment works together. But they are fans of their living area as well.
"Each room reflects upon the other, and I love how the terrace reflects on the living-dining area with the pops of colour and the greenery," Maxine says.
Chris and Jenna are most proud of their statement piece – the kitchen.
"It's the heart of the room, and we walked away from it feeling it was absolutely stunning," Jenna says. "We made the right choices and it all just worked together."
So much so that it's hard to say goodbye. When asked to nominate one thing they would take home from their Block apartment if they could, Jenna says, "The kitchen," and Chris says, "The key to the apartment."
Darren and Deanne think the master suite – the bedroom, ensuite and little terrace – was their best work.
"That whole space is such a lovely place to spend time and I love it," Dee says.
But if she had to choose something to take home with her, she'd actually head downstairs to the David Bromley artwork in the living room.
"I might just shout myself one if we do okay in the Auction," she jokes.
Well, if all goes well come Sunday, Dee, click here to start browsing the Block Shop's collection of David Bromleys .
Brothers Simon and Shannon have expensive taste too. If they could take anything from their Block
apartment, it'd be their luxurious custom-made bath.
"I think everybody wants that bath," Shannon says with a laugh.
If you could choose anything from The Block: Glasshouse to take with you, what would it be? You can shop by room on The Block Shop, and who knows, maybe that special something is in stock.
Now that their Glasshouse journey is coming to an end, we want to know: how would they summarise their time on the show?
Maxine says, "Excitement," Karstan adds, "Adrenalin," and Carlene says, "Emotional."
"It was just like a big adventure," Dee chimes in. "It's up-and-down, there are brilliant highs and scary lows."
"Overwhelming, both the good and the bad," Jenna adds.
"It's smashingly hard but so rewarding," Shannon tells us. "It's not fun or all that enjoyable, I can say that now, looking back on it, because it's so hard and tiring. But to see what we've done is so rewarding."
And with that in mind, we have to ask, would they ever do it again?
The consensus is clear.
"Probably not straight away… We'd need a holiday," Chris says.
The Block: Glasshouse Auction airs Sunday at 6:30pm on the Nine Network.