This week, we shine the spotlight on Helen Treuel, an emerging Australian artist, living and working in Torquay, Victoria.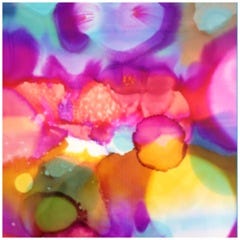 Coming from a background in counselling and arts and literacy education, Helen believes art is a powerful language, a mode of exploring meaning and expressing opinions, hopes and concerns.
Helen explores colour and fluidity in all of her pieces, working with specialty inks and papers to achieve a signature vibrancy. Her success has come as something of a shock. "In some ways the popularity of my work has surprised me, I didn't expect such a response," Helen says. "Sometimes I wonder how it all happened."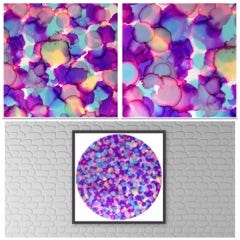 A contributing factor, no doubt, is Helen's choice to only supply original artworks, meaning each purchase is one-of-a-kind. "Somewhere down the track, I may release some limited edition prints, but at the moment I am developing a strong following and part of that following, I believe, has come about because my pieces are all original," Helen says. "I think there really is something very special about owning a piece of unique artwork."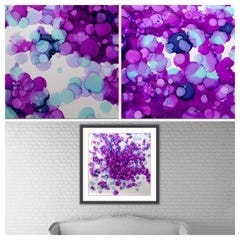 When combining colours and creating various effects, Helen draws inspiration from the glasswork of Dale Chihuly. "A friend initially pointed out to me that the glassiness of my work reminded her of some of his pieces. I have been a big fan of his work ever since." Helen Truel is currently launching a 'Petite Collection' of original pieces. Each unique, framed piece measures 35cm x 35cm and is professionally framed with a contemporary black frame. The pieces are being introduced on The Block Shop for $200 each. Click here to browse the collection.