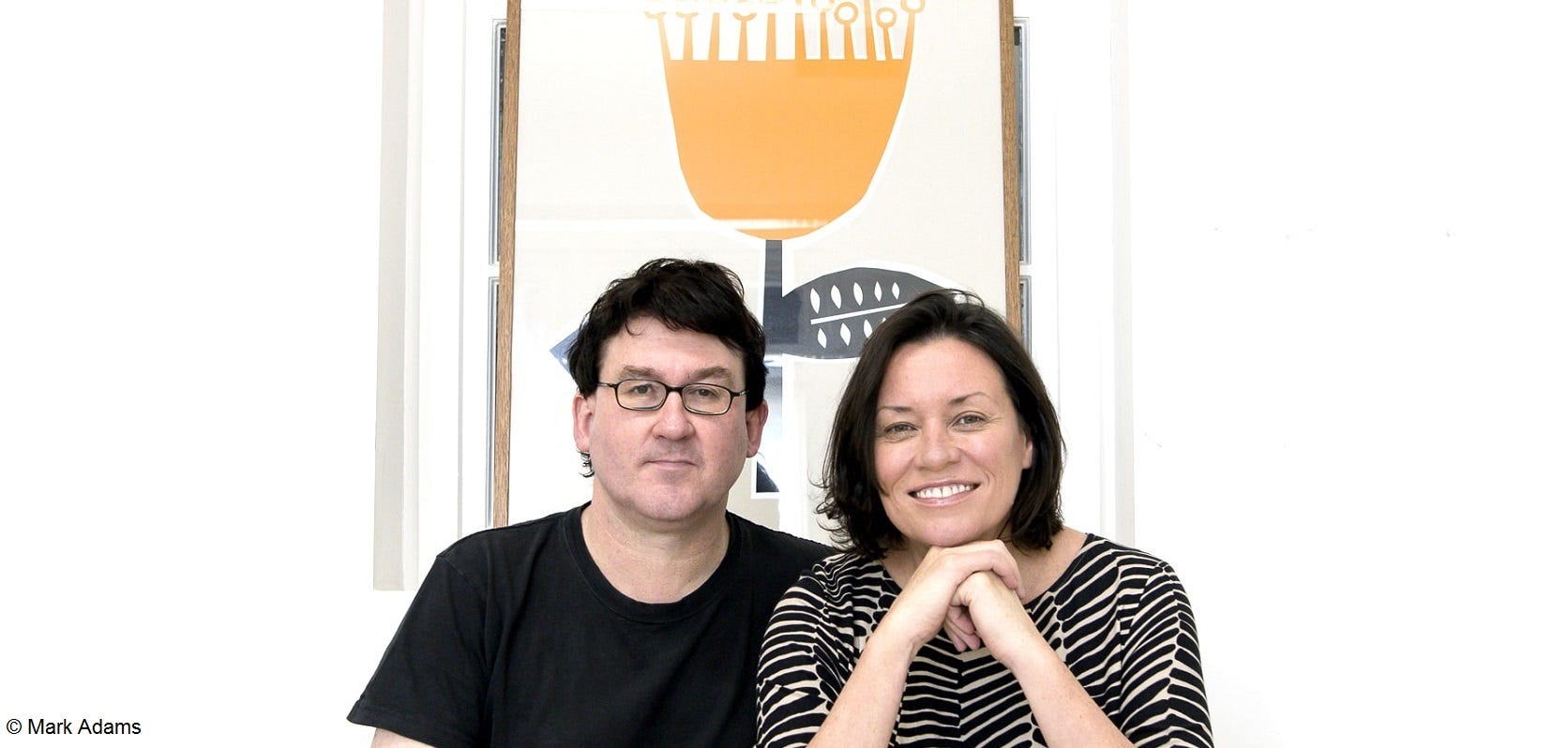 Cate Broadbent's beautiful, bright Australiana designs look instantly iconic. Which is why it's surprising to discover she's actually only been designing her Roofus homewares range for a year. Could she be on her way to becoming Australia's answer to Orla Keily? Here's hoping...
Your designs feel so thoroughly unique - it's as if we've never seen anything like them before...
We actually get that a lot. And that was probably the whole impetus for starting our business. I had this thing in my head, that was like, 'Why is Australiana so dull?' I feel like Australian iconography should be really bold, and bright - like the energy of Australia. So I started designing.
You didn't set out to do this sort of thing initially, did you?
No. I was actually working as an designer/art director [in a design studio/ advertising agency]. But I'd studied graphic design, way back.
So you started Roofus as a side-line thing? You must be super busy! How do you make it work?
That's a good question. I am hashtag 'The Busiest Woman in Australia.' I think it helps that I can't sit still. I have got a lot of energy. I am always thinking and churning in my brain. Maybe Roofus comes from that frustration that all these great ideas that you put forward to a client, they get knocked back, or diluted. With Roofus, I wanted to do my own thing. It was just like a big purge - I just had to get it out.
How would you describe your designs?
When I began designing, I was looking at Orla Keily at that time, and thinking, 'Why isn't anyone doing anything Australian like that? What I love about her stuff, is that she has really nailed that mid-century vibe in a modern way. I was trying to get a feel for that. Here's my 'elevator pitch' - "Imagine if Marimekko, and Orla Keily had an Australiana baby?" That's what I tell people who have never seen our stuff to give them an idea of what we're about.
When did you start Roofus?
It's funny - I started a revolution from my bed! I drew pictures in books, and then I started to put them into scenes. I showed my husband and said, 'I think I would like to make these prints,' and he said, 'Go for it.' I'd mock them onto cushions and things, and one day he said, 'Let's make this happen.' So we launched.
That's great!
I kind of 'manifested' it in my brain. I was like 'I can see this, I just have to get it out of my head and down.' And my husband was so supportive. So that's how we manage - we do it together.
Does he have a creative background as well?
Yeah, we met studying graphic design. But now he works in retail, for a big, famous comic store in Melbourne called Minotaur. People go nuts for that shop. Someone described John as 'Nerd Royalty' once!
It sounds like you rediscovered your passion for design…
Yes, it all started about a year ago - we launched last March. I've got a friend who is a magazine editor, and I showed her my designs, and she was like, 'You have got to do that.' I also have a textile designer friend, and she said, 'I have been trying to do this for years, to make a modern Marimekko Australian style.' I said, 'I don't feel like I'm allowed to do this, because I'm not a textile designer.' And they both just said, 'You're allowed - just do it!'
How did you start,then? We're guessing you had little experience about running a business like this?
Yeah, I had nothing.
And 'Nerd Royalty' wouldn't have either?!
Yeah, Nerd Royalty knew nothing! So we had to use our mad skills of figuring stuff out. It was fun. It was a real adventure. We had to do all that stuff of registering designs, which we knew nothing about.
Does that mean you've copyrighted the images?
Yes, correct. We decided we didn't want anyone to copy, because we created this term, 'Pop Australiana.' Which was just something that popped into my head. It just seemed to me, it was a new style. So we wanted to make sure no one ripped us off.
They look like they've always been around - instantly iconic...
Thanks - that is what I was going for. I wanted to make them feel like they were 'classic'. They have this slight retro vibe to them.
Tell us about the Limited Edition Prints partnering with the Great Barrier Reef Foundation?
Yes, we're doing Limited Edition silkscreen prints and we're super excited to be partnering with the Great Barrier Reef Foundation. We're donating 10% of all Limited Edition print sales to the Foundation. We love their work. This is just the beginning of what we hope is a long association, a beautiful thing.
Why Limited Edition Prints for your next creative outing?
It's great creative fun to do a short run print as you can experiment creatively and it's only a temporary thing. It's a bit like Snapchat for artists! We're looking forward to little limited edition short runs of ten just for fun. We've got lots of creative ideas – gum trees, landscapes, birds, animals. And of course the Reef.
Tell us about your inaugural print 'Spotted Gum Orange Pop'?
I love Gum trees. Especially their trunks - they're works of art in themselves. I was looking to move in another direction than the Aussie flora. I wanted to show another facet of our Pop Australiana style, in another way.
How did you start up your relationship with the reef?
John and I had never visited the Great Barrier Reef until last year. I know, right? Melbourne people! We went to Heron Island, which is essentially a wildlife and bird sanctuary combined with an eco resort. Basically you are just immersed in nature. It's like being in a David Attenborough documentary! You snorkel off the beach and are immediately swimming with rays, sharks, turtles and all the critters. Queensland Uni has a research facility there and they are doing amazing stuff.
We're heading back to the Reef in a few weeks, this time Hamilton Island which will be quite a different experience, and interesting to see the Reef up much higher. Our goal is to learn to dive and do some volunteering to help the Reef. Coral seeding and the like. It's just such an amazing treasure and we want to help save it.
Is the plan for you to work on your art business full time?
That is the dream. It would be fantastic. I think it's a big dream to support both of us. But it could certainly support John, which is kind of like the goal, to get him out of the comic shop. We both work four days a week, so we have one day off. So we can hand off things to each other, so we have four days available each week for Roofus.
Creative people often have creative spaces… Where do you guys work from?
We have just got our front room (in Port Melbourne), which is cool. It's a beautiful room, and it's got a bay window and it's lovely. We have got a whole wall of gallery-hanged things. So it's very creative and cute, but not really 'designy'. It's all very crowded and mad.
You said you have had a lot of good feedback from friends. Have you been encouraged by that?
Yes. And it's sort of like, it feels like we've only just started. We haven't really promoted ourselves to interior designers, or stylists, or any of those kinds of people. We have got ourselves on a few sites...
If you could give advice to anyone wanting to start out, what would it be?
Just jump in. I think if you have a vision and something burning inside, you just jump and find the way to make it happen.
Did you like this blog? Subscribe to our newsletter to be the first to receive news from The Block! Subscribe now to receive $20 off your next order.