This week, we shine the spotlight on Melbourne-based artist Katie McKinnon, whose distinctive artwork featured in Luke and Ebony's winning living room.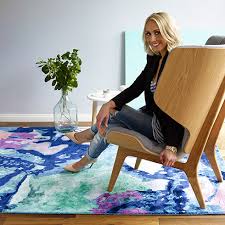 Katie is an abstract expressionist and contemporary landscape artist. She explores the beauty of Australia's incredible underwater gardens, marine flora and native fish species in vibrant artworks that burst with colour.
"I'm a firm believer in the transformative power of art, and my art aims to evoke feelings of hope and happiness," Katie tells The Block Shop.
As for why the oceanic focus, well, it's where Katie says she feels the happiest.
"I think of something I like and have to commit it to canvas," she says. "I'm very haphazard and random. Sometimes I find it difficult to start a piece, so I practise mindfulness and meditation, and then I breathe it all out and throw some colour onto the canvas and see where it goes from there.
"Sometimes, pieces just feel very resolved, and other times, I just can't leave them alone, and I probably work them past the point of resolve," she admits with a laugh. "It's difficult to know. When it feels right, it's important to step away from it, take some time to review the piece, and maybe come back to it later."
The piece Katie prepared for Luke and Ebony's winning living room, 'Golden Jellyfish 2' is inspired by the teacup-sized golden jellyfish that inhabit Jellyfish Lake in Palau, Micronesia.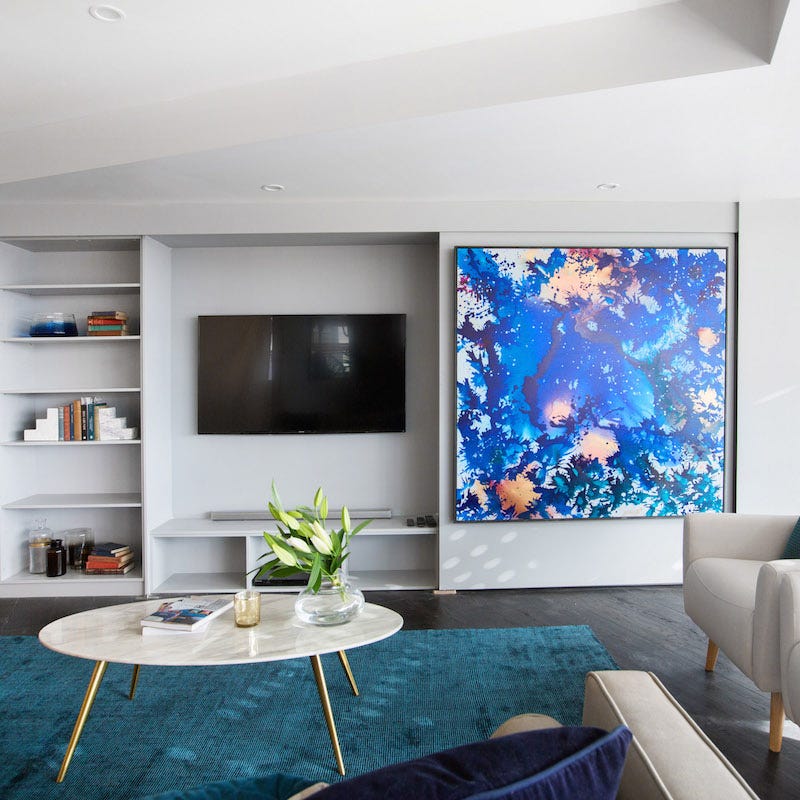 "They spend their life on the move. They have a daily migration that follows the sun's arc across the sky. Each morning, when dawn brightens the eastern sky, they begin to swim towards the light, and they require this light to live," Katie says. "That's a fascinating process, and that's what we're all trying to do. We're trying to absorb as much light and hope and happiness as we can."
Luke and Ebony's study revived their fortunes in the competition, and it featured another Katie McKinnon piece, 'Coral and Copper Rockfish - Midnight Zone'.
"Luke and Ebony are from Busselton in southern Western Australia, where copper rockfish are found," Katie explains. "Typically, they're very faithful to their family's chosen home. They never stray far, and Luke and Ebony are all about family, and very beautiful people, so I thought that was very appropriate for them."
Katie believes art has the capacity to transform – both the space, and its viewer – and she isn't afraid to use a little artistic licence to get the desired effect. 'Mosaic Leatherjacket, Parrotfish and Coral' features three fish that don't necessarily fit together, or even live in the same habitat.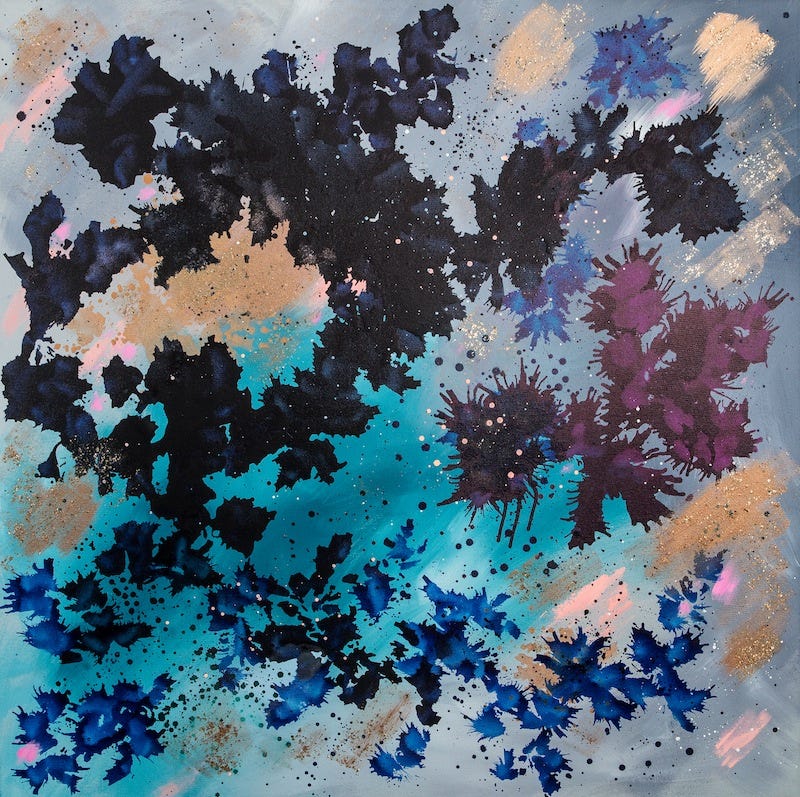 "Sometimes I use a little artistic licence with fish that I love that I think would work beautifully together, even if they're not from the same geographical region," Katie says.
"The young mosaic leatherjacket lives in the shallow waters of estuary, and when they grow up, they leave and they're found in the deep offshore reef. At maturity, they go out into the world, and I think that's a really beautiful thing."
Each Katie McKinnon piece tells a story. Browse her unique collection and add a story to the walls of your home today.