We chat with the talented Antoinette Ferwerda - Melbourne Visual Artist & Director/Creative Designer for Ninnho Towels about her journey, sources of inspiration and where she thinks trends will take us...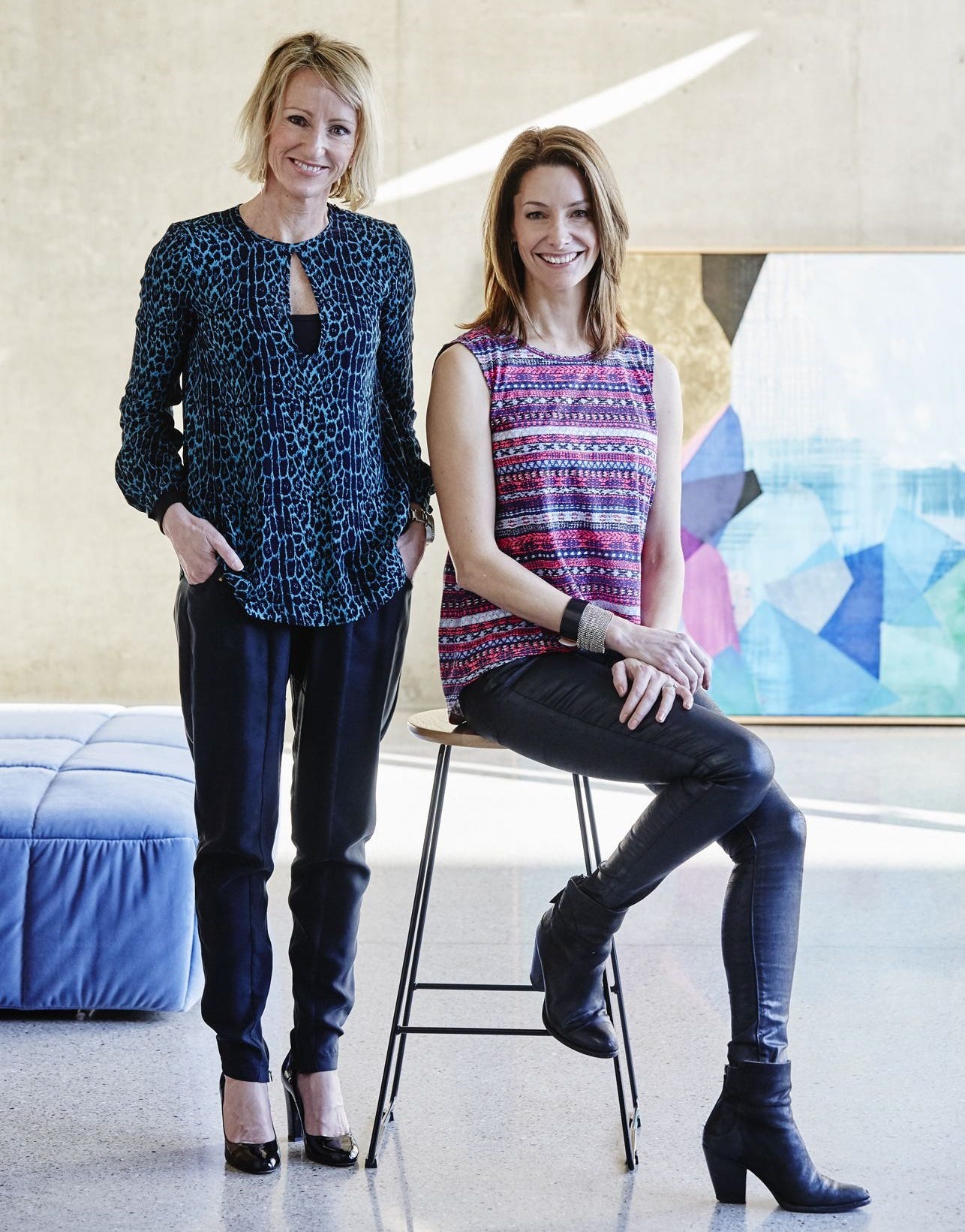 How do you start your day?
My weekly morning routine usually starts with enticing my two gorgeous, snuggly children out of bed with kisses and occasionally gentle arm tickles before the bedroom blinds are raised and the morning light gets us all moving. Breakfast at the kitchen bench together before final preparation for school drop-off and most days we are out the door just after 8am. My car practically drives itself to our favorite local café, Oli & Ari. Some mornings my husband, children and I take the opportunity to have a family coffee together before school starts. These small moments of togetherness prior to our individual busy schedules allow some relaxed and fun conversation, maybe a game of 'eye-spy'. Then it's 8.30am, the children are dropped to school and my day starts with another coffee before first meeting, emails or studio time.
Have you always been a creative person?
For as long as I can remember I have always loved to paint & draw. At around 7 years of age I would spend hours sketching animals, trees or handcrafting miniature grocery items for the dining table of my dolls house. My Mum always encouraged my brothers & I to create, play music and discover new things outside (I absolutely loved collecting tadpoles or bush walks). Our house was always stocked with children's paints, crayons, textas, coloured paper & sticky tape. My first microscope at 8 years old encouraged my early investigation of the natural world, studying veins in leaves and basic cell structures which started a lifelong obsession with pattern and detail in nature. Art and biology became my favourite subjects during secondary school then my portfolio led to tertiary studies in Graphic Design.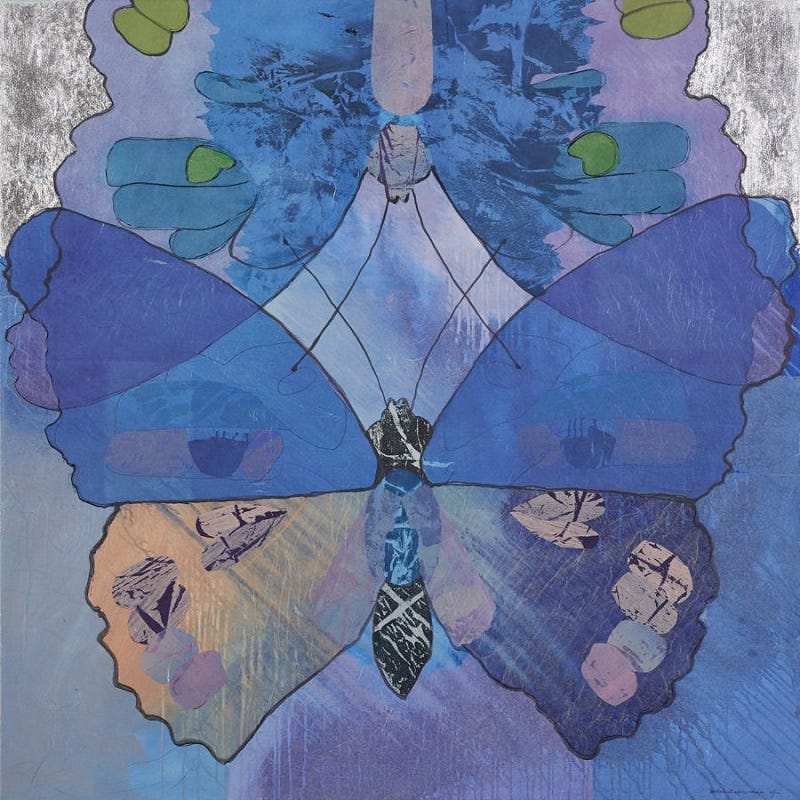 Have you always done creative inspired work?
I'd probably say that I've always been happiest doing creative inspired work, however not all my early jobs enabled me to be creative. As a Uni student, hospitality and retail paid my rent & developed my independence and social confidence. Once graduating, the corporate world of 'big Pharma' took me under its wing for the next 13 years, developing my sales, people management and business skills. Painting became my escape on weekends during those years until becoming a Mum gave me the space to leave the corporate world to spend time at home and fully embrace my artistic passion. Having a very supportive husband provided the platform I needed to convert my passion to a business and these days I work on varied and creatively, inspired projects.
You don't only make beautiful towels but also gorgeous artwork…Which came first and what made you branch out to do both?
My artwork definitely came first and Ninnho towels started as a natural curiosity at a trade fair, noticing a gap in the market for affordable, designer towels and an opportunity to broaden my creativity. Working in my art studio was becoming busy but ultimately a singular pursuit, so the chance to work with towels also brought a business partner and enabled me to work alongside my friend Angela Bellenger. The early days of designing textiles encountered many a 'no' as I learned about the intricacies of woven textiles. I'm proud of my very first towel designs, especially those that helped launch Ninnho and required personal resilience after months of challenge and at times, heartache. My designs sparked other textile companies to copycat using similar patterns and colours, which opened up a new market for coloured towels in the bathroom. My creativity always links art with towels so I can innovate and develop designs faster than others can imitate.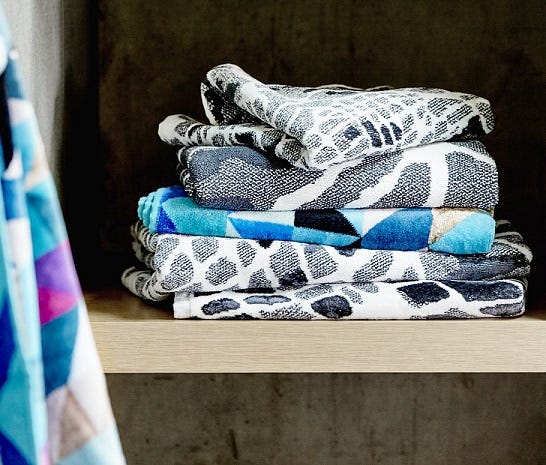 Where do you get the inspiration for your businesses?
An inspirational spark can be triggered by lots of things including nature, architecture, literature, history, science and daily life. As an artist and designer, I'm often drawn to colour and my design story will simply emerge from there, linking my marketing and sales strategy. Many of my peers have described this as an innate ability to see colour or design trends earlier than others. My 'Peacock' towel used by Julia and Sasha in their winning bathroom was inspired by the iconic, fan-tail of richly colored peacock feathers. Teal green and cobalt blue were chosen and my research to create gold in a bath towel had already occurred the previous year! I honed this colour palette with my original painting, 'New Galactic (Future)' from my solo art exhibition and launched 'Shimmer Ninnho' Collection featuring gold metallic modal. This was a game changer for Ninnho and the bathroom towel market last year.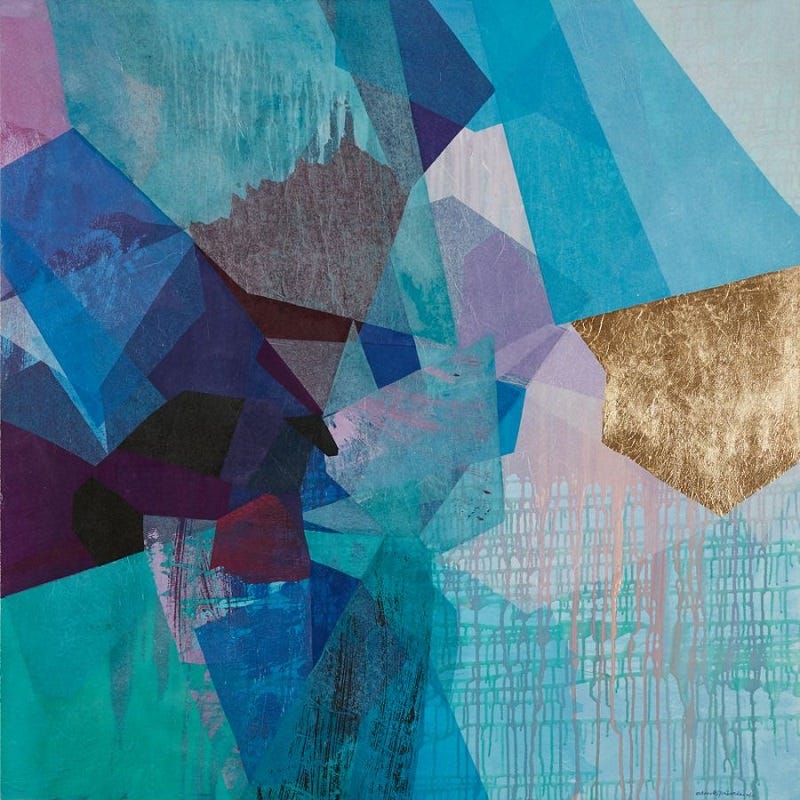 What is your favourite room in your home and why?
My home is an un-renovated, Californian Bungalow with lots of charm and character. The front lounge with an adjoined dining room is my haven and favourite place to relax in my home. Large bay windows allow a view of an old plum tree whose branches seem to be inside as they frame the bay windows. Natural light streams through white shutters on to a dining table, which is the perfect place to spread out with the weekend papers and read cover to cover. The lounge room couch is in the opposite corner and the room also boasts my Grandmother's piano. In Summer, the greenery of the plum tree outside shades the windows and keeps the room cool. In Winter, the gas heater keeps the room warm and cozy as we snuggle on the couch and spend every Friday together for 'family movie night'. The colour palette is a mix of dark timber and neutral soft furnishings mostly cream, black and grey. Textures in original paintings and the rug make it a calming, neutral space where I can turn 'off' for a little while. In Spring, the plum tree blossoms soften the bay window view. I adore the many ways our plum tree brings life and season into my space.
What is your favorite item in your home? Where did you get it from?
A sentimental piece of furniture, my Grandmother's piano is my favorite item in my home. It's a dark, richly patterned timber and made by an Australian company called 'Beale' nearly 90 years ago. I love it being in our front lounge evoking a sense of past & present, especially when I listen to my children playing. It brings a sense of comfort and I'm grateful everyday that it continues to be part of my family's lives.
What is the best place you have ever travelled to and why?
When my husband and I married over 10 years ago, we spent our honeymoon in India, travelling the North and eventually heading southwards. The architecture, history and decorative arts were incredible, from temples, mosques, palaces and forts to the simplicity of rural houses and the intricate application of decoration to people and animals, especially during festivals. My hand was painted with henna as a bridal tradition and the intricate patterns of my tattoo remained for weeks! India was filled with striking contrasts for me: extreme wealth or extreme poverty, religious differences boldly apparent, such as a Hindu temple neighboring an Islamic mosque and a butchers meat market operating next door. India taught me that many people can live cohesively and respectfully of one another, despite different beliefs or religion, celebrating festivals of diversity all the time. It was an incredible melting pot of colour, vibrancy, emotion and inspiration.
What are your three favourite items from your collections?
Each Ninnho collection holds a favorite design for me.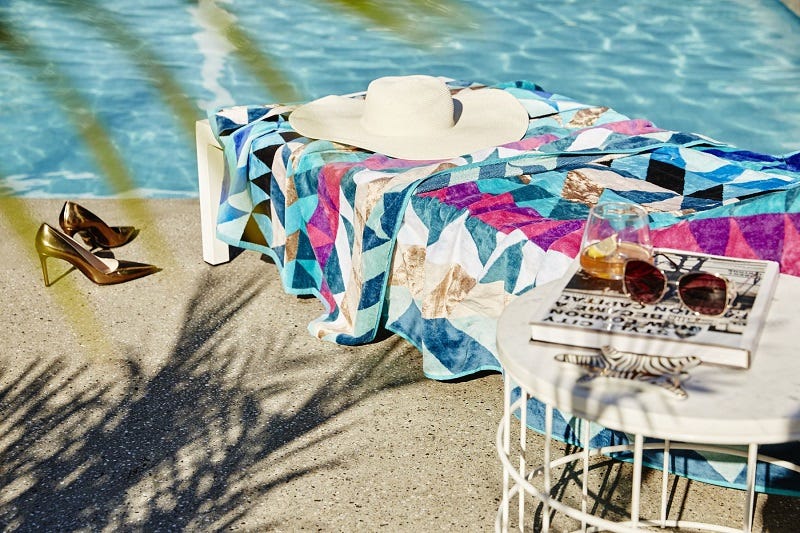 From my 'Hello Ninnho' Collection, it's 'Budgie' which was my first ever Ninnho design. Countless hours of negotiation with my incredible friends in Portugal to achieve the 19 different colours in my final weave.
My art print favorites are my 'Little Hills', mainly because they were my first painting styles to be noticed and honored with a front cover for 'Frankie' magazine earlier this year.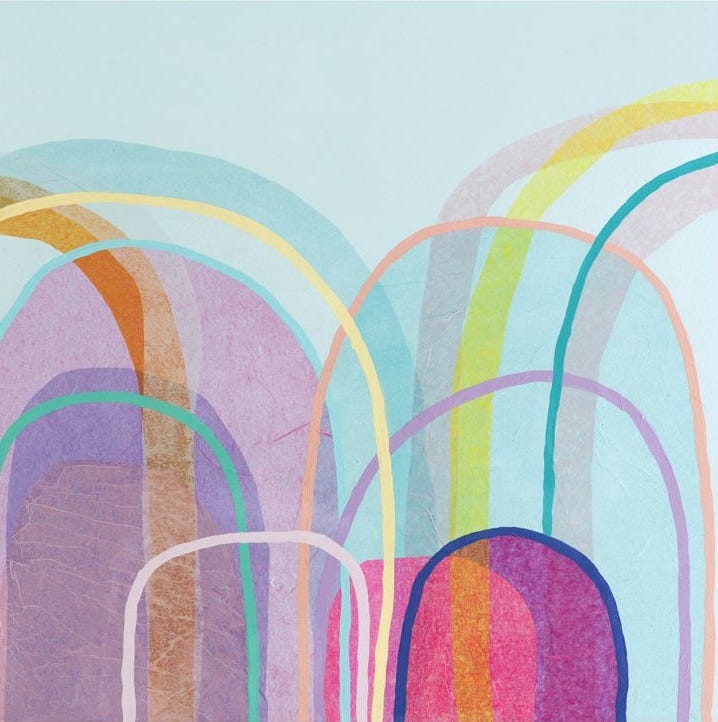 My new 'Skull' design for 'Forever Ninnho' Collection, based upon an original painting exhibited and sold in 2014. Coming to the Block Shop this October!
Who is your favourite couple in Block history?
Super hard question, as I've been fortunate to work with some great couples over the years. Trixie & Jonno featured one of my signature, hand-painted palm pods; Alysa and Lysandra commissioned an original painting called 'Beautiful Girl'; the 'Special Ks', Kyal & Kara were the first to use my earliest towel designs followed by Deanne & Darren who used Ninnho's 'Wren' towels. Angela & I are extremely fortunate to have worked with The Block over the years, and again so grateful to Sasha & Julia for choosing Ninnho 'Peacock' towels to feature in their winning bathroom challenge. These girls have taken the time to understand the artist story for each towel design. Sasha & Julia are top of The Block in our minds!
Do you have a favourite room from The Block?
Very hard question again but two come to mind very quickly…
Kyal and Kara's digital wallpaper print created from an Albert Park photograph...
Sasha & Julia's winning bathroom (of course!!!)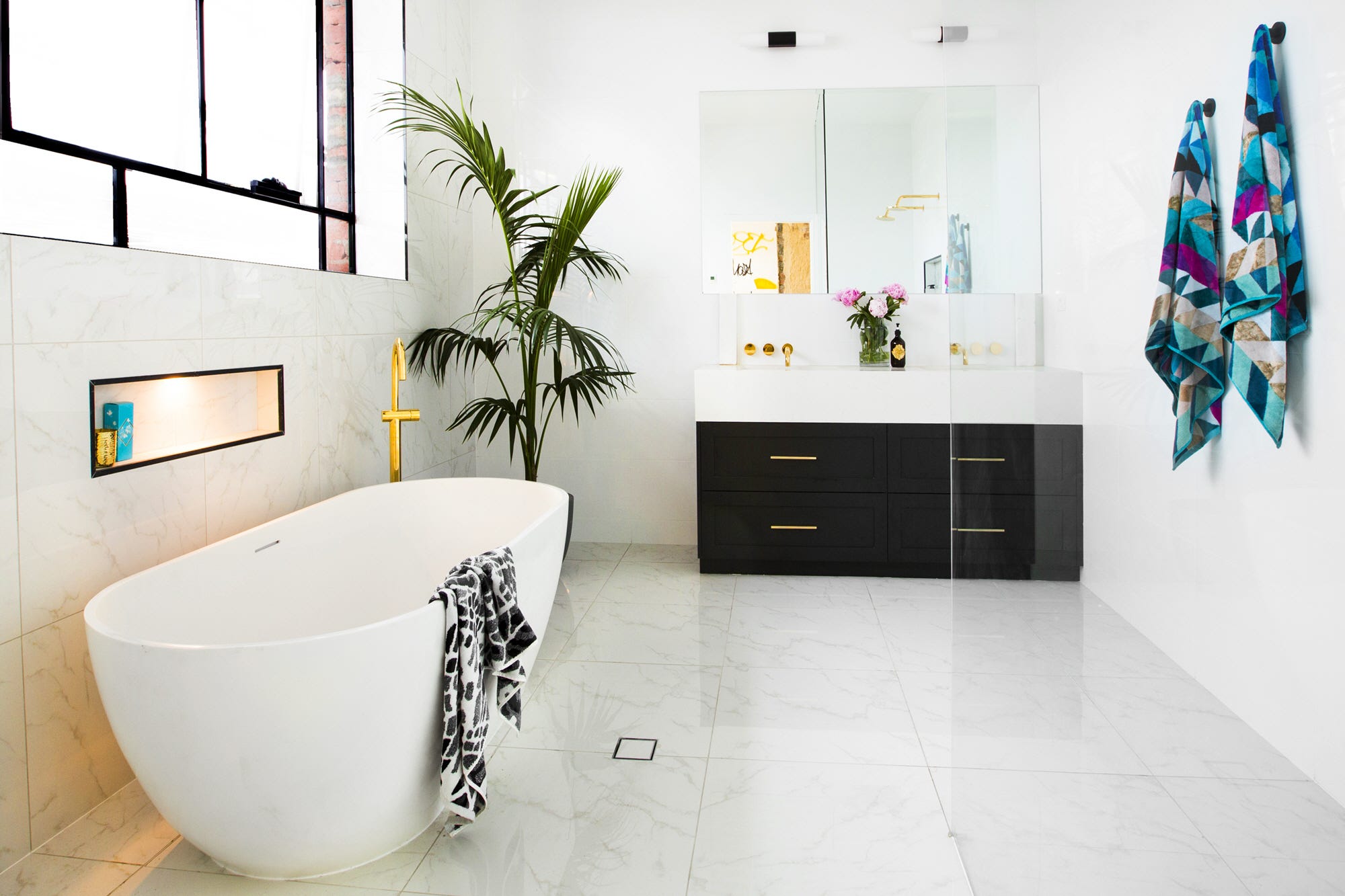 Where do you think new trends will take us?
Metallics are definitely bringing a touch of luxe, particularly brass features which add warmth and can work alongside cool surfaces or natural timber. Darker colour palettes are softened with neutrals and metallics, bringing a moody yet classic tone. I love art deco design of the 1930s, especially the film called 'Metropolis' which created a vision of our future and is amazingly accurate today. Singular line and curve with a touch of Moroccan and Persian pattern for a twist…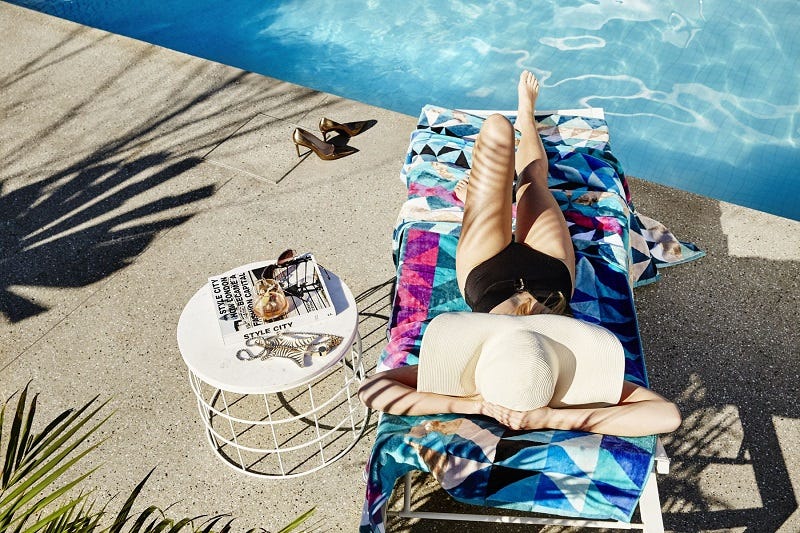 To see the collection from Ninnho just click here and for Antoinette's Artwork, click here.
Enjoyed this blog? Get our blogs delivered straight to your inbox by subscribing here. And if you sign up today we'll give you $20 off your next order