We hop inside the head of artist Celeste Wrona of Scissors Paper Brush. Her vibrant abstract ink and acrylic painting collection celebrates free-flowing form, texture, luminosity, movement and colour.
How do you start your day?
My day usually starts with my 2 year old Hugo declaring I get out of bed because "Mummy the sun is up and the birds are singing!" I love a cup of tea and a hot breakfast to keep me fueled for the day ahead! A quick scroll through instagram, facebook and emails (although I must admit what is meant to be a quick scroll usually gets me a little sidetracked!!). Then I head down to my studio, write a to do list and start getting busy!!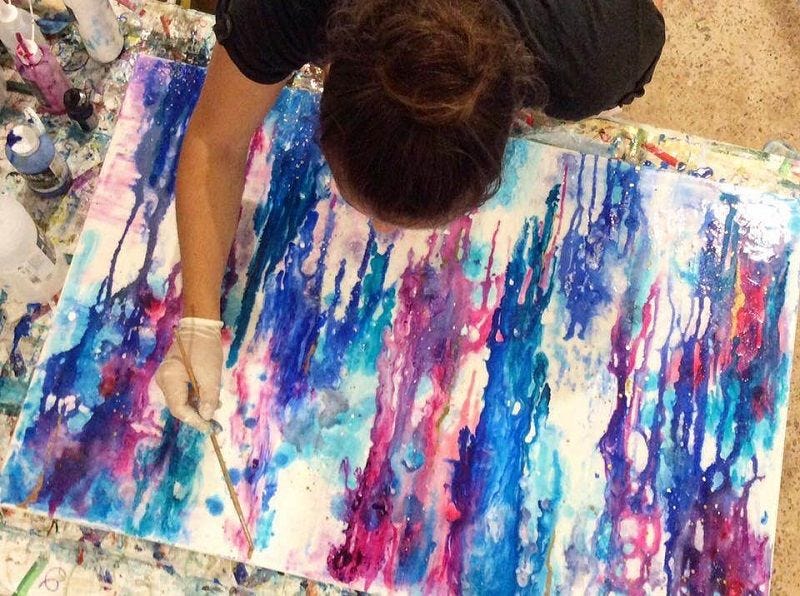 How did you get started into doing art as a business?
Art has always been my passion since I can remember, I studied Art Education at COFA and have been teaching Visual Arts in High School for over 10years. However it wasn't until a little while after the birth of my son whilst I was on Maternity leave and had the distance from my creative career that I had the strong desire to start selling my art to the public. I got busy creating works to sell at local markets and the response was wonderful! As my clientele quickly grew I began using social media and my own website to reach a greater audience. Since this my artworks are held in collections across the globe and my little art business is doing fabulously - oh and I was welcomed to the lovely Block Shop family of course!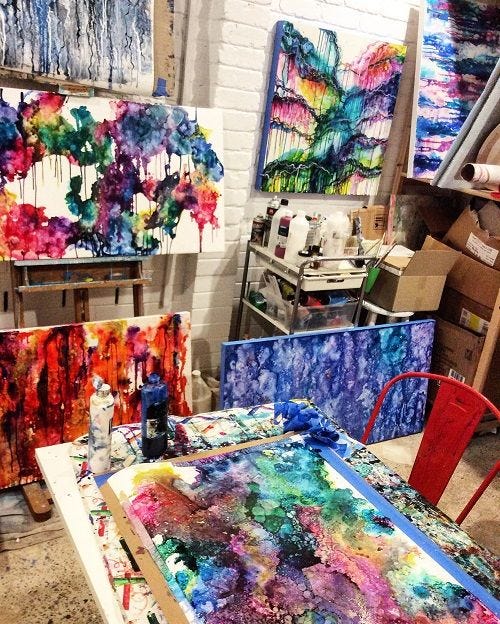 Have you always done this type of work?
I was originally a drawer and still love to draw, particularly the human form. However I've always loved working in any medium really. I was drawn to abstract painting a few years back purely because of the freedom of working in a non-representational way. It was quite liberating to simply loose myself in the colour and movements of the paints and inks, I particularly enjoy the way they create their own magic, I play with compositional qualities and placement and then I let the inks do their thing! (With a very close eye and my creative hand in the mix here and there of course!!!)

Where do you get your inspiration for your art from?
Most definitely nature! I get lost in the tiniest of details in the textures, colours and lines from everything around me. This is something that has consumed me since I can remember, I could explore for hours the beauty in the smallest of objects, shells, leaves, bark, the sky, the ocean......

What is your favourite room in your home and why?
My favourite room in my home would be my living room, it's very rustic, with lots of white washed wood, wicker, hues of egg shell blues and navy's, warm and cosy, lots of goodies my husband and I like to collect at antique auctions! Old vintage suitcases (which are the cutest doggy beds for our 2 boys!), stacks of books, a gramophone! It also has a big armchair that I like to sit in with my son Hugo and read stories together! This room also has the most lovely outlook with a wall of big glass windows that look onto gorgeous bushland. A very relaxing and calming family space!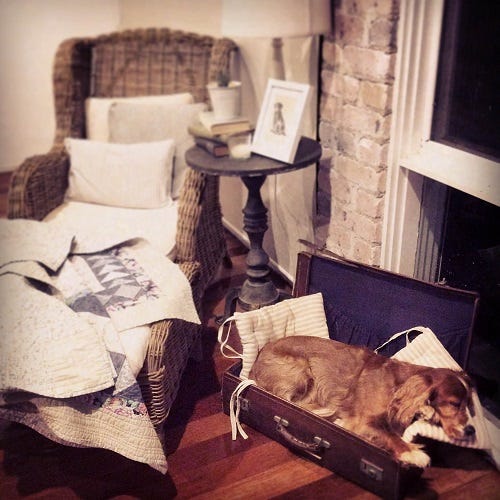 What is your favourite item in your home?
Where did you get it from? This is a tough one! At the moment it is our orb chandelier in our entrance. I love the drama of it and the way it completely transforms the space! I picked it up on sale as floor stock ... Score!

What is the best place you have ever travelled?
I have travelled many places but the place I'm always drawn back to time and time again are both in France - Provenece and Sarlat la Caneda. I just adore everything about both of these regions! The fresh local produce sold at the most colourful and beautiful markets I've ever seen, the people, the language, the scenery, the architecture.... Everything!

What are your three favourite items from your collection?
My all time favourite work is "Drifting" this is an ink on paper original piece that I sold a little while back. It was one of those pieces that was so hard to sell, I often think about it! I also love "Release II" I have this piece hanging in my living room. Finally I would say "Pandora" this was another gorgeous original ink work on a round panel, it has also since sold but has so many beautiful elements with a slight grungy industrial edge to it that I loved!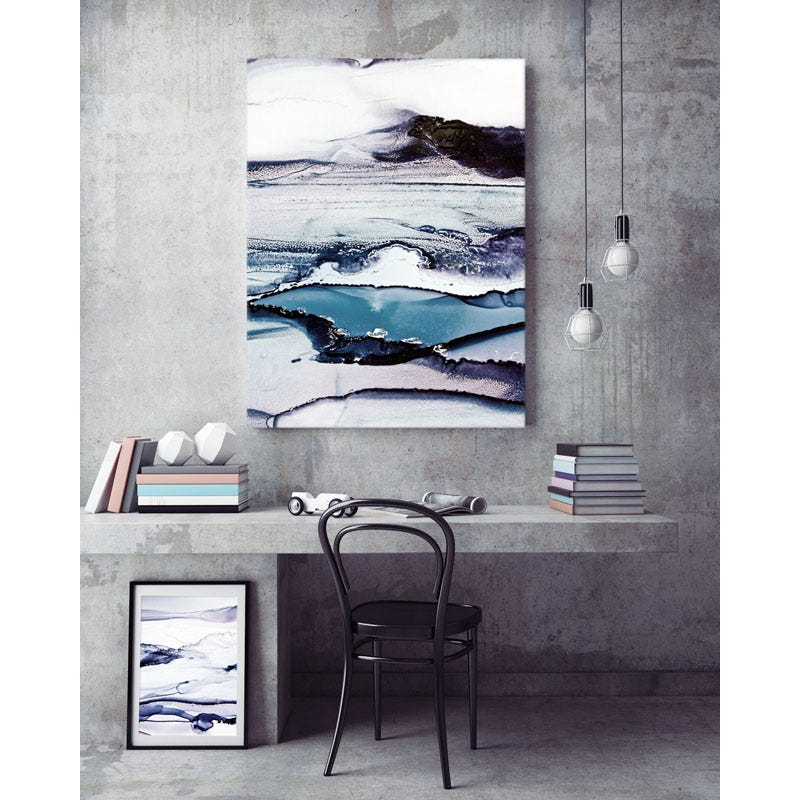 Who is your favourite couple in The Block history?
My favourite couple would have to be between Brad & Lara or Michael and Carlene, I found them to be so down to earth, relatable, funny and hardworking.

Do you have a favourite room from The Block?
Anything by Darren and Dee, I absolutely adore Dee's style! So classic and crisp! Love the timelessness of the rooms they created particularly the gorgeous bathroom with the charcoal and white patterned tiles and their kitchen with gorgeous marble features, oh and the oak herringbone floors!!!! Love!
What do you think the new trends in home decorating will be for the coming seasons?
Minimal clean lines with big pops of colour! Oh and large vibrant and bold statement pieces of art of course!!!!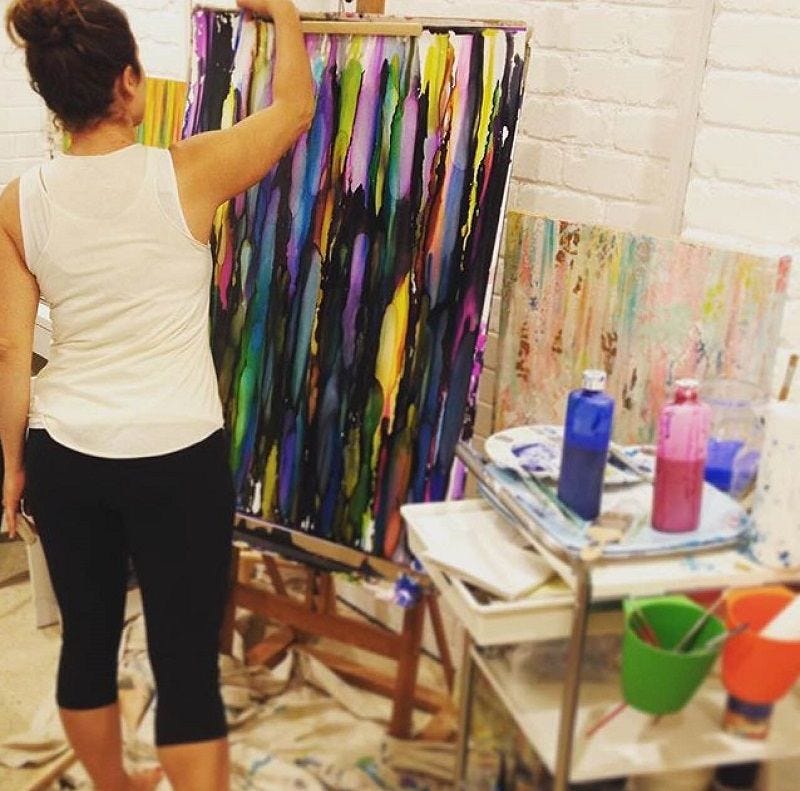 To see Celeste's full range of artworks just click here.