We chat to the talented artist Nicky Kriss, who creates artworks on canvas and linen materials with acrylic, ink and even house paints. Her main motivation is her creative 'eye' for bringing together colour assortments that are intriguing and inspiring, and her work bring feelings of calm, happiness, peace, energy and optimism.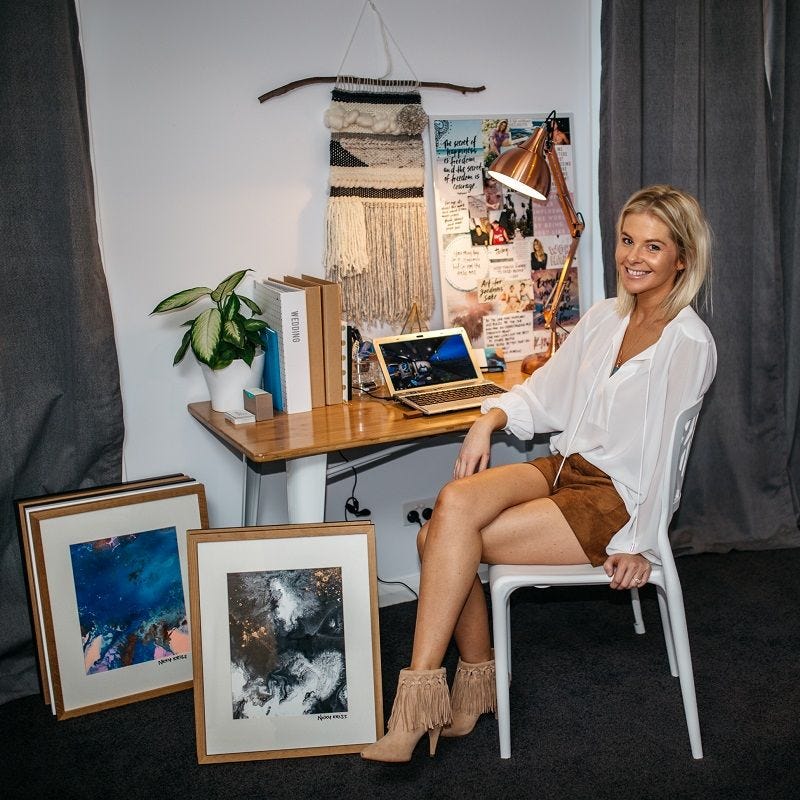 1. How do you start your day?
It's usually crazily running around the house getting my daughter ready for school. I'm not a morning person so I don't make life very easy for myself!!
2. How did you get started into doing art as a business?
Well actually, a frustrating search for a piece of artwork for my bedroom gave me the urge to purchase a canvas and some paint for an experimental art project!! (I had studied art at school, won awards during that time and had always considered myself to be a little creative.) Proud of my unique looking abstract, I posted it on my Facebook page. This was the beginning of something I had never anticipated or even imagined. A few friends loved my work and asked me where they could purchase or order.
So I began commissioning a couple of pieces here and there – now that I look back I actually cringe at the sight of them!!!
After some encouragement from my partner (who I should credit for pushing me to take it further) I began an Instagram page especially for my art, it was still a hobby and all I really wanted was to make affordable art for people to be able to buy.
Word of mouth quickly spread, and soon I was commissioning pieces all over town. I started doing a market here and there just for fun but it was really still just a hobby for a little bit of extra money. I was so intrigued by colour and experimentation that I would just keep buying paints and canvases and keep on painting.
In March of 2015 I was contacted via my Instagram page by a girl named Ebony, who explained that she was about to begin work on a national renovation series. She told me that she loved my work, showed me a mood board and asked if I had anything to suit what she was looking for. I informed her that I was happy to commission a piece for her. But it wasn't until a month or two later that I discovered she was filming Channel 9's "The Block".
I could NOT believe that after painting for 15 months, that this opportunity had come my way. From this point, I knew that my hobby was no longer a hobby, but a business and in the end I supplied Ebony (and Brother Luke) with four commissioned artworks for their Blocktagon apartment.
3. Have you always done this type of work?
No, I worked administration type of roles for the first 8 or nine years, and moved into early childhood in 2011. I still work part time as a kindergarten assistant at a Steiner inspired kindergarten. I love working with children. I'm Diploma qualified and studying my Bachelor in Early Childhood (life is hectic!!!!)
4. Where do you get your inspiration for your art from?
Most of my inspiration is from experimentation of colour and flicking through home décor magazines such as Real Living and Vogue Living to stay up to date with palettes of the current seasons.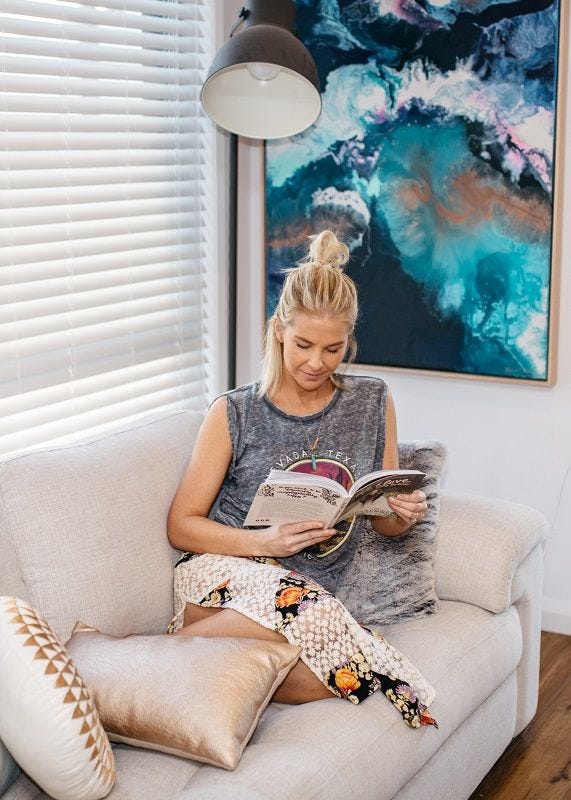 5. What is your favourite room in your home and why?
I have two favourite rooms, our bedroom has a beautiful timber feature wall that my partner created. It brings so much warm to the room, and our family room is light and bright, the walls have framed inspiring quotes and photos of our family and travels, and quirky décor items that I've collected along the way.
6. What is the best place you have ever travelled?
There are many places in Europe that I loved for their history and beauty. La Spezia (Cinque Terre, Italy) is beautiful geographically but my favourite place in the world is LA. I've been over four times, have lifelong friends there and I just love going back. It feels like home.
7. What are your three favourite items from your collection?
Caribbean Dreams I and II are favourites of mine (featured in Luke and Ebony's dining room from the blocktagon), as well as Pure Movement. This particular one is definitely a piece I've never been able to come close to replicating so it's pretty special. The original now lives in Los Angeles, and prints for all are available through my blockshop store.
8. Who is your favourite couple in The Block history?
I have to say Luke and Eb, maybe I am bias, but I support them all the way. They are a beautiful family who I feel blessed to have worked with and to have as friends.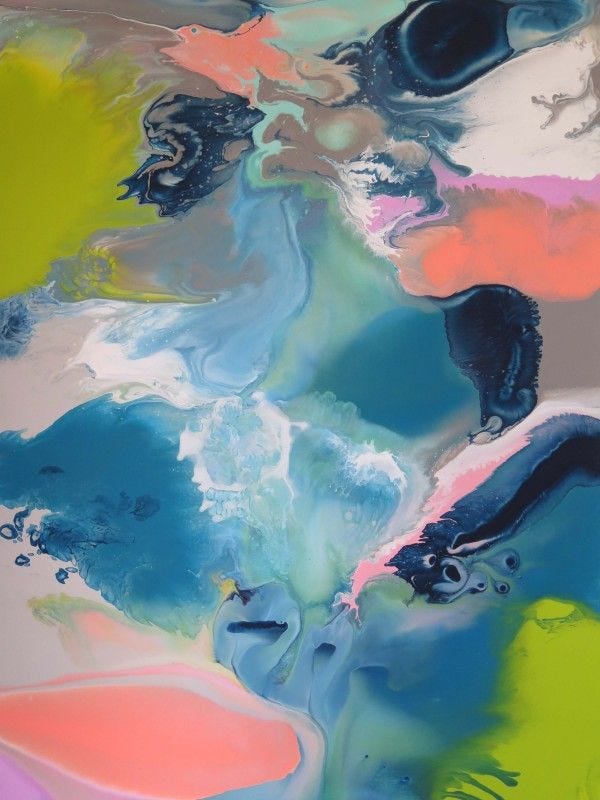 9. Do you have a favourite room from The Block?
Luke and Eb's dining room and living room were gorgeous, I loved the combination of my artwork along with Katie McKinnon's, and the styling and colour combo was spot on.
10. What do you think the new trends in home decorating will be for the coming seasons?
Scandi is always a popular trend that a lot of couples seem to go with. I am a real fan of light and bright white, modern industrial with a bohemian luxe twist. I would love to have a crack myself.
To see Nicky's full range of artworks just click here.