Score: 28.5/30
Hannah and Clint went into this week's Room Reveal judging knowing they'd completed a great room, despite their early cabinetry issues. Needless to say, when the judges comments were read out, they were ecstatic.
"It was like, 'Oh my god - finally!'" laughs Hannah. "I felt like every room reveal up to then, we'd just been getting a lot of constructive criticism, and I felt like we weren't getting anywhere."
But the judges were unanimous in their praise for the pared-back space, with Neale even going so far as to use the 'w' word.
"I think it's a beautiful room; a room I would want to be in. It's a convivial room," he said. "It feels cozy and welcoming. It has wow factor - there I've said it," he said.
Hannah and Clint used their Jetmaster fireplace as a focal point of the room, orientating their furniture around it, and the wall-mounted TV above.
The tan couch and two navy velvet chairs worked beautifully with their dark floorboards and light coloured rug, to give the room an understated elegance. The artwork also added to the general ambience.
"All the beautiful Melbourne artwork on the walls, it was a little find that we stumbled across at about 4pm on Saturday afternoon," Hannah says.
Two dark cabinets either side of the fireplace lent the room a sense of functionality.
"They are not custom, but they fit perfectly and balance the fireplace," Shaynna says.
Hannah admits she's relieved to hear this.
"I was nervous that the judges would think the room was superfluous or even unnecessary," she says. "Like, in this day and age, do families still use those kinds of rooms?
"But I knew for sure, if we had that room in our house, we would be in it any chance we could get. Once the kids were asleep, we'd be in there, with the fireplace on."

Elsewhere on The Block:
Josh and Elyse Score: 26.5
Two points behind Hannah and Clint's winning room were Josh and Elyse, who came in second place for their gorgeous "zen" study/living space.
"This is beautiful," Neale said upon entering the room, before going on to say he could "really imagine myself in here."
Josh was particularly pleased with the feedback, especially as he had been at pains to commission a stunning custom-made book case and daybed to create the relaxed, peaceful atmosphere.
Complementing the look was a beautiful leather study chair. And while it didn't fit beneath the desk, it made a lovely counterpoint, as did the stunning rose print, hanging above.
Overall for "two people who've never read a book," the room had an inviting feel, and seduced all three judges.
"It invites you in, and makes you want to stay," said Darren.
"This is just a place to disappear and escape," Shaynna added.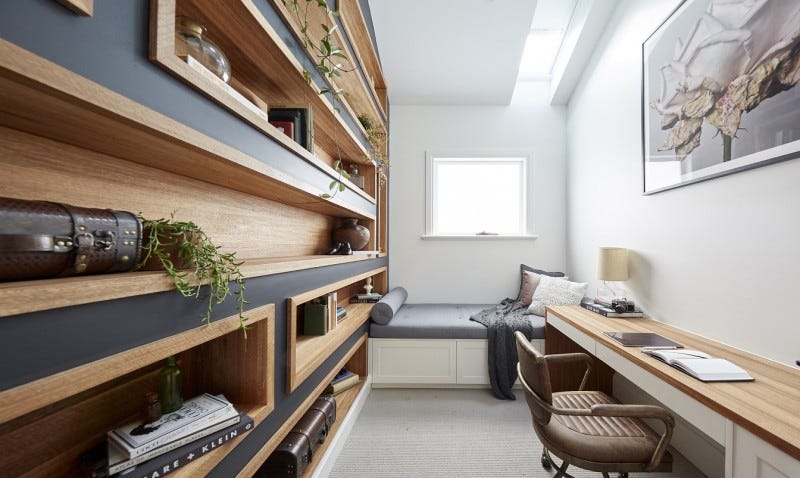 Jason and Sarah Score: 21/30
Sarah and Jason's one-point deduction meant they came third this week. And though the judges weren't convinced by some of their choices, they all admitted their standard was high this week.
"What they have got right is their painting," said Shaynna, admiring the couple's decision to use a greyish/blue colour on their walls.
A tan leather couch, built-in cabinetry, and a stunning brass light from Beacon all created the feeling of a cozy "Parents' retreat".
And while the judges weren't keen on their busy ceiling, which saw a ceiling rose complete with two skylights for attention, Shaynna did like the fact that Sarah had decided to repurpose the artwork from their 48-hour room.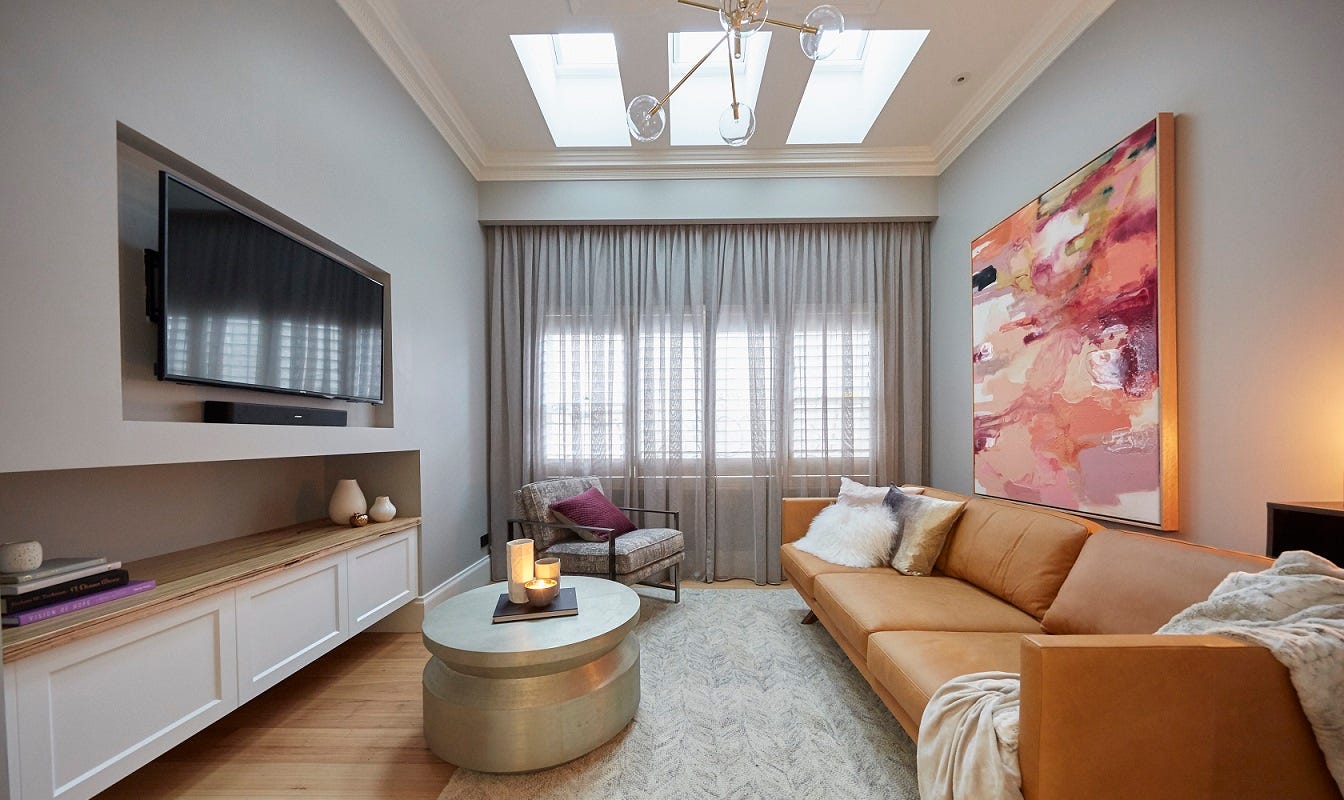 Ronnie and Georgia Score: 21/30
Ronnie and Georgia couldn't complete the hat trick this week, coming in equal-fourth, tying with Sticks and Wombat. Although the judges loved their double doors, with Darren commenting that it was a "beautiful way to enter the room," they weren't as keen on the couple's decor, especially their decision not to use an operational fireplace in the room.
"Putting the effort into making it a central element, but not giving you the benefit of a flame and heat - that's sort of taking the piss," said Darren.
In the space was a stunning orange velvet sofa, offset by occasional chairs, with touches of gold throughout. Their choice to paint the room a dark colour was a hit with the judges, as was the addition of a hidden TV, but overall, despite their respectable scores, it wasn't enough to bring them close to Hannah and Clint.
"I can't decide whether it's an old fashioned sitting room, or a night club," Neale said.
For their part, Ronnie and Georgia are sticking to their guns.
"I am really proud of it," Georgia says. "We will take on board their feedback, but I think it's a really gorgeous room."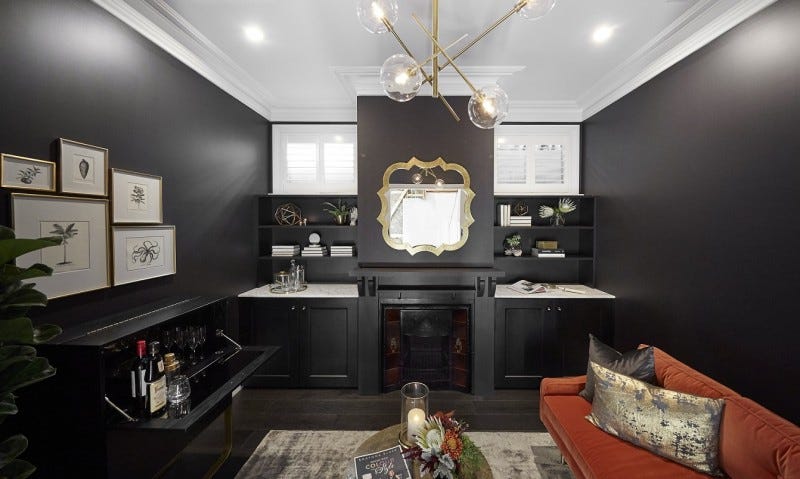 Sticks and Wombat Score: 21/30
It was always going to be difficult for Sticks and Wombat to compete with some of the bigger spaces being revealed this week. Having taken metres from the room in week two, giving it instead to their enormous ensuite, the boys just didn't have the 'wow factor' of some of the other spaces.
But despite this, they delivered a lovely, functional study, complete with adjustable desk, and gorgeous cabinetry, made by Sticks.
"The boys workmanship is exceptional. They are master craftsmen there's no doubt about it," said Shaynna.
On the bookshelves were whimsical decorator items, as well as a gorgeous framed print of Sticks' dog Tank - commissioned especially for the room.
"That was from when he was a puppy - he doesn't look like that now. He's enormous!" says Sticks.
Neale, for one, was a fan of the overall space.
"I would happily work in here," he admitted. "Judging it just as a study, I quite like it."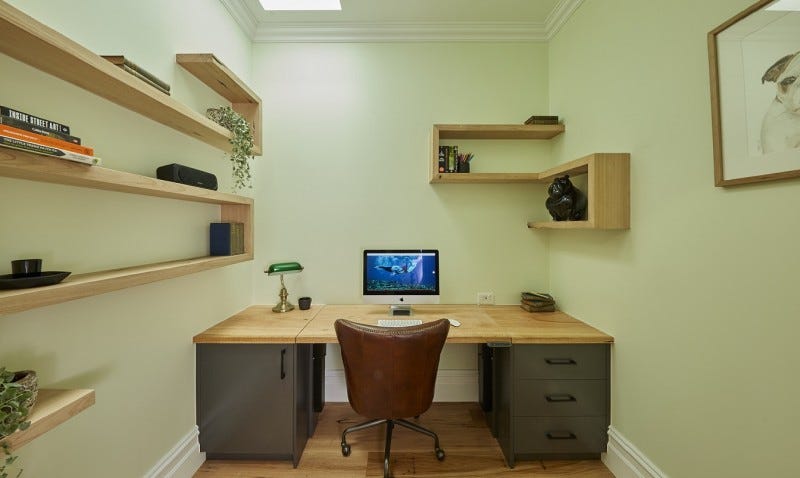 Did you like this blog? Subscribe to our newsletter to be the first to receive news from The Block! Subscribe now to receive $20 off your next order.