Meet The Block Shop artist who is responsible for the incredible artwork adorned in Daniel and Jade's Guest Bedroom
How long have you been producing your Art?
I began my figurative line style back in high school when I created folios of work for my senior year art subjects. These folios then got me into a Bachelor of Design honours course and I have since worked in the Fashion industry as a designer for over 10 years. After taking extended maternity leave to start a family, I began my art business simply to explore my creativity again and have been so humbled by the reaction to my work. I have now been selling my work for almost two years and haven't looked back!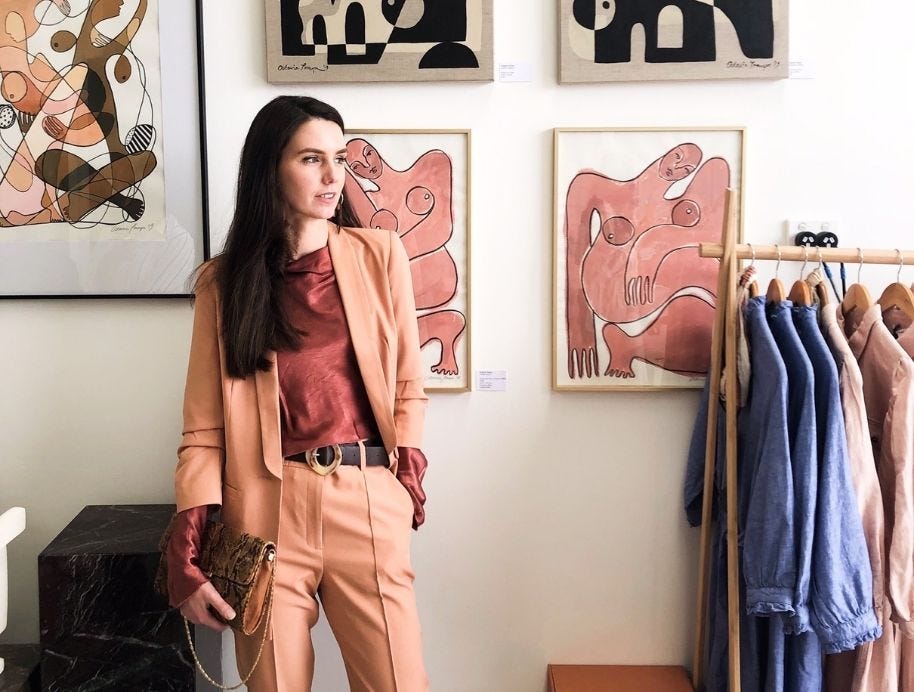 Octavia is a Melbourne based artist who previously worked as a designer in the fashion industry for over 12 years.
Where do you draw inspiration from?
I love people. So the relationships, connection and emotion between humans are what inspires a lot of my work. I often extend from this theme to explore the idea of womanhood, self-reflection and spirituality in my work. My faith has a huge influence on my life and art and I am constantly exploring this through my work.

How long does it take to create a piece?
It depends on the artwork. A simple, continuous line sketch can take less than a minute and this is usually my starting point for most of my work. It is a direct expression of my mood, thought or feeling at that moment so it comes out fast like a conversation. I then re-draw, refine and layer this initial idea to develop a final piece. A layered painting can take anywhere from 2-4 days, but it is the development work that takes the most time.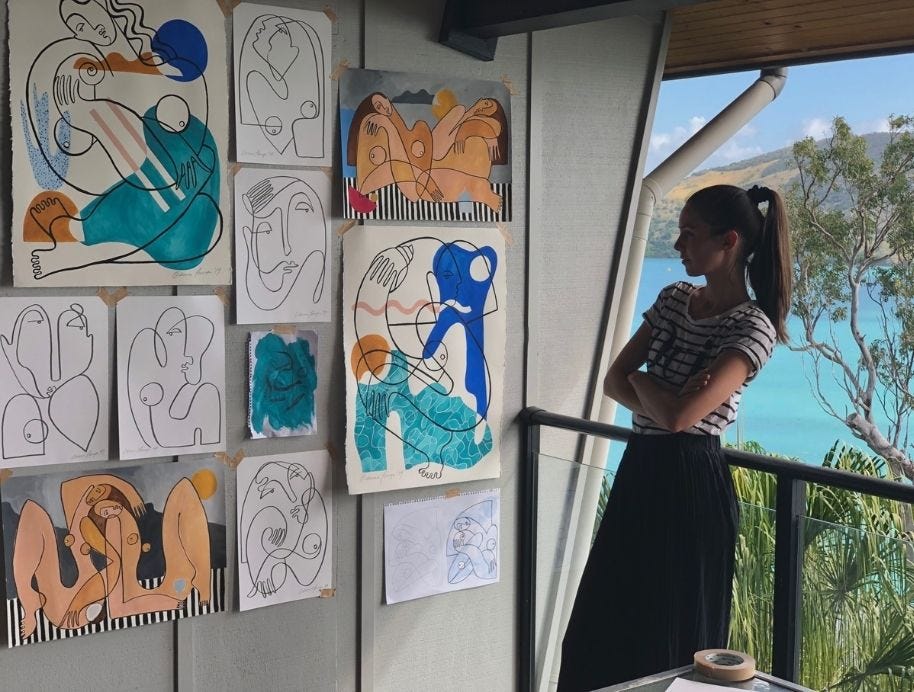 "I also love taking my work on holidays and spreading out across our accommodation, taping work to the walls and being inspired by the new surroundings.," Octavia tells Insider Style.

How would you describe your art?
I create minimal, figurative line art that incorporates a story or theme through the use of shapes and symbolic storytelling. I love working collaboratively with clients to weave their personal story into the piece and create something unique to them. It makes every piece interesting and precious.
When I create work for myself, I reflect on my current situation, thoughts and challenges. The art helps me process and understand my experiences. It's a bit of a meditative and reflective process!

How would you describe your personal aesthetic?
Lyrical lines, bold shapes, emotive faces and figures. My work is clean, bold, intimate and always derived from a continuous line.

'My Home, Your Home' as featured in Daniel and Jade's stunning Block guest bedroom.

How do you come up with the name of your artwork?
This is usually inspired by the theme or idea I was contemplating when I made the piece or often captured by song lyrics or poetic verses. Sometimes for my simple line work, they tell me what they want to be called and a name pops into my head as I gaze at the finished piece. As these line pieces are created almost subconsciously from a prayerful meditative place, it is only once they are finished that I begin to understand the emotion they are reflecting.

Your piece, 'My Home, Your Home', was chosen by Jade and Daniel for their guest bedroom on The Block...
I'm absolutely thrilled it was chosen for this room as the piece is all about hospitality and sharing what we have with others - our home, a meal or simply a loving conversation. After this gorgeous room came together, Jade got in touch about creating some exclusive, custom work for another area of their house and I used the space as inspiration for the work.



These colours! "To have it chosen and styled so perfectly has been a real career highlight," Octavia tells The Block Shop.

All this sounds very exciting...
To have my work featured on The Block is a huge honour! It was actually a goal for me this year, to reach out and connect with someone from the show. You can imagine how excited I was when you guys beat me to it and approached me to create something unique for this season. To have it chosen and styled so perfectly has been a real career highlight and I am thrilled to be part of Australia's most influential renovation program.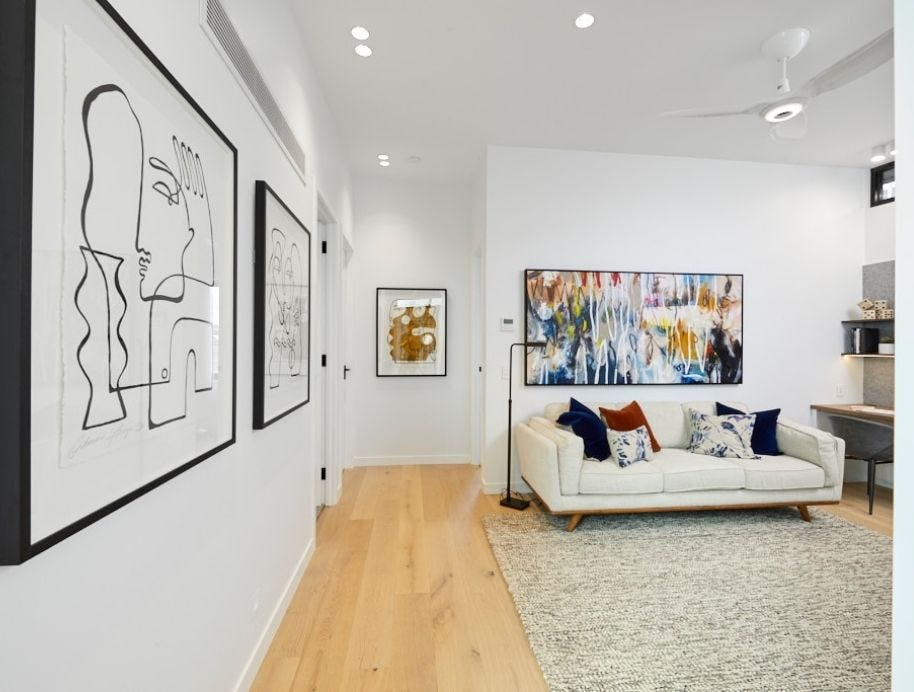 Daniel and Jade also featured Octavia's artwork in their upstairs living area.

Are there any particular artists that inspire you?
Aesthetically, I have always been drawn to artists like Picasso, Matisse, Le Corbusier and the Surrealists but my career in fashion and design has also had a huge impact on how I collect and process ideas. I am constantly inspired by designers and trends across fashion, interior and furniture design.

Where do you like to create your art?
I am lucky enough to have a studio at home but I often spread out around the whole house! I use our kitchen table for colour work as there is lots of natural light and our lounge room wall for oversized pieces. I also love taking my work on holidays and spreading out across our accommodation, taping work to the walls and being inspired by the new surroundings.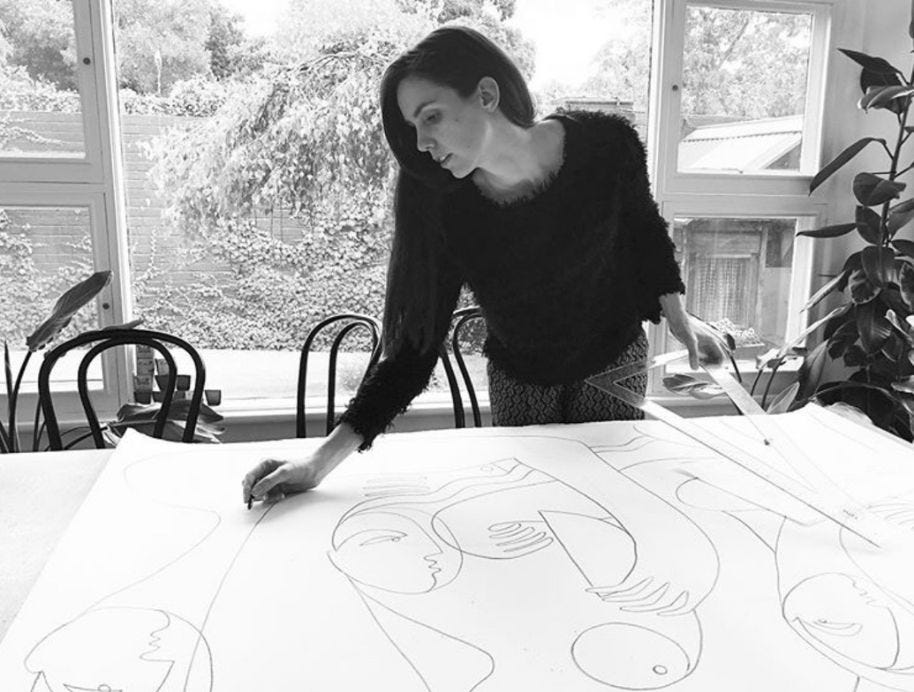 "My work is clean, bold, intimate and always derived from a continuous line," Octavia tells The Block Shop.
Do you have a soundtrack you like to create to?
Billie Eilish, a classical music playlist, worship music, The Weeknd, James Blake. I also like to listen to podcasts that explore my faith as I find painting and drawing a meditative and contemplative experience. But more often than not, I create to the constant chatter of my four-year-old daughter!

What does a typical day look like to you?
Mornings are normally running around with pre-school activities or entertaining my two young children during lockdown - a walk to the park, craft, puzzles, lego. Occasionally I get to sneak in a Pilates sesh, some emails or a trip to the framer. It's go, go, go until lunchtime when I feed the girls, clean up and get my little one down for a nap.
Then it's art time! I get about three hours a day to work through my ever-growing commission's list or to work on a new series for my website. My four-year-old is my little studio assistant. She loves to draw alongside me and use up my leftover paints.
Once my youngest is up, it's straight into games, dinner prep and chores, again it's busy until the kids are in bed and I can sit down and do 2-3 hours of admin and correspondence. It's hectic but the balance between art and parenting works nicely and the days go quickly.

That is quite the juggle...
I have been a stay at home mum of two little ones for the past four years. My art business has quickly built momentum over the last two years, so I schedule a few hours each day to create while my little one naps and I organise couriers, emails, accounts, etc once they have gone to bed. I actually enjoy switching between jobs throughout the day to keep things fresh, but as my business grows I am constantly having to refine how I balance both.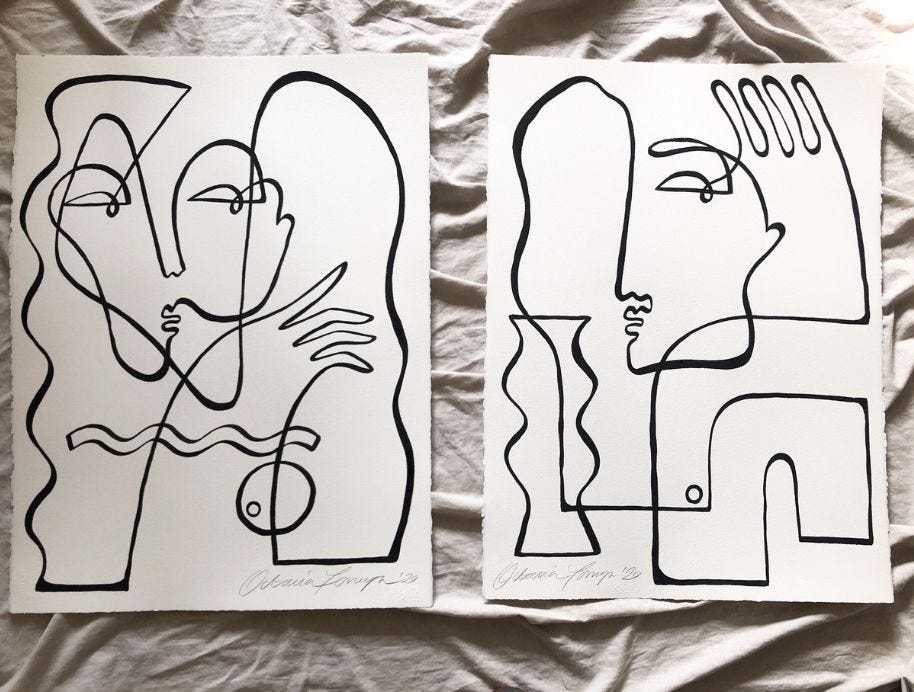 'Created' and 'Inspired' available as limited edition unframed prints HERE
Do you have a favourite holiday destination?
New York or anywhere in Italy are my all-time favourite places to travel but since kids, Far North Queensland is a frequent winner for us. Lockdown has me craving a Queensland getaway so badly!


Hardest person to buy a gift for?
My hubby as (unfortunately) gift-giving is not his love language and he is always underwhelmed no matter what the gift!

What would you buy yourself from the Block Shop?
A piece of art by Nardurna. She creates vibrant, modern indigenous art.

Fashion style icon?
Easy. Grace Kelly! She is elegant, timeless, refined and always stunning.

What is your favourite house decorating trend?
Eclectic - personality is so important in a home, I love combining old with new, layering textures and surrounding myself with things that mean something to me.
Octavia, what is the most decadent thing in your house?
I have a few...french linen bedding, Messina Ice cream in the freezer, a huge, stunning hundred-year-old leadlight window and Cire Trudon candles.

Favourite room in your house?
Our Lounge room or bedroom because they have the most stunning period features that I am humbled by every day. I feel so lucky to be the caretaker of these beautiful rooms for a short while and to bring a sense of my own style to these details.

If you could renovate one room?
Kitchen. It's a plan! My dream is for a modern, open plan kitchen/living/dining at the back of the house to compliment the heritage front. Just need to get through this pandemic!

Shop Octavia Tomyn's art HERE