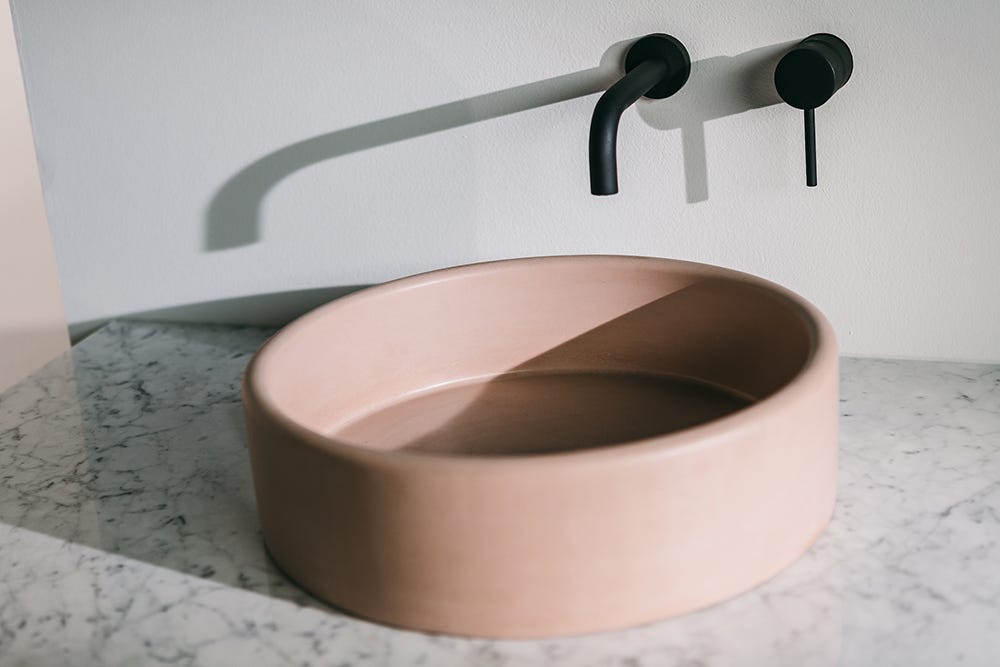 Matt and Kim from The Block Sky High recently launched a new range of concrete homewares, called Nood Co. We chat to Matt Di Costa to find out how he got it all off the ground
After The Block, you started a concrete rendering company called Sky High Renders. Was Nood Co a natural progression from that?
My business partner Chris is pretty handy with all that stuff, and we had been talking about concrete furniture for a while. We had made it for Max and Karstan on The Block Glasshouse, so that's where it started.
Had you made anything for yourselves?
Yeah, we had also made a trough sink and a stool and a table for our renovations, because we were doing a sort of 'french apartment' style, injected with concrete. So what came with that, was an opportunity to start playing around with concrete. We made a few pieces, and they were nice, and quite strong, and then we looked at the market and thought, 'There is a huge opening here.' No one had made concrete strong, but thin and curvy and coloured. We just wanted to create something original.
And you noticed a gap in the market?
Yeah. There are so many different forms of concrete, and it's really strong, and heavy - but quite bulky. A lot of people can't get them into their apartments, and you can't ship them across Australia. So we devised this huge list of what was wrong with concrete - and went about solving it. Then, at the same time as we finished our renovation last year, I think it was around September 15, we launched Nood Co.
How did you connect with your business partner?
The plasterer that I used on The Block Sky High was good friends with Chris. After The Block I went to his house to give him a hand doing some concrete finished walls, as a thanks for helping me out on the show. And Chris was there. He was doing all these weird samples, and all this stuff I had never seen before, and we got talking, and that's when we started Sky High Renders a few years ago.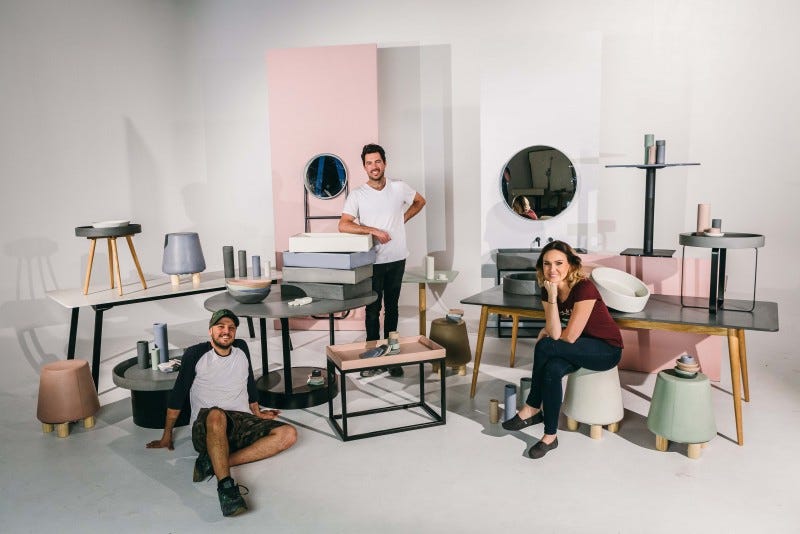 Did you ever think you'd end up designing furniture and homewares?
Actually, I have always wanted to design a furniture range, and have that challenge. I remember learning at uni that designing a chair is sometimes harder than designing a building, because there are so many factors that go into it working properly. It's really intrigued me, forever.
What are the logistics of shipping your furniture? Concrete's heavy, right?
The heaviest piece is 55kg, so everything is really transportable. Our stuff is a quarter as heavy as anyone else's concrete - a lot stronger as well. We worked on this product that we developed with a company that increases the strength of the concrete, which allows us to go much, much thinner. So our concrete is only 16mm, so it's a lot lighter.
How do you find working out of Perth, from a business sense? Ever thought about moving East?
I think being in Melbourne would be beneficial, only because you are around highly designed things, so there is a tendency to push even further. But I think there is a really amazing design and architecture industry in Perth that is really on par. The only difference is that you don't visually see it because people spending money on projects aren't as adventurous as they are in Melbourne.
Does Perth's isolation stifle your creativity?
I have never really worried about that stuff. I think design comes from inside, and from not really worrying about what other people think. Not considering location - just taking it on. I am not creating design solutions for Perth, I am creating design solutions for any city. As long as I've got the internet - I can work.
But for the time being, Perth's home?
Yes. Every day I think about moving, but I don't think we will - our families are here. Actually, we have been applying for our Green Card Lottery for New York for the last seven years! But it just hasn't come through. But for Matt and Kim to the Rescue [a show the couple do for Channel Nine in Perth) we have to be here. And the older I get, the more I am not fussed about location. We travel a lot, but I like seeing my family. I am 37 now - and I'm happy with my little life.
Here are some other beautiful products from Nood Co:
Did you like this blog? Subscribe to our newsletter to be the first to receive news from The Block! Subscribe now to receive $20 off your next order.