The struggle to balance work and family life is real. And for these small business owners, who stock their wares through The Block Shop, it's something they try to stay on top of on a daily basis. Here they tell us, in their own words, how they manage that daily juggle - and how you can too!
Sasha Jonquil, Founder of Jonquil Living.

"Last year, in June, I closed one chapter of my life, and started two new ones.  I officially completed a four-year stint developing diagnostic tests and investigating various diet studies in children suffering from epilepsy. I was a doctor! 48 hours later, I gave birth to the most beautiful healthy baby girl - and six weeks on, Jonquil was launched!
Crazy times.
Embarking on motherhood and the start-up journey simultaneously was harder and messier than I ever imagined. But I've been consistently surprised at how what I've learned as a mother has paralleled my growth as a founder - and vice versa. 
Whenever I'm asked about Jonquil, I can't help but be OTT - I have to hold myself back at times!
Jonquil was founded on a passion, and need for ,conscious consumerism'; to instil "trust" and provide transparency. As a new mother, I couldn't bare the thought of sleeping in sheets another child had made, or have my child sleep in sheets a mother was unfairly paid for and that might contain toxic chemicals that are undeniably not made for our skin.
I'm so proud of bedding, and Jonquil has allowed me the freedom to express, create and indulge in my manchester obsession!
Reflecting on life in the past few months, the reality is that being a mum and a business owner has taught me what mastery of multitasking really means. 
Yes, I don't do 9-5 - but it's more like 6-8 of baby, 8 to 10 of business, 11 to 3 with baby and house, 4-6 of cooking dinner. Plus international phone calls, and baby - you get my drift. I take comfort in knowing that I'm not alone!
No, I may not put in the longest hours as either parent or founder, but I take solace in the fact the time I do devote to either, is my best.  
My biggest piece of advice for all mums (I'm only 10 months in, I should be taking advice from more experienced mums!)  is to not feel guilty asking for help - delegate tasks and get the job done!
Happy mother's day, and to my special mum, you are my angel on earth - love you!"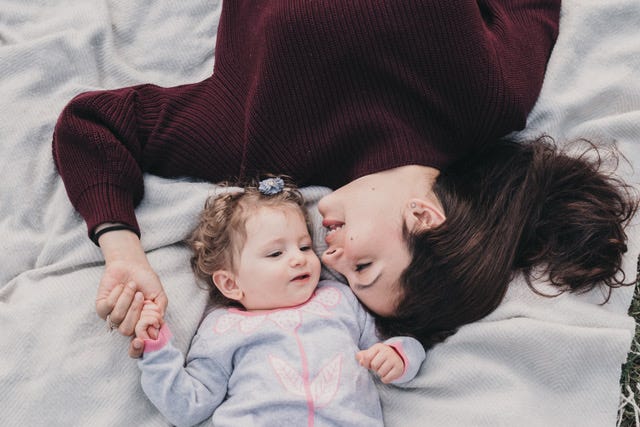 Photo by Jess Sadie Photography
Shana Danon, Artist & Surface Designer at Emilio Frank Design.

"I create paintings, prints and patterns from my Bondi studio, inspired by a life long passion for Mid Century Modernism. My works celebrate form, function and colour with a touch of whimsy. 
Growing up in a family of artists nurtured me to become a maker and work with colour across a variety of media. A previous career in professional organising, decluttering and styling cultivated my love for interiors and the home.
When I'm not working, I love to explore Sydney with my family, visit art galleries and attend gigs (avid music lover here). 
I couldn't run my biz without the support of my husband Jeremy, who always cheers me on and helps me with accounts and exhibitions. We have 2 boys aged 10 and 12, who are also very creative and enjoy being behind the scenes in the studio! We're hoping to hear the pitter-patter of tiny dachshund feet soon…
Juggling motherhood and running the business can be frantic, however working from home helps greatly. I aim to plan the day around the kids' schedule, so I can be with them after school.
I spend many hours working into the early morning when they are asleep and also work on the weekends.
My biggest tip to stay on top of things is to be as organised as you can. If you have good systems for your business and home it removes a lot of the stress. Having a good support network is really important too – whether it be a partner, friends, family or a mentor. You can't do everything yourself and it's OK to accept help.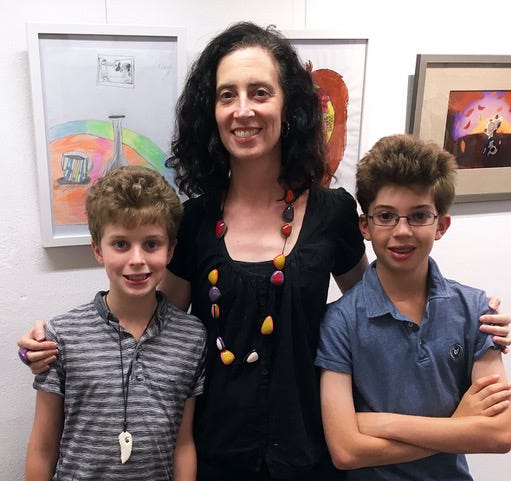 Shana with her boys at a gallery - their works are exhibited behind (left and middle work).
Patrícia Mendes, Creative artist behind 4 The Love Of Paris.

"I am a mum of three humans and two fur-babies. I started my career in fashion - I studied at East Sydney Fashion College - and had a blast doing it. I had my hand in the fashion Industry for about 10 years - four of those running my own label. But taking two babies under two to work with me just wasn't quite cutting it. I was burnt out - so much so, that I made a choice to become a full time mum.
I wasn't quite yet equipped to juggle, and fashion just wasn't giving me the joy it once did, so it was an easy choice to make. Fashion kind of snuffed my spark and it took me years to recover - I'm sure I speak from most creatives, but I wear my heart on my sleeve and I found it challenging to get back up .
After being a full-time mum for so many years, it was challenging to start again, especially in a new path. 
Juggling is a challenge I struggle with every day. I deal with a heap of guilt, but having an identity of my own brings me so much value, and the pride I get from my babies makes it all worth it. 
I am constantly surprised with how resilient they are, having to deal with a packing station for their lounge room at times and it not bothering them one bit. My work life comprises of a lot - I am a one-woman business. So I am the production team, I am the illustrator, I am tech, marketing and accounts - multitasking at its best! Not fantastic at all of them, but I'm sure most can relate.
I am passionate about creativity and expression - I'm always so inspired by the amount of talent we all have. I believe in lifting each other up, not putting each other down. And, most of all, I am passionate about being real - I want my kids to feel like its all possible and you don't have to put on a mask to do it. 
My top tip is not to be so hard on yourself. I have found setting a weekly goal list and segmenting it into "top priority ", "Jobs to do" and "for another time" works for me. Things always pop up unexpectedly.
As silly as the next thing may sound, I start my week with a list of things I am grateful for, so that I am in a positive mindset for the week. And when I feel like  s@#t, I go back and remind myself."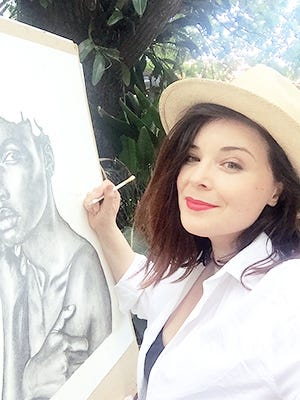 Rachel Brainbridge Founder and Artist of Rachel Brainbridge Art.

"Rachel Bainbridge Art started in 2011, whilst I was on maternity leave with my first child. I have always loved to paint and create, and after receiving positive feedback from family and friends, I finally got up the courage to put my style out there and start an Instagram account.
From there things took off – I was invited to exhibit my artwork in galleries all over Melbourne, and commission enquiries were coming in from all over Australia. I was so excited – social media was an incredible platform to promote my business, and all from the comfort of my living room! This was easy!
Then things got a bit hectic…
I was overwhelmed with support and sales which was amazing, attending VIP events and feeling so excited by the amount of support for my business. However, I did feel very torn between my passion for creating, taking on new opportunities and stockists and balancing this with home life. 
The kids were growing up, starting Kinder and school and now making friends, which meant their social calendars filled up quick! It was not uncommon to put the kids to bed at 7pm and then work alone in the studio until 2am in the morning, sanding and packaging products. I am also a massive perfectionist, so I couldn't let any part of the business run without me, which meant I became my own worst enemy, adding to my anxiety and mummy guilt!
All the designing, making, packaging, running the website, sales and shipping happens from my home so in a way I do feel trapped. sometimes,as it's not like I ever 'leave work'! It's a blessing when a child is napping and I can get a few orders done or emails answered, but it can all stare at you (especially late at night!) and it is hard to feel like you are on top of everything.
I have found that taking a step back and altering my own expectations has been a huge benefit too, not only for the business, but also for my family. My husband has been my greatest support, helping me to find that perspective and accept that I can't do everything by myself or say YES to everything- THAT"S OK!
Finding a good balance of work and family has taken time and I am learning that asking for help is also OK, especially as I would much prefer to spend my time on the making side of things, not the book keeping! 
In 2018 my focus has been to simplify and streamline, keeping the focus on being a SMALL business and working within my means. This has made the juggle much more manageable and I find I am a better mum for it."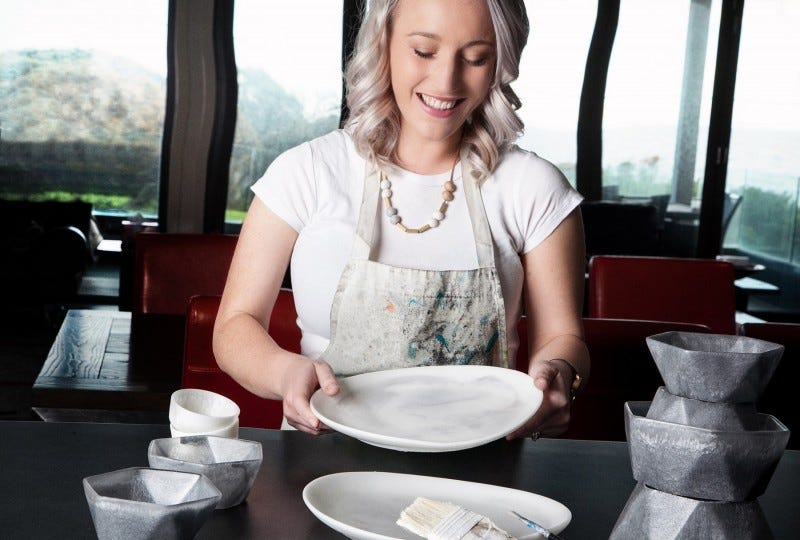 Lauren Daly-Marsden, Ceative Director & Owner of Wall Style

"I live on the Gold Coast with my husband, twin eight year-old girls and our beautiful labradoodle, Sam. I studied and worked as an interior designer for over 10 years, until I found out I was pregnant with twins. From that moment on, until I had the babies, I was either RIDICULOUSLY sick, or on bed rest (for months on end) and my 9-5 working life came to a grounding halt.   
Not long after, was the time of the GFC and we moved to a little mining town for my husband's job (yep this city girl moved to the country!)  The country air and slower pace felt lovely for a short period of time, but I needed another outlet.  And that was the when the birth of new baby, Wall Style was born! 
I have always loved art and design, and this was the perfect avenue where I could merge the two. I have recently taken up painting again, which I find to be a beautiful and positive process. After tackling many bumps that life has bought, I find painting and the creative process to be so relaxing and calming. 
My top tip for juggling motherhood + business + life? One word: Wine! And a LOT of organisation and having set work times that don't inhibit on family time.
Juggling is a constant struggle and I don't know if it ever gets easier, but all I know is us mums do an amazing job, and I don't think we hear it, or tell each other, that enough."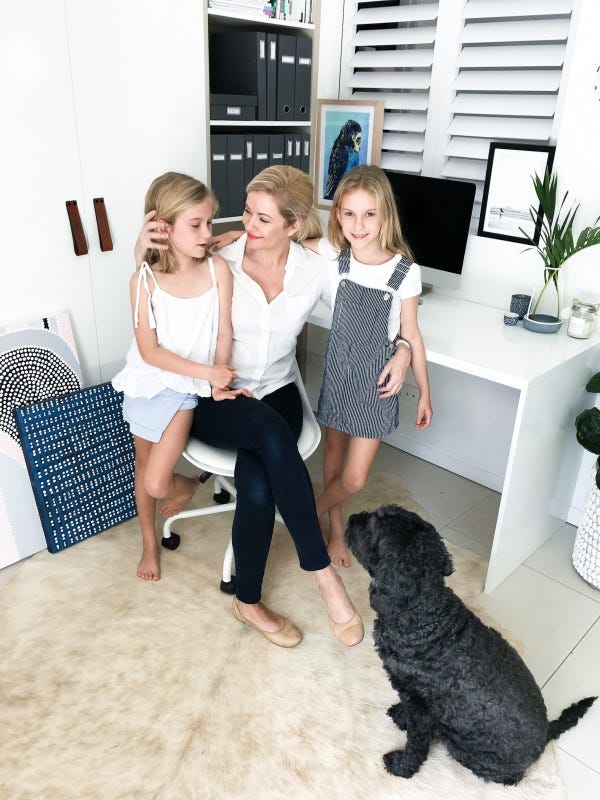 Many thanks to these gorgeous Mum's for opening up and sharing your stories with us - Happy Mother's Day!
Did you like this blog? Subscribe to our newsletter to be the first to receive news from The Block! Subscribe now to receive $20 off your next order.