They were The Oslo's reno kings, the unstoppable grandparents who were up before everyone else and never stopped. So what's been happening with Sydney couple Mitch and Mark?

So, a year later... can you believe you were on The Block?
Time goes so fast, and yet it feels like we were on The Block only last week. It's amazing to think it's been 2 years and new groups of contestants are now sharing the experience.


What's life been like since?
Life has been hectic, with lots of projects going on, moving home, and getting back to our 'new normal' life.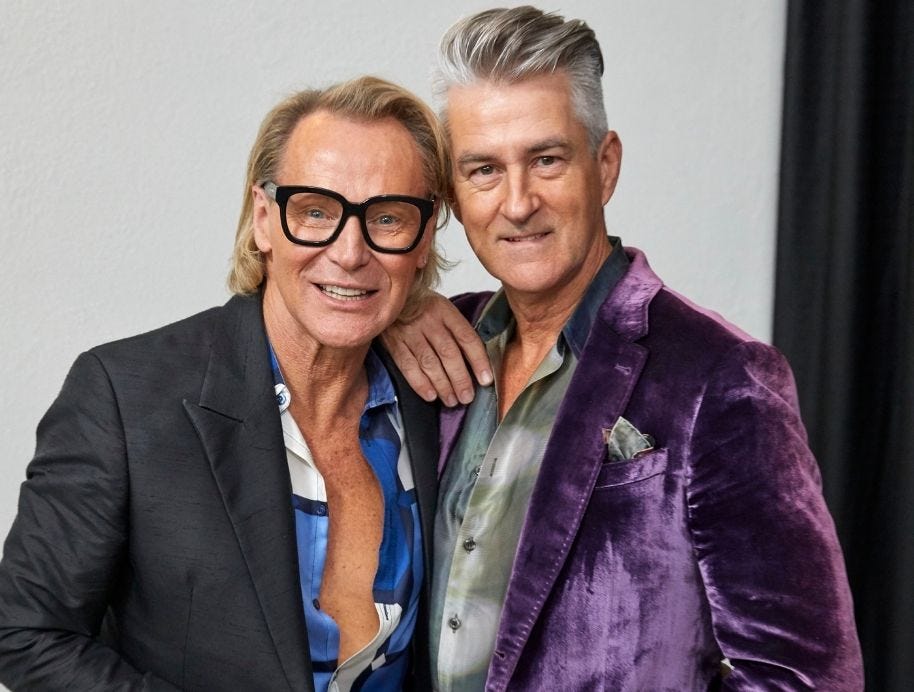 Mitch and Mark, back on The Block in 2020 along with the rest of the 2019 contestants.


Did you follow up on the dreams you were competing for?
Our life was pretty full before The Block, and now it has become even fuller – if that is possible?! We also were able to provide some support for our family as a result of our time on The Block.


What does a typical day look like for you now?
For everyone, given COVID, life is so different and the same applies to us. We've moved up to the northern beaches of Sydney, which is like living in paradise. We're both working from home and working on a number of projects related to design. We get to work overlooking the beach and the ocean, very special.


Has life returned to normal?
We have a new normal now. We've had the chance to be involved in some special projects, and we have lots of people who now come up and speak with us. The Block fans are great, and we love that they will say hi.


What has changed? Any new opportunities opened up post Block?
We have a few exciting things on the horizon that we will be able to share soon. Things have changed, and we are embracing it whole-heartedly!


Have you done any more renovating?
We've been doing some work on our new house and recently got to help Cam and Jules (MAFS) on the makeover of their new home. They are lovely and it was such a pleasure to help them and teach them some home reno tricks. We've also been working on design projects for clients that are exciting. I guess we can't stop, we really enjoy the process of changing up interiors and creating beautiful, functional spaces.


Life "was pretty full before The Block, and now it has become even fuller," Mitch & Mark tell Insider Style. (pictures: Instagram @mitchandmark)


Where are you living now?
We bought an amazing big old beach house 'fixer upper' in Newport, Sydney and decided to move from Bondi up to the northern beaches. The views are breathtaking, and it's in need of a big 'Mitch and Mark' makeover, soon!!


Do you still keep in touch with the other Blockheads?
Yes, but from past seasons, not from our season, and we have had some contact with the contestants in the current season.


Who are your Block besties?
Our builders, Jason and Stevie – and their families. They are one of the best gifts we received from being on The Block, never a week goes by without catching up.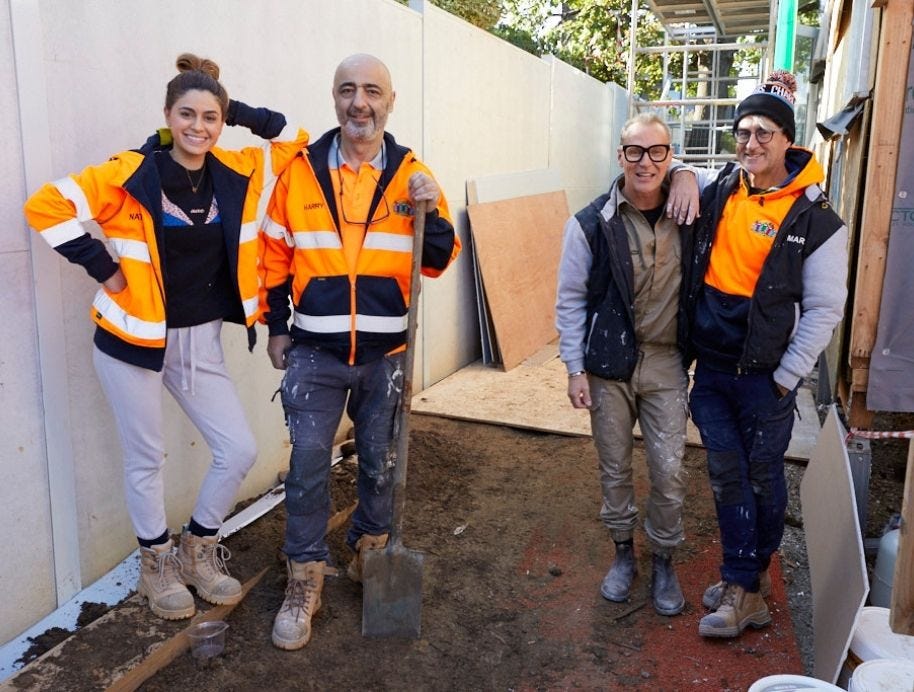 The boy's team up with Harry and Tash to lend a hand "we think their house is actually the preferred house given its location and that amazing northerly aspect of the living area," Mitch and Mark tell The Block Shop.


What was the best part of your experience on The Block?
We got to meet so many beautiful people – all our builders/trades, the crew and the incredible Block followers. When you're on The Block you rely so much on your team of trades and we got so lucky with the people who supported us – Jason, Stevie, Wilson, Matt, Dan, Harry – it's an enormous list of wonderful people. It's so amazing to meet people in person, or via our Instagram page, as we always find people are generous and kind. We've also been blown away by the followers who reach out from all around the world – it's amazing.


What was the worst part of your experience on The Block?
There were so many great highlights, we think the tough times seem to just diminish in our memories.


Who is your favourite past Block Couple?
It's so hard to pick from the past Block contestants as there have been so many incredible couples…. Jess and Norm, Alisa and Lysandra, Ronnie and Georgia….


How has COVID-19 affected you?
Being in NSW, we were affected by lockdown and missed the chance to catch up with our kids and grandkids as much. Lockdown and distance made this difficult. We were lucky that we had relocated to Newport because we had more space and an amazing beach right at our doorstep. Now we are coming to terms with a 'new normal' and getting on with life as it now is.


What would you buy yourself from The Block Shop?
As we approach summer, we are super keen to lavish our terrace overlooking the ocean with something special in outdoor furniture and right now we are obsessing over The Block Shop's Indosoul Californian lounge setting, it's totally mod with a coastal mid-century vibe.



Who could forget Mitch and Mark's incredible Palm Spring inspired courtyard?


Now there's no judging, what's a perfect Sunday afternoon….
For us, a perfect Sunday afternoon would be not working, but at the moment we have so much going on! Sunday afternoon around 4 pm is when we stop and sit together, overlooking the ocean and wind-down, planning our coming week.


What was it like to come back as an All-Star team?
It was surreal to be back, but exciting to see the houses and what the new contestants were doing. Within hours we felt like we got back into 'the groove' of being on The Block and were totally enjoying ourselves.


So, with all you know now, would you do it again?
Yes, with everything we know we would definitely do The Block again.


And if you did, what would you do differently?
Compete from the start, during 2019 we went out of our way to help others who were struggling with finding their feet on the build, planning and finding their style. We wouldn't do that again, it's a competition when it all boils down.


Anything that you are loving at the moment that you would like to share with us?
We have a few really exciting programs in the works and we will be totally excited to share all once it's locked in.


Mitch and Mark are back on The Block in 2021! Catch up with everything Block 2021 HERE

Catch up on everything Mitch & Mark and take a look back at their Block home HERE


Where are they now? Catch up with past Block contestants HERE