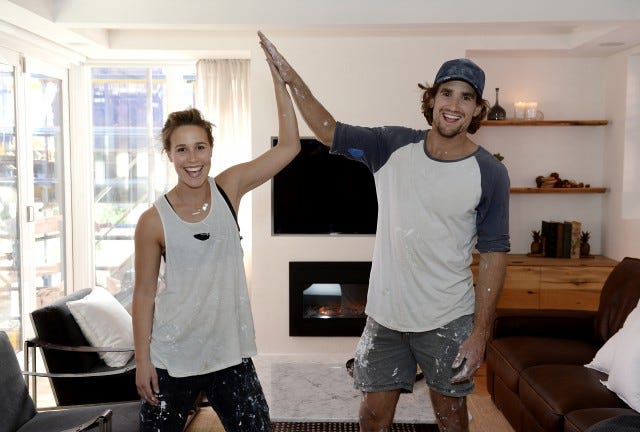 We're at the halfway point, is The Block what you expected?
Charlotte: It's been much harder than we expected. When you get here, there's so much adrenaline – you've got cameras, workers, tradies. It isn't until after you get used to it that you realise just how tired you are, and you don't really care that there are a million cameras on you at all times.
What has been your Block strategy?
Josho: We knew we had to bring our A-game in the Eliminations, so we tried different things, and when we got to the actual Block, we wanted to sell the place eventually. People want less extreme features in different rooms, an apartment is more about having that flow through it. I won't say we simplified, but –
Charlotte: We played it safer.
Josho: Yeah, but it didn't really pay off with the judges early on. So we've had to change a bit and play the game as best we can.
Week after week, you've impressed us with your styling and furnishing choices. From cushions to coffee tables, everything you select is a winner. Tell us, what's one Melbourne store you couldn't live without?
Charlotte: Momu Furniture, I go there heaps. They have literally everything and there's all different stuff. I love it.
Do you love Charlotte and Josho's style as much as we do? You can now shop by couple on The Block Shop.