Michael and Carlene have renovated their second caravan - and it looks amazing!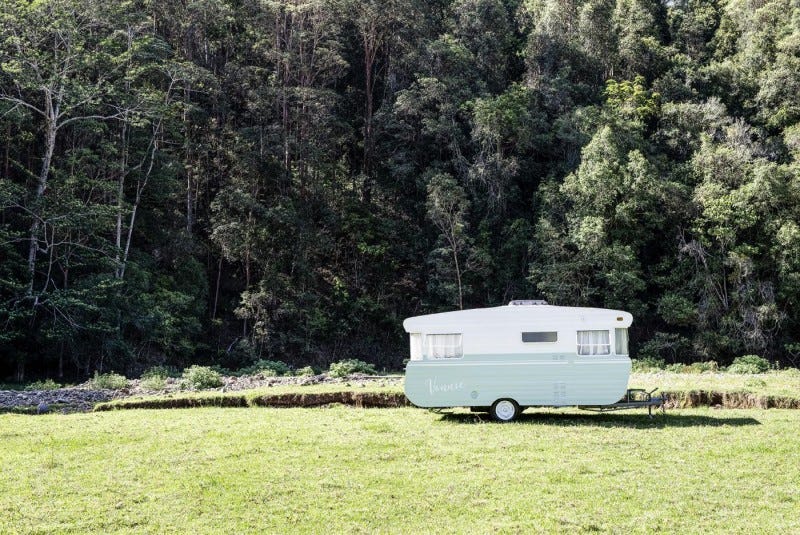 Photography: Mindi Cooke
They completed their first caravan renovation last year, recently selling their their updated masterpiece, 'Millie', a 1966 Millard Florida van, for an undisclosed amount. And it seems the Gold Coast couple didn't waste much time getting stuck into another total revamp.
This time they've been working on a 50 year-old Viscount van, affectionately dubbed 'Vonnie', which they purchased in September, and have managed to flip in record time.
"We like to think of this transformation as our interpretation of where the coast meets the forest, staying true to the retro roots of this 50 year old Viscount van," they said in an instagram post on their dedicated page, '@thisoldvan'
The couple, who competed in The Block: Glass House, have a great design blog called Cedar and Suede, where they've been detailing the progress of both their renovations, with a third rumoured to be in the works already.
The couple, parents to Paddy and Stella, admit they have been "long time campers" and began renovating their first caravan as a way to slow their pace of life down, and reconnect as a family.
"Michael and I have been long time campers, way back from when we were kids, but the pace of our lives has been gaining speed in recent years, making it more and more difficult to find the time to prepare for camping trips," Carlene wrote on her blog. "You know what I mean, all the packing, all the unpacking! A caravan was the answer. We can keep it stocked, locked and loaded and ready to roll on out of town for short or long getaways."
Unlike their first reno, the couple decided not to gut their new van, and were able to maintain 85 per cent of the retro cabinetry, simply updating it with new fixtures and a coat of paint courtesy of the White Knight Paints range.
"Inside, there was a whole lot of laminate, not only on the cabinetry but on ALL walls, benches and on the table top. We chose to paint all the laminate cabinetry and walls with White Knight Laminate Paint and although we could have painted the bench and table top too, visually we wanted to break up the painted surfaces with some pattern," Carlene explains.
She chose to replace the benches with a marble-look laminate, and a beautiful mosaic tile on the table top.
"To add some texture and break up the flat surfaces we installed VJ panelling on the ceiling which we had custom made from MDF and on the floor we laid vinyl plank flooring from Decorug for its light weight and durability, an ideal flooring for caravans," she wrote.
Looks like summer is about to get a whole lot more fun for this gorgeous family! Nice work, guys!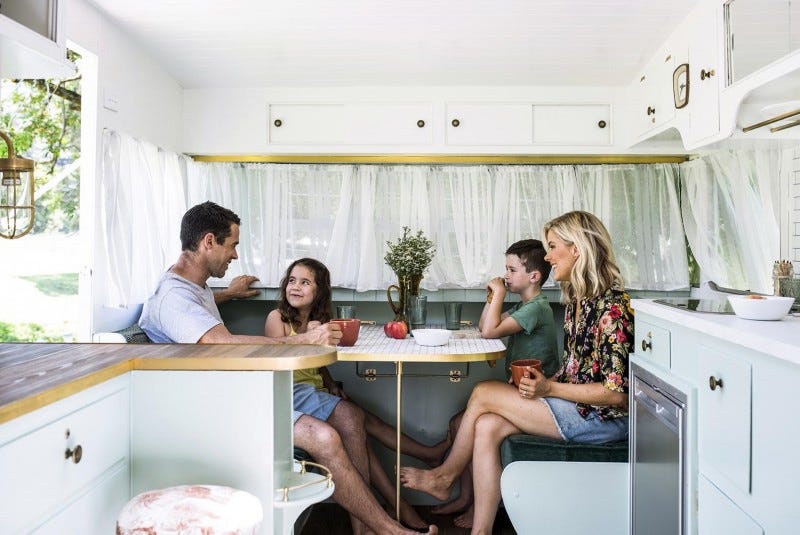 A dining table fit for the entire family. The marble mosaic tiles add pattern to the table top.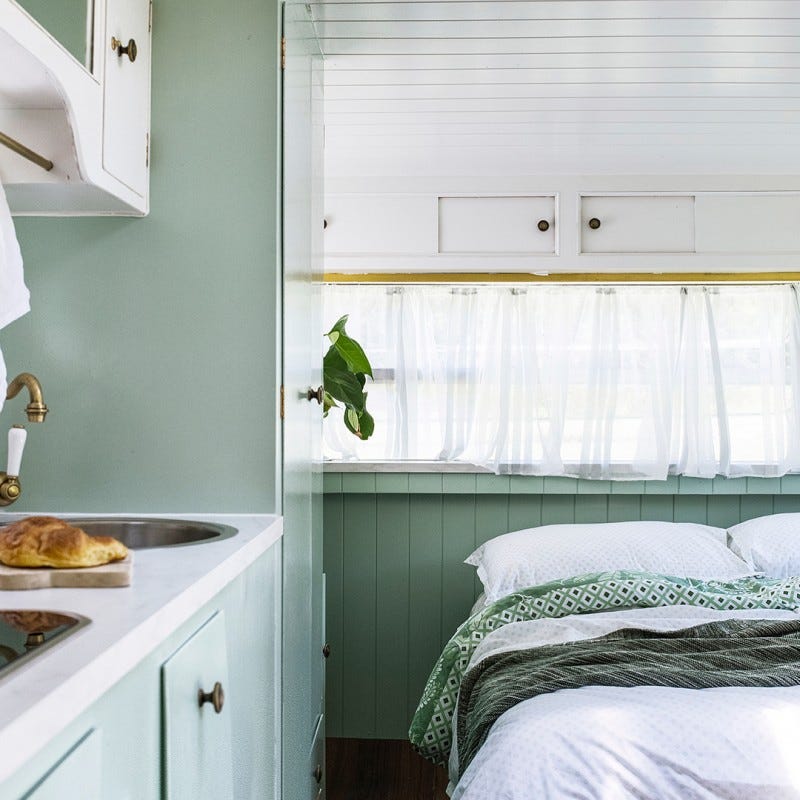 Beautiful brass fittings mix perfectly with the forest green colours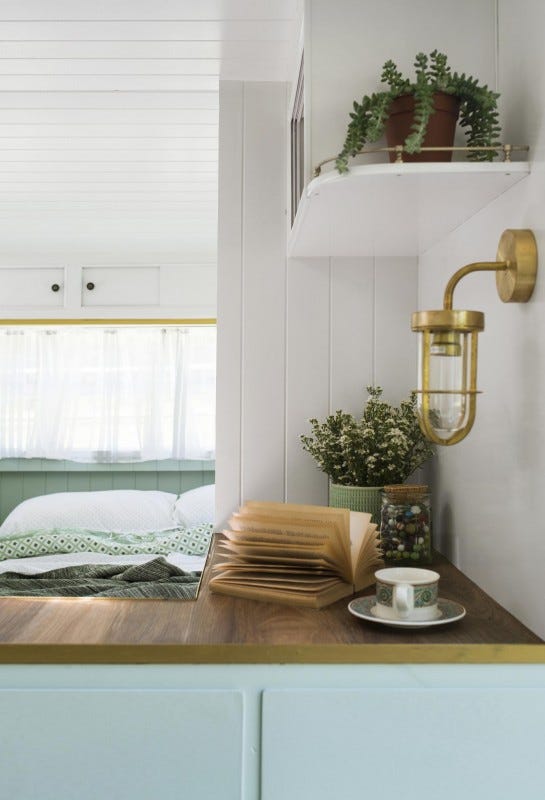 Gorgeous little reading nook squeezed into Vonnie's interior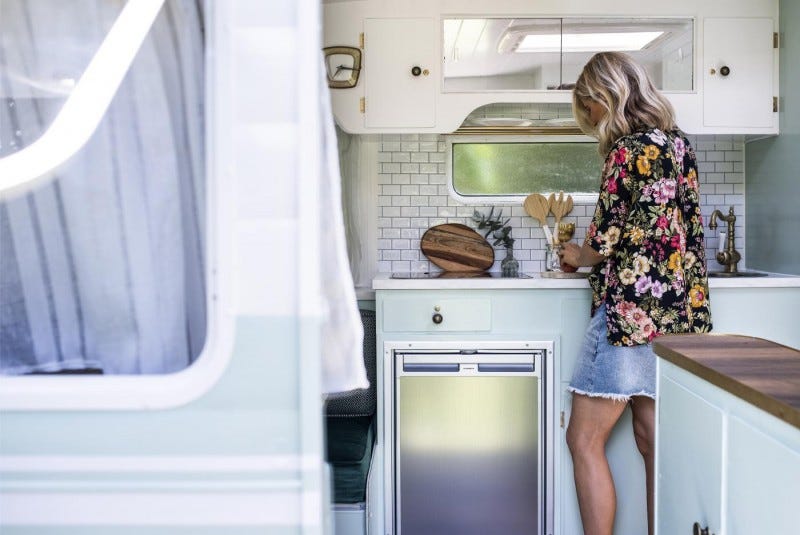 Beautiful kitchen detailing as we have come to expect from Carlene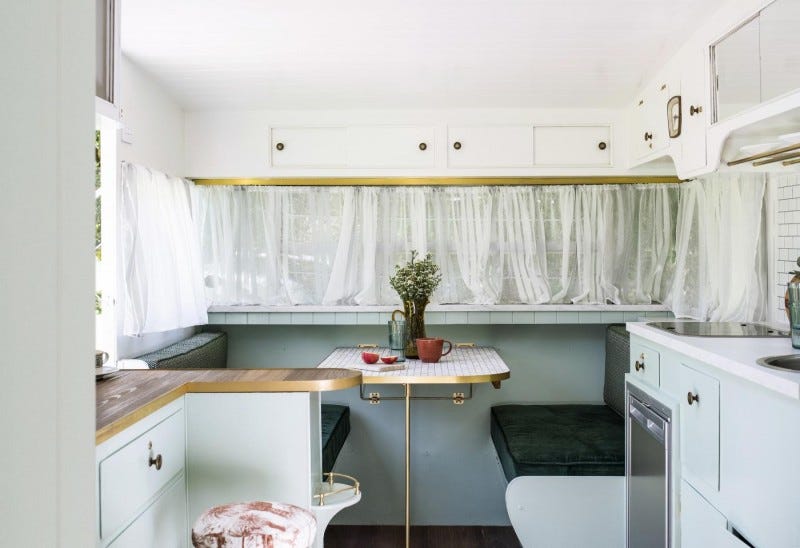 Michael & Carlene have created a very inviting dining space. I love the window dressings!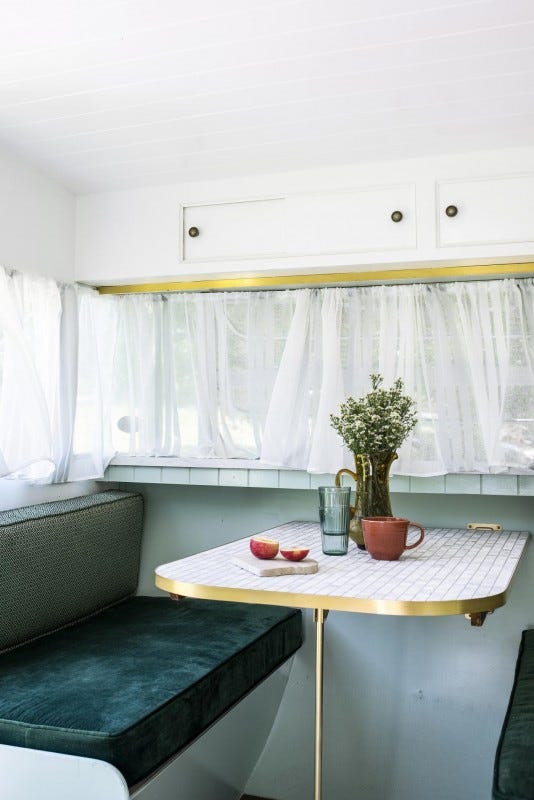 Its all in the details...that upholstery, mosaic tiles and brass fittings complement each other perfectly.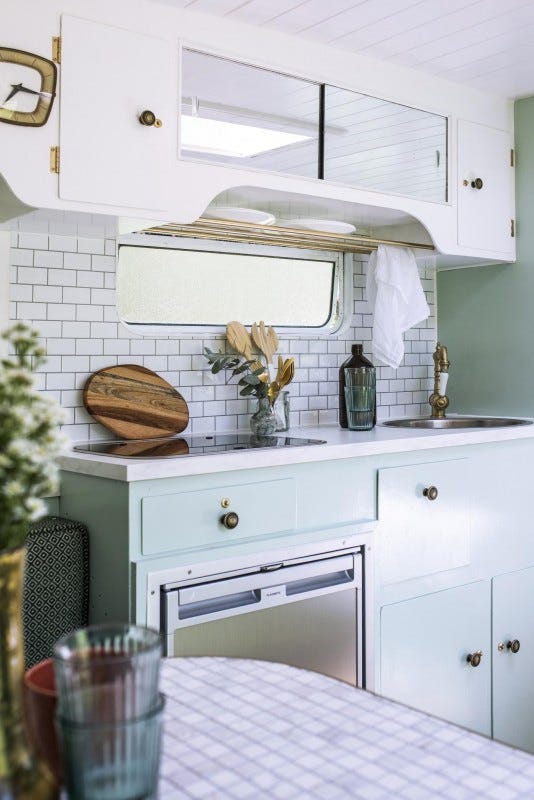 Bringing a little of the bush inside the van to complete the stunning interior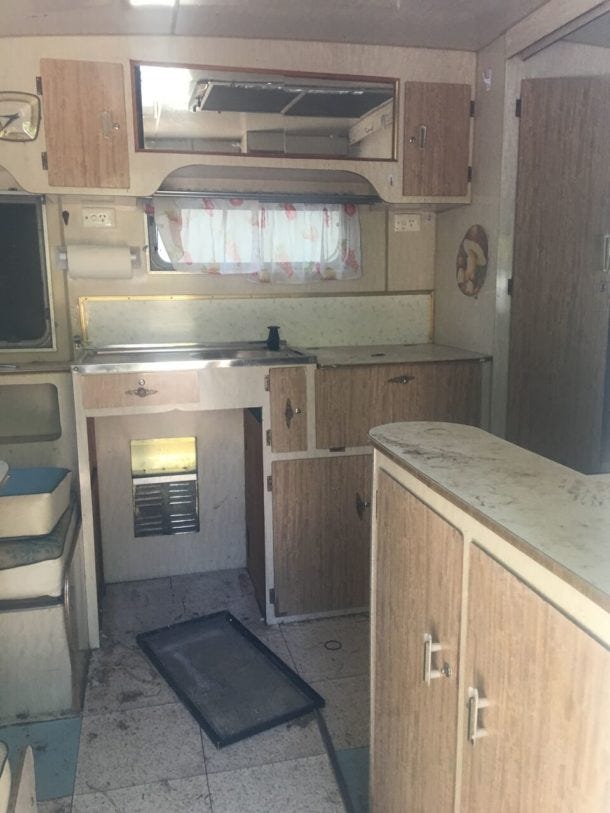 The interior prior to the amazing transformation!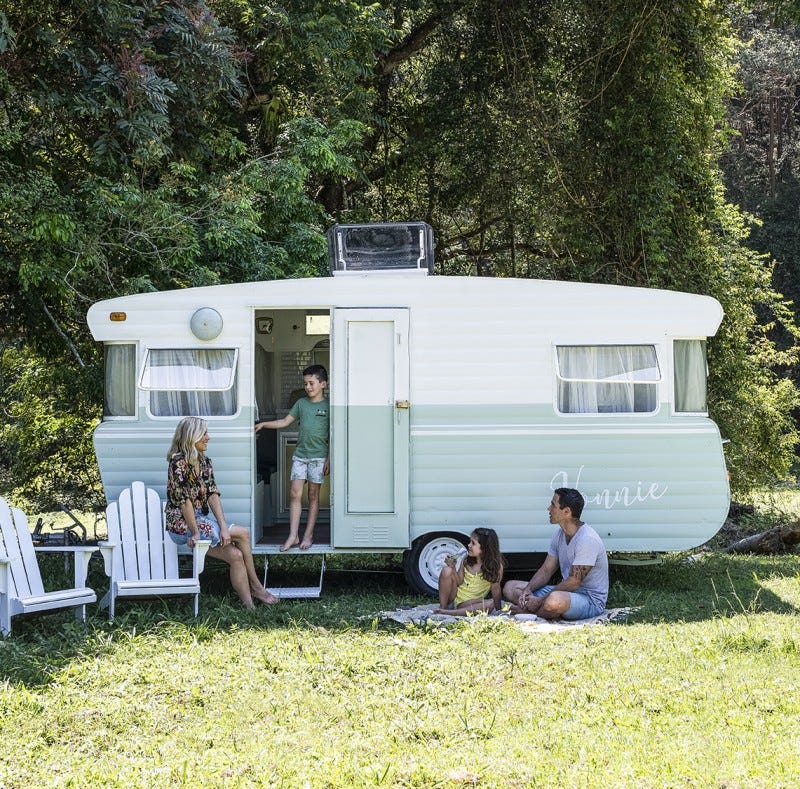 These guys suit van life - perfection!
Photography: Mindi Cooke courtesy of Cedar and Suede
Read more about their caravan reno journey on Michael and Carlene's blog
Did you like this blog? Subscribe to our newsletter to be the first to receive news from The Block! Subscribe now to receive $20 off your next order.