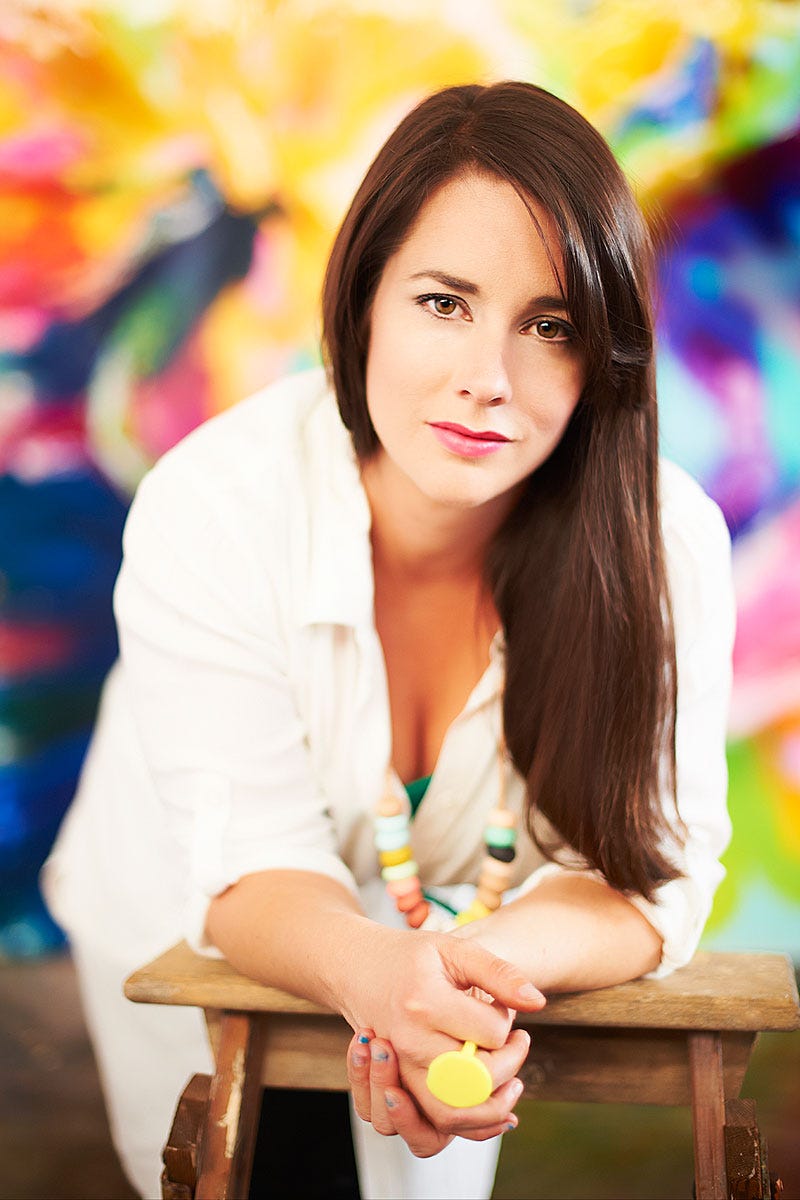 Her artworks have inspired The Block this season and viewers at home are flocking to The Block Shop to purchase her original works, so we thought we'd sit down with Victorian artist Megan Weston to chat about her work, and, of course, renovations.
She's been following Fans V Faves closely, and having seen the physically demanding challenges and renovations our couples endure, we have to ask her, would she ever consider signing on as a contestant?
"Yes." Megan's answer is emphatic, short and sweet. "Wait, do you need me to say more?" she adds with a laugh.
The same way her artworks can brighten a room, so too can her infectious personality.
Megan had her taste of life on The Block when Brad and Dale commissioned her, at the last minute, to produce a stunning artwork for their kitchen.
"I did not sleep for a week," Megan says. "I was there the Monday to measure up, and I had to have the frame made onsite in the studio, because we didn't have enough time to organise logistics… Let's just say it's a process and timing is everything."
The final piece weighed 80-100kg (you can forgive her for not finding the time to weigh it exactly), and the labour of love didn't go unnoticed, the judges gave the artwork the thumbs-up.
It was a dream realised for the coastal artist, and now that she's had a taste of Room Reveal success, Megan wants the chance to come on for real, partnering up with husband, Dan.
She laughs as she explains, "I'd be the biggest pain to work with because I'm a bit of a procrastinator.
"We have conflicting tastes… sometimes. But I've trained him well, so I tend to get my own way," she jokes.
We ask if she thinks they'd be good enough to win, but she's not letting the cart get before the horse.
"Let's get chosen to be on, first," Megan laughs.
But it isn't that unrealistic. She and her brickie husband Dan built a house she personally designed, and we reckon that with her artistic talents and his renovation skills, they'd be the next powerhouse <i>Block</i> couple.
But right now, her art is her life.
"An artist has no days off," she admits with a smile.
And the Barwon Heads-based artist's hard work is paying off. Her contemporary pieces are among The Block Shop's highest selling items.
"I draw my inspiration from aerial photographs," she says. "I fly with my friend who's a pilot and I take the photos. He takes some too… which is kind of scary because he can't fly the plane when he's got his camera."
Browse her collection and you'll agree, the results are staggering. Megan knows better than anybody just how far artwork can go in transforming a space.
It is important, she says, to cultivate a positive energy.
"Art can create a feeling for a room, and it's very important when selecting a piece that you are aware of what you're trying to achieve, where you want it situated, and the colour scheme of the furnishings you'll be using in the room," Megan reveals for all aspiring stylists.
"Blank walls are criminal, art will prevail!"
If you have any criminally blank walls, a selection of Megan Weston originals are now available to purchase on The Block Shop.