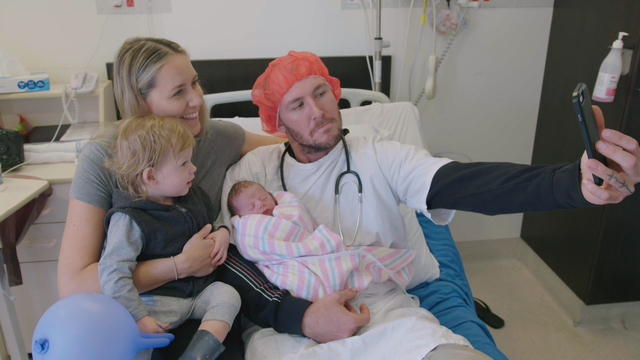 This week marks a momentous occasion - the birth of The Block's very first baby! Yep - FINALLY - we got to meet Sticks and wife Terri's little bundle of joy, Lani Chase. And he's a cracker.
"He's so great," says Sticks, who was flown back to his home town of Sussex Inlet (on New South Wales' south coast) by helicopter for the birth.
Sticks arrived with a few days to spare, after a false alarm which saw Terri head off to the hospital, only to be turned away to wait it out. In the days that past, Sticks got to spend much-needed family time, as they all waited together.
"I actually ended up being a bit early," Sticks explains. "Which was good. Terri was pretty stressed with me being away and everything else - everything was adding up.
"When we went to the hospital, the doctors actually said, 'There is no way your body will ever let you go into labour while you are stressing.'
"So she went home, and we had a day or two to chill out. "
The couple spent time playing with Sticks' one year-old son, Kanoa, taking walks to the nearby beach to try to speed up the labour.
"We ended up going down the beach, with Kanoa and the dogs. And as soon as she chilled out a bit, that's when it started happening," says Sticks.
Thankfully the birth went smoothly, and just a short time after Room Reveal - which Sticks was remotely watching, via ipad from his home - little Lani, which means 'blue sky' in Hawaiian, was born.
All is going well, and little Kanoa is now relishing his role as big brother.
"Kanoa is a legend. He loves it," says Sticks. "He is not jealous at all - he wants to cuddle him, and muck around.
"He's such a little dude now."
But there wasn't too much time to float around in that gorgeous 'baby bubble' for long - the next day, Sticks winging his way back to Elsternwick. Everyone was eagerly awaiting his arrival - especially Hannah, who admits she was super excited to hear about Sticks' big news.
"It was the best news - we were all so, so excited," she says. "It's such a beautiful time in life, when a new baby enters the world. I think Sticks will be such a great dad."
So was it hard to say goodbye to Terri and the kids?
"I was hard, but I'm in this whole mindset," Sticks says. "And, [luckily], Terri's always been really supportive.
"A lot can come from The Block. Terri's been really understanding about the whole thing. "She is a good egg - don't tell her I said that."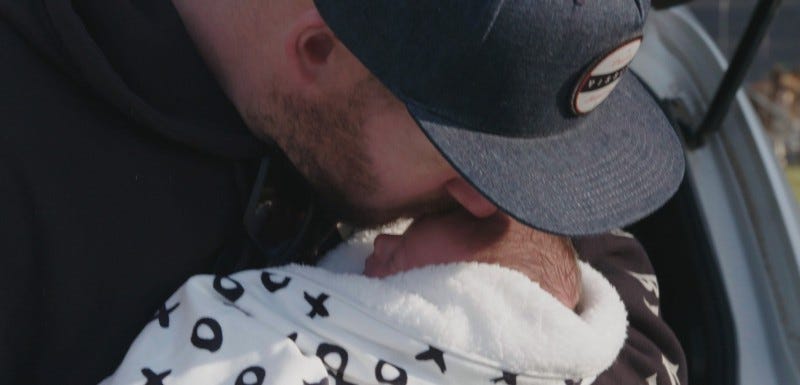 Did you like this blog? Subscribe to our newsletter to be the first to receive news from The Block! Subscribe now to receive $20 off your next order.