Whatever you do, don't underestimate this feisty couple from NSW.
Hayden and Sara, Newlywed parents from the Shire with their eye on the prize!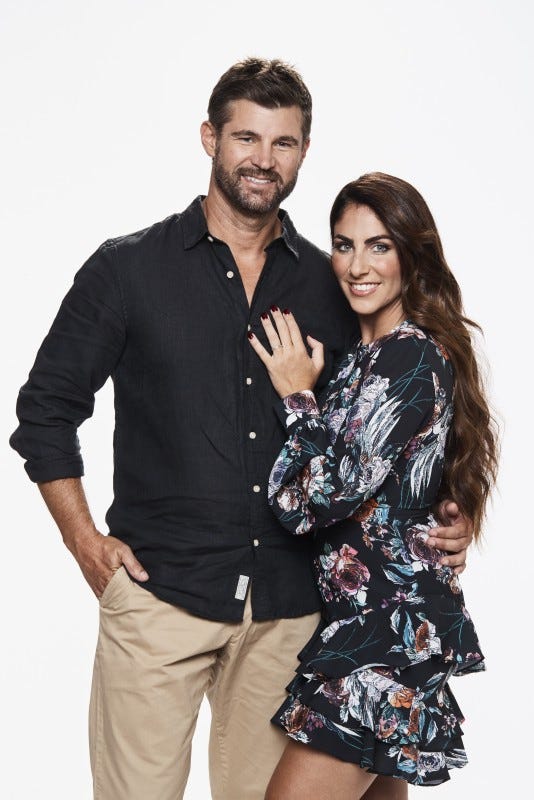 Experience Level:
While Sara might never have worked on a building site before, new hubbie Hayden has over twenty years experience as a project manager in construction. He'll have no problems steering the ship - if he can get a word in...

Hayden, 45
Construction Project Manager

Laid-back Sutherland Shire native Hayden might look like your average knock-about tradie. But don't let his relaxed demeanor fool you - this is a man on a mission: to get ahead, give his young family the best possible start and have stacks of fun along the way.
As well as working as a project manager on construction sites, Hayden also moonlights as a professional photographer, his surf photos, interior shots and portraits appearing in a host of magazines and advertising campaigns.
He also once did a mate a favour and modelled in a Bisley workwear catalogue - with none other than our own Scotty Cam!
Fresh from his December honeymoon with Sara, Hayden is looking forward to bringing his construction know-how to The Gatwick - this time with his new wife in tow.
"The whole experience is going to be pretty amazing," he says. "Hopefully we can win some money and build our house."

Sara, 31
Former flight attendant, now stay-at-home mum

Sara might be small - but she sure is mighty. Unafraid to speak her mind, and brimming with enthusiasm, it's hard not to get swept along when this former stewardess is in full flight.
"It was my idea to apply for the show," says Sara, who admits she's in the driving seat when it comes to organising their lives.
"We had never applied before. But I kept saying to Hayden that we should do it.
"This year everything fell into place - if we had done it last year, we would have had a newborn. And next year, hopefully, I will be pregnant again, so the timing was perfect."
Mum to Harlow, 14 months, Sara has barely stood still since the couple's wedding last October.
And the other contestants had better watch out - The Block is next on her 'To Do' list.
Together

Get ready for fireworks as these feisty young parents from Sydney's Sutherland Shire go all-out for Block glory.
"I think we might slightly butt heads," Sara admits. "Because Hayden will want his input, and it will be great, but at the same time - don't take my job away from me!
"Just say yes to everything!"
This driven couple, who married in October last year, are no strangers to renovation.
As well as recently overhauling an investment property in Sydney's Eastern suburbs, they also own a beach-side home in the southern fringe suburb of Stanwell Park, which they're about to completely rebuild.
"I grew up surfing along that coast, and there was an opportunity to buy something about four years ago for a reasonable price, with an amazing outlook," Hayden explains.
"It really was the worst house in the best street. We put in a DA and I was about to start it this week - but now we're on the show!"
Although the couple are over the moon to have been handed the opportunity to compete on The Block, they know they'll miss their little one.
"We missed her heaps on our honeymoon," Sara admits. "By the end of it I was like, 'Right, I want to go home, and I want to see her - and that was after a week!
"I don't know how we'll go for three months."
But this driven couple are playing a long game.
"This could change everything," Sara explains. "What I love about Hayden is what he does for our family. I love that he is such a great dad. But all jokes aside, there's this serious side to him too - and that's what I love.
"He's going to give this his all - we have a game plan."
"Sara is such good fun, and energetic, and a great mum. And now we have our little Harlow - hopefully this will mean we can expand on that," Hayden adds.
"And hopefully win some money to build our house."
Did you like this blog? Subscribe to our newsletter to be the first to receive news from The Block! Subscribe now to receive $20 off your next order.