Watch out Melbourne - Hurricane Jess and Norm is heading south!
We sat down with the loveable couple from QLD to find out what makes them tick.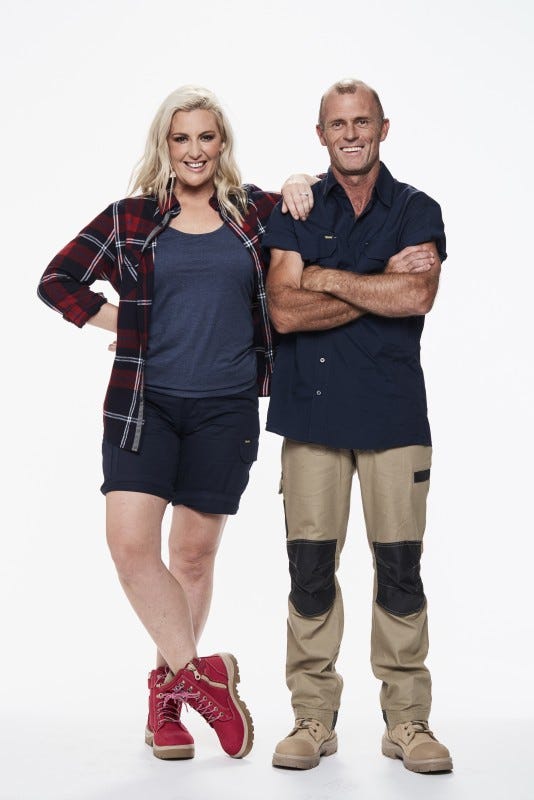 Experience Level:
There's not much builder Norm won't try his hand at - but will The Gatwick get the better of this country couple from Queensland? Not if Norm's apprentice wife Jess has anything to do with it. It's safe to say The Block hasn't seen anything like this couple of kidders from QLD.
Norm, 40
Builder

When Scott Cam first found out fellow builder Norm was on The Block, he welcomed him as one of his own. "He goes, 'So Norm, you and I are from the same vintage.' And I had to say, 'Hang on a second mate - I only turned 40 last month!'' laughs young-at-heart, old-of-face Norm.
A builder by trade - he runs his company, 'Mr Build,' from his home base - he's keen to get stuck into The Gatwick, and knows he'll be right at home amongst the dirt and rubble. And work site politics? No worries. "I have a zero dickheads tolerance," he says.
Engaged to fiance Jess, his equal in every way, he's looking forward to getting stuck into this project as a double act - that's if they can get past the first 24 hours working together. Last time they joined forces on a building site, Norm sacked his rookie apprentice before the day was out!
"I fired her for putting the screws in crooked," Norm admits.
"He forgets I'm his partner and not his apprentice," Jess laughs. "He told me to get off site!"
Jess, 33
Breakfast radio host

Master storyteller, good time girl, one-time national lawn bowls champion and all round top chick Jess might be Mum to two small children - Freddie, four and Matilda, one - but this jill-of-all-trades wears many hats. Along with juggling breakfast radio hosting duties for the Sunshine Coast's Sea 91.9, Jess also recently launched her own online childcare support service.
"It's called Sick Sit. So when your child has a cold, or the flu and you can't go to work, we have the most beautiful tribe of women who are on call to look after the kids, clean and cook dinner, so you don't have to take the day off," Jess says.
This pocket dynamo hasn't always had it easy though - growing up in country Victoria, her family weren't well off, and she had no electricity until she was 18.
Needless to say, as an adult she's super resourceful and a dab hand at making her own fun - and she intends to have stacks of it at The Gatwick.
Contestants - you've been warned.

Together

This hubbie and wife team don't mind getting their hands dirty. But will builder's Norm's apprentice wife Jess have what it takes to tough it out on a work site? Or will their Block journey be over before it's even begun? Not likely.
These battlers from Queensland haven't met a challenge they've not had the tenacity to overcome - and they intend to give The Block their all.
"Winning money would be life-changing for us, and our family," says Jess, who admits she'd divvy up any winnings between the two sides of their family - and save a little for themselves.
"Right now we're too broke to get married," she says. "And we want to have another baby, but financially it's just not possible.
"So if we do do well, we'll have another - and we've already promised that if it's a boy, we'll name him Scotty!"
These starry-eyed Block fans are two peas in a pod, and it was love at first sight when they first laid eyes on one another five and a half years ago - outside their local pizza shop. "Norm was sitting in the gutter eating pizza," says ever-the-romantic, Jess. "I was like 'Dude, give me some of that.' And he was like, 'Only if you give me your number'
"Twenty minutes later - we were making out."
The life and soul of every party, this couple shine bright wherever they go. But that's not to say they haven't had their share of tough times. In 2014, they were hit hard when Jess suffered post-natal depression after the birth of their first child, Freddie.
"It was a really tough time - but Norm was amazing," says Jess, who is now using the experience as motivation for her child support business.
"You jump in and pitch in and do what you have got to do," says Norm. "It was a tough time, but we came out the other end with it all good."
And they know they'll have what it takes to get through The Block as a team. "We have always wanted to go on," Jess admits. "But things like this don't happen to people like us. "It's just - we would never have imagined this happening in a million years!"
"We don't even win the meat raffle at the pub," says Norm.
Did you like this blog? Subscribe to our newsletter to be the first to receive news from The Block! Subscribe now to receive $20 off your next order.