Expect big things from this couple from South Australia. Kerrie and Spence are the ones to watch.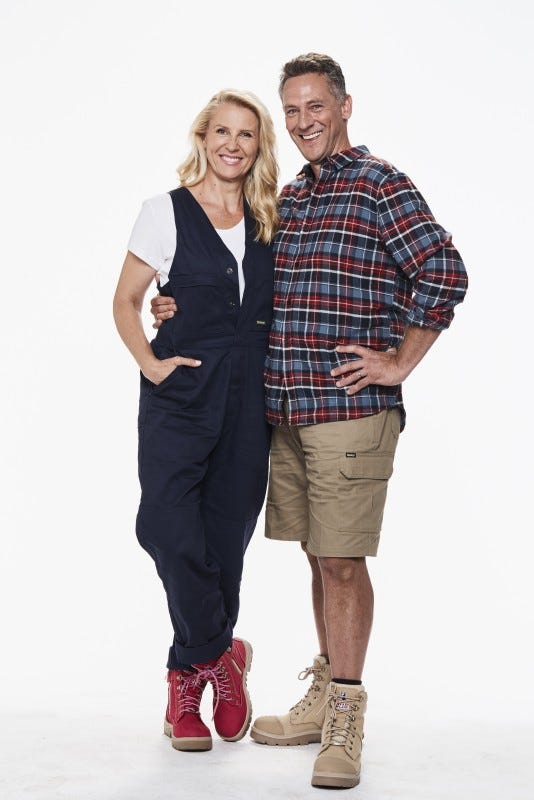 Experience Level:
This husband and wife might just be the most experienced contestants the show has ever seen. An unstoppable renovating duo, they've already had their home featured on Grand Designs - and they can't wait to showcase their skills via The Gatwick.
Spence, 46
Prestige Builder

Spence, a high-end residential chippie by trade, knows a thing or two about the finer things in life. A lover of good food and wine - at one point he had a cool 1000 bottles in his collection - he's dedicated his career to working on prestige builds.
He recently completed his own dream project, a total re-imagining of a property in Victoria, featured in the acclaimed architecture magazine, Grand Designs.
In 2015 he and wife Kerry relocated from Victoria to the Barossa Valley, where they bought a bed and breakfast set on 42 acres, situated adjacent to the property owned by local food hero, Maggie Beer, which they operated until this year.
"We had this idea of retiring in Barossa, because it is the most amazing place," he explains.
But a quiet life amongst the vines will have to wait, as Spence dons his toolbelt one last time for the ultimate challenge - The Block.
Kerrie, 48
Nurse

An extreme sports/adventure addict, there's not a lot Kerrie hasn't tried her hand at. Whether it's skydiving, motorbike riding, or even body sculpting (that's bodybuilding, to the uninitiated), this ambitious go-getter is a force to be reckoned with.
Life has slowed considerably for Kerrie, a trained theatre nurse, in recent years. The couple have recently closed a successful bed and breakfast business in the Barossa Valley, but that doesn't mean she's been sitting still - Kerrie is still doing shifts at the local hospital.
A pragmatist and optimist, Kerrie is prepared to give The Block her all. "I prepare for the worst, and hope for the best," she says.
Together

Life has moved at a breakneck pace the past couple of years for this loving couple, who met later in life, unwittingly set up on a blind date by mutual friends.
Both happily single at the time, the last thing they expected was to find love - but life has a funny way of turning even the best-laid plans upside down.
"We met later in life," Kerrie explains. "I was a happy, crazy old dog lady, who'd never been married. "I'm still a crazy, old dog lady - just with a husband now!"
The couple, who have two gorgeous dogs together, mastiff-crosses, Chilli and Ted, have been catching their breath ever since. "It all happened super quick," Spence adds. "Within three months we had bought a house together, done a trip overseas together, and started renovating," says Spence.
In 2015, exhausted by their pace of life - and from their joint, award-winning renovation project - they decided to up stumps and relocate to South Australia's Barossa Valley, where they've thrown their drive and determination into running The Paddocks Bed and Breakfast.
While Kerrie oversees the house, Spence keeps busy on the property, tending to the couple's olive grove, and working on his very first wine vintage.
The lure of The Block was too much for this secretly ambitious couple, who admit they have troubles sitting still for long. "We'll give anything a mighty nudge," Spence says. "I can't wait to do something really amazing and that stands out - we've got a game plan." They just need to remember to stay on the same page.

"Spence gets defensive, because he is a delicate soul," Kerrie admits. "He thinks I am having a go at him, when I'm not. I'm just wanting to get to the point - abruptly. And I am impatient."
The perfect foil for her feistiness, laid-back Spence intends to keep the peace. "He is very good at making and maintaining friendships. And I am more fiery and more competitive," Kerrie says. "If anyone will get road rage - it's me."
"There will be a spinoff show with Kerry just driving," Spence says.
Did you like this blog? Subscribe to our newsletter to be the first to receive news from The Block! Subscribe now to receive $20 off your next order.