Block Shop Manager Extraordinaire

'Harrie' as she's known to us all, started working for our Block Shop pop-up in St Kilda just before the show began filming earlier this year. This meant she was front and centre as the renovations - and the dramas - went down! We get the inside scoop from our 'Manager With The Mostest'...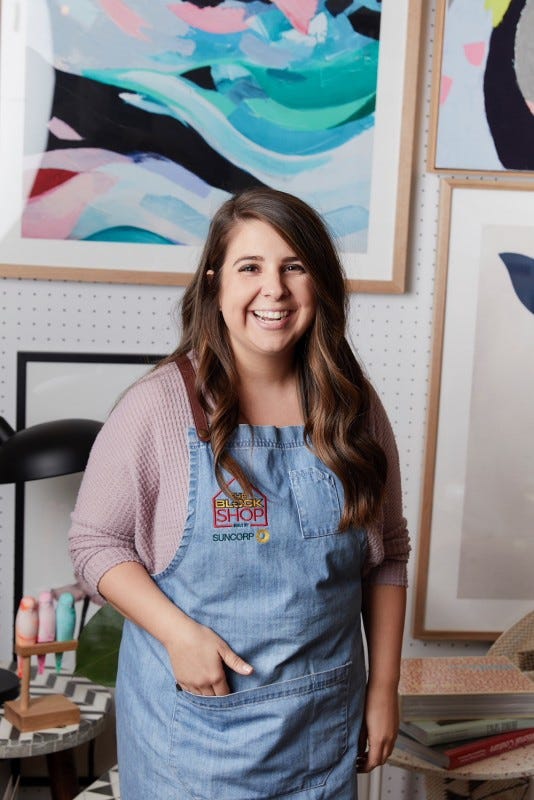 How did you come to work at The Block Shop?
I was almost at the end of my course at Design School in Abbotsford, founded by former Block contestant Jenna Densten. Being a primary school teacher at the time, I was marking spelling tests when I saw a message come in from Jenna giving me the heads up that The Block Shop team were going to get in contact with me about a possible job opportunity. For me it was a no brainer - I took a leap of faith and quit my teaching job and the rest is history!
Were you a big fan of the show before?
I sure was! My family and I are big fans of the show. I have watched every season except for 2015 and 2016, which was when I was living in London.

Who are your favourite contestants?
Oh this is a tough question! I'm a big fan of Kyal and Kara's work. And to be honest, their all round cool personas - I wanna be mates with them! I also loved Michael and Carlene's style. And, obviously, I LOVE Josh and Jenna (for hooking me up with this gig. Haha!)

What is your favourite, ever, Block room reveal?
Kyal and Kara's Kitchen in 2014 (Fans v Faves). For me, this is the perfect mix of industrial meeting modern. So many of the kitchens we see on the Block are HUGE, but I've picked this one as my favourite as it feels well appointment and honest, as well as functional. The exposed brick and timber make it feel homely and cosy, and it's a place where I'd love to get my cook on with the family.
How stressful was it getting the shop ready for the opening, as seen on this week's show?
The weeks leading up to it were surprisingly calm - it was the day or so before that got super hectic. It felt like an episode of The Block itself! We had so much stock arriving the week of the launch, there were boxes EVERYWHERE and trades working on top of each other. The day of the launch it was all hands on deck to get everything done before 6pm "tools down", which was when our guests started arriving!
Over the series, which contestants did you become closest to?
Ohhh this is another toughy! We all became good friends by the end, but I'd have to say Courtney and I became very good buddies, because we probably spent the most time together. She is known to be indecisive, and spent most of her time in the shop deliberating over products, going back and forth, returning items and rebuying them! She is also just as nutty as me, so we got along quite well in that sense - there was lots of breaking into song and dance together in times of stress rather than making decisions!
​
When advising the contestants on purchasing decisions, what types of things did you take into account?
We always took into account the history of The Gatwick, and the quirkiness of St Kilda. We tried to advise contestants to go bold, and not play it too safe - you will see lots of eclectic and quirky Block Shop products in this series!
So spill - is Scotty Cam really as lovely as he comes across on TV?!
YES! He is lovely, and always has time for a chat (and a beer!). He is also one of our Block Shop VIP's - he's purchased lots of goodies from us.
Stop by and have a browse at either of our flagship stores open now in Pitt St, Sydney and St Kilda, Melbourne.
Did you like this blog? Subscribe to our newsletter to be the first to receive news from The Block! Subscribe now to receive $20 off your next order.