Refined, elegant, sophisticated in a word - luxe.

These are the hallmarks that distinguish an otherwise good room reveal from one that oozes uncompromising excellence. In the world that is The Block, it's easy to miss the people and their products that transform the ordinary into the extraordinary. Sydney based artist Celeste Wrona is one such person, so it comes as no surprise that her work has featured in two series of The Block.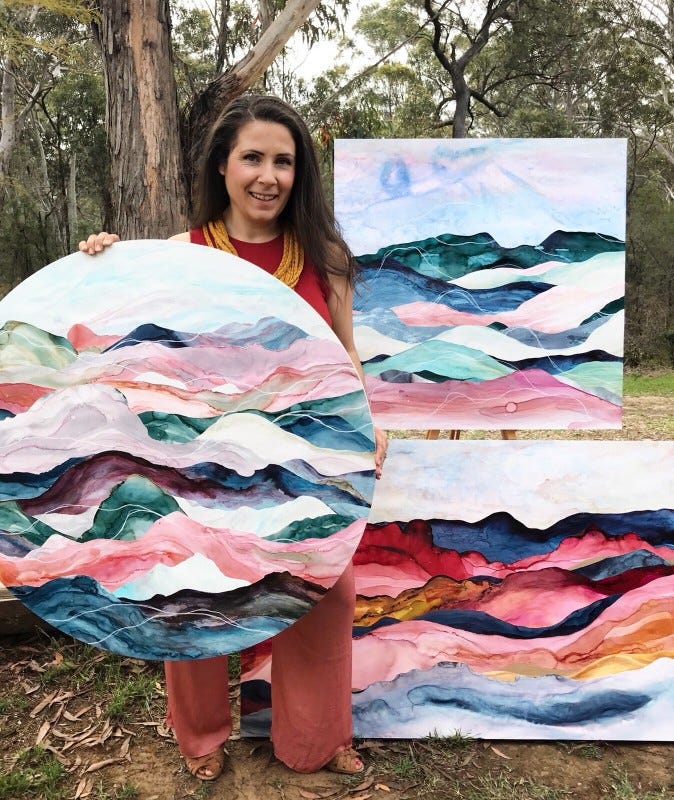 Sydney based artist Celeste Wrona with some of the exciting new collection 'Awaken'.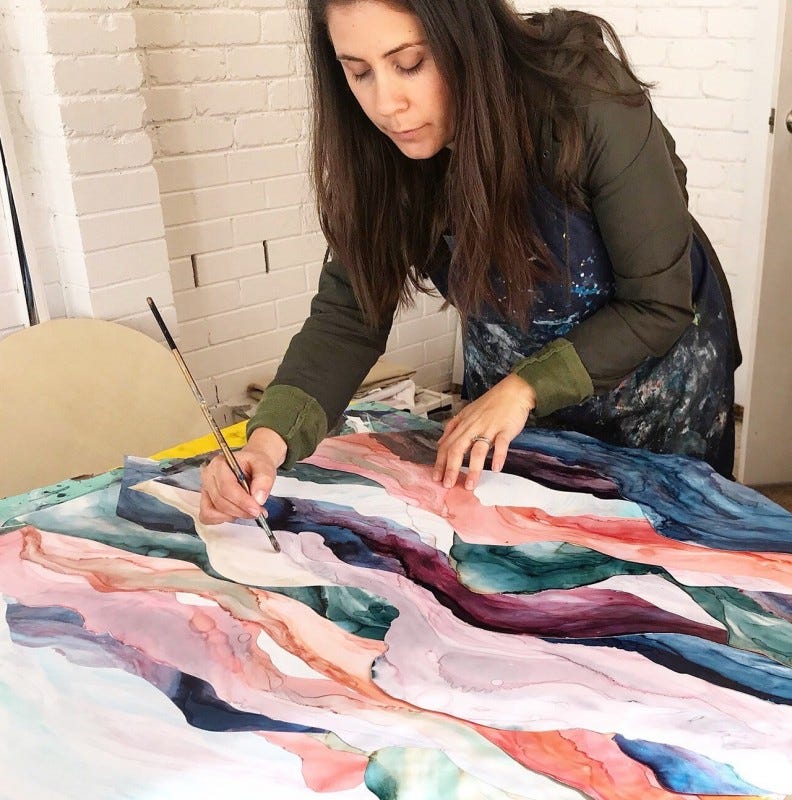 Artist Celste Wrona with the new Awaken range in the making.
Having taught and successfully created art for over a decade, Sydney-based artist Celeste Wrona has only recently expanded her talents into the commercial art scene. In a short time, she's taken it by storm, winning awards for excellence in national and international art exhibitions, being sought out for numerous bespoke commercial fit outs across Sydney and Melbourne (including a three-story artwork within a glass elevator) and her stunningly creative works have added some serious wow-factor to The Block— twice.
Celeste's stunning 'Drifting III' makes the perfect statement in Bianca and Carla's hallway.
Bianca and Carla were blown away by Celeste's originality and breathtaking imagery when they chose her limited-edition print Drifting III for their 2018 hallway reveal. An artwork Celeste describes as "vibrant, strong and punchy," it's no wonder the girls wanted it in the Gatwick penthouse. And the judges agreed, raving that "everything in the girls' hallway was perfect."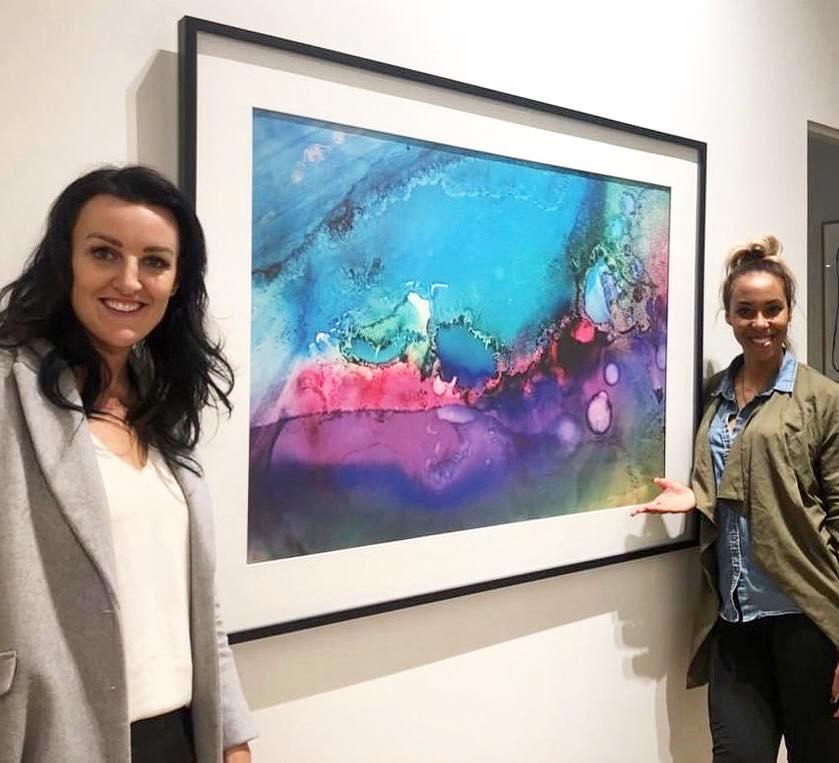 Bianca and Carla loving their vibrant art choice 'Drifting III' by Celeste.
In 2016, Celeste's work Release II featured in Chris and Kim's winning master bedroom reveal, which Neale Whitaker believed to be the best master bedroom in Block history — something which still humbles Celeste to this day.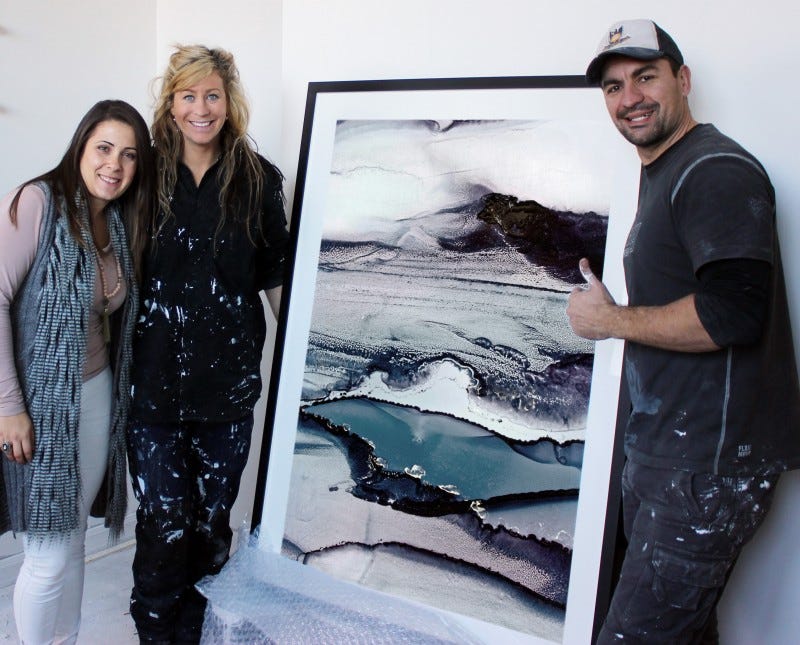 Celeste pictured with Chris and Kim from The Block 2016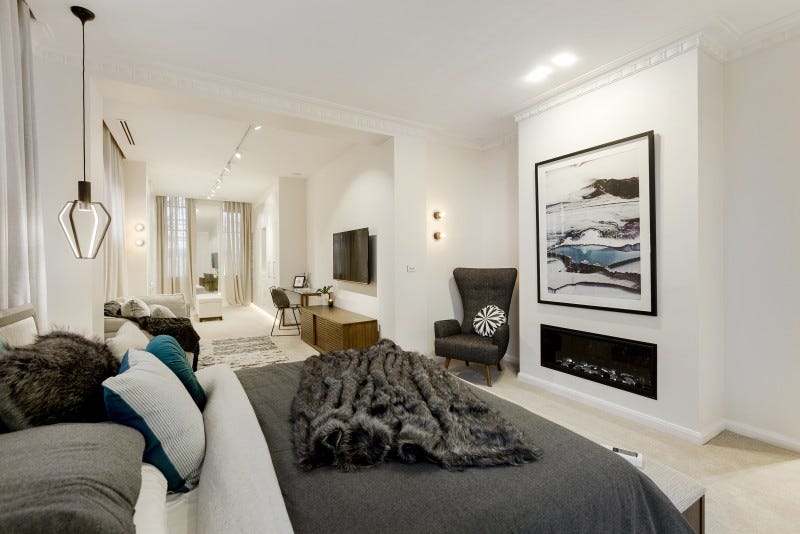 'Release II' as seen in Chris and Kim's massive winning master bedroom.
The quality, diversity and appeal in Celeste's contemporary collection is remarkable. Her works are an imagination's playground. Curious, reflective, nostalgic like the ink that she has dragged and tamed with an unassuming control around the paper. Celeste's creations have that 'wow factor' capable of transforming a room and get people talking for all the right reasons.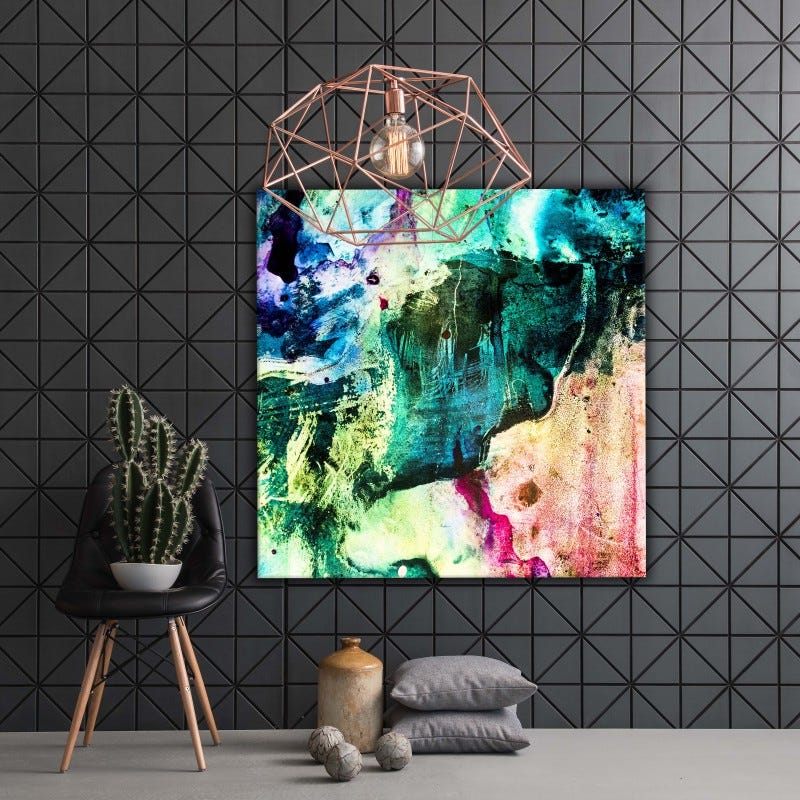 'Pandora III' limited edition print by Celeste Wrona.
Reflecting on her exciting "soon to be released" new collection, Celeste, a mother of two boys, can't help but see the parallels between her personal life and professional offerings. "In the past, I'd describe my work as bright and energetic which reminds me of my oldest son," she says. "My latest collection is a bit more mellow, gentle and muted with deep tones, and I wonder if my youngest son is influencing me. My children are my muses."
She also credits her family for keeping things real amid all of her professional accomplishments: "At the end of a long day, all the success in the world can mean nothing to a 5-year-old or a tired baby," says Celeste. "They keep me grounded."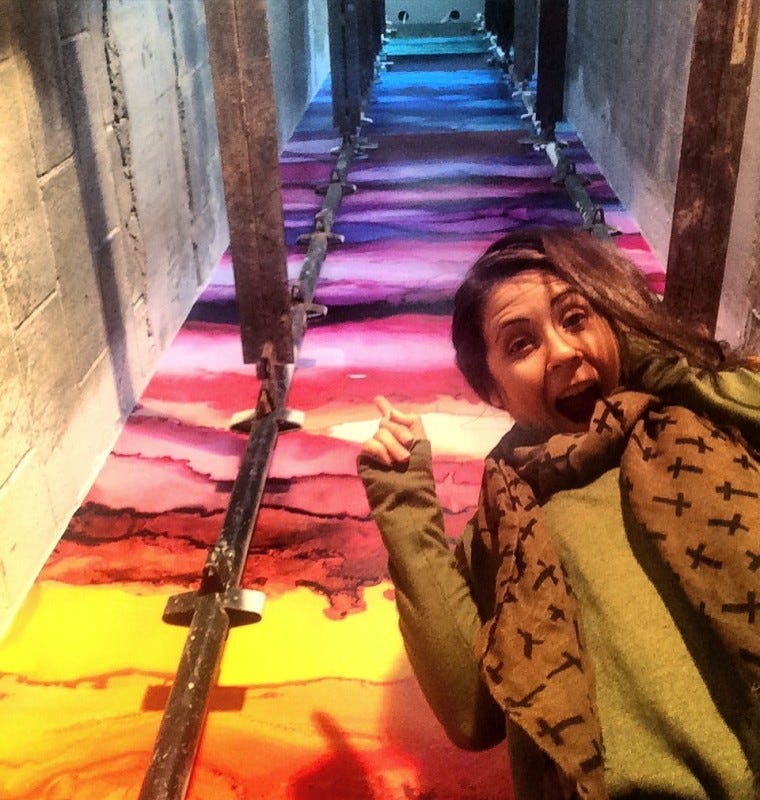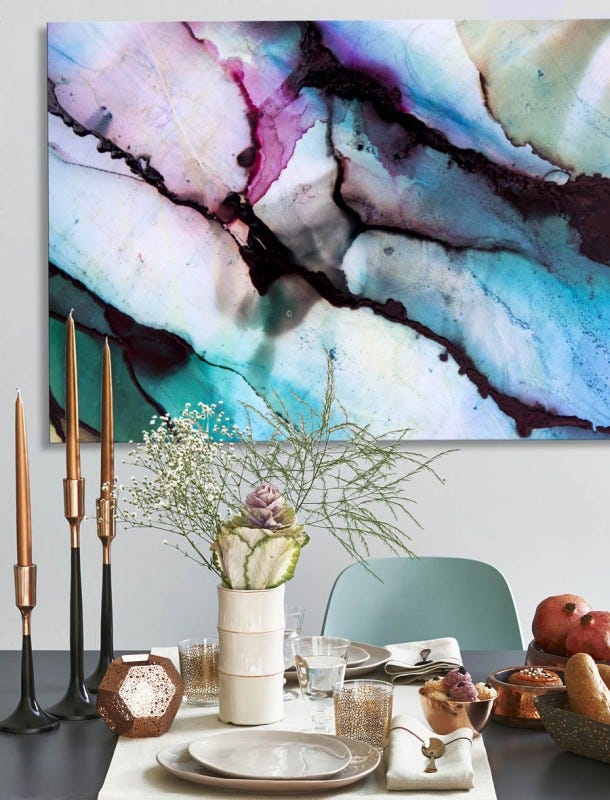 'Exhale II' limited edition print by Celeste.
The complete collection of Celeste's artworks can be viewed HERE including original pieces, limited edition prints are also available in various sizes and finishes.
For an even closer look, Celeste's latest collection will be on show at her upcoming Awaken exhibition at Gauge Gallery in Glebe, Sydney from Nov. 20—Nov. 25, with a Friday night LAUNCH EVENT on Nov. 23. Understanding the long list of sacrifices that parents make, Celeste is passionate about including a celebratory brunch into the exhibit on Nov. 21, specifically welcoming parents with children.
To say thanks to her Block Shop fans, she is giving each registered exhibition attendee a limited edition print from her new range. Click HERE to secure your complimentary ticket.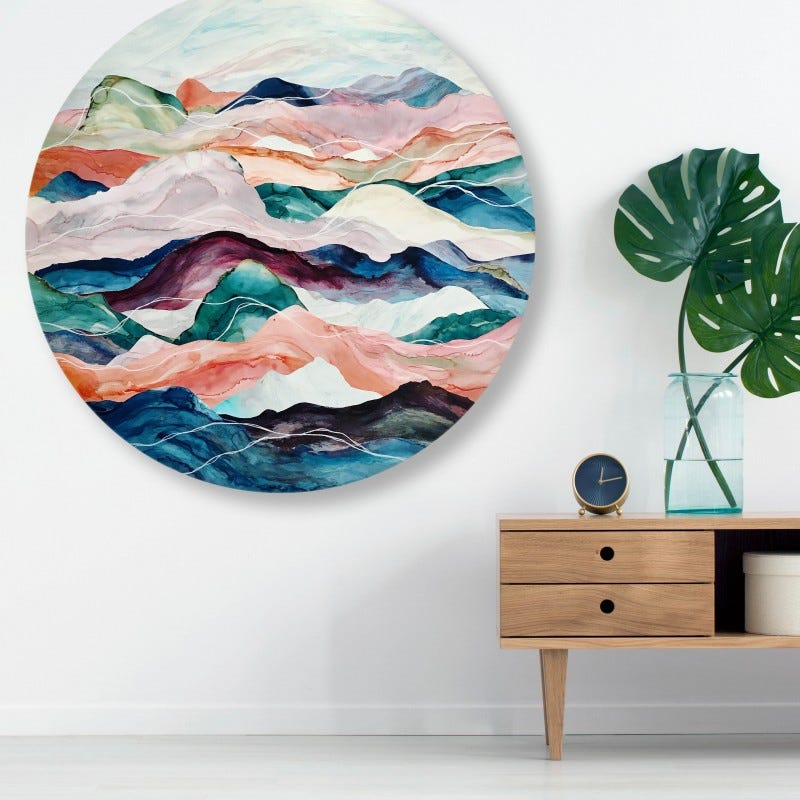 We are lucky to be getting a sneak peak into 'Awaken' Celeste's new collection launching in November at Gauge Gallery in Glebe, Sydney. You can pre-order this stunning print now at The Block Shop.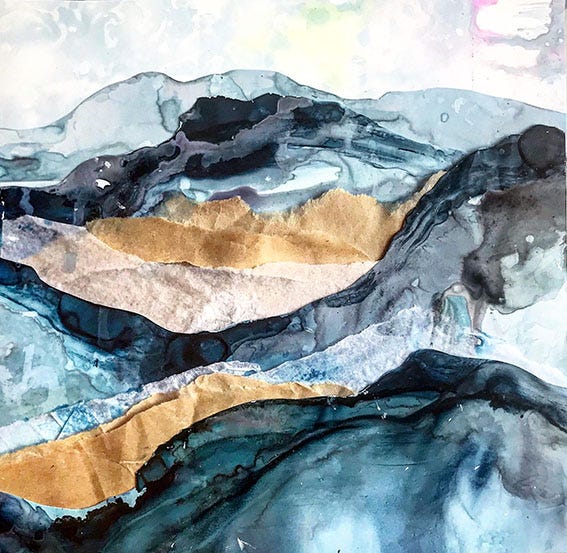 A sneak peak into Celeste's new Awaken collection available for pre-order now at The Block Shop.
Did you like this blog? Subscribe to our newsletter to be the first to receive news from The Block! Subscribe now to receive $20 off your next order.