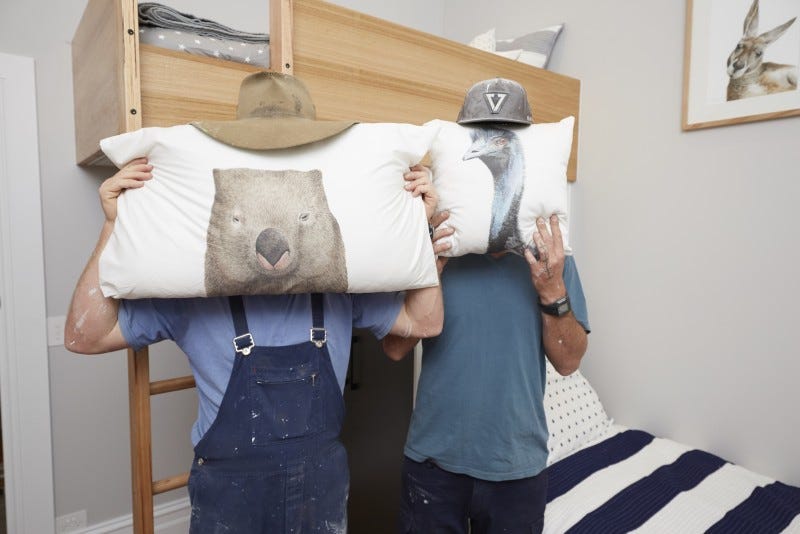 Love Sticks and Wombat's gorgeous animal prints and pillow cases? Us too! We chat to their creator, Daniella Leo - Dee to her friends - about how she started creating her gorgeous line of prints, For Me By Dee.
SaveSaveSaveSaveSaveSave
How did the inspiration come about for your prints?
Before I started painting animals, I was working as a graphic designer, but I really didn't like it. I really didn't want to be there - I was always more hands-on; more creative, and I didn't like being always in front of a computer. So I started seeing a business coach, who was more like a life coach, and she suggested I start doing something that I really liked to do.
And that was drawing?
Yes. But I hadn't drawn in ages. I went home that night and I started drawing a giraffe - of all things. I think, because, he brought happiness, and was something completely different to what I was doing in my day job. I showed my housemates and they were like, 'Oh my god! I love him! What else are you going to do?' So I was like, 'This is kind of fun,' and that's how it started.
Is that giraffe picture the one you now sell through your range?
Yeah, that's him! That's Toby the Giraffe. The first print I ever created - and he's been the most popular.
Do you name all your animal designs?
Yes, they're all named. And they've all got little personalities. I ask my Instagram followers to help me, and they get involved, which is so nice. They have all got a little story as well, on the website. And it's funny, because Wombat, he was obviously attracted to the Wombat because of his name, and that's what most people are like. I do these big markets and trade shows, and everyone always compares the animals to themselves, or a friend or family member.  
Do you have animals at home?
I have got a dog. His name is Riggs, and he is a Hungarian Vizsla.
Have you drawn him?
Not yet. I keep saying he can't afford a portrait yet! Because, I do pet portraits as well. I actually did one for Sticks and Wombat.  
Did you draw Sticks' dog, Tank?
Yeah. I was talking to Wombat, and he said, 'I've seen that you do pet portraits. We would love to get one of Sticks' dog done.' I was thinking it was for later on, but he said, 'How is getting it by Saturday?' This is what I do full time, but generally I allow myself four weeks to complete the pet portrait. And I just said, 'I can do it. But you need to send me a photo now.' He said, 'No, that's fine - Sticks is a photographer!' So that was a relief, because some of the photos I get through are really quite questionable. But his was great!
Your animal pictures have been featured on the show before, right?
Yes. I think Josh and Jenna, they used the kangaroo. And Gilbert, my French Bulldog, was featured in another series - it hung in Ayden & Jess's dining room in 2015's Triple Threat.
Your little animals are getting quite famous!
I know, I'm becoming a little Blockhead! After Gilbert was featured, we had a market, and everyone was walking past, pointing at the dog, saying, 'Was he just on TV?' And I'm like, 'That's the one!' He's a celebrity!
Did you like this blog? Subscribe to our newsletter to be the first to receive news from The Block! And subscribe now to receive $20 off your next order.