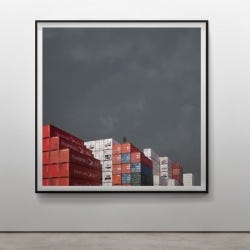 With only one point separating the top three couples, it was the closest week of The Block: Fans V Faves so far, and Kyal and Kara are stoked to have finally won a Room Reveal.
"It was a big relief," Kara tells us. "Bathroom Week was a wakeup call. Receiving such negative feedback hit home: we needed to step our game up."
Last week, Kyal and Kara were panned by the judges. They walked away with the wooden spoon and had no intention of repeating that performance this week.
"We're competitive, and we had to show everyone what we could do. So, immediately after bathroom judging, we started planning."
And their plans paid off. The Fans pipped equal-seconds Alisa and Lysandra and Chantelle and Steve at the post with a luxurious second bedroom with an industrial influence – a room with curtains that pull on the ground, two timber feature walls, wall-to-ceiling mirrored wardrobes and a stunning piece of art by Lindsay Blamey.
"I was shopping for bedside tables and art and I came across the artwork," Kara says. "I loved the colours and the feel, it was so moody and industrial." "It just really stands out, we became attached to it," Kyal adds.
Feeling attached to it yourself? The artwork is available to purchase now from The Block Shop. It was just the sort of piece they were looking for, and it worked well with the neutral items they'd already purchased for the room. Then it was just a matter of peppering colour references throughout the space – and the judges admired their restraint.
Neale Whitaker could barely contain himself. He thinks they got the balance just right, and demonstrated a clear understanding of the potential buyer.
And that's what counts, after all, every Block decision will have an impact on the result come Auction Day.
The win was a psychological boost for the Fan couple, who despite performing well in Challenges, were finding it hard to compete with the Faves when it mattered: on Room Reveal Sunday. "It was after the first two Room Reveals that we realised they have a huge advantage," Kara says.
Kyal and Kara presented the strongest elimination room in the history of The Block, and after a shaky start, Darren Palmer reckons they've got their mojo back. Kara agrees. "Even before judging, we left the room feeling confident," she says. "We know that even if we get slammed by the judges, if we step away feeling happy, then we know we're on the right track."
The Fans and Faves are pulling out all the stops this season, so if something's caught your eye, browse our virtual shelves and add some wow-factor to your home.