Need stylish storage solutions? Take a leaf from The Block book and talk to the experts
If there's one thing The Block contestants, judges and viewers all agree on, it's wardrobes.
Get it wrong and you wind up with a room that just doesn't do what it's meant to.
But get it right, with anything from compact storage solutions to luxurious walk-in dressing rooms, and you can make a house far more liveable, give it a contemporary facelift and tie the rooms into a cohesive whole.
But where to start if you want to transform your bedroom storage?
Harry and Tash wowed the judges with their glamorous Walk-in robe!
The first place, says Kinsman Wardrobes Design Manager and The Block veteran Phil Ryder, is deciding on the layout.
"The joinery is the first thing people see when they walk into a room," Phil says.
"It really can make a statement in the room, so the layout is absolutely the key thing to think about, what will go where and how the wardrobes will work within that space."
Next, consider what it is you're looking put in the wardrobes, is it clothes that need a pull-down hanging rail, shoes in a pull-out or shoe drawers, display cases for a watch collection or jewellery maybe, drawers for smaller items or larger spaces for suitcases, sporting gear and more.
"Make sure you've got enough storage for all of the items you want to store within that room, not just the clothing," Phil says.
"And consider if you want to perhaps make room for a home office as well. It can all be done if you just have that in mind right from the start."
And then there are the finishes.
"Our customers are able to choose from a lot of different finishes which work well with the rest of the room and the house, such as the linens, the carpets, the paint and the furniture," he adds.
"Get that all right and you're on the way to making the whole house much more liveable"
Another key decision many homeowners will need to keep in mind is the choice of wardrobe door.
For some, the traditional hinged door adds a classic touch they're looking for, but a sliding door can bring the same elegance with the convenience of saving space – ideal for a narrow room.
And for sheer opulence, a walk-in – either with doors or without – will create a storage and dressing solution that's hard to ignore.
The best way to illustrate those possibilities, Phil says, is to look at some of the solutions The Block Brighton's contestants found for their rooms.
Jimmy and Tam's winning Guest Bedroom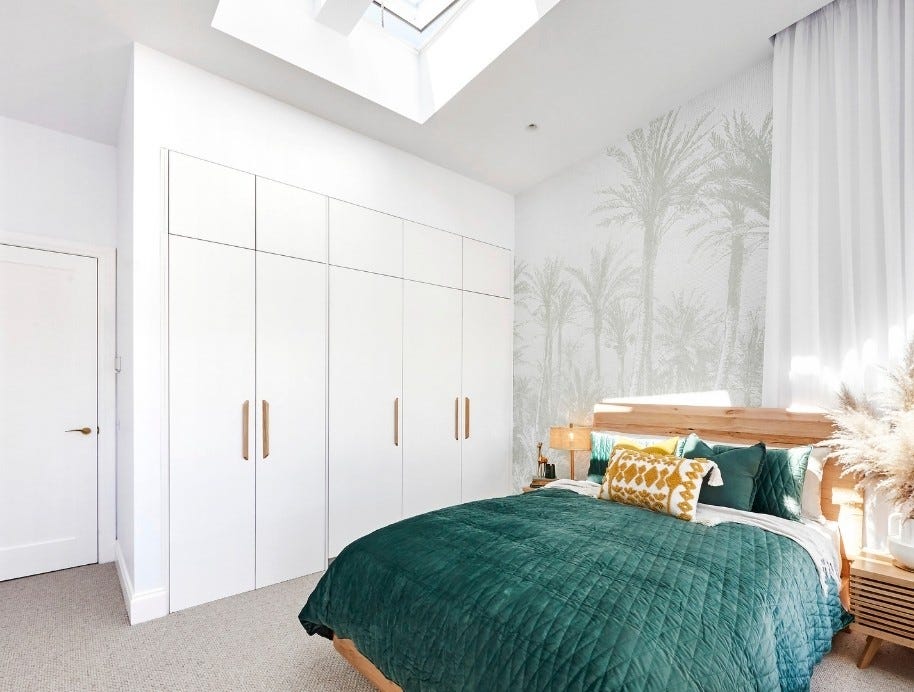 Jimmy and Tam's winning guest bedroom felt like a 1950s beach party according to Shaynna. This was definitely reflected in the neutral and classic robe; the couple balanced White Satin doors and timber-look textures of Modern Oak Natural interiors. Natural Ash handles complete the look by coordinating with the interior tones, a beautifully simple theme.
Taking a look inside the wardrobe, black hanging rails stand out against the light timber adding dramatic accents of dark colour which balances shadows of shelving and storage within the left side of the robe. Besides storage, Jimmy and Tam had functionality in mind and the judges were left impressed… the far-left cabinet doors provide secret access through to the guest room's ensuite.
"But they've integrated that look, so this all reads as one big bank of cabinetry. Again, that's the level of finesse and detailing that I applaud," says Darren.
"Jimmy and Tam wanted to do a really clean look with their joinery here and with a combination of our White Satin doors and the Modern Oak internal it just works really well," Phil adds.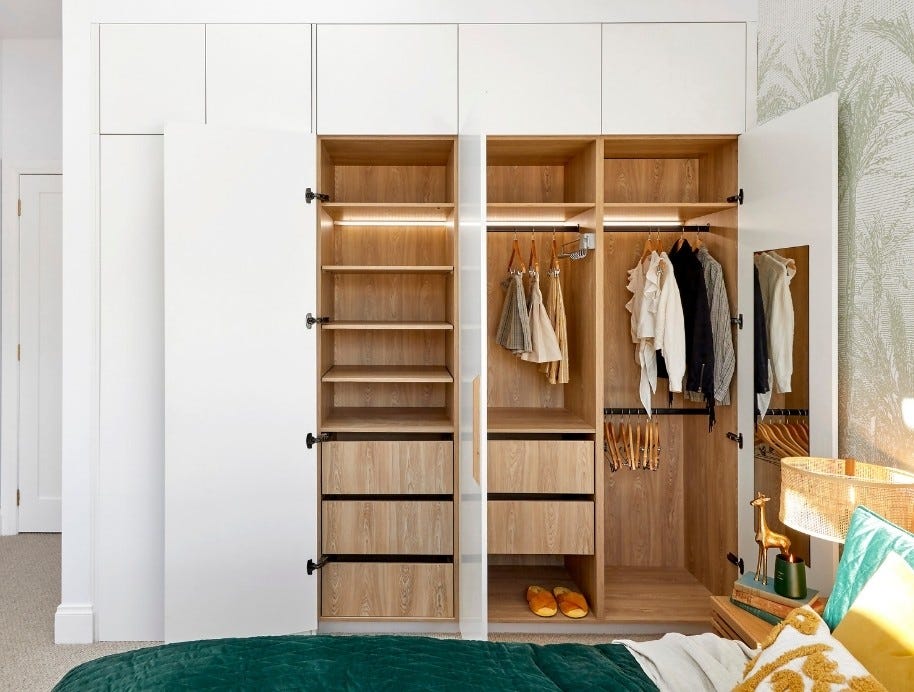 Cabinetry by Kinsman Wardrobes
Exterior doors: White Satin
Interior finish: Modern Oak Natural
Details
Handles: NEW Barcco Natural Ash Bar (38-M-06)
Accessories: Tie/Belt Rack
Lighting: LED Strip Lighting


Luke and Jasmin's Master Bedroom

Luke and Jasmin offered a seamless transition from the bedroom to the Walk-In robe. A light, neutral and timeless colour palette of white and timber is celebrated with simple and fashionable design in White Satin and feature Modern Oak Natural internal finishes. The judges noted this colour palette was perfectly aligned with the bedroom and felt classy and classic.
Open shelving and generous drawers allow for easy organisation of clothing, shoes and accessories. Hanging space is also a must-have and is complemented with a Trouser Rack. Our Premium Vertical Strip Lighting has been used within each cabinet, illuminating the contents perfectly.
The make-up station/desk located on the other side of their hallway showcases 2020 Aluminium Black Frame Shelving with Broadline Glass, FX Series top and Warm LED downlights.
"The lighting that runs vertically through the sides of the wardrobe gives a real warm glow to the room and really highlights the styling that they put in," says Phil. "add that to the black aluminium framing and glass shelving and it really just keeps everything feeling light and airy."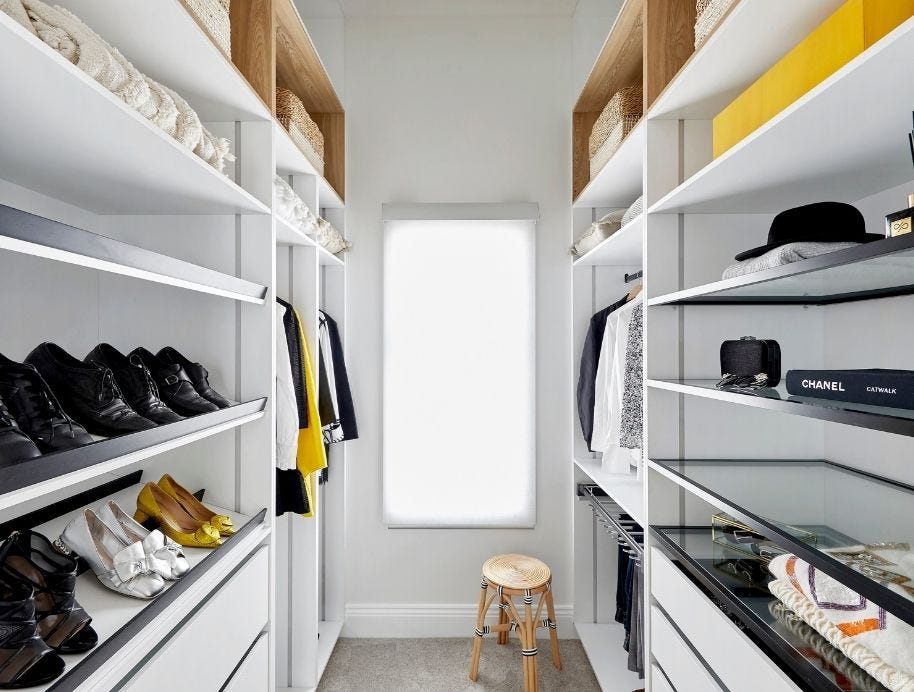 Cabinetry by Kinsman Wardrobes
Interior finish: White Satin and Modern Oak Natural
Details
Make-up Station: FX Series White Concrete NEW
Accessories: Trouser Rack, 2020 Alumin Black Frame Glass Shelves
Lighting: Premium Verti-Strip Lighting, Warm LED Downlight, LED Light Sensors
Harry and Tash's winning Master Bedroom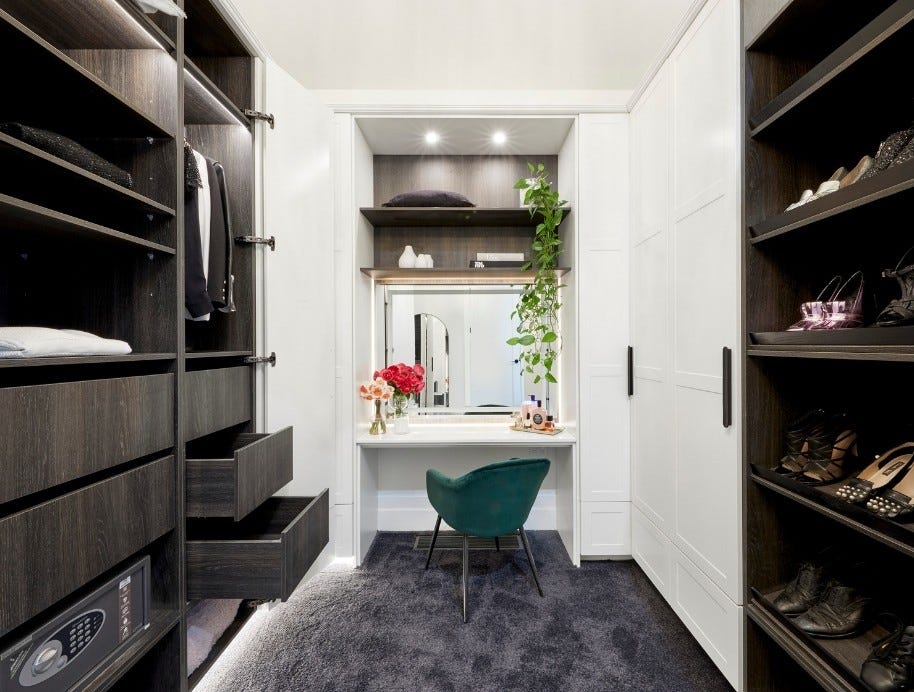 The Block judges were wowed by the glitz and glam that Harry and Tash's Walk-in robe had to offer, Darren described it as "grand and stately". A spacious walk-in wardrobe that is a joy to be in. The robe sits within the entry to the master bedroom. Decorative glass shelves have been positioned upon entry, evenly lit with Premium Verti-Strip Lighting, to allow the homeowners to place a mixture of accessories and decor items centre stage.
Neale was attracted to one particular feature of the robe in particular; "Call me old-fashioned but I love a wardrobe with a door," he revealed. "I'm so glad they've gone with this beautiful profile." The Shaker-style doors in Somersby White Matt have been paired with Dark Oak Natural interiors for a modern yet classic look. A makeup station at the heart of the robe features a Caesarstone Statuario Maximus benchtop and the new Loox Multi-Dimensional Mirror (with an in-built Bluetooth speaker no less!) completes the glamorous look.
It's all about the details in this robe and it's full of smart storage solutions from a Wardrobe Lift to a Folding Mirror, Scarf Rack and Jewellery Compartment Trays. Lighting plays a strong role in the success of the design LED Sensors and Warm LED Light Bars, behind the stylish exterior.
"This is a contemporary take on a traditional style with the Somersby White Matt doors and then touches of black accessories as well as handles to complement the internals," Phil says.
"It's a separate room, so a true Walk-in robe but by opting to put the hinged doors in there as well, they can have things on display if they want but they can also close the doors and have them hidden away too."
Cabinetry by Kinsman Wardrobes
Exterior doors: Somersby White Matt
Interior finish: Dark Oak Natural
Details:
Make-up Station: Caesarstone Statuario Maximus 20mm Pencil Round
Handles: Ribe Black Stain Timber (34-K-151) NEW
Accessories: Loox Multi-Dimensional Mirror NEW, Wardrobe Lift, Folding Mirror, Scarf Rack, Jewellery Compartment Trays
Lighting: Warm LED Light Bar, LED Sensors, Premium Verti-Strip Lighting
George and Sarah's Guest Bedroom


Sarah and George haven't held back with their bold and beautiful choice of NEW FX Series Beton Texture concrete look doors complemented by elegant black framing. This robe radiates a cool and calm aesthetic with its textured and industrial style colour palette.
The couple has used a combination of both sliding and hinged doors, creating an immediate visual impact in their space. Our new and opulent Brave Bow Matt Black handles have been paired with hinged doors, perfectly balancing the black accents of the sliding cabinetry.
Neatly tucked behind the seamless monochrome façade is our Dark Oak Natural internal finish which ties in with the rest of the home. In this room, it contrasts in both texture and warmth to the exterior doors adding to and accentuating its grandeur. As well as oozing style, this robe offers a wide selection of storage including drawers, adjustable shelving and hanging space.
"The advantage of a sliding door and hinged used here is that it makes for the perfect combination for tight spaces," Phil says.
"They've managed a contemporary clean look without having doors that swing open and closed, it just works really well in this space!"
Cabinetry by Kinsman Wardrobes
External Doors: New FX Series Beton Texture
Internal Finish: Dark Oak Natural
Details
Handles: Tri-Panel Frame in Black Satin, Brave Bow Matt Black handle (38-M-08) NEW
Accessories: Folding Mirror, Drawers
Lighting: LED Light Bar in Black
Luke and Jasmin winning Guest Bedroom
The West Australians chose Kinsman's Modern Oak Natural timber-look cabinetry here, a finish which appears throughout the wardrobes within this home. This allows the couple to display continuity throughout the home while giving every room its own style and unique feel. In this guest bedroom, the cabinetry doors have been paired with the new Ribe Black Stain Timber Handle, together exuding a contrasting natural luxe look.
With practicality and function in mind, Luke and Jasmin chose to double stack cabinets to maximise storage space and efficiency. Premium Verti-Strip Lighting elegantly illuminates the contents of the robe, hanging space, drawers and shelving, adding a touch of glamour as well as practicality for easy viewing and adding a warm ambience to the room.
Grey Textile interiors drawers contrast with the timber-look doors in both colour and texture, taking luxe to the next level with its linen look and feel. Black hardware, handles and a pull-out mirror are sure to accentuate the sophistication of this robe.
"And it's all really highlighted by the premium vertical strip lighting on the internals," says Phil. "With our Verti-Strip lighting, it really stands out up against the linen of the internals, plus the black handles complement the black hinges and hardware like hanging rails, so everything just really goes well and gels together."
Cabinetry by Kinsman Wardrobes
Exterior doors: Modern Oak Natural
Interior finish: Grey Textile
Details
Handles: Ribe Black Stain Timber Handle (34-K-151) NEW
Accessories: Premium Verti-Strip Lighting, Folding Mirror


"That's just a selection of what can be done," says Phil, "so if you're interested in seeing what we can do for you, get in touch and we can schedule a free consultation.
"We've got showrooms located around New South Wales, Queensland and Victoria where customers are welcome to come in see what we have on display and talk to a designer, or if they prefer we can arrange for a designer to come out to your home with sampling, to show you what's available, measure up and design on the spot, provide you with a design and a cost for the renovation.
"The difference that can be made with the right advice is incredible so take a look at what has gone into this Block and give us a call to see how we can do this for you too."

Shop Kinsman and book your free wardrobe consultation HERE


This is a sponsored post in conjunction with Kinsman Kitchen and Wardrobes