Interior designer and Reno Rumble judge Romy Alwill is passionate and she's not afraid to call a spade a spade. She joins us at The Reno Rumble Shop to share her styling tips and to tease what to expect from Australia's hottest new renovation show.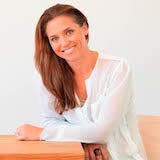 "The big twist is, we judge blind. We don't even know who's in each team, let alone who renovates each room each week," she tells us.
As tough as she seems, Romy feels for our teams. She understands what they're going through. An interior designer herself, she's worked to briefs before, and she knows how hard it is to pull off.
"Expect a really high standard of design. Week One's great, but it gets better, and tougher."
Seasoned viewers of the The Block know that each judge approaches a space from their own perspective. We know Neale Whitaker is always looking for wow-factor, and Shaynna Blaze is always after practicality (and storage!) – but what is it that Romy Alwill likes to see?
"I will reward a good balance of functionality and style together," Romy says. "One can't outweigh the other. But most importantly, is how it relates to the family's lives."
That's how Reno Rumble really differentiates itself from The Block. Couples aren't designing for a hypothetical prospective buyer, families already live in these houses, and they have real needs, and a style of their own.
"What's great is seeing all these different styles. It isn't about one couple doing their one style over and over. They have to meet the brief, which means as we progress, there's something for everyone," Romy says.
While she wouldn't ever sign up for Reno Rumble ("No, no! Never!" she says with a laugh), she does have some advice for our contestants, and aspiring decorators at home: Think about scale.
"The proportions of the furniture, the artwork on the walls, the size of the rug on the floor, that's the most important thing to get right," she tells us. "It's the dynamic and the balance of a room."
Our couples have to transform their spaces under massive time constraints, and Romy says the easiest way to do that is with artwork and colour. The Reno Rumble Shop has an incredible art selection to choose from.
The trick is, don't get carried away. It's important to buy carefully and edit your work.
"You don't have to have everything out," Romy says. "Pick the best of what you've got."
Pick the best of what we've got, browse the Reno Rumble Shop now.