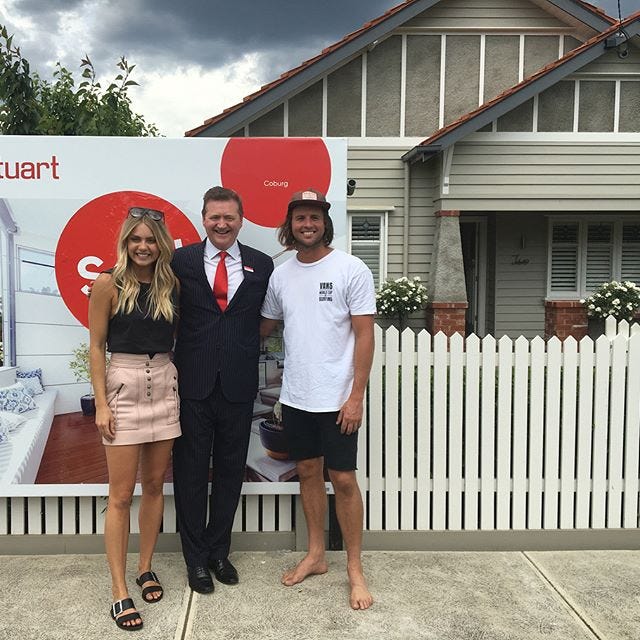 Talk about a winning streak - just two weeks after taking home the grand prize of $547,000 on this year's Block, young gun renovating couple Josh, 28, and Elyse, 25, have sold their Coburg home at auction for $1.63 million - $80,000 over reserve.
It's believed the couple, who got together five years ago, bought the run-down home, at 2 Lascelles Street in Coburg, for around $600,000, just a year after beginning their relationship, working together to renovate it over the next 18 months.
"We had been looking for a house for a really long time. And trying to find one we could afford, in the right area," Elyse tells Insider Style.
"We are originally from out in the sticks a bit. We wanted to come closer into town, because we knew there was a bigger return.
"We tried to find something we could afford, first off. And the only thing we could, was something that was falling down - Coburg popped up."
Josh, a carpenter by trade, did the hard yards, totally overhauling the home, which had been in the same family since it was built, back in the 1940s.
"The lady who owned it - she was 100 years old. This was her house forever," Josh tells us. "We had her kids and grandkids back after we bought it, and they were like, 'We just want to look around.' And they were crying."
"They just rocked up and said, 'We are relatives. Is it alright if we come in?'" Elyse says. "And then their mouths were on the ground."
And no wonder. While Josh worked on the structural side of things, Elyse took over the interior side of things, picking out fixtures, and styling the property, creating a stunning, contemporary family home.
Their commitment to the project and exemplary attention to detail paid off big time on auction day, with a bidding war ensuing.
Hundreds of fans lined the streets, as Hocking Stuart auctioneer David Wood placed the opening vendor bid of $1.4 million. He was the auctioneer who had steered their Block home to a whopping sale price of $3,067,000, so they knew they were in safe hands.
"David Wood nailed it," Elyse told Domain. "He had the crowd going. He just knows what to do. It's really good to get a real estate agent you can relate to."
As for what's next? The couple say they'll go on an extended camping holiday before beginning the search for their next home-flipping project in the new year.
'We'll look for another reno, an ugly duckling, where we can showcase our ideas but there's no plans for us, we're pretty open-ended,' Elyse told Insider Style.
We can't wait to see what they do next!
Did you like this blog? Subscribe to our newsletter to be the first to receive news from The Block! Subscribe now to receive $20 off your next order.